Sri Lanka has been a bucket list destination of mine for a while now! With plans to visit that inevitably were cancelled back in 2020, I was more than thrilled to finally re-book my trip for May 2022! Sri Lanka marked the first stop on my new life as a digital nomad, but instead of working whilst there, I took two weeks off to really explore as much of the country as I could. Below is my 2 week itinerary for Sri Lanka!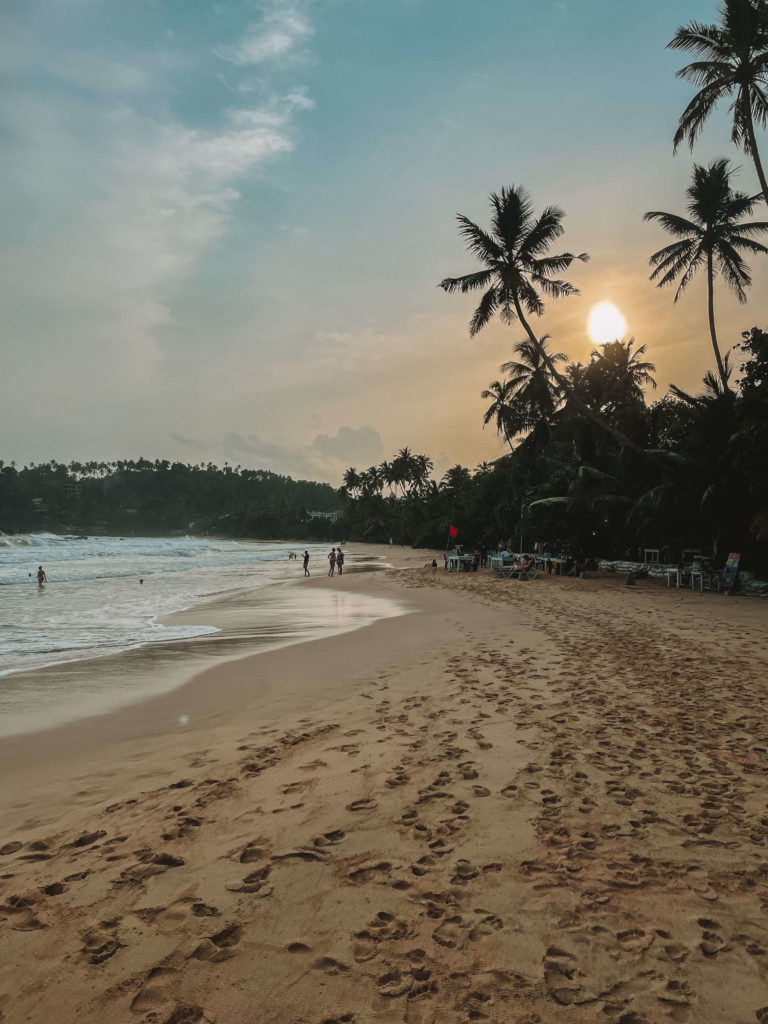 2 Week Itinerary for Sri Lanka
Colombo – 1 night
As this 2 week itinerary for Sri Lanka does, most travellers start their journey in either Colombo, or Negombo. We stayed in Colombo just for the one night, partly because there was not much that we wanted to see or do here, and partly because we visited at a peak time in the country's economic crisis, when rioting in the capital was rife. We stayed at Clock Inn hostel, which was basic but perfectly fine for the one night. 
Sigiriya – 2 nights
After getting a solid sleep after a long journey from the UK, we grabbed some lunch and then got our driver to take us to Sigiriya. Hiring a driver is one of the most common ways to get around Sri Lanka, and is pretty affordable if you are sharing the ride with others. We paid roughly $50 to get from Colombo to Sigiriya ($25 each). If you're travelling solo, there are plenty of bus options to get around, which are extremely cheap! 
Sigiriya was one of my favourite places that we visited in Sri Lanka. Surrounded by plenty of lush greenery, you really feel like you are in the jungle the whole time – so remember to bring plenty of bug spray! As we were still quite jet lagged, and booking.com had some great deals, we stayed at Sigiriya Village hotel which was £24 each per night and absolutely worth every penny! If you're looking for a hostel though, lots of backpackers that we met during our trip raved about their stay at Roy's Villa!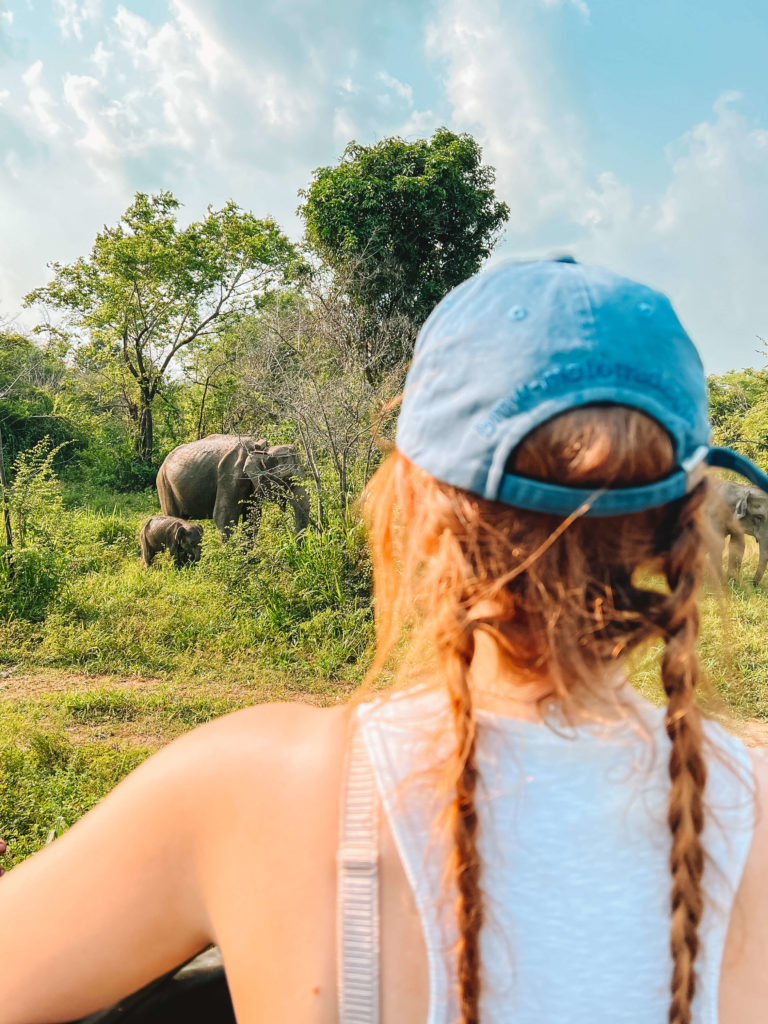 Hiking in Sigiriya, Sri Lanka
Whilst staying in Sigiriya, we did sunrise hikes for both Pidurangala Rock and Sigiriya (Lion) Rock. We also visited Habarana Eco park to go on an elephant safari, which was one of the highlights of my trip! We saw at least 50 elephants, including plenty of adorable babies. Our driver was friendly and knowledgeable, and the park itself was huge! It can be morally tough visiting any tourist attractions revolving around animals, but here, the elephants are free to roam as they like, there were limited jeeps in the park, all of which kept a wide berth from the elephants, and there were no chains in sight. 
Top things to do in Sigiriya:
Pidurangala rock
Sigiriya rock
Habarana Eco Park Elephant Safari
Kandy – 2 nights
Before we headed to Kandy, we had a quick stop in Dambulla to visit the Rock cave temple. If I'm being totally honest, it was okay. I wouldn't recommend anyone go out of their way to see it, but as we were driving through Dambulla anyway, we decided to stop off and pay it a visit! It is cool to see the inside of the temple inside the rock, but overall it didn't wow me personally!
In Kandy, we stayed at Banana Bunks hostel, which I cannot recommend enough. If you like staying in hostels but prefer a bit of comfort and luxury, then this is the hostel for you. It is honestly like a hotel with bunk beds, everything is modern and extremely clean and well kept. They offer food and drinks, and they also have a small infinity pool with gorgeous views over Kandy. The only thing that I didn't enjoy about Kandy was the blackouts, but this is pretty common throughout Sri Lanka, and not anything that can be avoided! For some reason they seemed to last longer in Kandy than anywhere else that we stayed!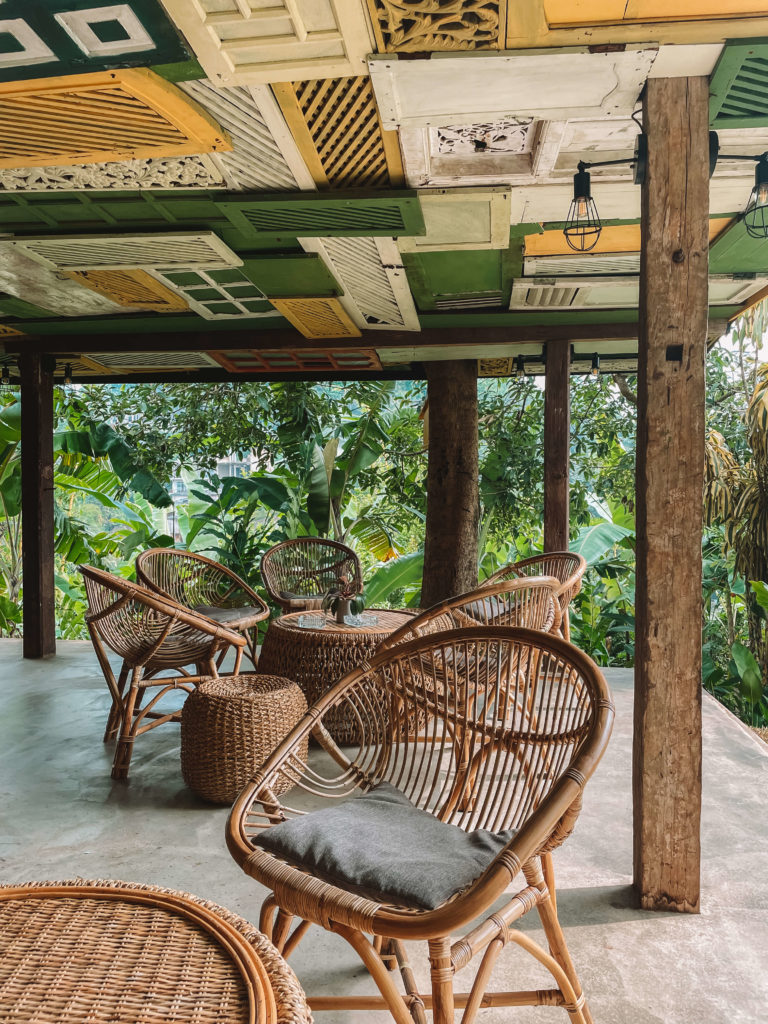 The common area and pool at Banana Bunks, Kandy
How long do you need in Kandy?
Here in Kandy, we visited the Tea Shop factory where you can see the process behind their tea making, as well as the opportunity to try lots of different teas – Jasmine was my favourite! They also have a shop where you can buy pretty much any flavour tea you can imagine! After the tea factory, our tuktuk driver took us to a herbal medicinal garden and then on to Kandy Botanical Gardens, which despite the humidity was a lovely place for a wander and a chill! 
Overall you do not need very long in Kandy, but we stayed a second night in order to get the early (iconic) train journey to Ella the next morning!
Top things to do in Kandy:
Visit a Tea Factory
Visit a Medicinal Herb Gardens
Kandy Botanical Gardens
Kandy viewpoint
Catching the train from Kandy to Ella
Another highlight of the trip for me, was the train ride from Kandy to Ella. Pretty much everyone who has been to Sri Lanka includes this on their itinerary, and there's a good reason why. It is worth noting that there are different types of trains and tickets you can buy. If you are looking for a truly local experience, you can book the standard train, in 2nd or 3rd class (be prepared to stand for part, or perhaps all, of your journey though, as these trains can get busy)! 
As we left it so late to book our train ticket, the only available option for us was the Ella Odyssey train. This is a new train route which launched in March 2022, specifically for tourists. Everyone refers to it as the 'tourist train', not only because you'll only really find tourist passengers, but also because it stops at lots of photo opportunities along the way. When it does stop, you can't get off the train to take photos, but it's a great opportunity to hang out of the doors and get those iconic insta shots (you know the ones). 
Overall the Ella Odyssey was great – although the incredible air con did make it a bit chilly, so I recommend bringing a jumper to wear as there is no way to turn it off. They have staff walking through the cabins selling local snacks, both vegetarian and meat options, in case you didn't have the chance to buy any snacks before your journey! Our train departed right on time, at 07:50am, and we arrived in Ella at 14:30. For only $14 a ticket, I would definitely recommend the Ella Odyssey train if you prefer a little bit of comfort! You can book your train tickets from Kandy to Ella using 12goAsia.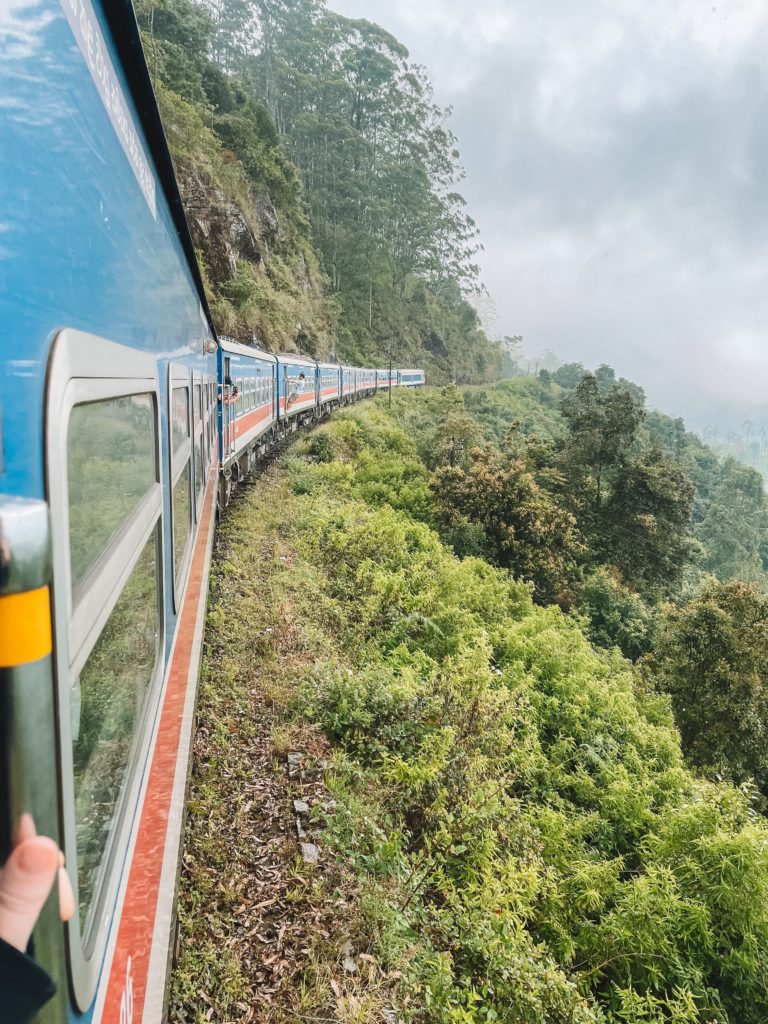 Ella – 3 nights
Upon arriving in Ella, I instantly knew I would like it here, and already wished I had a few extra days so that we could stay longer! Ella town is full of fun cafes, restaurants and shops, and is easy walking distance from most accommodations, including Hangover Hostel, where we stayed. This was one of the most social hostels we stayed in during our Sri Lanka trip, and also had epic views across to Ella Rock!
During our stay in Ella, we visited waterfalls, hiked Little Adams peak, and spent a boozy day at Ravana pool club, which was a little pricier than most days in Sri Lanka, but still a lot of fun! We didn't have enough time to do the other hikes, so if you do have the time, I would recommend spending up to 5 nights in Ella! 
Top things to do in Ella:
Catch the train from Kandy to Ella
Ella Rock
Little Adams Peak
Adams Peak
Visit the Waterfalls
Ella Zipline
Ravana Pool Club 
Arugam Bay – 2 nights (if you like surfing)!
Everyone we had met previously raved about Arugam Bay, so I was excited to get there and see what all the fuss was about! We stayed at the Long Hostel, which seemed to be the most popular at the time, since it was fully booked both nights that we were there. It was a nice hostel, clean enough and really sociable, so that was definitely a plus! Unfortunately, though, I just didn't get the hype surrounding Arugam Bay! Sure, it was nice to be by the beach, but after visiting the beaches that followed on our trip, the beaches weren't that great! However, if you really enjoy surfing, then it is probably worth a visit for a couple of nights.
Top things to do in Arugam Bay:
Yoga classes
Peanut Farm beach
Surf schools
Hiriketiya – 1 night
We decided to leave Arugam Bay earlier than planned, since we had no plans to surf here and aside from that, there isn't a ton of stuff to do. Instead, we decided to add Hiriketiya into our itinerary, which we hadn't planned for previously. I am so glad we did end up visiting! 
Although there wasn't loads to do here either, (no thanks to curfews imposed by the Sri Lankan government due to the protesting), I just preferred the beaches and the vibe here! The beach is really beautiful, and it is also another great surf spot, if you don't have time to head over to Arugam Bay. We also had dinner at the popular restaurant 'Smoke and Bitters', which is one of the top 50 restaurants in Asia. The food here was INCREDIBLE, and only about $10 each, so well worth a visit if you are planning to head to Hiriketiya.
Top things to do in Hiriketiya
Yoga classes
Surfing / surf lessons
Dinner at Smoke and Bitters
Brunch at Bahia Hiriketiya
Ayurvedic massage
Mirissa / Unawatuna – 2 nights
Making your way back along the coast towards Colombo, there are plenty of additional beach towns you can stop in. Two of my favourites were Mirissa and Unawatuna. The beaches are fairly similar, and they also aren't far from one another, so it's very do-able to visit both! The south-west coast of Sri Lanka is one of the best places to swim with the giant turtles, if you visit at the right time of year. Unfortunately as we arrived at the start of the rainy / off season, the waves were too high and the current too strong for us to swim with them, but we did spend a few hours on the shore, spotting them poke their little heads up between the waves.
In Mirissa, however, you can watch them release the hatched baby turtles every day at 5pm, which was such an incredible experience to see! Mirissa is also a bit more of a party vibe than other towns we visited along the coast. Although it was off-season, Why Not Backpackers was busy and social, and always had a fun vibe in the evenings!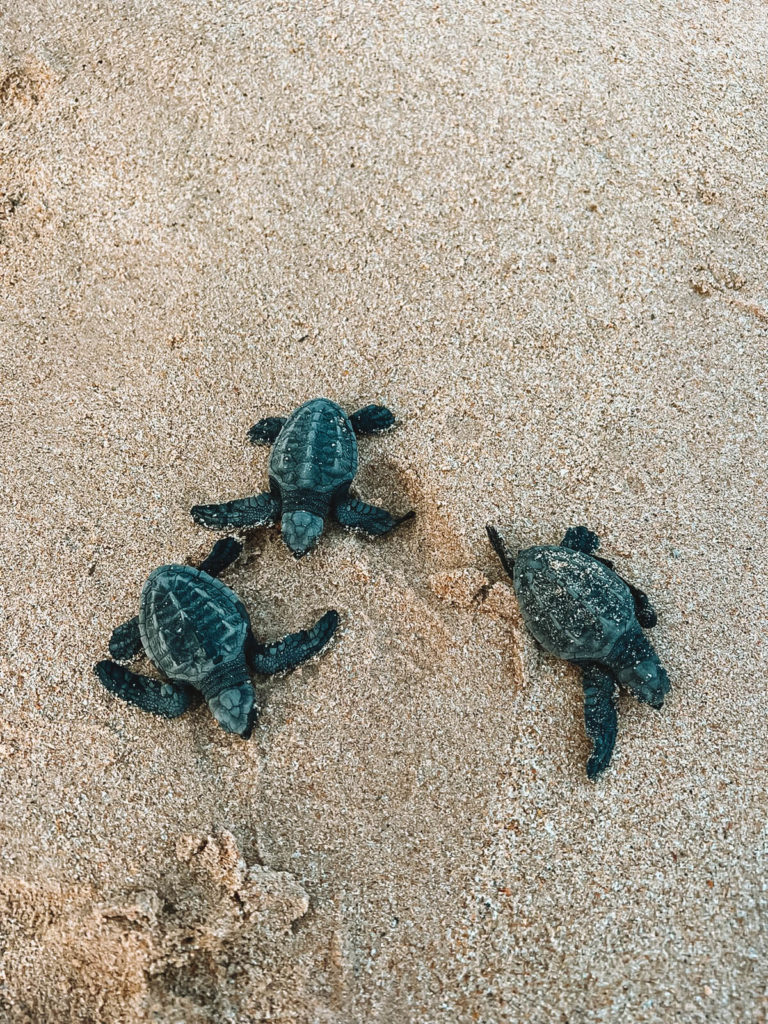 Top things to do in Mirissa and Unawatuna
Surfing (both)
Swim with sea turtles (both)
Watch the hatched baby turtles released (Mirissa)
Coconut tree hill (Mirissa)
Parrot Rock (Mirissa)
Whale watching (Mirissa)
Delicious brunch at Skinny Toms Deli (Unawatuna)
Boutique and souvenir shopping (Unawatuna) 
Day trip to Galle Fort (Unawatuna)
Jungle Beach (Unawatuna)
Hikkaduwa – 1 night
By now, you will be coming to the end of your two-week Sri Lankan adventure. For your final night, you might prefer to spend it in Hikkaduwa instead of overnight in Colombo or Negombo. In Hikkaduwa you can spend your last day relaxing on the beach, and then head straight to the airport when needed (it is around a 1.5 / 2 hour drive). For your final night, treat yourself to a delicious sushi meal at "Riff" – trust me it is worth it!
Top things to do in Hikkaduwa
Visit one of the nearby beach clubs
Relax on the beach
Swim with turtles
Visit the turtle sanctuary and hatchery
Visit the tsunami museum
Eat a delicious meal at Riff
Additional places to visit in Sri Lanka
If you're lucky enough to spend longer than two weeks in this incredible country, then there is still a lot more of the country to explore. Some of these places (to name only a few), include Negombo, Dambulla, Anuradhapura Ancient City, Yala National Park and Weligama. 
If you enjoyed my 2 week itinerary for Sri Lanka, why not check out my other 2 week itineraries?