Cities are always packed full of hundreds of incredible restaurants, and equally lots of (unfortunately) mediocre options. New York is absolutely no different. When you're visiting New York City for the first time, deciding where to eat and drink can be a pretty overwhelming task. Below I have rounded up 10 of the best places to eat in New York City. 
Best Places to Eat in New York City
Rosies, Lower East Side
Cuisine: Mexican
Address: 29 E 2nd St, New York, NY 10003, United States
Rosie's in the Lower East side is a fun Mexican restaurant that serves excellent food, and even better spicy margaritas! I really enjoyed the vibe here. We visited on New Year's Eve 2021 and they had loud pop music playing and extremely friendly service staff!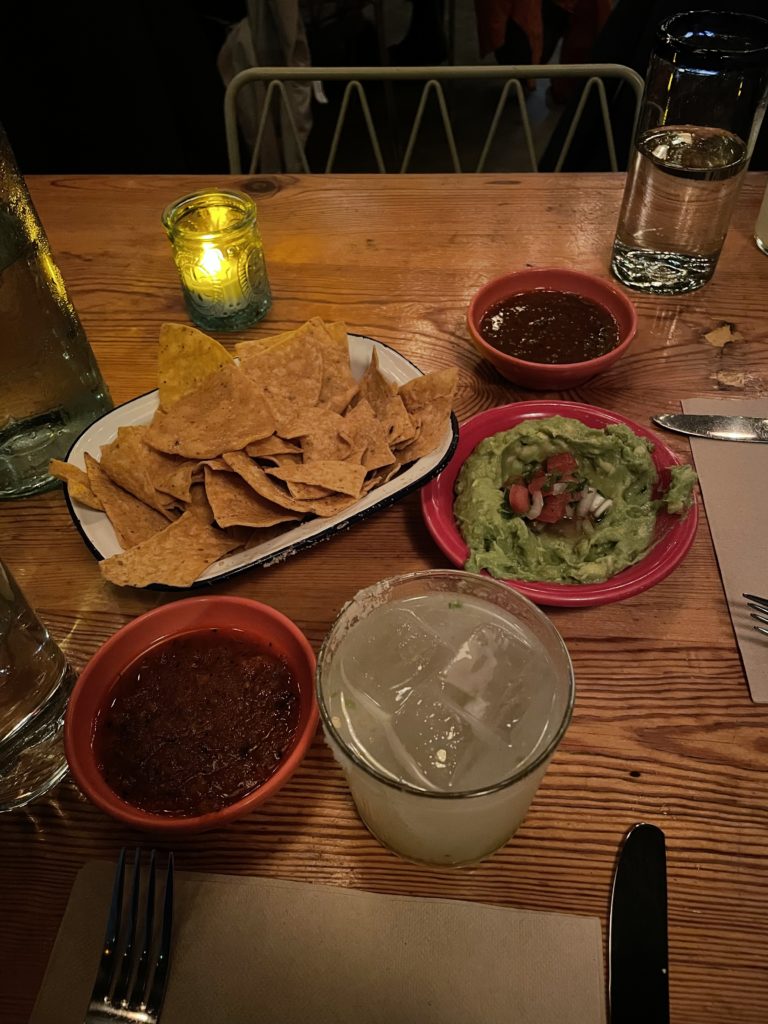 Chelsea Market
Cuisine: options!
Address: 75 9th Ave, New York, NY 10011, United States 
Chelsea Market has plenty of options, no matter what your preference or dietary requirements. Located in the Chelsea neighbourhood of Manhattan, the building  fits in with the red-brick warehouse vibe of the area, and was also the birthplace of the oreo!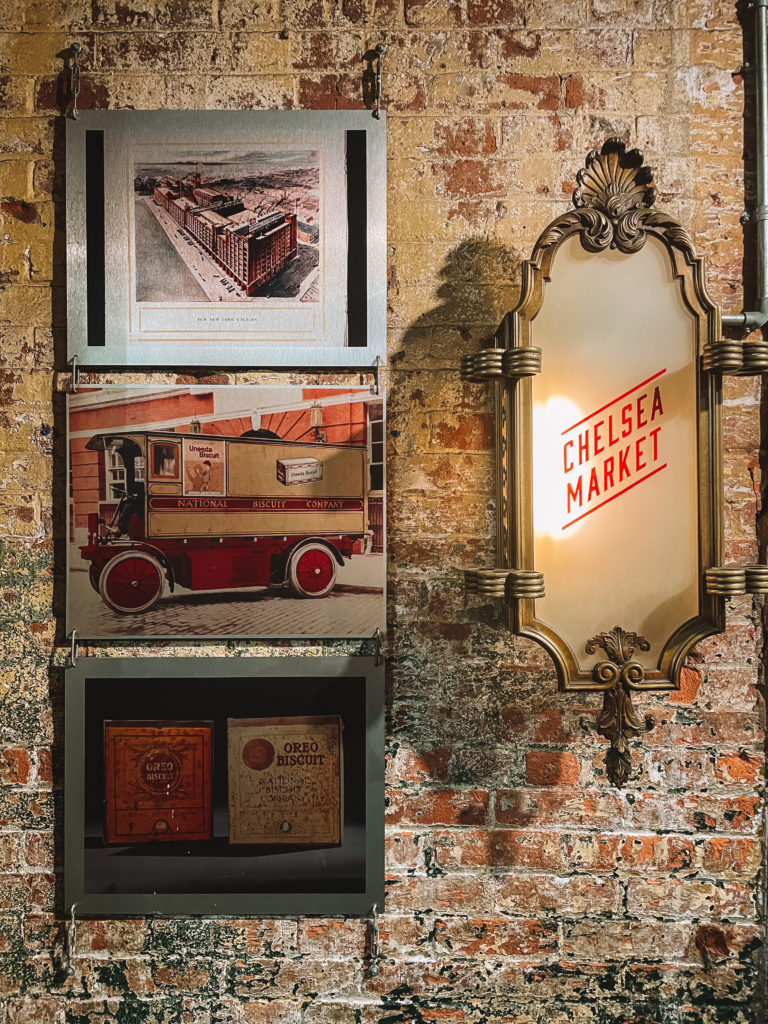 TimeOut Market, DUMBO
Cuisine: options!
Address: 55 Water St, Brooklyn, NY 11201, United States 
Another market with lots of different options and vendors is Time Out Market in DUMBO. Whether you fancy Thai, Bagels, or Indian, you'll find some great food here. If hotdogs are your thing, check out Pat Lafrieda Meat Purveyors, but the pancakes at Clinton Street Bakery also come highly recommended.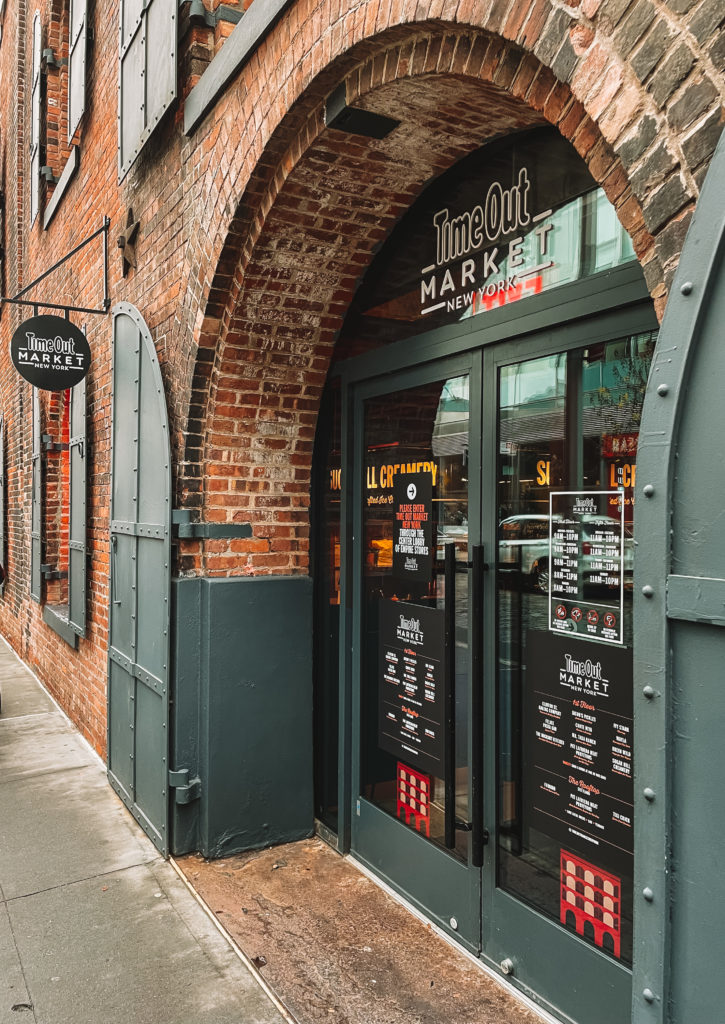 Joe's Pizza, Williamsburg
Cuisine: Pizza, of course!
Address: 216 Bedford Ave, Brooklyn, NY 11249, United States
Frequented by plenty of celebrities throughout its time (whose photos canvas the inside walls), Joe's Pizza is a no-frills takeout venue, selling delicious pizza by the slice.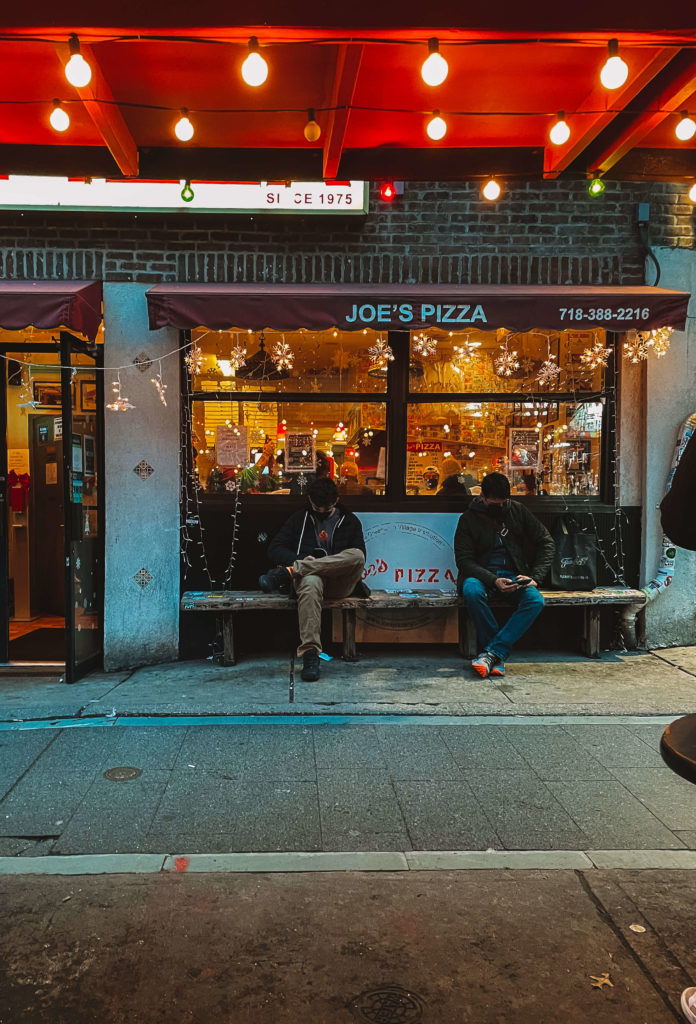 Westville, Multiple Locations
Cuisine: American
Address: Westville Locations
Westville is a chain eatery, with locations dotted across Manhattan. I visited the Wall Street location a number of times, as it was very close to my hotel and made a perfect lunch option. The menu is typically American, but they have plenty of salad and bowl options, using fresh produce from their 'farm-shop' style menu. I highly recommend both the Cesar salad and the grilled cheese!
Rosemary's, West Village
Cuisine: Italian
Address: 18 Greenwich Ave, New York, NY 10011, United States 
Rosemarys is a super cute Italian restaurant located in West Village. It's a very instagrammable venue, and the pasta is amazing! I found it to be pretty affordable as well, given its location.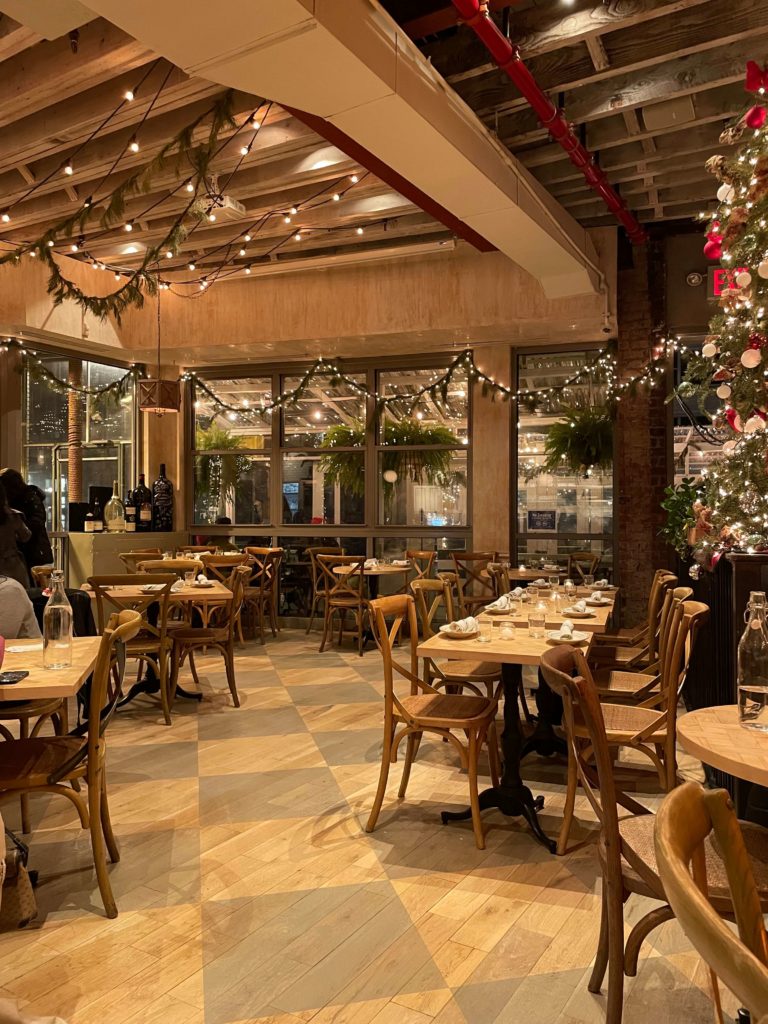 Juniors Cafe, Times Square
Cuisine: American (but go for the cheesecake!)
Address: 1515 Broadway, New York, NY 10036, United States
Juniors is located right in the middle of Times Square, and that means that it is a bit of a tourist trap. I wouldn't recommend eating here for lunch or dinner, since there are way better options outside of Times Square. One thing you SHOULD visit Juniors for, however, is the cheesecake. It really is delicious, and they have loads of different options to try!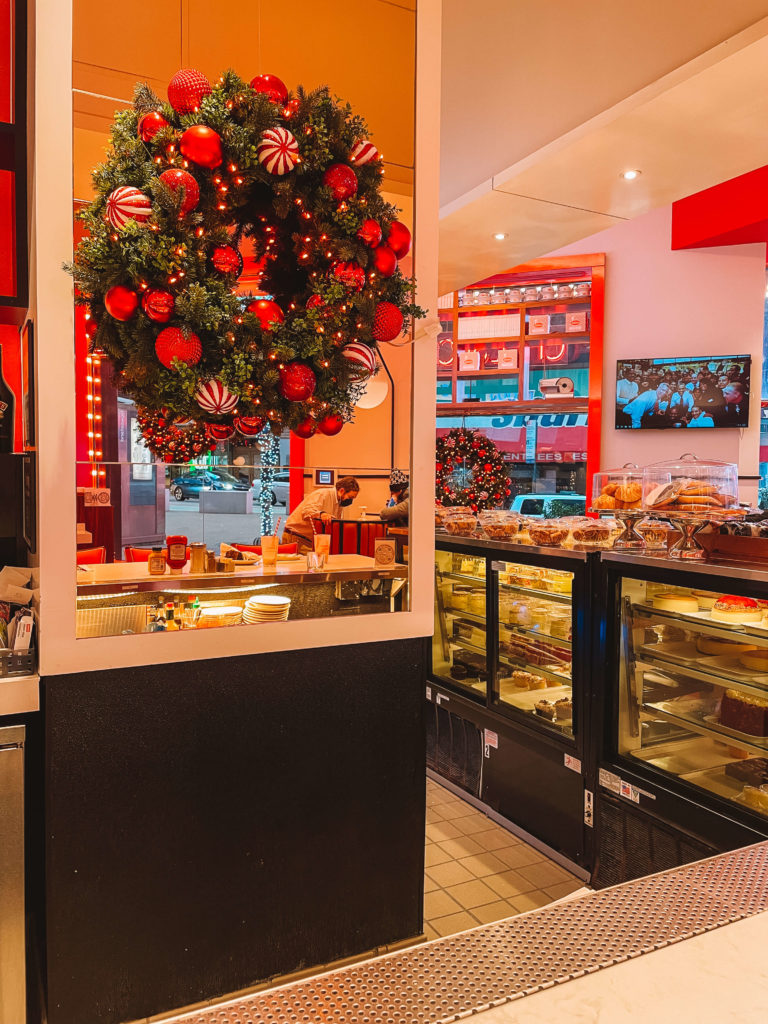 Leo's Bagels, Wall Street
Cuisine: Bagels
Address: 3 Hanover Square, New York, NY 10004, United States 
Leo's bagels is a popular bagel spot, and for very good reason. There are loads of bagel and filling options, and they taste incredible! Not only that but they are affordable and speedy too, perfect for a quick lunch on the go. 
You might also like: 10 Unique things to do in New York City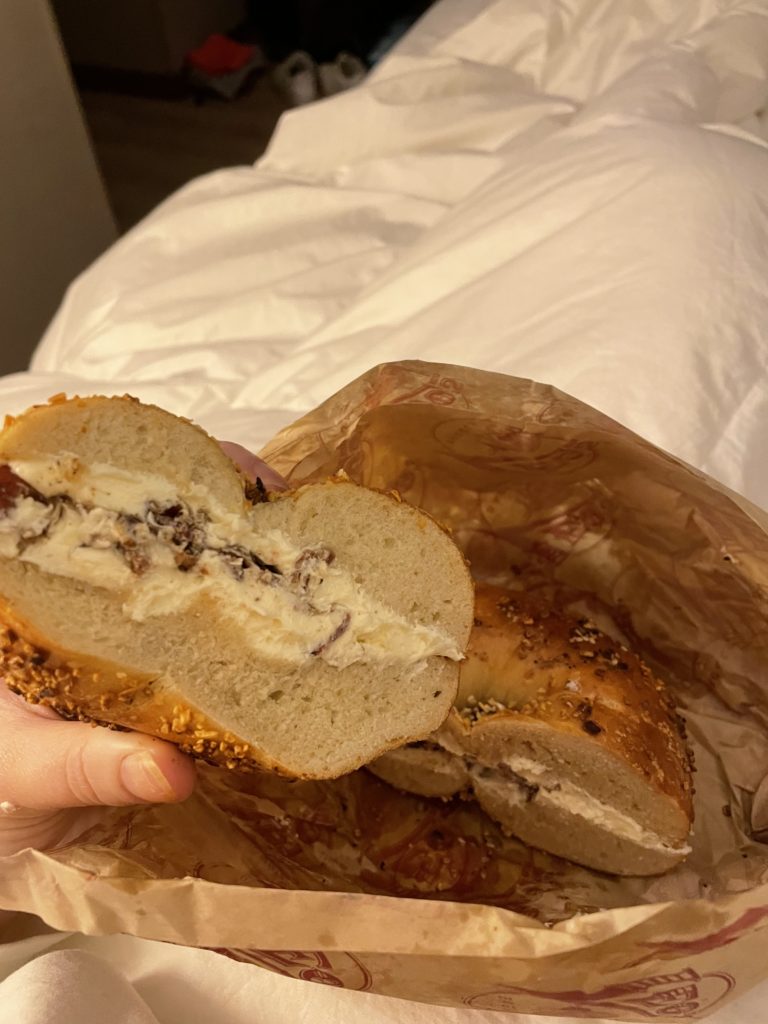 Nami Nori, West Village
Cuisine: Sushi
Address: 33 Carmine St, New York, NY 10014, United States
New York is known for great sushi, and one particular spot I loved was Nami Nori in West Village. The restaurant is quant, but the food is delicious. As a vegetarian (who doesn't eat fish) it can be hard to find good sushi that is vegetarian, but Nami Nori certainly delivered. 
Burger Joint, Midtown
Cuisine: you guessed it, burgers!
Address: 119 W 56th St, New York, NY 10019, United States
The best thing about Burger Joint is it's no frills, dive bar vibe. The menu is written on cardboard boxes and there are stickers and graffiti all over the walls. The joint is tiny, tucked hidden away in the back corner of an upscale hotel lobby (Thompson Central Park, you're welcome). But the simplicity of the place really doesn't take away from the food. It was definitely one of the best (vegetarian) burgers I've had in New York.