Ahh, New York. The big apple. The city that never sleeps. When people think of New York, they often think of Times Square, Central Park, the Empire State, the Statue of Liberty. All of the classics that are definitely worth seeing during your first time visiting New York. But there are so many more things to New York that often get left out of the 'top things to do' lists. Below I've listed some of my favourite unique things to do in New York City.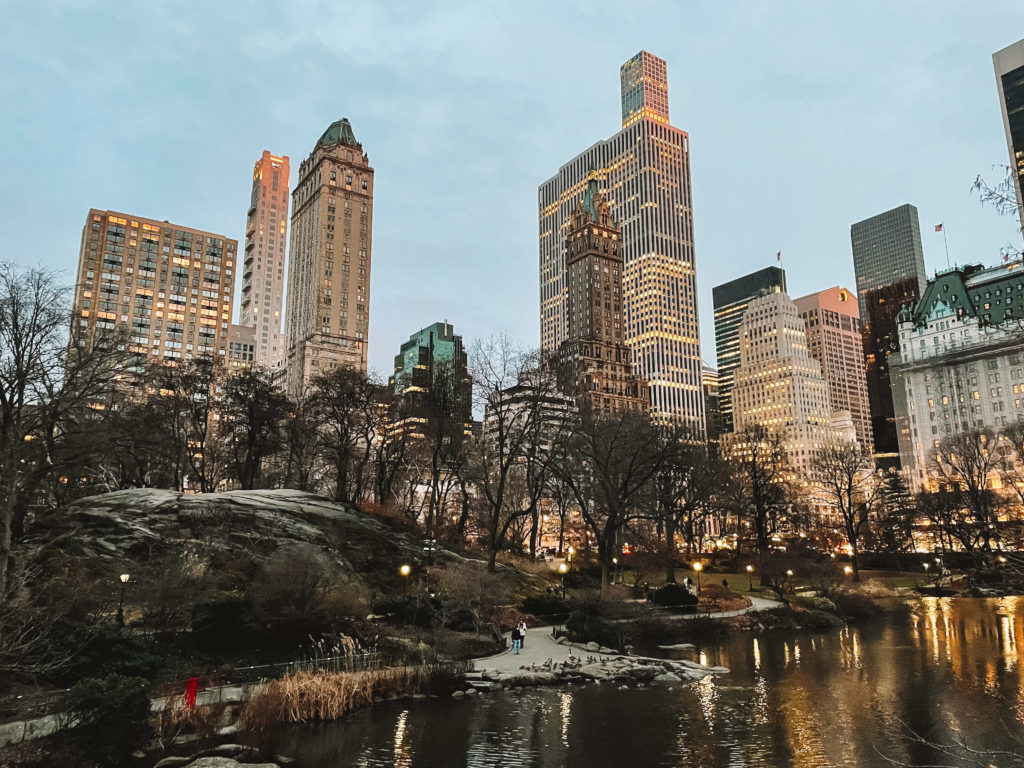 10 Unique Things to do in New York City
Comedy Cellar
The comedy cellar is a tiny little underground venue in Greenwich village, well known for hosting some of the best comedy nights in the city. In fact, some Americans believe it is the best comedy club in the country. Tickets are very affordable too, ranging from $14 – $25 depending on which day of the week you visit. If you're into comedy shows, or just looking for a fun evening out that is a little different to dinner and drinks in a bar, I HIGHLY recommend a visit to the Comedy Cellar. 
TimeOut Market Brooklyn
As someone who has been meaning to visit the TimeOut Market in London forever (and still have not been), the TimeOut Market in Brooklyn was a must do on my second trip to New York. Based across the river from Manhattan, you can take a leisurely morning stroll across Brooklyn Bridge down to DUMBO. Here you'll find the market, located in one of the many gorgeous red brick warehouse style buildings that make up this area. Inside the market there are plenty of vendors to suit any appetite, as well as a rooftop which is a great place to hang out during the summer months! 
Smalls Jazz Club
Smalls Jazz Club is a cute evening out for music or jazz lovers. In an underground venue even smaller than the comedy cellar, is a tiny basement bar where you can sit and sip on your beverage of choice whilst listening to one of the many jazz bands that frequent the venue. It is a really enjoyable evening, particularly if you want to experience something different or new, and support local artists. 
The Edge
The Edge is one of New York's newest skyscrapers, located in Hudson Yards on the West Side of the city, right next to the Hudson river. The observation deck stands tall at 110 floors high, boasting panoramic views of the city below. You can see a full 360 degree view of New York, from Central Park, to the Empire state, right down to the One World and statue of Liberty. The observation deck also comes with a glass panelled floor, which you can walk or sit on, if you're feeling brave enough! For true dare devils, you can even scale the building with City Climb – the highest open-air building ascent in the world, at more than 1200 feet above the ground. 
Get tickets to The Edge Observation Deck!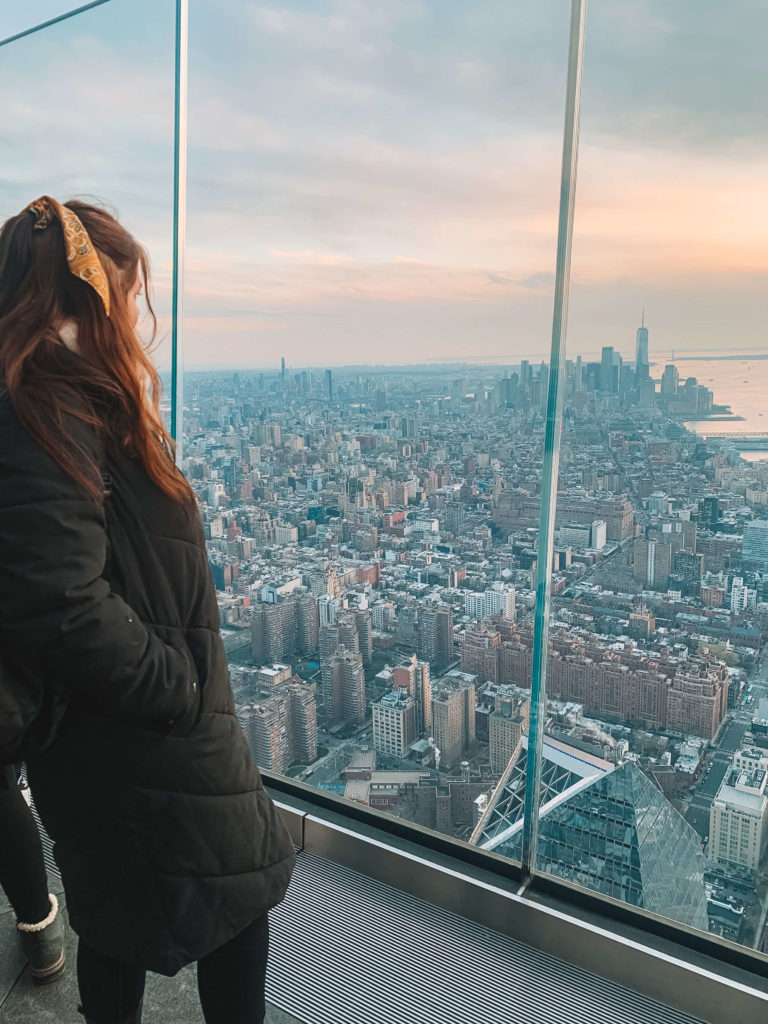 The Vessel
Located just next to The Edge, still at Hudson Yards is a unique structure called 'The Vessel'. This intriguing piece of architecture opened to the public in 2019, and includes 16 stories and 154 flights of stairs. Unfortunately, the stairs of the Vessel are now closed to the public, however you can still visit the structure from the ground.
Bushwick Collective
Exploring Brooklyn really needs an entirely separate post, since there is so much to do here. Understandably, as it is so populated that if it was considered a city, it would be the third biggest in the USA?! But one of my favourite unique things to do in New York City, is to head out to Bushwick. If you're lucky enough to be visiting New York during the annual art event, you will be able to experience streets packed full of graffiti, street-art, music, food trucks and local vendors. If you don't manage to visit during this time, I would still recommend a trip out to Bushwick to wander around and admire all of the murals and street art!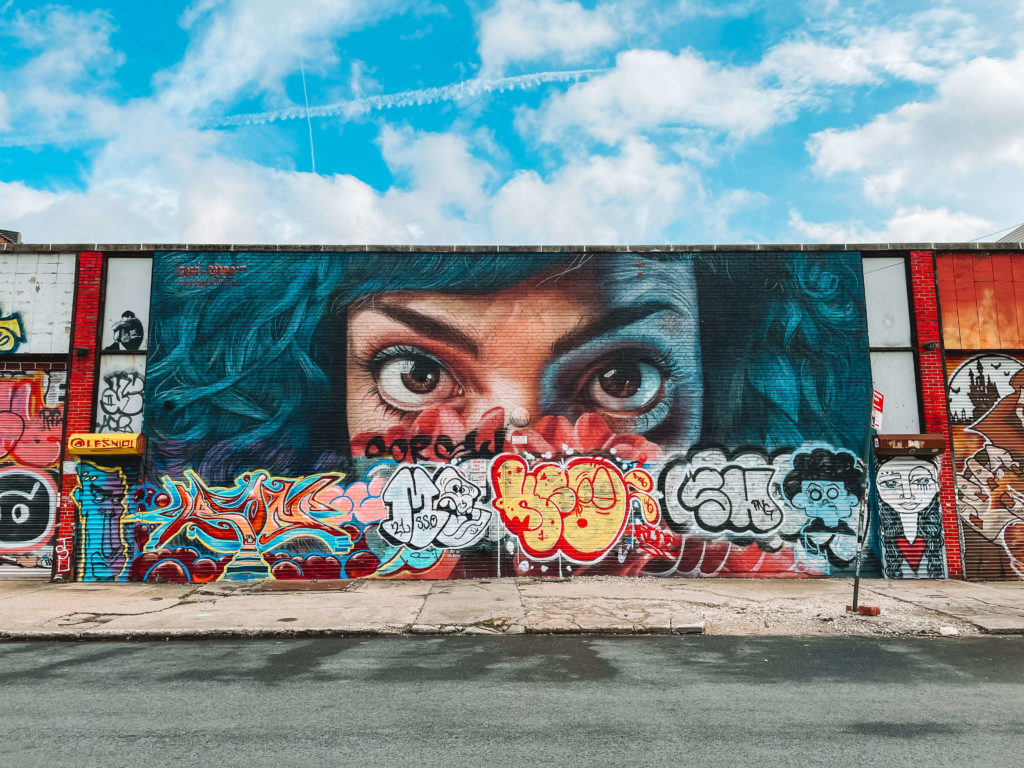 The swings at Pier 35
New York is a tiring city, with all the hustle and bustle and endless things to see and do. So if you're looking for somewhere to chill for a while and take in some incredible views, then head to the swings at Pier 35. These are, quite literally, swings down at Pier 35, which look out onto the Hudson river with stunning views of both Brooklyn and Manhattan bridges. It's also a great spot to watch the sun go down if you're lucky to visit on a clear day. 
Domino Park
You can find Domino park down in Williamsburg, one of my favourite neighbourhoods in New York. Down by the bank of the East River, it is a five acre park by the same designer as the High Line. Residing at the sugar refinery, you will find a number of different types of factory equipment that have been salvaged and displayed, including syrup tanks. It certainly is a unique park, but a great place to walk or spend an afternoon, with wonderful views across to Manhattan. If you're looking for a refreshment, then Other Halves Brewing is right at Domino Park, offering a selection of locally brewed beverages including craft beer and seltzers. 
Little Island
Little Island is a brand new free public park, located on the Hudson River, near the Meatpacking District. If you are looking for a unique area of greenery to explore, then I definitely recommend checking it out. It is exactly that, a little artificial island just by Pier 55. Here you will find green open spaces, an Amphitheatre where they host free and ticketed events, and interactive features for families. 
You might also like: Best places to eat and drink in New York City
City Vineyard at Pier 26
Fancy yourself a bit of a wine connoisseur, or even just a wine enthusiast (like me)? Then head to City Vineyard at Pier 26. They have a gorgeous outside area with views across the Hudson river to Jersey City. The terrace area is stunning in the summer, and filled with pop up igloos in the winter. This means that the Vineyard can be enjoyed year round!
Do you know of any other unique things to do in New York City? I'd love to hear them below!