*Note: at the time of writing this post the Mont-Rebei Gorge is temporarily closed due to the pandemic. Please do not attempt to visit until it has re-opened and is safe to do so!
I am very lucky in that I have relatives and friends who live in Spain, which gives me the perfect excuse to travel Spain every year. Although I love the perfect combination of both city and beach life, I have done everything you must do in Barcelona. Usually, when I travel there now, I focus on spending quality time with my friends and family. I last visited in October 2020, right as Barcelona announced they were re-closing all bars, restaurants and entertainment venues. So, we looked outside of Barcelona for something outdoorsy that we could do. My friend had seen photos of this beautifully picturesque gorge on Instagram, and as it was only a 2 and a half-hour drive outside of Barcelona, we thought, why not!?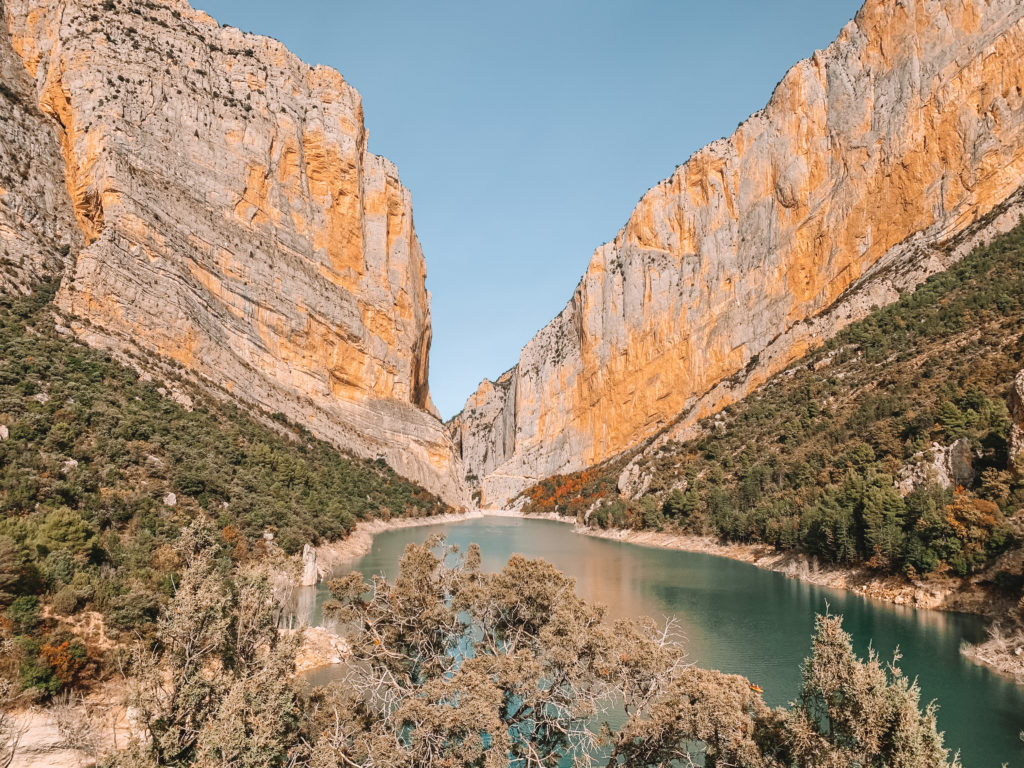 A Day Trip to Mont-Rebei from Barcelona
As you can imagine, the actual gorge of Mont-Rebei is not exactly close to a town or city. For that reason, it's not feasible to get there by public transport. The best way to get to Mont-Rebei from Barcelona is by car. We used a car rental in Barcelona, arranged and picked up the car in the morning, and drove straight to Mont-Rebei. Although a bit long, it's a very easy drive, and you'll see stunning views along the way – on a clear day you can even see the snowy tips of the Pyrenees. 
Once you arrive, you'll drive as far as you can and it will lead you to the car park. Note that the car park gets full very early during peak times, so it's best to arrive as early as possible. Parking costs €5 per vehicle, per day, and overnight parking or camping is not permitted. 
After arriving and parking, you can choose whether you want to hike the gorge or spend the day kayaking! The kayaks can be found down on the waterfront, it's around €35 for a kayak for the day, and you get all equipment included, like a helmet, life jacket and a waterproof bag for your belongings. If you're on a budget, then the hike is equally as beautiful as the kayaking (and easier on the arms)!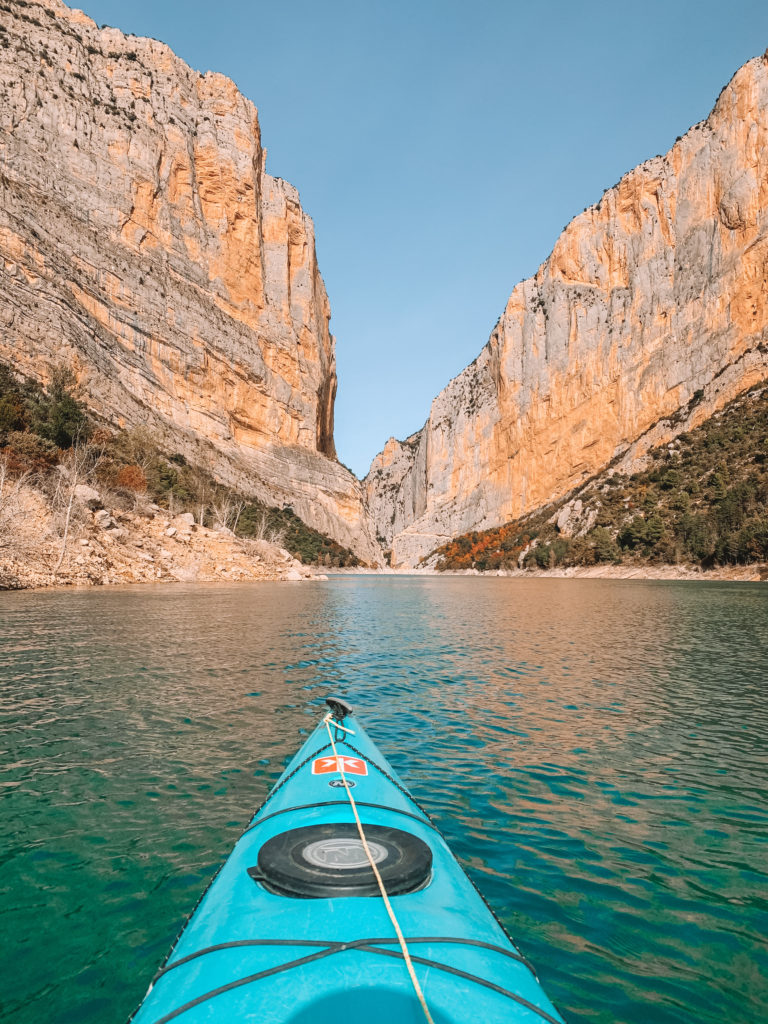 Tips for visiting Mont-Rebei
Consider an overnight stay nearby
If you really want to see all that Mont-Rebei has to offer, you might consider an overnight stay in a nearby town instead of a one day trip from Barcelona. Although it is do-able, it will be a long and tiring day!
Take enough food and water
As you will have noticed from the incredible photos of the gorge, there is nothing really around. Although there is a shop with refreshments at the car park, whether you are planning a hike, or kayaking, you will need to take water and lunch (or at least snacks) with you. Once you are on the hike, there won't be anywhere for you to buy things from. 
Wear comfortable clothing
Make sure you dress appropriately for your visit. Comfy walking shoes (or trainers at the very least) are best for the terrain of the gorge. The path can also be gravelly, with loose rocks, so it is best to wear shoes that have grip. In terms of clothing, workout gear is the best option, as some parts of the walk are steep and may involve a little climbing. 
Take minimal belongings
The return hiking route to Montfalcó takes about 5 hours, so the last thing you want is to be carrying around a heavy rucksack. Instead, pack the essentials, including plenty of water, snacks and suncream! Similarly, if you are kayaking, the kayaks can only hold a limited amount of belongings.
Opening hours can vary
Plan your day-trip from Barcelona to ensure that you have plenty of time to experience all of the beauty that Mont-Rebei has to offer. You can easily find practical information on visiting the gorge online, including rules and opening hours. If you are renting a kayak, be sure that you turn back in time to return everything before closing. The opening hours of Mont-Rebei vary depending on the time of the year, so check before you plan your visit.
Be respectful of nature
As with anywhere you visit, it is important to be respectful of nature. Mont-Rebei is a truly stunning area, and it has been very well preserved considering the yearly footfall. When you visit, be sure to follow the rules, and take all litter with you. Dogs must be kept on a lead, and you shouldn't take any plants, fossils or stones from the area. 
Read more: 10 Things to do in Barcelona
PIN THIS GUIDE