If you're looking for a European weekend away then look no further than sunny Barcelona. It's one of my favourite cities in Europe, so it's surprising I haven't yet featured it on here! Aside from two of my best friends living there, it is a firm favourite as you have both the city to explore and the beach to enjoy. There are plenty of opportunities to keep you busy during a weekend or week-long break, and below are a few of my favourites.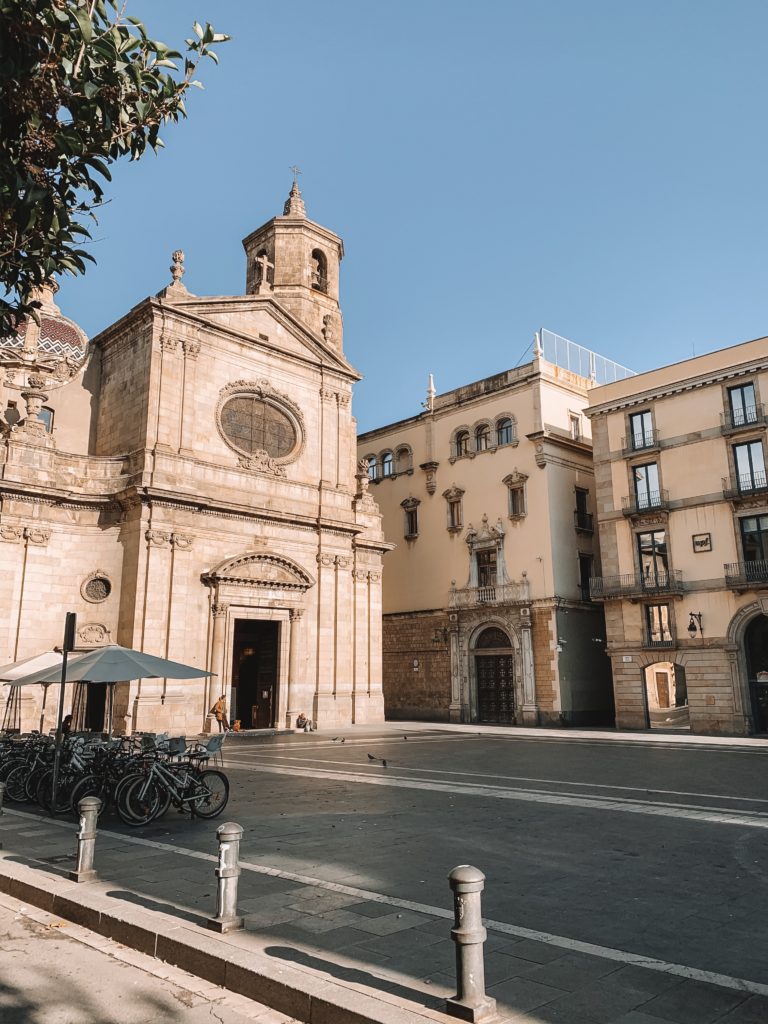 Relax at the beach
On a hot summers day, there's nowhere better to soak up the sun than on Barceloneta beach. With bars and restaurants lining the seafront, you'll have plenty of options for a snack and a cocktail or two.
Hike up to Park Guell
One of my favourite spots in Barcelona is Park Guell. I missed it on my first visit to the city, so was excited to visit during my second trip. Although some people think it's overrated, I really enjoyed walking around the gardens and admiring the views out onto the city. Plus it's free to visit apart from the viewing platform (which definitely IS overrated). 
See the impressive Sagrada Familia
For a first time visitor to Barcelona, a trip to the Sagrada Familia is a must. This iconic building in the city centre is still being built, over 100 years after construction started. That being said, the architecture is both impressive and intriguing as you can see the distinctive difference between both sides of the building. Head inside to appreciate the gorgeous patterns of the stained glass. 
Visit Mount Tibidabo
This is something I haven't done yet – but is at the top of my to-do list for my next visit later this year. Tibidabo is a hill standing tall over Barcelona. You can catch the cable cart up, or you can hike to the top, where you'll find the recognisable Sagrat Cor church, as well as Tibidabo amusement park.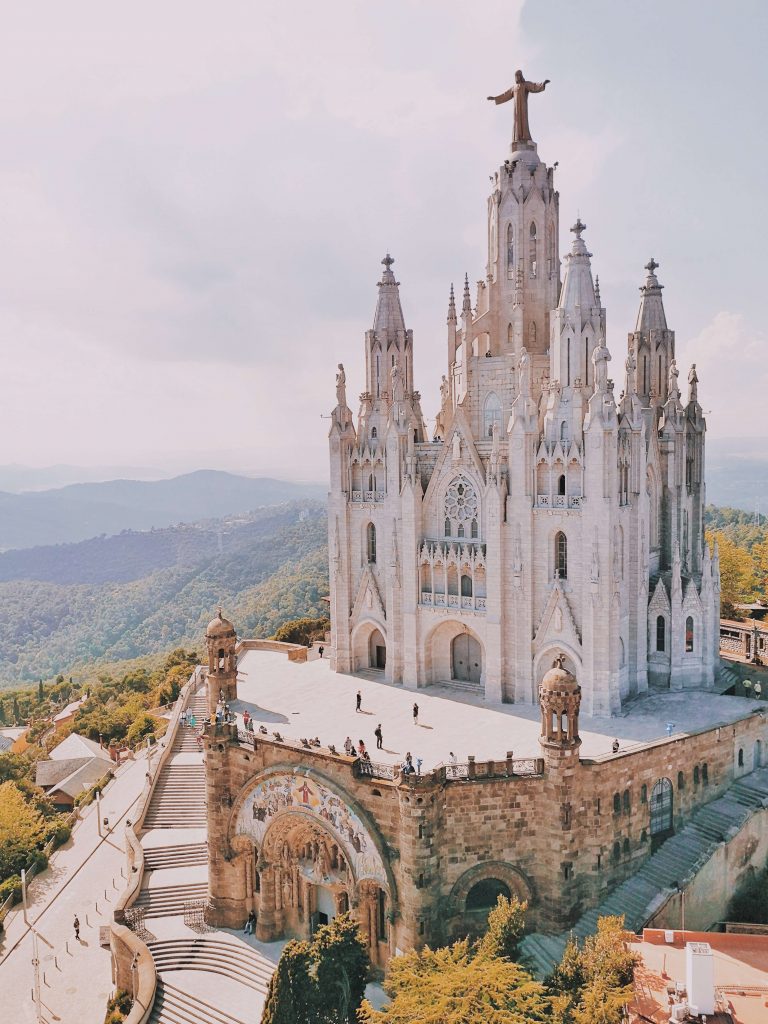 Wander down La Rambla
Probably the busiest and most well-known street in Barcelona, La Rambla is a tree-lined pedestrian street in the centre of the city. With shops, cafes and bars aplenty, it's a great street to start on if you're looking to do some shopping.  You'll also often be able to watch mimes, artistic shows and see plenty of beautiful flower stalls along here too. 
Explore the Gothic Quarter
My favourite part of the city centre is the Gothic quarter. Not only for its beautiful architecture, but also for its small alleyways with boutique shops, and cobbled squares filled with restaurants and bars. It's a great place to get lost in the city, as you'll often stumble upon some great hidden gems. 
Sunset at Carmel Bunkers
At the top of a pretty steep (but totally worth it) hike are the old war bunkers. Offering an amazing panoramic view of Barcelona, across the city and right out to the sea, it's a popular spot at dusk. Pack some beers, some food and head up to watch the sun go down. 
Eat allllll of the food
Barcelona has some fantastic restaurants, no matter your dietary requirements or preference! Instead of going on about how much I love the city's food scene, I've listed some of my favourite options below:
Surf house, Carrer de l'Almirall Aixada, 22, 08003 Barcelona, Spain [BURGERS, ETC – order the Nachos!]
Ocana, Plaça Reial, 13-15, 08002 Barcelona, Spain [TAPAS]
Flax & Kale, Carrer dels Tallers, 74b, 08001 Barcelona, Spain [BRUNCH]
Rosa Negra, Carrer dels Àngels, 6, Barcelona [MEXICAN]
Chök, Carrer del Carme, 3, 08001 Barcelona, Spain [DONUTS]
Visit the Olympic stadium and pool
Another fun area to explore in Barcelona is Parc de Montjuic, where you can visit Montjuic Castle, as well as the old Olympic stadium, the Olympic pool (where Kylie Minogue shot her 'slow' video) and some cute botanical gardens. 
See the quirky Casa Battlo
Finally, another iconic sight to see in Barcelona is Gaudi's Casa Battlo, located on Passeig de Gràcia. Considered one of Gaudi's greatest masterpieces, the uniquely designed apartment block is now a museum to Gaudi, well worth a visit for art, architecture and design lovers.
BONUS: Visit Mont-Rebei Gorge
If you're looking to escape the city for a bit, a day trip to Mont-Rebei gorge is highly recommended. It's a two and a half hour, picturesque drive from the city, so makes for the perfect day trip. Once there you can spend the day hiking the trails, or rent kayaks!