One of my favourite destinations in Greece, the island of Santorini really does have so much to offer. From idyllic white and blue towns, gorgeous scenery and dramatic coastlines, there is something for everyone here. Below are my top seven things to do in Santorini!
If it's your first time to Santorini, check out my Ultimate Guide to Santorini: Everything you need to know!
Hire a quad bike
Hiring a quad bike is by far the easiest, cheapest AND most fun way to explore the island of Santorini. There are loads of different towns to explore on the island, and so having a quad bike makes this totally do-able without spending lots of money on taxis. It also makes for an adventure in itself, as you can ride quads on the roads here, and gives you an opportunity to see the whole island and discover things a little more off the beaten path. 
If you're staying in Fira, I highly recommend renting your quads from Super Moto Santorini. They were super helpful, and friendly. We accidentally filled up with a whole tank of gas when we initially rented the quad (which was way more than needed), but when we decided to hire one again the next day, Super Moto made sure to drop us off the same quad so that we didn't have to spend any more money on gas.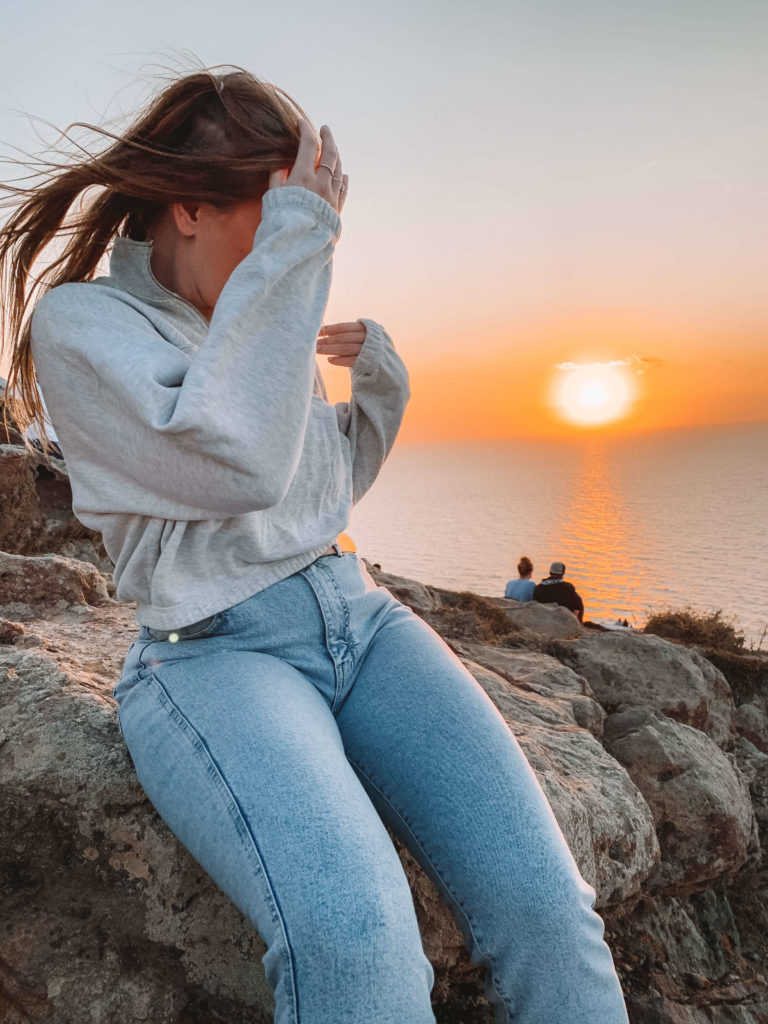 Watch the sunset at Akrotiri Lighthouse
My favourite thing to do in Santorini is to quad down to Akrotiri, right at the southern tip of the island to watch the sunset. This is by far the best place on the island to watch the sunset, as the view is totally unobstructed. It can get really busy down there (especially during peak season) and so to get parked easily I'd recommend heading down there slightly earlier. Once there, you can perch on the cliffside rocks and watch the sky erupt into gorgeous hues of orange, yellow and pink as you bid the sun goodnight. 
Go wine tasting
One thing you might not already know about Santorini, is that it is a very popular wine destination. There are loads of excellent wine tasting venues and vineyards scattered across the island for you to choose from. For dramatic coastal views and wines that can be bought and shipped worldwide, head to Santos Wines near Pyrgos. For a more rustic, authentic feel (and the most delicious wines) head to Domaine Sigalas, buried in the vineyards near Oia. Domaine was my favourite of the two, not only for the experience and excellent service, but for the delicious red wine too.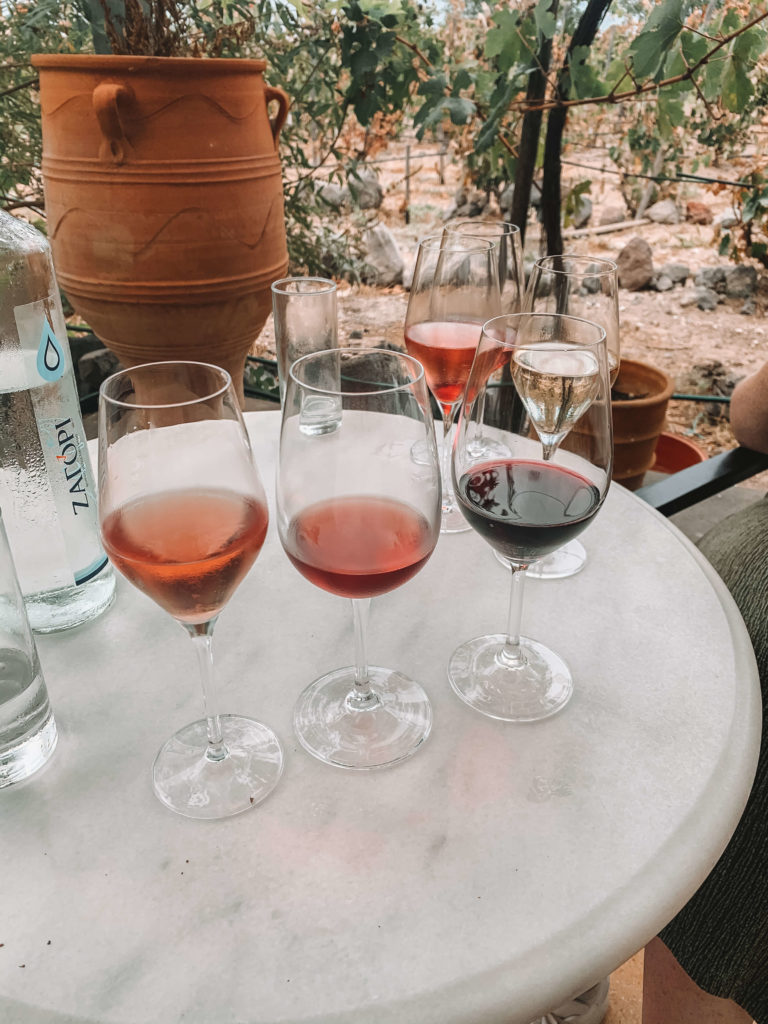 Hike from Fira to Skaros Rock
If you're looking to do something a little more active, then there are lots of hiking opportunities in Santorini. One of the most popular hikes is the coastal route from Fira to Skaros rock. This is an ancient volcanic rock formation that overlooks the deep blue Aeagan sea. It's a great viewpoint, not only out to sea but also for views of Fira to your left and Oia to your right. For something a little more strenuous, you can continue along the path all the way to Oia!
Go on a boat trip
Longing to get out on the water? Luckily for you, Santorini has plenty of boat tours to choose from, most of which will take you to a few of the same spots. These spots usually include the Red beach, the Black Mountain, and an opportunity to swim in hot springs. Most of the boat tours include a sunset option, where you'll be treated to a cooked dinner on board, inclusive drinks and another spectacular sunset viewing.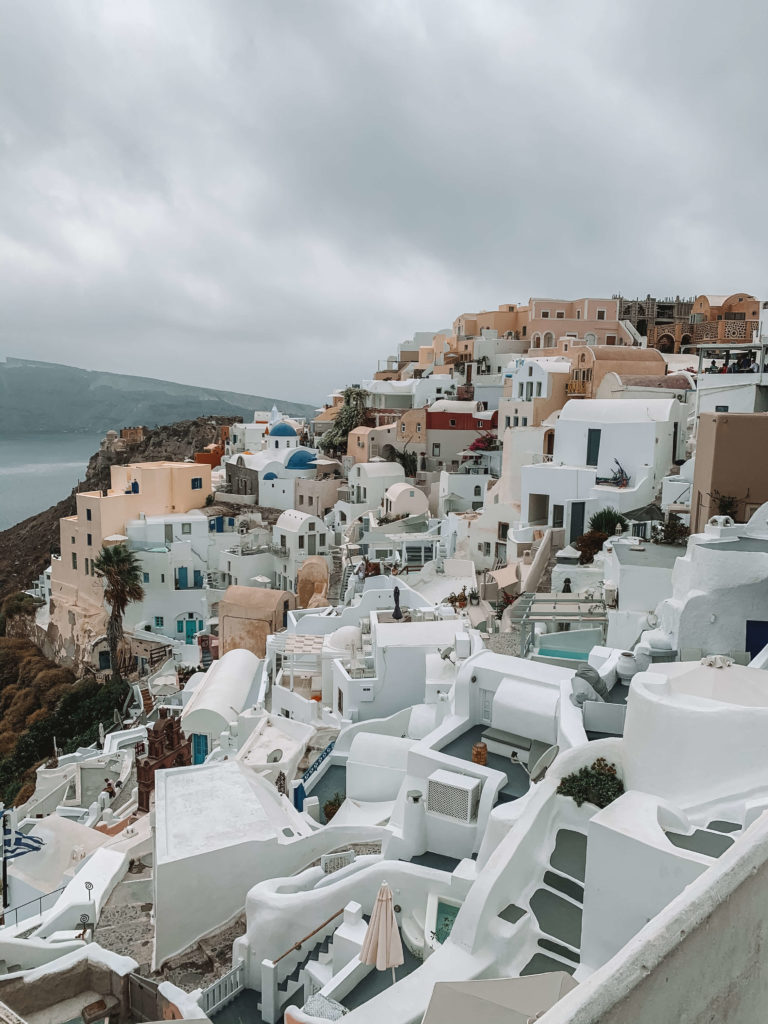 Stay in an iconic Cave Hotel
When most people think of Santorini, they picture the infamous cave style hotels, complete with infinity pools that gaze out across the sea. So, if it is within your budget, then staying at one of these hotels is a must to really get the full Santorini experience. If you can't afford to spend the entire trip resting your head at one of these unique resorts, why not treat yourself to a one night stay? There are plenty of these hotels throughout Oia and Imerovigli to choose from. 
Relax on the black sand beaches
No trip to Santorini is complete without a little R&R. The vlanic nature of santorini means that instead of regular white sand beaches, the sea front is adorned with black volcanic sand instead – but that doesn't mean they are any less beautiful. Down on the beaches of Kamari and Perissa you can rent sunbeds and swim in the cool crystal sea, along with having plenty of great restaurant and bar options if you need a refreshment or a bite to eat.