If you're planning on visiting Indonesia, then you've likely heard mutterings of the 'Gili islands'. Many people who visit Bali or Lombok choose to spend a few days exploring these islands. One of the most well known due to its popular inclusion on Indonesia's backpacker trail, is Gili Trawangan, otherwise known as 'Gili T'. Famous for its stunning beaches and exciting nightlife, this is the liveliest of the three islands, and a popular destination for backpackers, tourists and local party-goers. Here is my guide to visiting Gili Trawangan!
A Guide to Visiting Gili Trawangan
Is Gili T worth visiting?
For first time visitors to Indonesia, I would say that Gili T is absolutely worth visiting, even if only for a night or two. If you're not big into the party scene, there are still a lot of things to do in Gili T that will make your visit worthwhile. The beaches here are stunning, much nicer than any you will find in Bali. The sunsets on this island are also the best I've seen in Indonesia, so if natural beauty is enough to please you, then definitely add Gili T to your itinerary. It's also nice to escape the hustle and bustle of Bali and get a much stronger feel of island life, like you do in Gili T. 
Where is Gili T?
Gili Trawangan is a small island, located just off the coast of Lombok, Indonesia. It is one third of the cluster of 'Gili islands', which includes Gili Trawangan, Gili Air and Gili Meno. Gili T is the largest of the three Gili islands. However, even though I say 'largest', the island is still tiny. So tiny that you can walk around it in about an hour. For that reason, (unless you're fancy and plan on arriving by helicopter) the only way to get to Gili T is by boat.
How to get to Gili T from Lombok
Lombok is the easiest of the bigger islands to reach Gili T from, since it is the closest in proximity. You can catch the public ferry from Bangsal to travel from Lombok to Gili T. This is also the cheapest way to get to Gili T. Although fast boats are quicker, they are more expensive, and the travel time from Lombok to Gili T is really short compared to the route from Bali. The boat from Lombok to Gili T will take around 30+ minutes. You can expect to pay from IDR 10,000 for the public ferry, from IDR 85,000 for a speed boat. 
How to get to Gili T from Bali
Most visitors to Gili T end up coming from the nearby island of Bali. This isn't as close by as Lombok, and the travel time varies from 4-5 hours depending on where you are coming from in Bali, and the boat you choose. Usually, visitors will catch the boat from Padang Bai to Gili T. The fast boats or ferry from Bali to Gili T will cost from 350,000 one way. The journey can be rocky, so if you're prone to seasickness you will want to take some tablets, as the ferry from Bali to Gili T will take 1.5+ hours, depending on your choice. Some boats stop at Lombok first, then the Gili islands, whereas other boats go straight from Padang Bai to Gili T. 
Things to note about Gili 
There are a few things to be aware of before you travel to Gili T. These are handy tips to make sure you are prepared for your visit!
As already noted, the boat ride is choppy, so take seasickness tablets with you (particularly if you are coming from Bali to Gili T as the journey is longer)
Bad weather can affect the boat schedule. Back in 2017 I was stuck on Gili T for 2 weeks thanks to cancellations due to choppy seas. 
Gili T is a small island, which is completely pedestrianised. There are no cars or motorbikes to get around. You will either walk everywhere, or you can rent a bicycle.
There are horses and carts for hire, but this is a hot debate among visitors to the island*. 
It is a cash heavy island! Similar to Nusa Penida, you will need cash almost everywhere. There are ATMs on Gili T, but it's better to come with cash already where possible.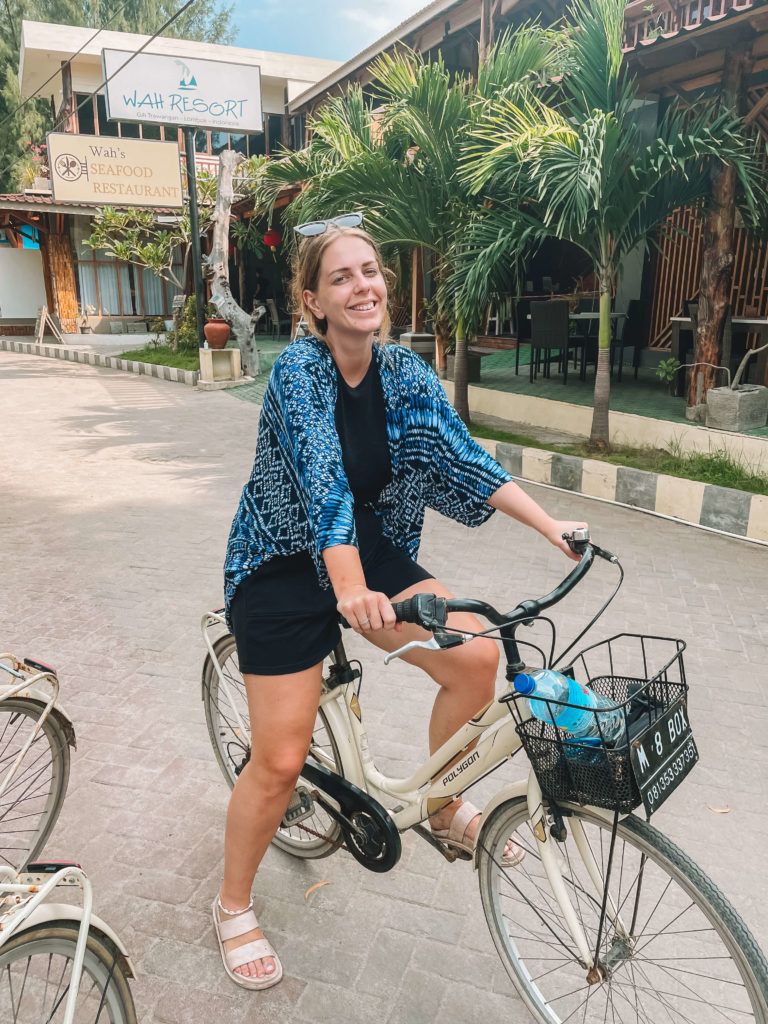 The Best Places to Stay in Gili T 
No matter your budget, there are plenty of options for accommodation in Gili T. Being a popular backpacker destination, you will find loads of hostels available across the island. There are also plenty of Gili T hotels that are a bit more upscale if you have a bigger budget. Some of the best places to stay in Gili T include: 
M Box hostel 
Having stayed at M Box in 2017 and 2022, this is my personal favourite for accommodation in Gili T. M Box is a small, family owned business which also has a location in Kuta/Seminyak too. The hostel itself is small, nicely contained but also has a pool and a bar serving both food and drinks. They offer a range of excursions and also bicycle rental, which is handy. 
My Mates Place
My Mates Place is one of the most popular options for backpackers. To be honest, I would have stayed here during my visit this year (2022) if it hadn't been fully booked already. My Mates Place is a really sociable hostel, so if you're heading to Gili T for the party scene, this is a great option for you. 
Mad Monkey
Mad Monkey is a relatively new addition to the island of Gili T. Having stayed at the Mad Monkey chain whilst backpacking in Cambodia, I know it will be a solid choice for backpackers in Gili T. The hostels are always sociable, usually with a bar or cafe, nightly events, pools and generally great facilities. They always have fun staff who go above and beyond to get guests involved and mingling with one another. The only reason I didn't stay at Mad Monkey Gili T, is that it is located on the opposite side of the island to the main buzz of restaurants and bars. However, given that Gili T is a small and walkable island, don't let this put you off if you are a solo traveller looking to make friends! 
Pearl of Trawangan 
One of the highest rated Gili T hotels, the Pearl of Trawangan is a fantastic option if you're not sticking to a budget. This hotel boasts a beach front location, high speed wifi, yoga classes, massages, bicycle rental and a pool. Honestly, what more could you want! This is a great choice for couples looking for a weekend getaway, far away enough from the party.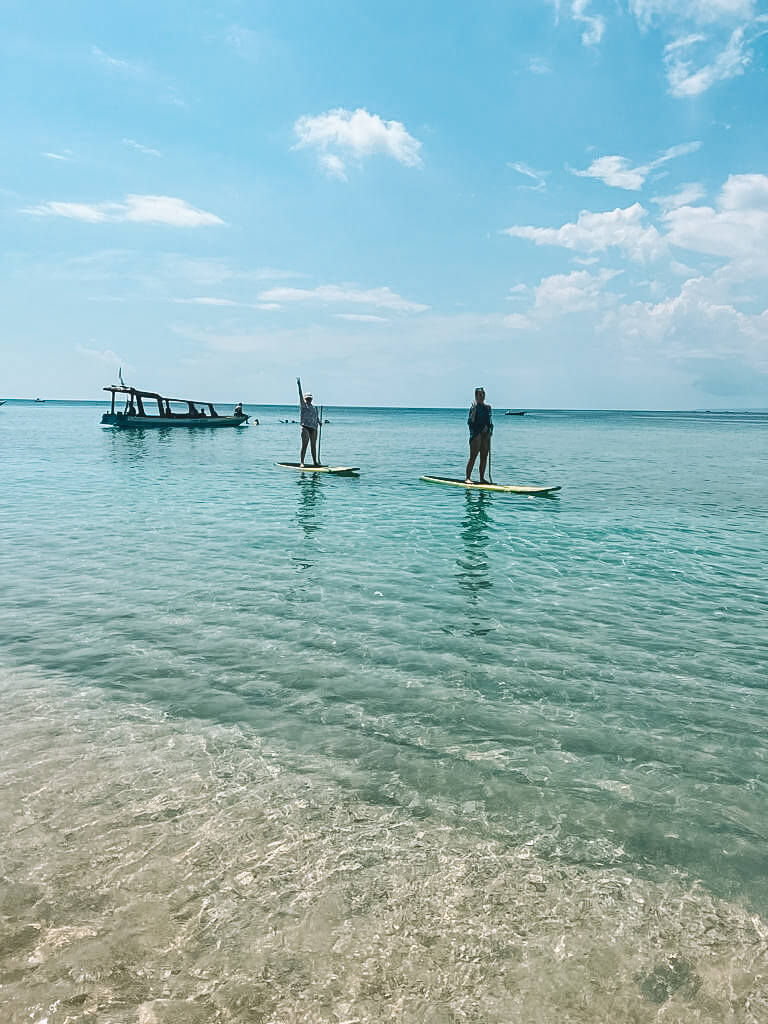 The best places to eat in Gili T
Although it's a very small island, Gili T has no shortage of incredible eateries. No matter your preference or dietary requirements, you'll find lots of delicious options to suit. Some of my favourites include the following!
Pituq Cafe
This is an amazing Vegan restaurant that I first discovered in 2017, and I'm so happy it's still there. The cafe's menu is really delicious and reasonably priced (for an island). Their jackfruit curry is my favourite dish – truly one of the most delicious curries I've ever eaten!
Banyan Tree
Banyan tree is an excellent lunch and brunch option on Gili T, located at the beach just a 5 minute walk up from the pier where you first arrive. Whether you're in the mood for a smoothie bowl, avocado toast, or something a little more traditional like Nasi Goreng, you will find it here. The iced coffees are also delicious! 
Regina Pizza
I discovered this place on my most recent trip to Gili T, in June 2022. It is a really popular restaurant, as everyone on the island seemed to be recommending it! It's pretty big compared to other restaurants on Gili T, and has an extensive (but tasty) pizza menu. 
Gili T Night market
If you're really on a budget and want to stick to local cuisine, then head to the night market at the beach front, right down by the pier. Here you'll find lots of options, from nasi goreng and mie goreng, to skewers, tons of seafood and even donuts! This is probably the most budget friendly dinner option on the island, just make sure you're carrying cash!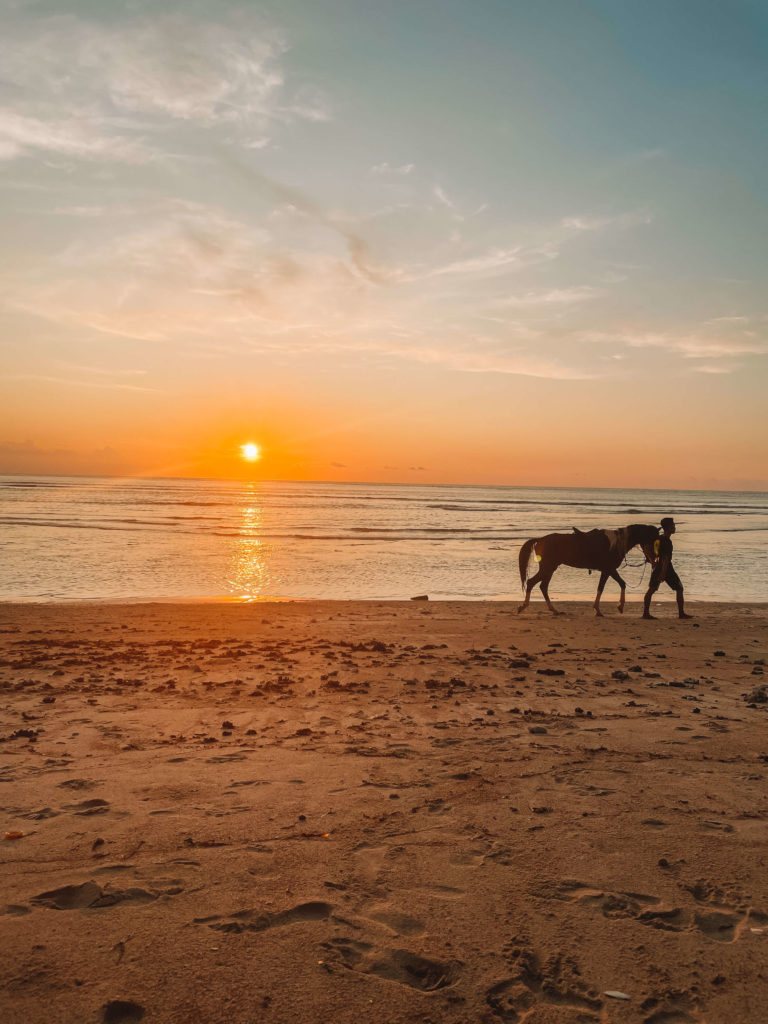 The Best Gili T Bars
As mentioned already, Gili T is the island where most people go to party. The nightlife here is unlike any nightlife you'll experience on the island of Bali. Instead, you can expect to find small, shack-like bars which line the front of the beach on the main side of the island where the ferries arrive. The bars are open every night, and you can expect them to be lively until the early hours. Many of them have entertainment like live music, fire dancing, beer pong tables, pub quizzes and more, so it's a great way to meet other travellers! Some of the most popular bars on the island include Sama Sama reggae bar, Jungle bar, and the Irish Bar. 
Things to do in Gili T 
I've written an entirely separate post on the best things to do in Gili Trawangan, but for such a small island you can find a great selection of activities here! Whether you want to enjoy the island's nature and marine life, see incredible sunsets, get your exercise in, or party until the early hours. Gili T is also an excellent and sociable base to explore the neighbouring islands of Gili Air and Gili Meno. 
*The Gili T horses
This is a hot debate among travellers, and there are two sides to the argument. Many tourists come to Gili T and are shocked by the skinny horses being used to pull tourists and their luggage across the island to their accommodation. It seems unkind and there are reports of the horses not being treated or fed very well. 
However, @canggucommunity on Instagram have a great highlight on their profile – 'Gili horses' which presents both sides of the argument, and offers some interesting perspectives. Personally, I didn't use them and do not ever plan to, however, I can understand that culturally it is a 'norm' in Indonesia and that many of the locals rely on this for an income. My only advice can be to do what you feel is right in your gut. Best to see for yourself, and make up your own mind!