Lake Bled is a lake in the Julian Alps, located in the north-west of Slovenia. Although Slovenia is a particularly underrated country when it comes to travel in Europe, Lake Bled is very popular among tourists. It's a beautiful destination year round, so a day trip to Lake Bled should be on anyone's bucket list for traveling in Slovenia. 
You may also like: Things to do in Ljubljana, Slovenia
How to get to Lake Bled
Given its close proximity to the capital, it is very easy to get to Lake Bled by car, bus or train. If you don't have your own car, then the easiest alternative is by bus. 
When planning your day trip to Lake Bled, you can check the bus times in advance on the bus station website. You can purchase your ticket online, but it doesn't actually guarantee you a seat on that particular bus. It's also not possible to buy your ticket from the bus driver, so you will need to purchase it from the counter inside Ljubljana bus station. The ticket costs €2.10 one way and the person at the desk will tell you which stop the bus will arrive at. If you've purchased your ticket online, you'll still need to head inside the station to get your ticket printed. 
Since purchasing a ticket doesn't guarantee a seat, I would always recommend getting there early rather than later, to avoid disappointment! 
The bus journey takes just over an hour, and is pretty comfortable, with reclining seats and plenty of room for bags. If you've got your suitcase or backpack with you, the driver will store it in the luggage compartments. There are no charging points on the buses, so it's best to bring a portable charger with you just in case! 
If you don't fancy going it alone, there are plenty of organised tours that offer day trips from Ljubljana to Lake Bled!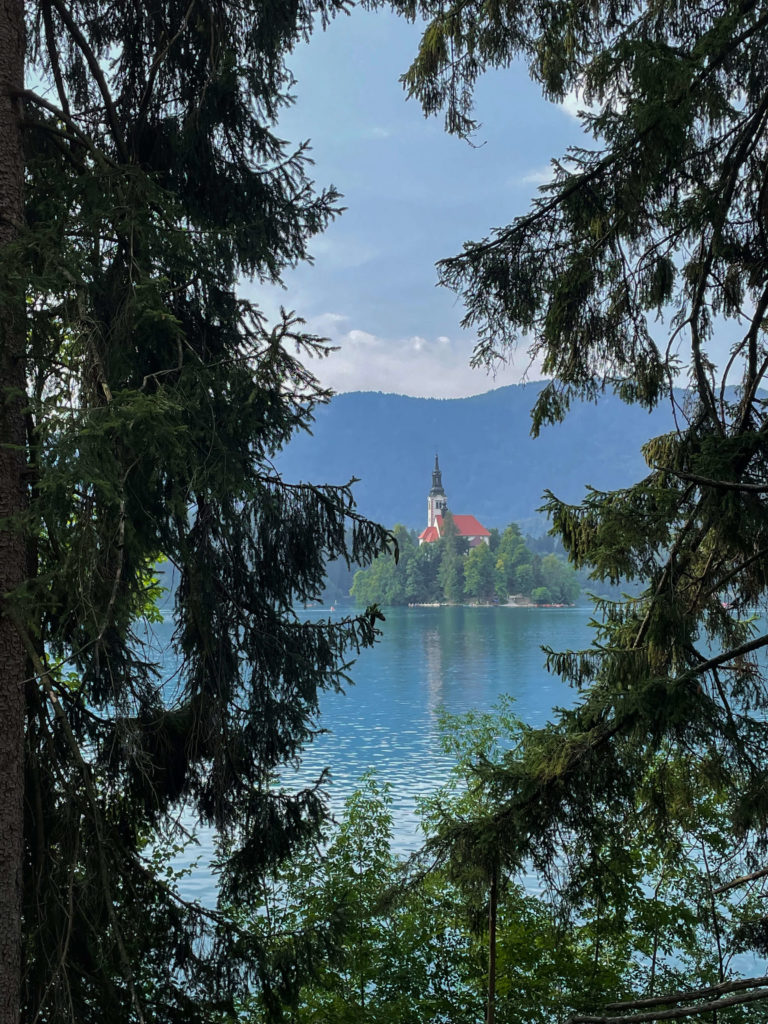 What to bring on a day trip to Lake Bled
If you're just heading for the day, then here are some of the things I would recommend taking with you in your day bag! 
Water and snacks
If you're on a budget then it's always good to bring snacks with you to save spending money on eating out. I found the restaurants and cafes in Lake Bled to be notably more expensive than in Ljubljana! It's also always a good idea to take a bottle of water with you – especially if you plan on doing any of the hikes. 
Tip: There is drinking water available everywhere in Lake Bled. Small fountains are dotted around the lake for you to refill your water bottles. 
Swimwear + micro fibre towel
It is possible to swim in Lake Bled if you visit in the warmer months! For that reason, you want to come prepared with swimwear and a quick drying towel in case you fancy a dip.
Camera
Trust me, you'll want your camera with you! There are plenty of stunning photo opportunities at Lake Bled and the surrounding areas. 
Cash
Although there are places that do accept card payments, lots of places are cash only too – particularly for buying bus tickets from Lake Bled bus station.
Suncream
If you're visiting during spring and summer, remember to bring sun cream with you! It can get particularly hot around the lake in the summer months, and there isn't a huge amount of shade if you're planning to stay all day!
Portable charger
As mentioned previously, the buses don't have charging points, so if you're like me and your phone also doubles as your camera, then you will want to bring a portable charger with you!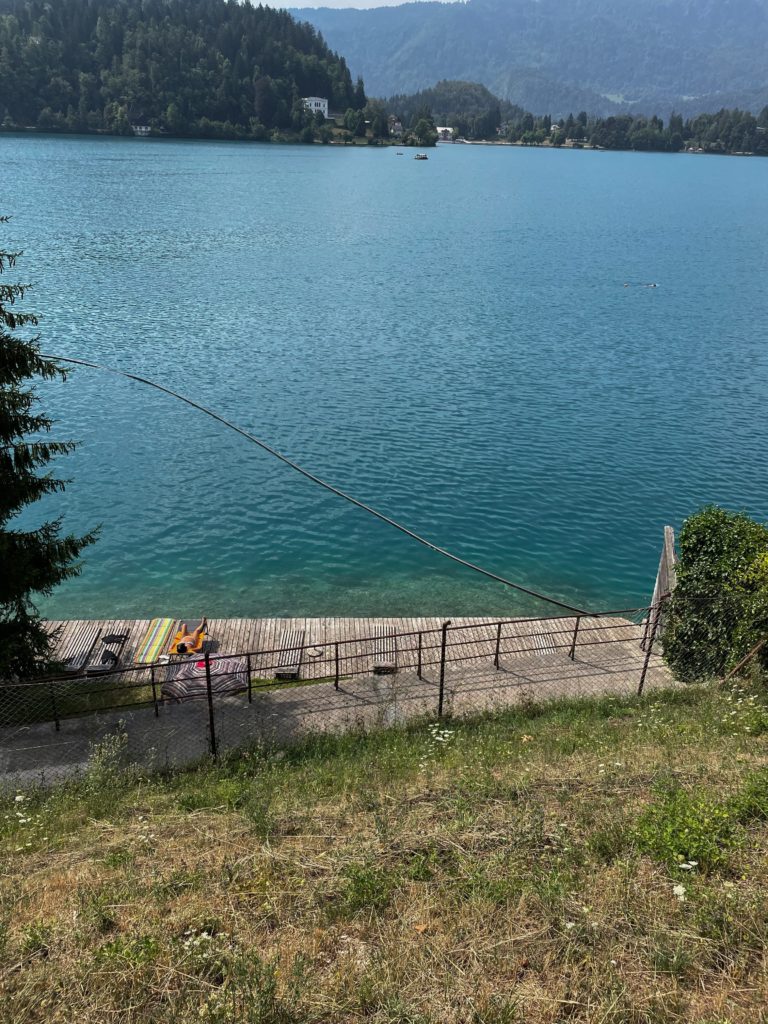 Best things to do on a day trip to Lake Bled
Now for the fun stuff! There are so many fun things to do in Lake Bled that you will be truly spoilt for choice. So many, in fact that you might even consider staying for a few days instead of doing a day trip to Lake Bled. Below are just a few of the best things to do here!
Hiking
There are plenty of hikes you can do around Lake Bled, that vary in length and difficulty. You may simply choose to hike up to the castle or follow the 3.7 mile loop around the lake. Alternatively if you are looking for iconic views across the lake out to Bled island you can hike up to viewpoints, such as Ojstrica or Mala Osojnica.
Swim in the lake
During the summer months, you will have the opportunity to swim in the crystal blue waters of Lake Bled, if you wish to. This is lovely on a hot day to cool down after a hike. Be aware though, that you can't just jump into the lake wherever you want to. There are designated swimming areas, the most popular of which is Castle Bathing Area. Prices to swim here are €7 for adults or €4.50 for children under 14, for the whole day. Castle bathing area is open from April through to mid September, however it is closed on rainy days, so best to double check online in advance!
Stand up paddle board 
When you visit Lake Bled, you will notice plenty of people out on the lake, swimming, boating and stand up paddle boarding. You can hire stand up paddle boards from numerous vendors dotted around the lake from around €19.
Try Bled cake
Whether you have a sweet tooth or not, one thing you must do when visiting Lake Bled is to try Bled cake! This sugary treat is made up of custard and cream with top and bottom layers of delicious pastry. It kind of reminds me of Napoleon cake, but more sickly! Although it is tasty, it's definitely one that is better shared.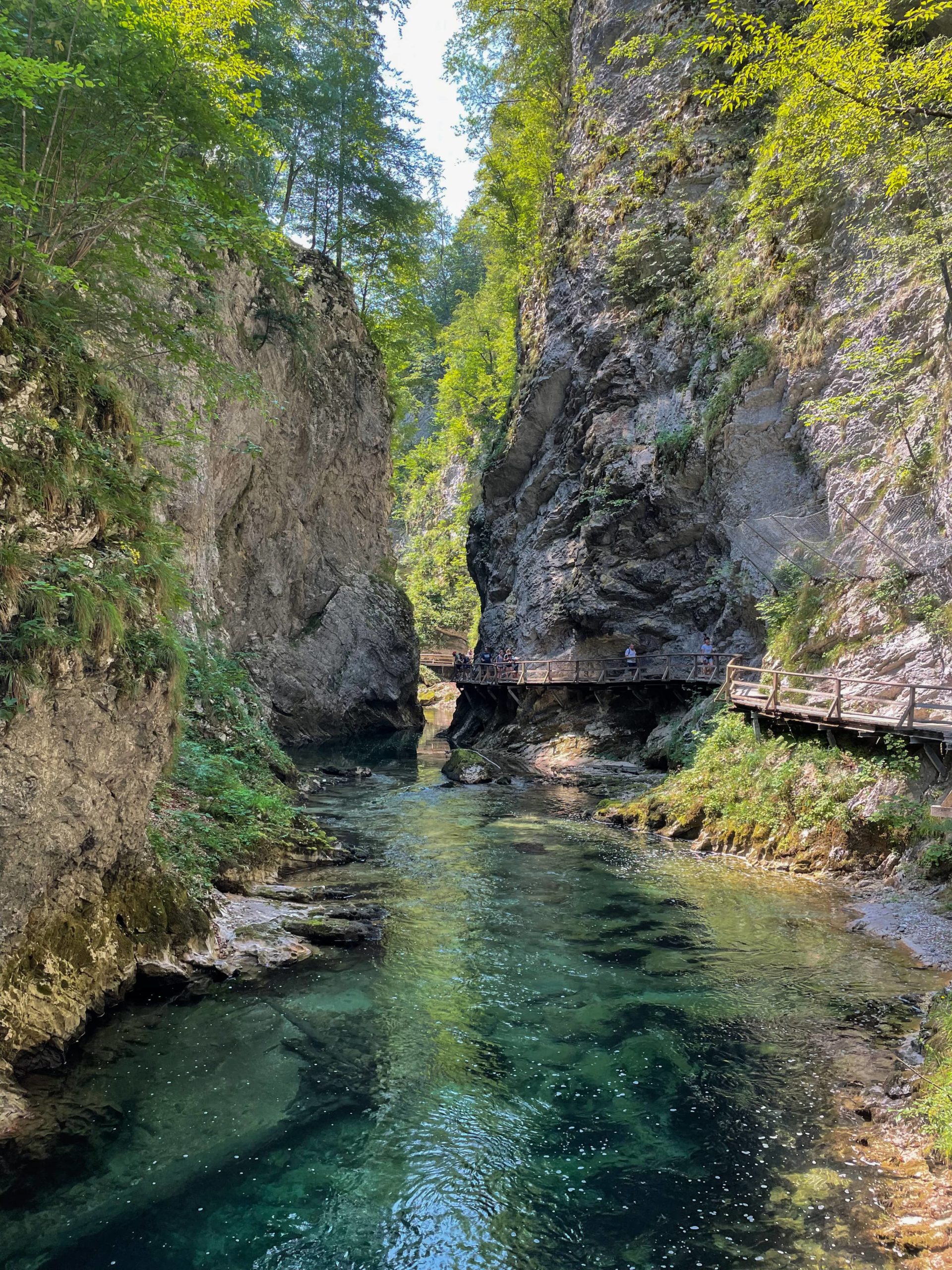 Visit Vintgar Gorge 
If you only do one thing when you visit Lake Bled, then make sure you do this. Located about 3km outside of Bled, Vintgar Gorge is a stunning gorge carved by the Radovna river. The hike itself is very easy, and the scenery is breathtaking. It's one of the places I've been where it is just as beautiful (if not more so) than the photos online. Visiting Vintgar Gorge was the highlight of my Slovenia trip! 
Stroll around the lake 
One of the best ways to admire the surroundings of Lake Bled is to wander its perimeter. This walk is ideal for families or those with pushchairs, since it's another easy and fairly flat walk, and you'll be spoiled for views along the way!
Visit Bled Island 
A visit to Lake Bled isn't complete without venturing out on the lake to Bled island. This small but iconic island sits almost centrally in the lake, and is only accessible by boat. On the island, you can climb the 99 steps up to the church and ring the islands wishing bell for good luck. You can also climb the bell tower of the church to get unique views back out to Bled and the lake. 
If you have multiple days to spare, there are many more things to do in Lake Bled which you can read about in another post!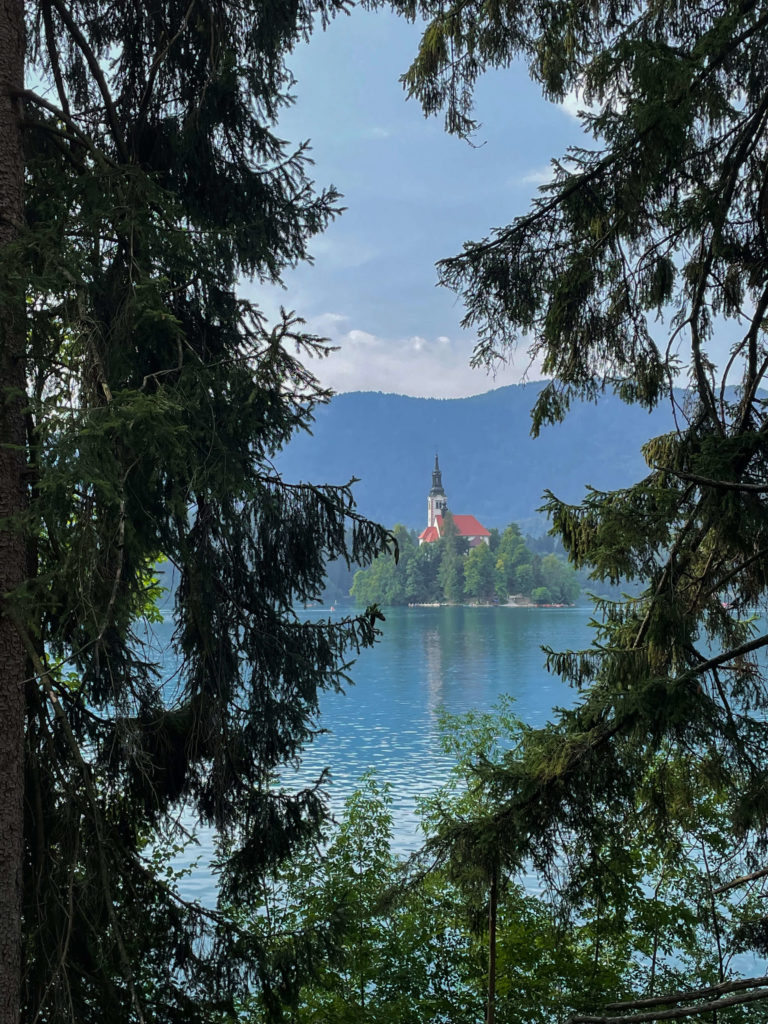 Getting back from Lake Bled to Ljubljana
If you're heading back to Ljubljana at the end of your visit, it's an easy journey! The buses come every half an hour from Lake Bled bus station. A timetable is available on the wall of the station and the ticket costs €1.60 one way. As with the journey to Lake Bled, it takes just over an hour to arrive back in Ljubljana.