What is Vintgar Gorge?
Vintgar gorge is a 1.6km long gorge located in north-west Slovenia, about 3km away from Bled and on the eastern edge of Triglav National Park. It is an area of stunning natural beauty, carved out by the Radovna river, with dramatic cliff faces and clear blue-green waters. Visiting Vintgar Gorge from Lake Bled is very easy, since it is close by and doesn't take more than a couple of hours to visit. 
You might also like: Visiting Lake Bled from Ljubljana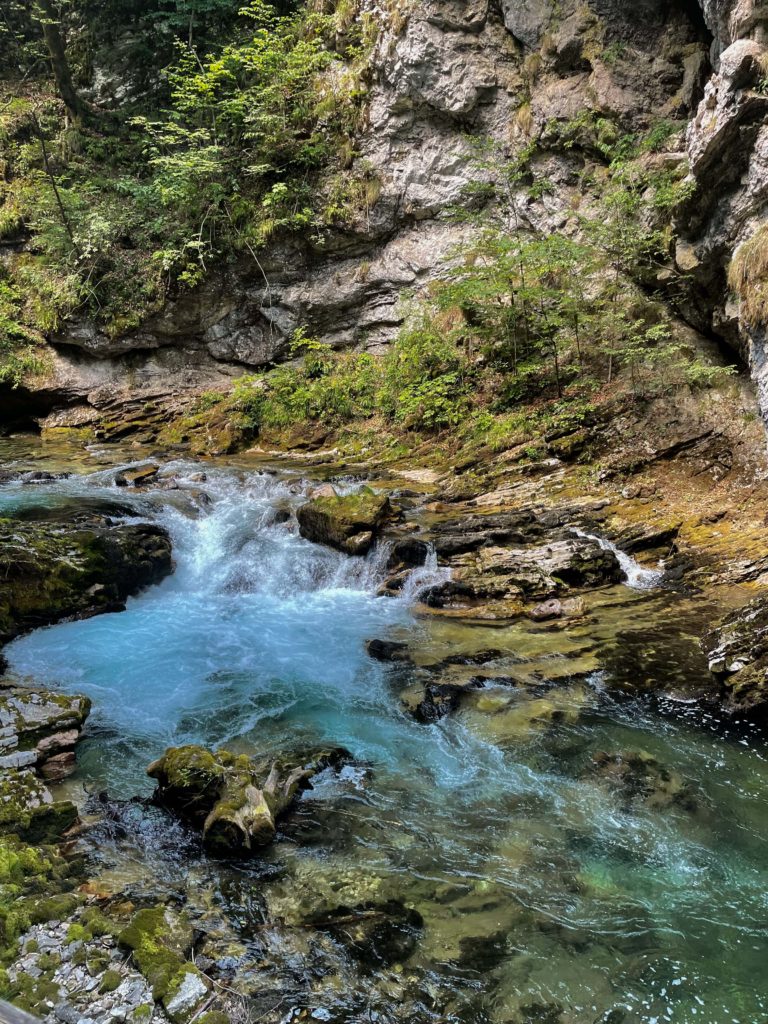 How to get to Vintgar Gorge
As mentioned, Vintgar Gorge is very close to Lake Bled, and there are a number of ways you can get there. 
The first option is to catch the bus from Lake Bled bus station to Podhum, which will cost you €1.30 (one way). From here, it is a 30 minute walk to Vintgar Gorge. 
Alternatively if you don't want to walk, you can go to the tours office next door the bus station and pay €10 for a direct shuttle (return). They will drop you at the entrance to the gorge, and pick you up from St Catherine's church roughly two hours later. You can also purchase your €10 Vintgar Gorge entrance ticket from them. I would recommend doing this, as you need to buy the ticket in advance either there or online, you can't purchase it at the gorge 
Finally, if you don't mind some extra walking, you can actually walk all the way to Vintgar Gorge from Bled. The distance is about 3km and will take roughly an hour to walk there. This is a good option if you're on a budget and have plenty of time to spend in Lake Bled. 
If you're not already in Lake Bled, then don't panic. There are plenty of tours available that will take you from Ljubljana to Lake Bled and Vintgar Gorge in a day.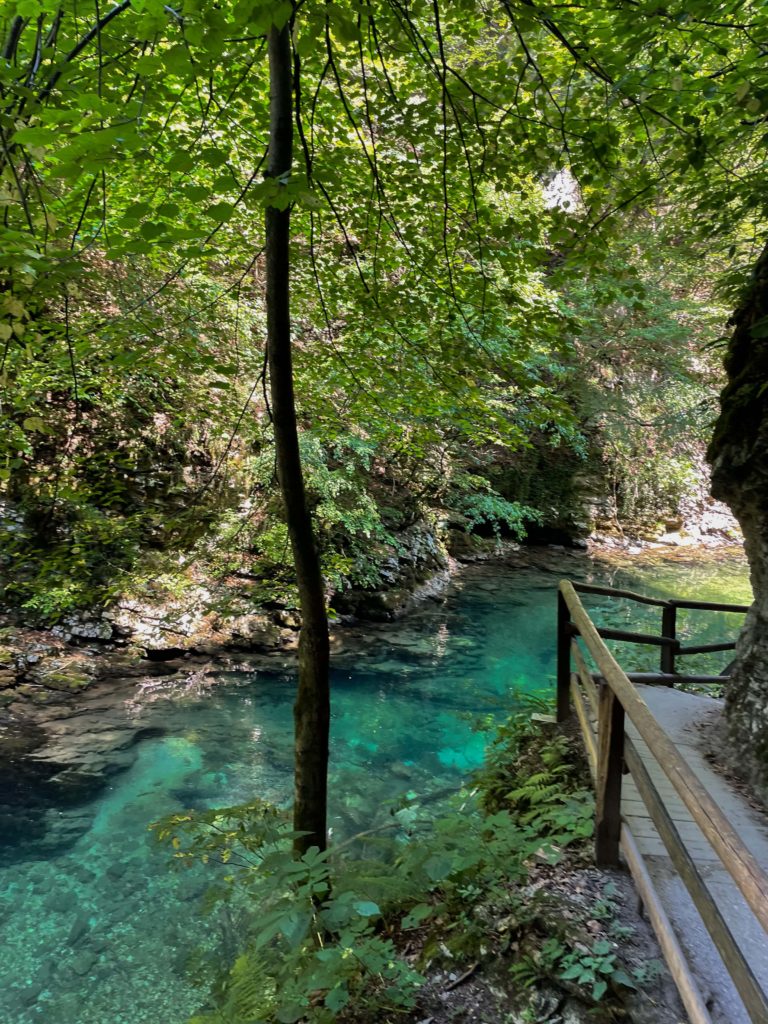 Hiking in Vintgar Gorge
The Vintgar Gorge hike is very pleasant, and is not a difficult one either. Those with any level of fitness will be perfectly fine! However, there are steps involved in places. For that reason, it is not accessible for those in wheelchairs and you can't bring in pushchairs either.
When hiking in Vintgar Gorge, you will follow a clear boardwalk along the edge of the river that runs through the centre of the gorge. From the boardwalk you can admire the natural beauty that surrounds you. There's lots of nature to spot on your walk too, from flora and fauna, to fish in the river, to birds and butterflies. It is a very easy and flat walk just shy of 2km until you reach Sum waterfall, where there is a rest point and a cafe selling refreshments.
From this point, you can choose which circular route to take back to the entrance, as the walk through the gorge is one way only. You can also choose to head down to the bottom of Sum waterfall, where you'll see people swimming and cooling off on a hot day. 
At the top of Sum waterfall, you can choose the left hand route via Blejska Dobrava, up some steep stairs. This route is about 4.3km in total, and will take you 75 minutes (from the start of the gorge). Alternatively, you can choose to go right and take the circular route via St Katherines, through the forest. This route is slightly longer, taking a total of 85 minutes at a distance of 5.7km. Some parts of the forest route are steep, but overall it is a nice walk. Both routes will lead you back to the entrance of Vintgar Gorge. Alternatively you can follow signs straight back to Bled.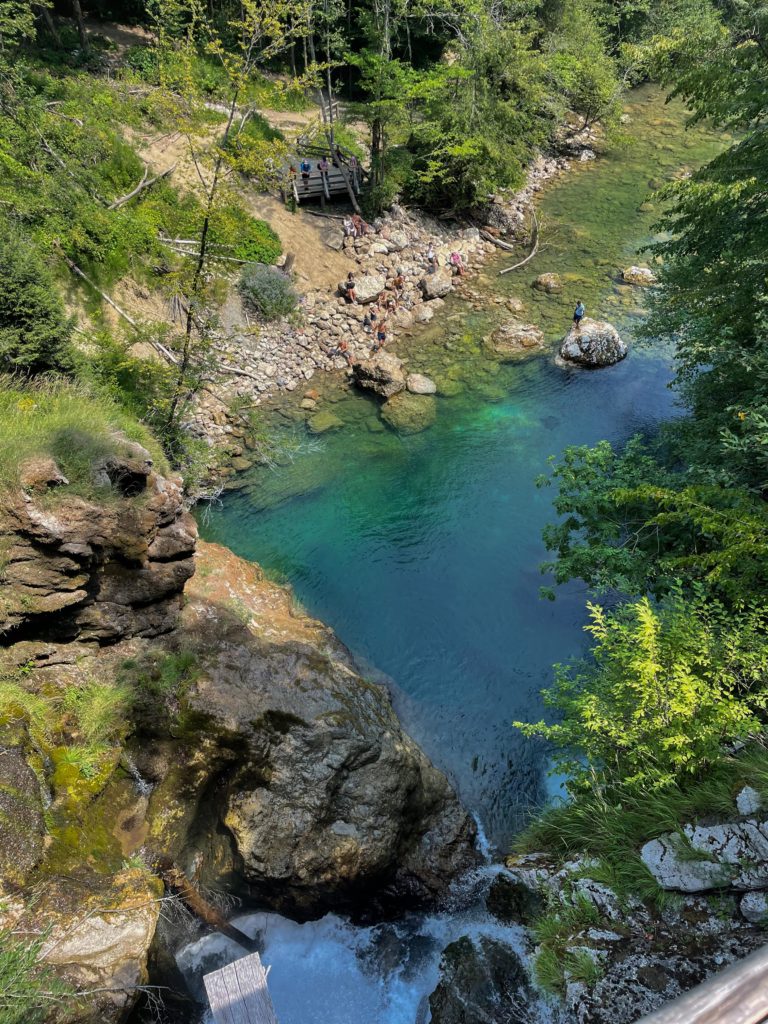 Things to know before visiting Vintgar Gorge
There are a couple of things that are handy to know before you visit Vintgar Gorge. 
Vintgar Gorge Tickets
Firstly, the entrance tickets are timed, so bear this in mind when you are purchasing your ticket. Make sure you leave with plenty of time to get there for your time slot (particularly if you opt to walk to Vintgar Gorge from Bled). If you purchase your ticket from the tour office, their shuttle will be timed in line with your ticket entrance time. 
Vintgar Gorge Opening Hours
Vintgar Gorge has seasonal opening hours, so it is best to check online before you go, to avoid disappointment. However, the opening hours currently listed on their website are as follows:
April weekends and holidays – 9:00 – 17:00 
April weekdays – 10:00 – 16:00 
May 1st – May 27th – 9:00 – 17:00 
May 28th – June 24th – 8:00 – 18:00 
June 25th – August 21st – 7.30 – 19.00 
August 22nd – September 18th – 8.00 – 18.00 
September 19th – October 10th – 8.00 – 17.00 
October 11th – October 31st – 9.00 – 16.00 
1st November – 6th November –  9.00 – 15.00
You should note that last entry is 30 minutes before closing time. The Gorge is closed to visitors between mid November until April.
The Vintgar Gorge Hike
The walk in the gorge is very sheltered, and so if you are visiting on a hot sunny day, you will be walking mostly in the shade. That said, it's always worth bringing a hat, suncream and plenty of water on any hike during the summer months. 
Most of the hike is along wooden boardwalks through the gorge. These can of course get very slippery on a wet day, or if it has rained before your visit. It is recommended to wear suitable walking shoes with good grip, and to be careful during your hike. There are handrails the whole way along the boardwalks if you are concerned. 
My impressions of Vintgar Gorge
The Vintgar gorge hike is one of the best hikes I've ever done. Although not a strenuous hike, the gorge one of the most beautiful places I've ever seen. It swiftly bumped Slovenia to the top spot of my favourite country visited in 2022! You certainly won't be shy of photo opportunities, so make sure you take a camera with you, with plenty of charge, so that you can capture all of it's beauty. 
You might also like: Top things to do in Ljubljana