If you only do one thing while travelling in Bali, Indonesia, then please make it this. By far, the most surreal and incredible experience I've had – closely followed by swimming with whale sharks in Mexico. Whether you're a dolphin lover or not, you can't deny the joy of seeing these adorable creatures living their best lives out in the open waters. Not only will you see plenty of this, but on this one-day tour in Bali, you will also get the opportunity to swim with dolphins in the wild and all for an extremely cheap price.
After an incredible whale and dolphin watching tour in Madeira, I wasn't sure any other dolphin experience would beat it. But I can honestly say that this has been my favourite day of 2022 – maybe even of my life so far.
Swimming with Dolphins in Lovina Bali
The best way to do this tour is to stay in Lovina, up in the north of Bali. However, if you are based in more popular locations such as Ubud, Canggu or Seminyak, it is still do-able as a day trip! Just be warned that the pickup time will be early, especially the further away from Lovina you are located! (For this reason, it's probably not ideal to do the tour from places like Uluwatu or Nusa Dua). We went as a group of 6 from Canggu, picked up and driven by my friend Andi, who is a local tour guide in Bali. He also helped us to arrange the dolphin tour, which was handy as he could recommend a reputable one!
Our pickup time was 3:30am, as it is around a 2-hour drive from Canggu up to Lovina. If you can sleep easily, then you can sleep a little more in the car on the way there. However, one thing I will say is that the route to Lovina passes up and over the mountainous area of Auman and Gitgit, and the roads are very windy. If you tend to get car sick, this is definitely something to bear in mind.
Once you get to Lovina beach, you will board the boat and head out into the open water. You will arrive around the same time as sunrise, so expect lots of beautiful views!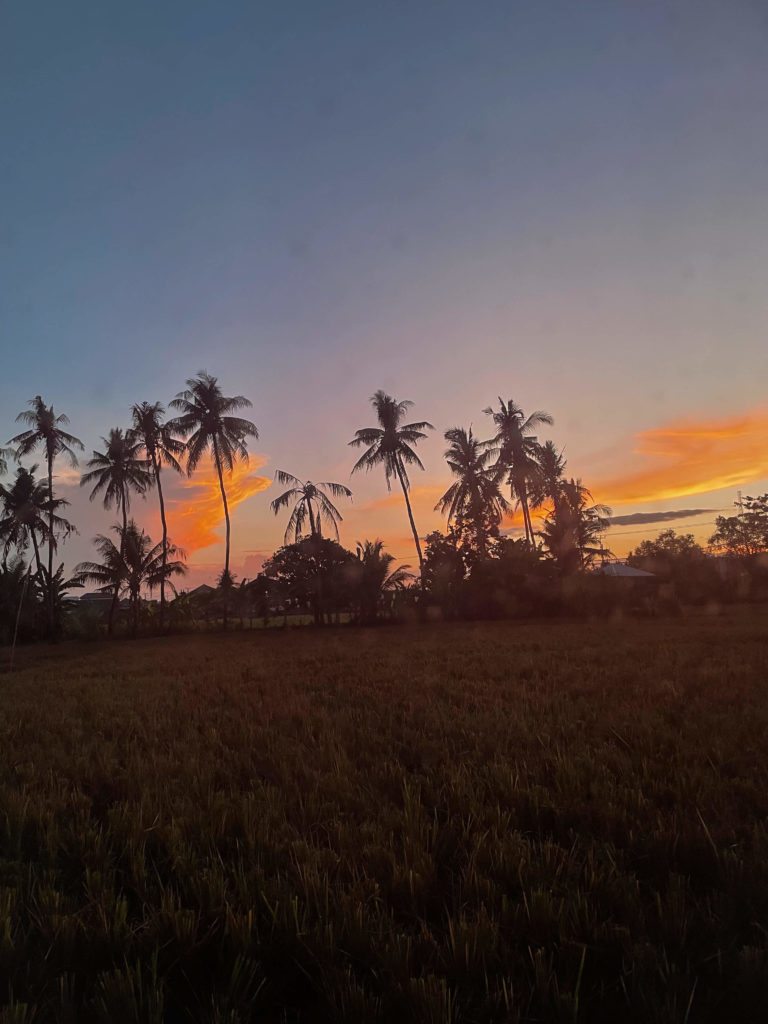 Swimming with dolphins in Bali
It won't be long between heading out on the boat and spotting your first dolphin. The great news is that it is pretty much 100% guaranteed that you will see dolphins, since they are in the area every single morning throughout the year. At first, I was a bit apprehensive as there were about 8 boats out on the water. Of course, all of which would speed over to the dolphins wherever we caught a glimpse. I was worried that perhaps the dolphins felt like they were being chased, if that makes sense. But the dolphins were very playful, almost showing off doing flips and really putting on a show for us!
You do need to be patient at first, although the dolphins are very playful, the presence of other boats can mean that you are seeing them from quite a distance at first. We all felt a little defeated in the first 20 minutes of the trip. Mainly because it felt as though our boat was always the furthest away, whilst other lucky boats seemed to have the dolphins jumping out of the water right beside them! At the same time, it meant our guide was much more respectful to the dolphins than the other boats, always keeping a good distance between us and them. Patience was key, however, and eventually we found ourselves alongside a huge pod!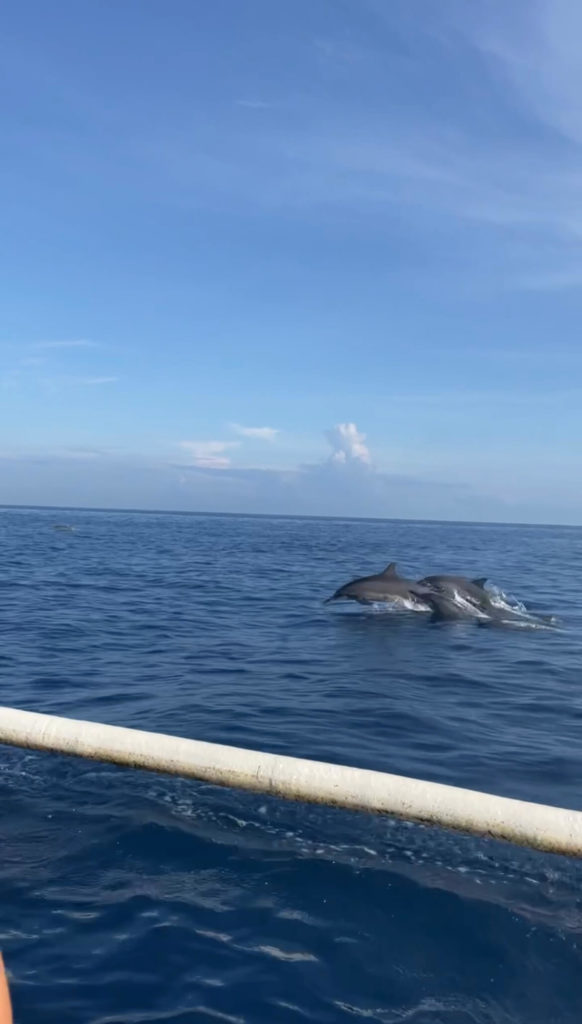 Swimming with the Dolphins in Lovina Bali
After a good 30-40 minutes of watching the dolphins putting on a show for us, we got the opportunity to swim with them. The tour boats have outriggers on either side of them, which have what look like swings attached to the front (pictured above). You will be given a snorkel and a mask and will jump in while the boat is stationary. Holding on to the swing hanging off the outriggers, the boat will pull you along while trying to find the dolphins.
Again, you might need to be patient whilst the tour guide finds a pod of dolphins. I was being pulled along by the boat for probably 15 minutes or so before we spotted any dolphins again. I was close to giving up and letting someone else have a go, when all of a sudden, there was a pod of around 30 dolphins swimming alongside, underneath and in front of me! The experience was so surreal, as I was completely surrounded!
Unfortunately, I didn't get any pictures of this, as I wasn't sure how tough it would be to hold onto the swing with one hand and my go pro with the other. Especially while the boat was travelling at a decent speed (turns out it was very tough!). But honestly it was such an amazing experience, one that I wouldn't hesitate to go and do again.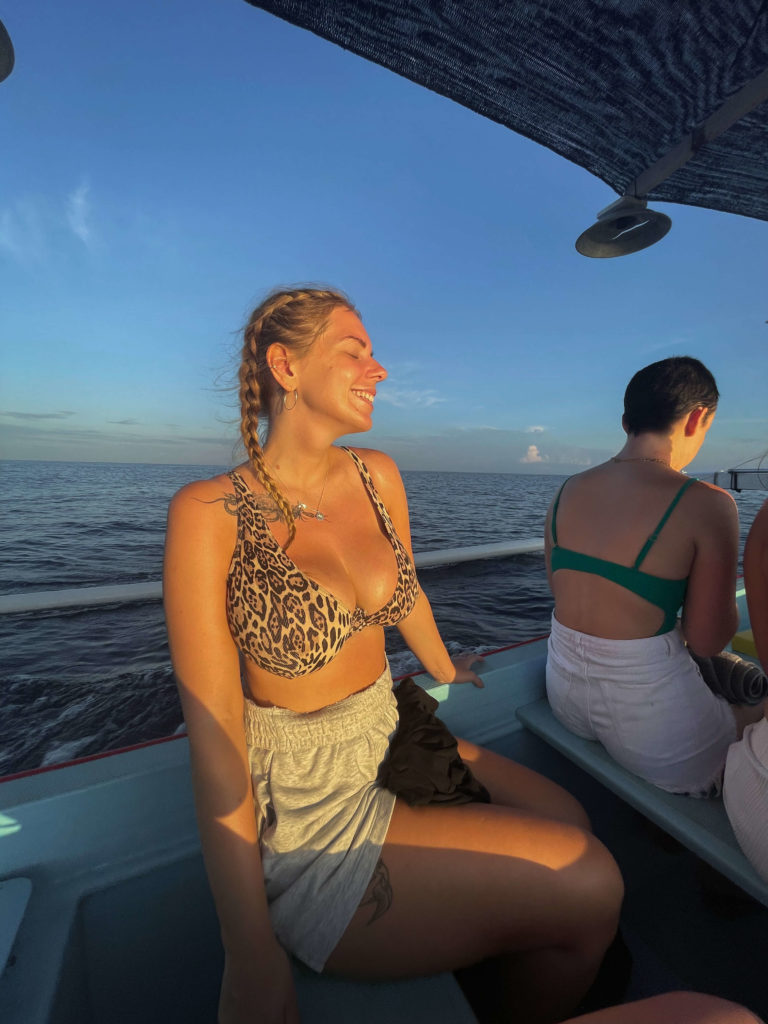 Things to note about swimming with dolphins in Lovina Bali
There are a few things I noted about my experience to share with others, which hopefully you will find useful!
Wearing appropriate clothing
The first is to absolutely wear a tight, well-fitting bikini, or a swimsuit and for guys, swim shorts that you can tighten. The speed that the boat pulls you at is pretty fast. As you are being pulled against the water, the last thing you want is your swimwear to come off!
Depth of the water
Secondly, the sea is DEEP. I didn't realise how deep it was until I saw the dolphins. At one point there was a pod of 5-6 underneath me, so far down that they looked like fish. This is something to be aware of if you have a fear of open water or the ocean.
I had to focus on the dolphins and not let my imagination run away with me about what might be swimming below! Thankfully I only saw dolphins, a couple of fish and a few jellyfish – not huge ones though, only small ones.
Plastic pollution
Sadly, there is a fair bit of plastic in the sea. This is a huge problem in Bali in general, and although there is not much you can do about it when you're being pulled along at top speed, it's something that still made me sad. Especially for the wildlife out in the water.
Physical endurance
Hanging on to the swing is tiring! Although I wouldn't say I particularly have a lot of upper body strength, I did manage around half an hour hanging on. The adrenaline probably kept me going but waking up the following day my arms were extremely achey.
Respect for wildlife
Finally, of course, is to make sure you are going on a tour with a reputable guide who will respect the dolphins and other wildlife. Any tourist attraction involving wildlife should (rightly so) be scrutinised carefully to ensure the animals are not being exploited for our entertainment. It can be hard to know until you are on the tour already, so I'd recommend looking at lots of reviews before booking!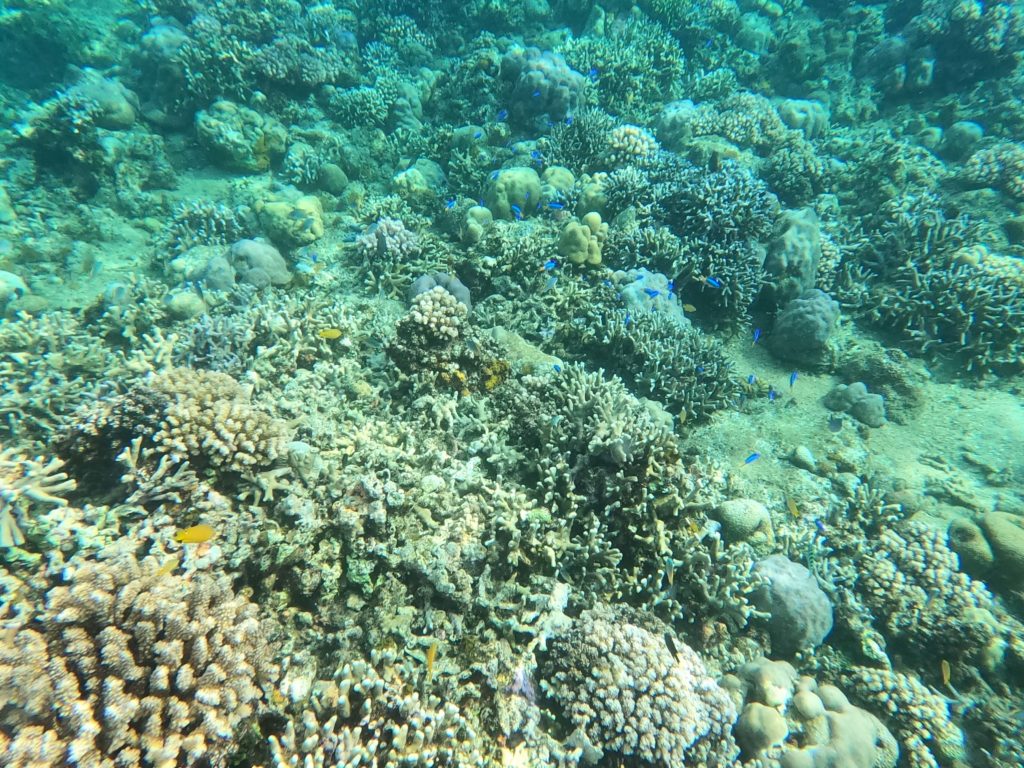 Snorkelling off Lovina Beach
After your dolphin encounter, the guide will take you to a coral reef just off Lovina beach for snorkelling. Although the coral reef itself is quite bleached, there are still lots of colourful fish – and even starfish! Although the water is still, with no waves, the undercurrent is quite strong. Something to bear in mind if you are not the most confident of swimmers. There were also a LOT of jellyfish here. They were only small, but we did all get stung quite a bit (although it just felt like mild pinpricks.
Banyumala Twin Waterfall
Once back on land at around 10am, we piled into the car and started our journey back to Canggu. On the way, we stopped by Banyumala twin waterfall. This is an impressive double waterfall (as the name suggests) located near Danau Buyan lake. The entry to the waterfall costs 30k and does involve quite a lot of steps to get down to there! On the way down, it can be slippery, so be careful and use the handrails available. The way back up to the car park is very steep and tiring, but the waterfall is truly stunning, so in my opinion the tough climb back up was worth it! If you want to visit the waterfall but aren't keen on the climb, you can pay motorbike drivers 25k to drive you back up to the top from the halfway point!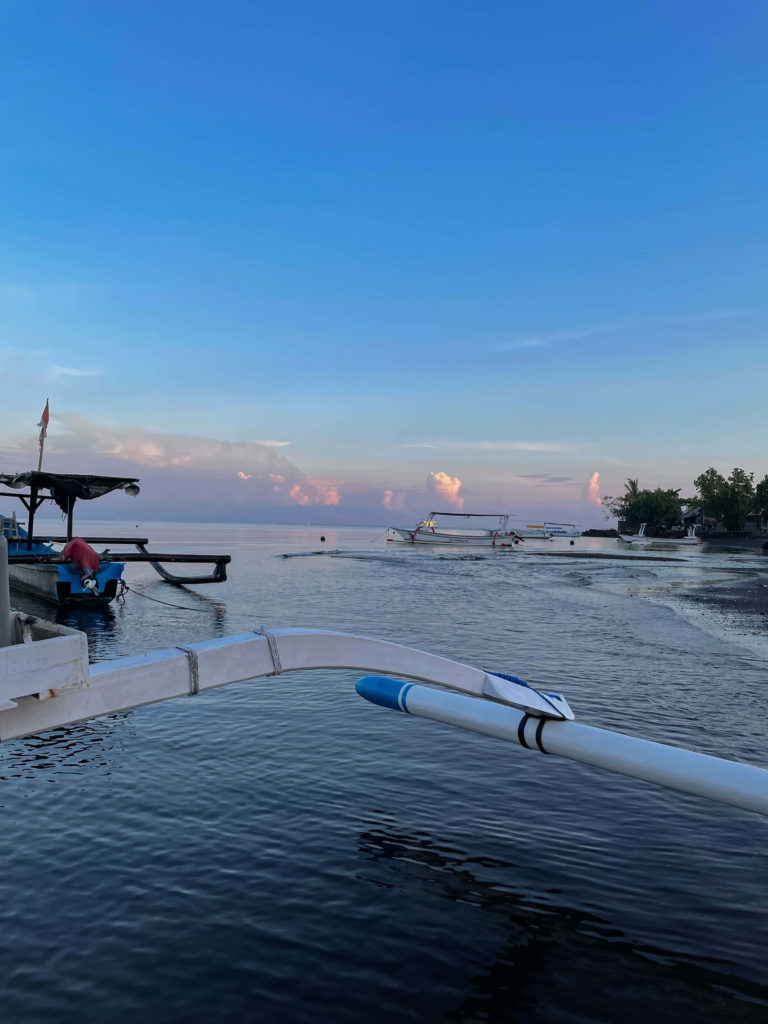 Quick tips for swimming with dolphins in Lovina Bali
Our trip cost us 250k for the dolphins and snorkelling.
We also visited nearby Banyumala waterfall which was 30k entry
We paid 800k for Andi to drive us around for the day. Split between 6 of us, this was roughly 135k each
Our total spend for the day was 415k (roughly £24) which for the experience we thought was an absolute bargain!
If you are staying in Lovina already, then of course you can save money by not hiring a driver for the day.
Do some research before booking a tour, to ensure your guide will respect the dolphins and not exploit them.
Bring motion sickness tablets for the car journey or the boat if you are prone to travel sickness.
Bring a drybag for your stuff if possible – the boat is very small and will get wet as everyone gets in and out of the sea.
Bring water and snacks with you! The early start plus energy required for the dolphins and snorkelling will mean you are HUNGRY afterwards.
Wear tight and well-fitting bikini / swimsuit / swim shorts.
Bring plenty of suncream or a hat or cover up to avoid sunburn in between swimming.
The water is EXTREMELY deep. This is just something to be aware of if you have a fear of open water or the ocean.
Take a go pro or some kind of underwater camera so that you can capture the experience
The next day, my arms were aching like crazy from holding on to the swing!
Overall thoughts on swimming with dolphins in Lovina Bali
All in all, it was a truly incredible morning, and probably one of my favourite things that I've done whilst travelling in Bali! Hopefully, you've found this post useful, and I've inspired you to check it out for yourselves! As mentioned, always carry out thorough research before booking a tour involving animals to ensure that no harm or disturbance is being done to the local wildlife.