*This post contains affiliate links
Before COVID, I managed to squeeze in a trip to Los Cabos, Mexico back in February. It was such a great trip and I really enjoyed my first visit to this colourful country. Whilst I was there I also ticked off a HUGE bucket list item – swimming with Whale Sharks in La Paz! This has been on my list for a little while, and it absolutely lived up to my expectations. 
Swimming with Whale Sharks in La Paz, Mexico
There are a number of places around the world where it is possible to swim with whale sharks. This includes Australia, the Philippines and of course, Mexico. It is possible to swim with them on both the west and the east coast of Mexico, at different times of the year. 
For La Paz, the best time is from October to February. This is when the water is clearer, and until January the water will be pretty warm too. We went at the end of February, and whilst the water was pretty cloudy, it was still an incredible experience. I don't remember the water being too cold, but perhaps I didn't notice due to the adrenaline rush!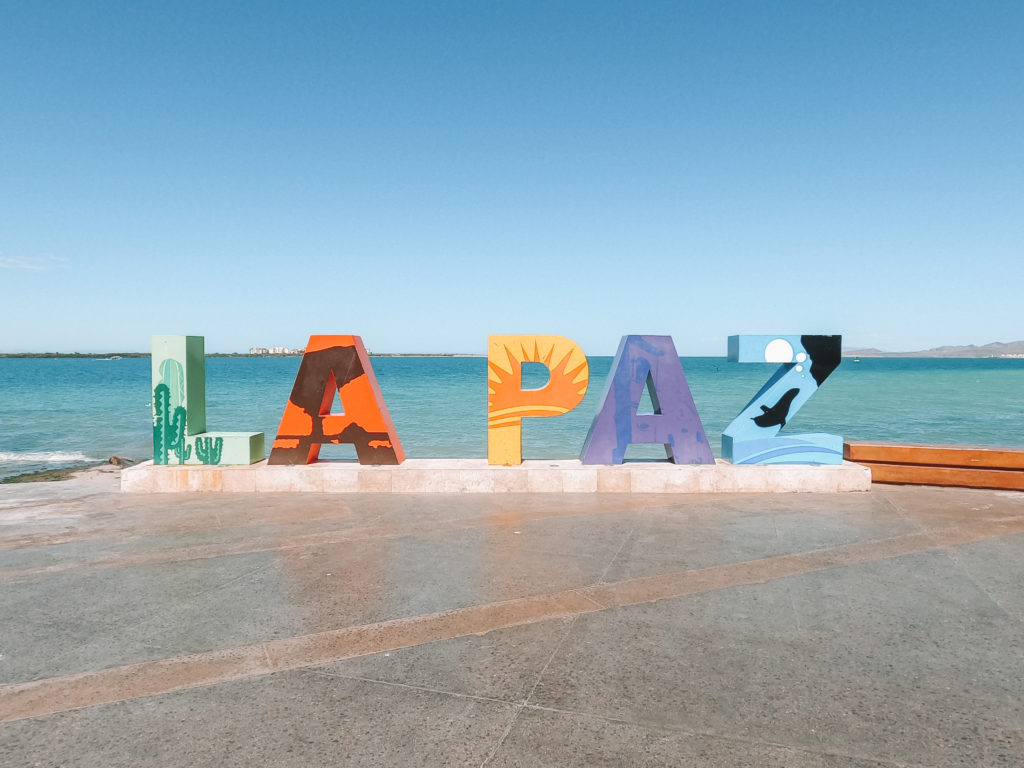 How to Swim with Whale Sharks in La Paz
As we were staying in Los Cabos, we booked our Whale Shark excursion with Cabo Adventures. You can find their hub right in the marina of Los Cabos. They offer loads of different tours, from sunset cruises and snorkelling to town tours and of course, whale shark swimming. 
There may be other company's offering similar tours, but our experience with Cabo Adventures was excellent. The tour was organised perfectly, and our guide Leo was really fun and friendly. 
You might also like: Best things to do in Los Cabos, Mexico
Itinerary of the day
Tour duration: 12-14 hours
Company: Cabo Adventures
Cost: $239 (USD)
Includes: breakfast, dinner, pick up and drop off, wet suit, snorkel, flippers, guide
7am: Pick up from Accommodation
We had a very early pick up directly from our hotel, which took us down to the office in Los Cabos. We had to stop at other hotels on route to pick up other guests too. 
8am: Check-in at the Cabo Adventures Office
Check-in at the office, sign a waiver, get our wristbands. Then, grab a quick Starbucks to help wake up.
8:30am: Driving from Los Cabos to La Paz
Board the bus for our tour. On the bus, we were given breakfast (a sandwich, juice box and a granola bar).
From memory, it was about a 2 and a half hour drive from Los Cabos to La Paz. The bus was comfortable enough, but we did bring headphones etc to keep us entertained.
11am: Arriving in La Paz
We arrived in La Paz at around 11am, and checked into the Cabo Adventures office. Here we were provided with wetsuits, Snorkels and flippers. We also left ALL of our stuff. You can literally only take a hat and camera with you, nothing else. This is because there is not enough room on the boat for everyone to take all of their belongings.
11:30am – 12noon: Boarding the Boat
Once everyone had gotten ready, we headed down to the boat and boarded. There were about 8 of us in our boat, excluding Leo. We headed over to the entrance of the waterway, but unfortunately due to the demand that day we had to wait for the green light to go in. 
The wind had been really bad in La Paz four days prior, so all of the trips from previous days were cancelled. We were lucky to even get on this trip, and it was our last day in Mexico so we nearly didn't go!
12noon – 2pm: Exploring La Paz
Thankfully, while we waited, Leo took us to the harbour in La Paz and we were allowed to walk around and explore the local area a little (although we were all in wet suits)!
We also had the chance to go to a small beach where we could attempt to whale and dolphin spot whilst we were waiting.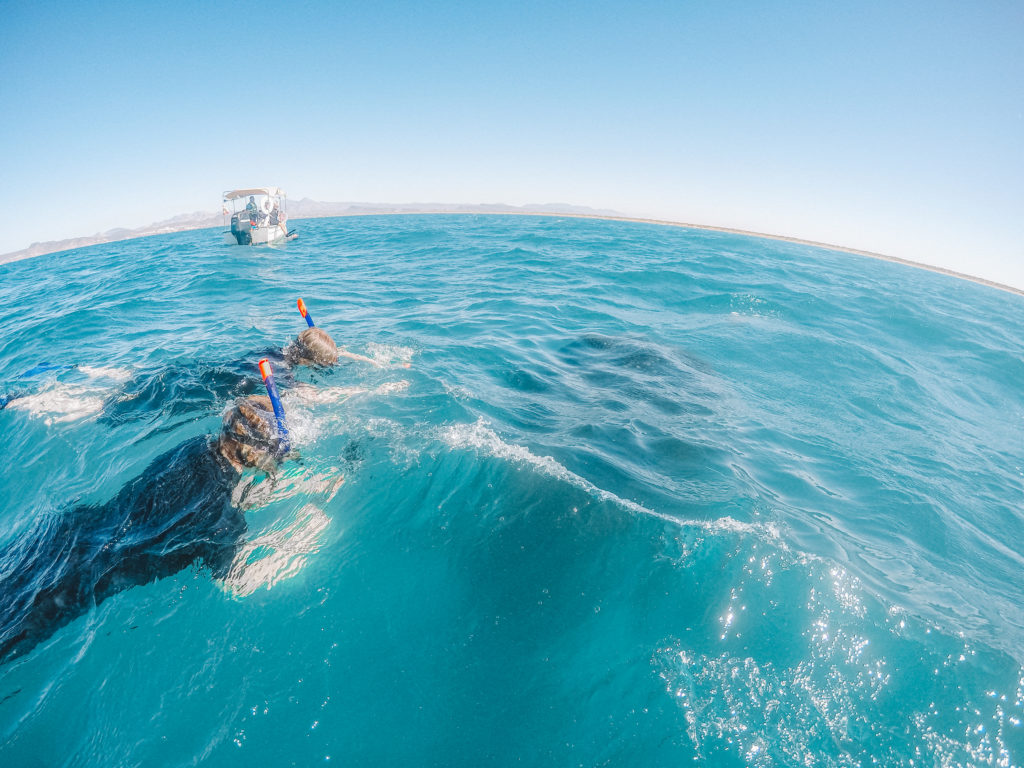 2pm: Time to swim with the whale sharks!
Finally we got the go ahead to start heading out and tracking the whale sharks! Our boat driver and Leo did an amazing job of tracking the whale sharks, and it wasn't long before we found a couple that were feeding. 
Ideally, you want to find whale sharks that are feeding, as this means that they are much more docile. Whilst they feed, they are bobbing up and down vertically, rather than swimming, which means you don't have to try and keep up with their swimming! 
It was a little scary at first, especially as the tide was quite strong and the waves were pretty big. Not only that, but as the whale sharks could sense the vibrations of us around them, they soon began to swim away, and trying to keep up with them against the tide was tough. If you are going to visit at this time of year, I would recommend this trip to strong swimmers as it can be very exhausting. 
After jumping off the boat and swimming alongside the whale sharks for a few minutes, we got back onto the boat and set off to find some more whale sharks. In order not to overwhelm the whale sharks, our guide let only 4 of us jump in each time, so we alternated in turns with who stayed on the boat and who swam with the whale sharks. We didn't mind this as it gave us a chance to get our breath back!
5pm: Heading back to shore
I think overall we were out with the whale sharks for around 2-3 hours, but it went really quickly. It was such an amazing experience! Once we had finished, we headed back to the office for a quick shower and to change back into our dry clothes. 
We then headed to a nearby restaurant for fish tacos, before boarding the bus back to Los Cabos. 
9:30pm: We arrived back in Los Cabos at the Cabo Adventures office at around 9:30pm. 
Overall Thoughts
Swimming with whale sharks definitely lived up to all my expectations. They are such beautiful and gentle creatures, and I wouldn't hesitate to do it again. 
Cabo Adventures were extremely professional, friendly and careful with the tour. They had nothing but respect for the whale sharks and were very strict with what we could and couldn't do both in the water and on the rest of the tour.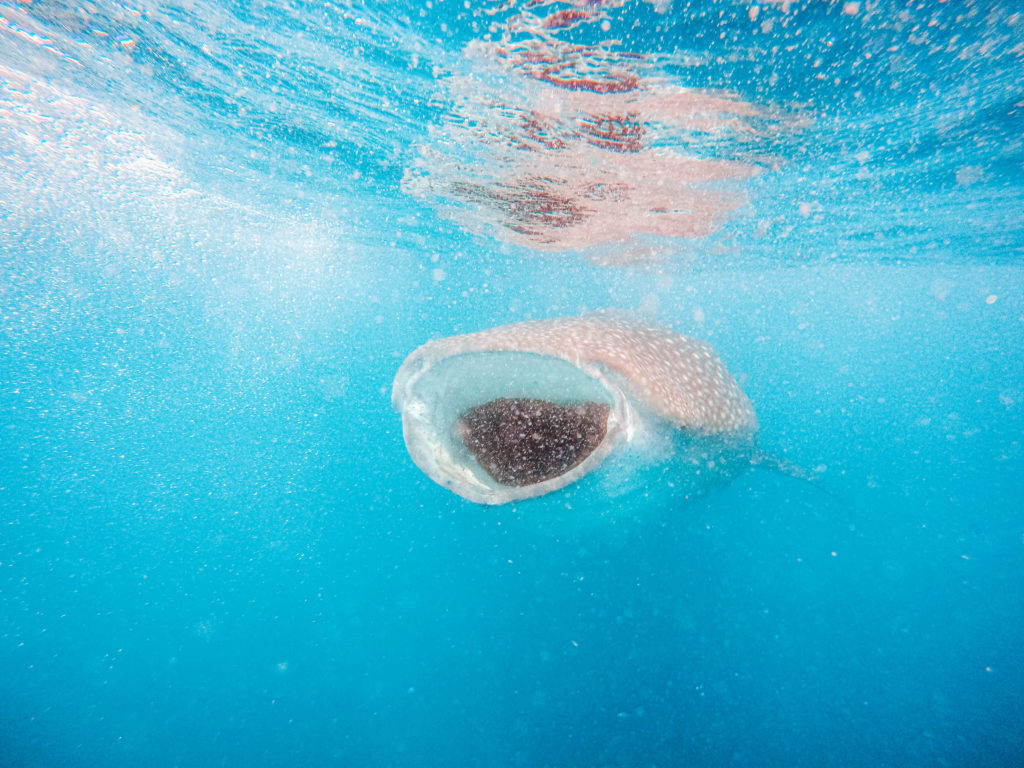 Is it ethical to swim with Whale Sharks in La Paz? 
Swimming with Whale Sharks is a controversial topic, and I can completely understand why. I've read complaints regarding the excursions in the Philippines and even Tulum, of overcrowding and surrounding the whale sharks, which can of course be very overwhelming for the creatures. 
With regards to our excursion in La Paz with Cabo Adventures, I would say that there wasn't a single moment when I felt uncomfortable, or sorry for the whale sharks. There were a number of rules in place which we had to abide by, and which made me feel a lot happier about the tour we were on. Below are a few of the rules we had to follow:
We were only allowed to use the suncream provided by Cabo Adventures, so as not to pollute the water or cause any harm to the sealife.
The coastguard was very strict on how many boats were allowed in the clearing with the whale sharks. Whilst we were out there, I could only see three other boats across a huge stretch of water.
You are not allowed to swim close to the whale sharks. The guides state that you shouldn't get closer than 1m to the whale sharks so as not to disturb them
Absolutely no touching the whale sharks
For our own safety, Leo advised that for the first jump, you don't take cameras or go pros, so that you can get used to the strength of the tide and the waves.
Overall it was an incredible day, I would love to do it again and would recommend it to anyone who is thinking about swimming with whale sharks!