When visiting Mexico for the first time, most tourists head to the typical hotspots of Cancun and Tulum. Often overlooked but definitely not to be missed, Los Cabos sits on the western side of Mexico. Los Cabos is split into two towns , San Lucas, and San Jose – both of which are worth visiting. Here is a list of 6 things you absolutely have to do if you are lucky enough to visit Los Cabos.
Hostel recommendation: Mayan Monkey Los Cabos
Eat all the amazing food!
Obviously Mexican food is amazing, so where better to fill up on tacos, nachos, and mezcal? There are loads of all-inclusive resorts in Los Cabos, but there are too many amazing food spots to eat at your hotel every day! A favourite is Mercabo, which is a selection of food spots with benches in a cute little outdoor garden.
Experience the nightlife in San Lucas
Think 'Magaluf strip on an 18-30s holiday' and you will pretty much be able to picture the nightlife in San Lucas. You can tell it's a popular spring break hotspot, and for good reason! A strip full of lively bars and clubs, with cheap drinks and loud music until the early hours. A night out in San Lucas is not for the feint hearted. I recommend heading to El Squid Roe for a unique bar experience…
Take the time to visit San Jose
San Jose is another town not far from San Lucas. It is closer to the airport and therefore easy to visit during your stay. There are lots of colourful buildings, shops, bars and restaurants to explore. La Lupita is a popular taco place that does great food, with live music playing in the evenings.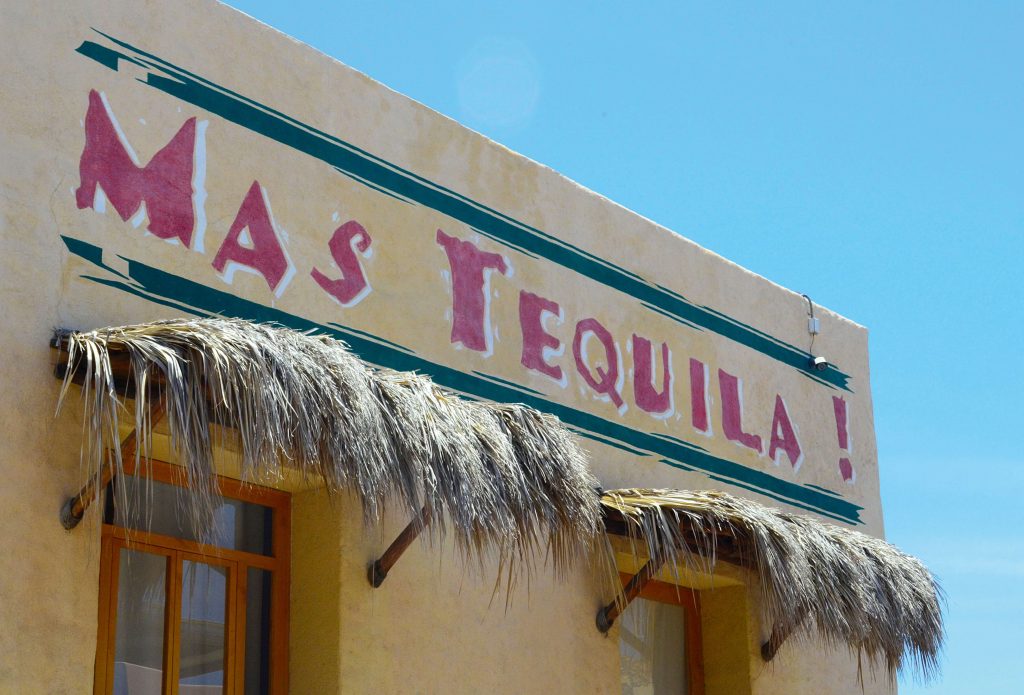 Go on a sunset cruise
Cabo Adventures tour company do pretty much any tour you'd want to do, from snorkelling, to whale watching, to sunset cruises. As mentioned previously, Cabo treated us to the best sunsets and sunrises we've ever seen, so a sunset cruise was a must. This way, you also get to see the famous arch, you also get dinner and a free bar on the boat – what more could you want.
Take a trip to Lovers / Divorce beach
Where the arch is located, there is also a beach that is split into two. Named 'Lovers beach' and 'Divorce beach', it is split where the Sea of Cortez meets the Pacific Ocean. One side is calm and the other side is extremely rough and choppy, which is where the names come from. You can get to these beaches by water taxi from the Marina in San Lucas. The boat driver will take you over there for about $10 round trip and you can let him know when to come and pick you up.
Whether you plan to stay for a few hours, or make a day of it, pack plenty of suncream, as there isn't a lot of shade! Be careful to take note of where you can and can't swim too, swimming on the side of Divorce beach is not recommended, due to the current and the waves.
Swim with Whale Sharks
This is my biggest recommendation on the list, and was my favourite day of my life to date! Tour company Cabo Adventures do excellent day trips to La Paz to swim with whale sharks. It is a long day trip, but worth every penny to spend the day swimming up close and personal with these gentle giants.
Cabo has so much to offer, from beautiful beaches, food and people, to so much to see and do. If you're planning to visit Mexico in the future, it is definitely worth heading to the western side!