Images of this gorgeous island have been shared across our social media feeds for some time now! So, it wouldn't be any surprise if a visit to Santorini has been added to your bucket list. Here is an ultimate guide of everything you need to know before you visit Santorini!
Ultimate Guide to Santorini
Where IS Santorini?
Santorini is an island in Greece. More specifically, one of the most popular in the Cycladic region of the southern Aegean Sea. It is approximately 200km from mainland Greece. Famous for its white stone buildings, blue dome rooftops and rugged volcanic coastline. The island of Santorini truly is spectacular, so it's no surprise that it's a popular holiday destination for tourists from around the world.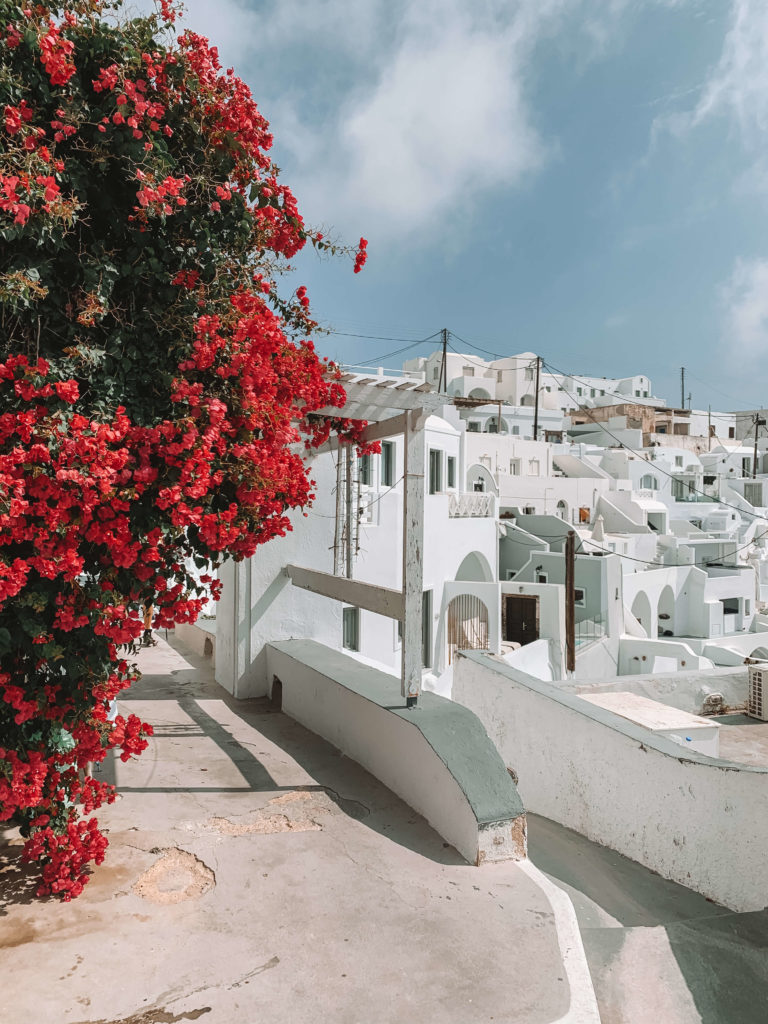 When is the best time to visit Santorini?
Every year, Santorini attracts thousands of visitors, so it's important to know when is the best time to visit. As many people will already know, Greece is a warm country. Therefore, you can expect good weather throughout most of the year. The summer months of May – September will be warm, although it is often very windy on the island. June – August is Santorini's peak season, where the weather is at its hottest, the island is packed with tourists and you may find prices for ferries, flights and hotels higher than usual. For that reason, the best times to visit Santorini are April-May or September-October, when the weather is lovely but the island is less busy. 
How do you get to Santorini?
Getting to Santorini is a lot less complicated than you may initially believe. Many airlines offer direct international flights, or flights with a brief stopover in Athens. From many cities in the UK, you can fly straight to Santorini airport (JTR). If you're already in Greece, you can get a ferry from the mainland, or from neighbouring islands including Ios, Milos, Naxos or Mykonos. You can also get ferries from islands further afield, such as the Dodecanese Islands, or Crete. Tickets are easily available to purchase online. 
Can you visit Santorini from Mykonos?
Yes, you can absolutely visit Santorini from Mykonos. In fact, this is what lots of tourists do, since Mykonos is another popular island in the cyclades. There are at least 3 daily ferries that run between Mykonos and Santorini. The ferry takes between 2-3 hours but this can be subject to delays depending on weather and schedules. Therefore, it is best to visit with at least 1-2 nights stay rather than as a day trip.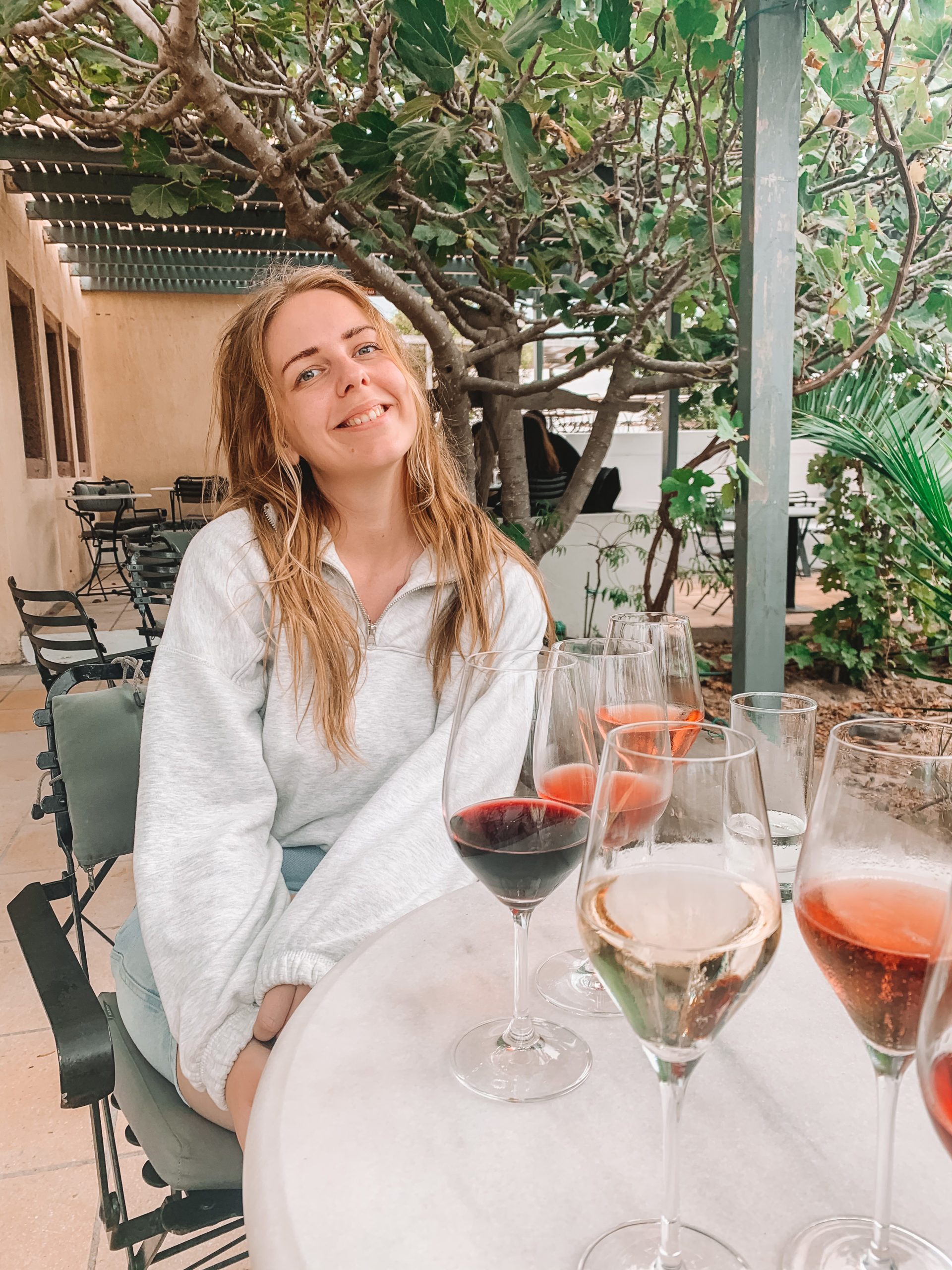 Guide on where to stay in Santorini?
Santorini has plenty of options for accommodation! Where you stay will depend on what you are looking for, and the budget you have. Below are some of the popular areas to rest your head after a day of enjoying all that the island has to offer. 
Oia
Picture perfect Oia is the town you will recognise from your Instagram feeds. This stunning corner of the island is located right at the northern tip. Oia boasts plenty of boutique cave hotels, infinity pools and romantic restaurants. Popular with couples and honeymooners, this is one of the pricier locations in Santorini. 
Fira
Fira is a popular base with many travellers to Santorini, as there are plenty of accommodation options for any budget. Here you will find a selection of boutique hotels with a mid-high price range. You can also find lower cost hotels and plenty of hostel options too. The town of Fira has lots of restaurants and bars to enjoy, as well as shops and gorgeous views. 
If you're staying in Fira, I highly recommend Callia Retreat Suites!
Imerovigli
Positioned halfway between Fira and Oia, Imerovigli is another superb destination on the western side of Santorini. The name of the town comes from the word vigla or 'viewpoint' in Greek, and this is totally understandable when you first glance upon the views out to the Aegean sea, with Fira to your left and Oia to your right. This is another of the pricier locations in Santorini, but offers plenty of bars and upscale restaurants too. 
Kamari
Over on the eastern coast of Santorini is where you will find the beach hotels. As the western town such as Fira and Oia are positioned on the edge of cliffs overlooking the water, there is no beach access there. So, if you are looking to spend your days relaxing on one of Santorini's black sand beaches, then you should consider the eastern side of the island. And Kamari is a great spot as there is a very adorable town filled with beach front bars and restaurants, and even an open-air cinema to enjoy an evening. Here, you will find more 'resort' style hotels which are a great option to families holidaying in Santorini.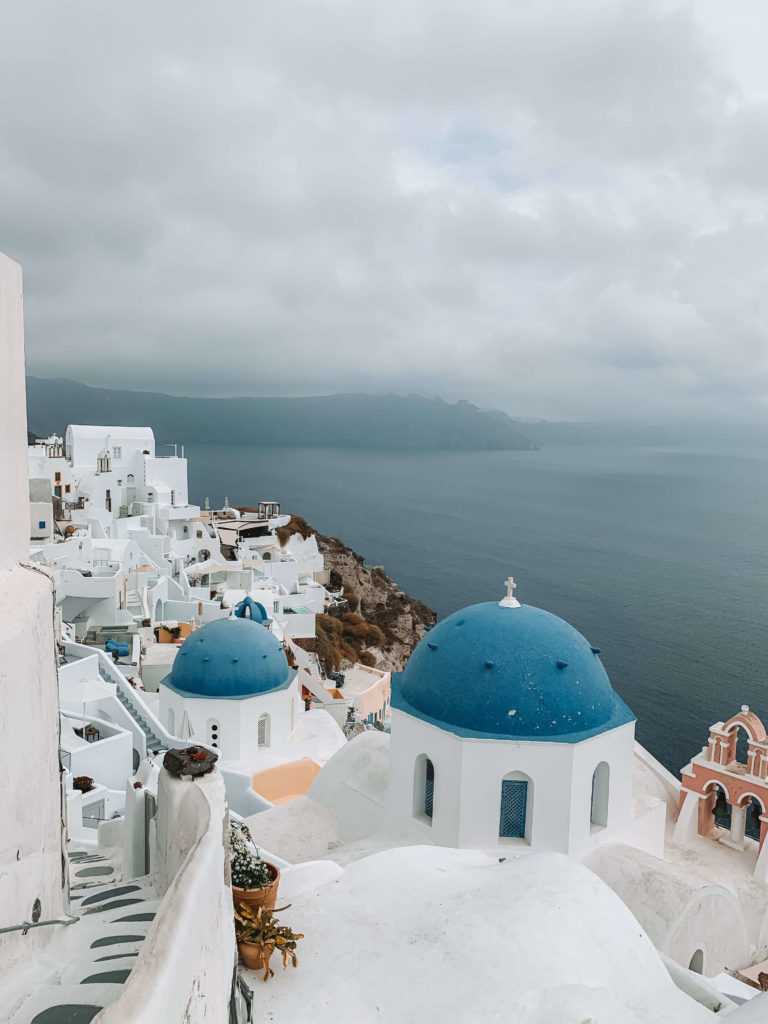 Is Santorini better than Mykonos?
Another popular question that gets asked, particularly by those who do not have time to visit both islands during their trip, is whether Santorini is better than Mykonos. In my opinion, this is like asking whether Koh Samui is better than Koh Phi Phi (if you've travelled in Thailand, you might know what I mean). From my experience, Mykonos hosts a generally younger crowd, and is a great island if you're looking for beach clubs and parties. Santorini, on the other hand, has something for everyone, whether than be partying, vineyards, hiking or simply relaxing by the beach. So although there isn't a clear answer to this question, it does depend on what kind of trip you are looking for. 
How long do you need to visit Santorini?
Similar to the point made above, how long you need in Santorini really does depend on what you want from your visit. If you're looking for a quick visit to see the highlights of what the island has to offer, you can probably do it in a 1-2 day trip from a nearby island. But if you really want to soak up the magic of this beautiful place, I would recommend at least 4-5 days. There really is a lot to do here, so much so that I've written an entirely separate post about all of the things to do in Santorini!
Why should you visit Santorini?
Santorini really is such a special place, and one destination which (in my opinion) lives up to the hype it gets online. Glamorous hotels and 'gram shots aside, there is something for everyone here, be that hiking, quad-biking, wine-tasting, boat trips, relaxing on the beach or simply indulging on greek food!