*This post contains affiliate links
Thailand is arguably one of the most popular destinations for backpacking and gap years – particular for first timers. It's a great introduction into the rest of Southeast Asia, and one of the cheaper countries to fly into from Europe. For those who are planning on backpacking in Thailand, I have put together a one-month itinerary and route below.
Bangkok
Stay for: 3 nights
The first stop for pretty much everyone backpacking in Thailand is Bangkok. Myself, like many people I know, hated Bangkok the first time they visited. The best way to describe it, is like an assault on all your senses. It's busy, it's humid, it's chaotic. It was so wildly different to anywhere else I had been before. But once I left, I kind of missed it? And I was looking forward to returning at the end of my one-month stint in the country. I would recommend spending around 3 days in Bangkok at the start of your trip, depending on your inbound flight times and how badly the jet lag hits you!
Things to do in Bangkok:
Wat Pho
Grand Palace
Kaoh San Road
Food markets
Sky bar
Hostel Recommendation: Here Hostel, Bangkok
Hostel Recommendation: Chingcha, Bangkok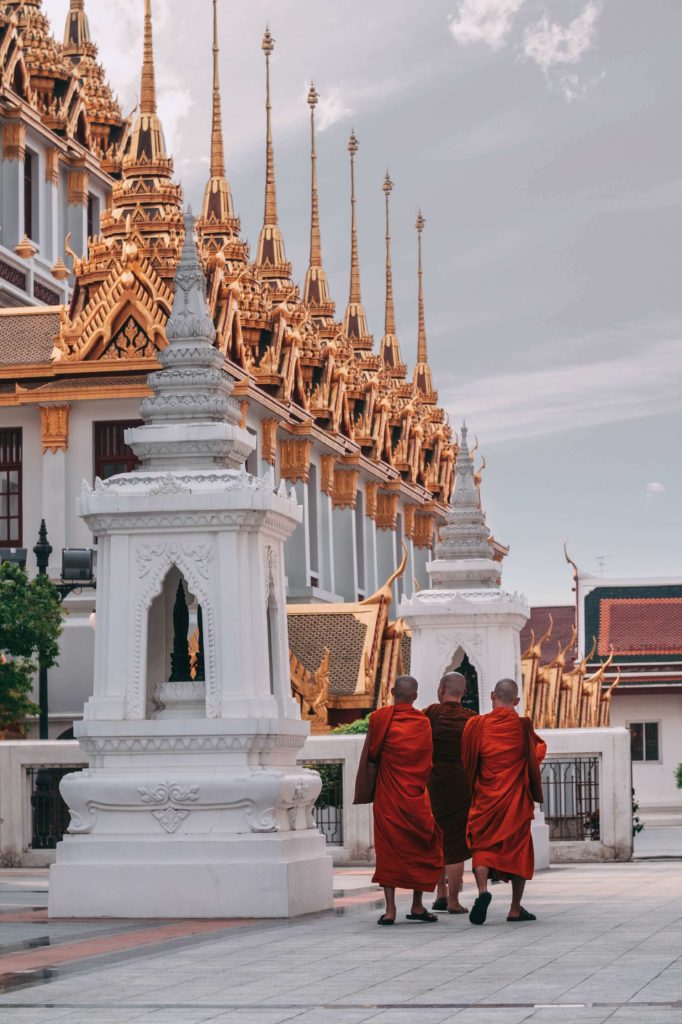 Chiang Mai
Stay for: 4 nights
When your time in Bangkok is over, head to the main station to catch an overnight sleeper train to Chiang Mai in the north of Thailand. Overnight sleeper trains are hit and miss to be honest with you. You can choose between different classes, but I'm not sure how much of a difference it makes. The train is rickety and can be noisy, depending on who else is in your carriage! My advice, pack ear plugs, a sleep mask, plenty of water and snacks, and don't plan an action packed itinerary for the following day!
The sleeper train usually arrives at about 7/8am the following morning, so you can head to your accommodation for a chilled day. If you fancy a wander, then the town of Chiang Mai is very cute, with lots of Wat's, cafes and markets. The night market is also a must do, especially for the delicious street food! Whilst in Chiang Mai, many people do Thai Cooking Classes (which I highly recommend) and also use this as a base to visit an Elephant sanctuary. Do be careful and carry out some research into Elephant sanctuaries, as some of them are not as kind to the animals as others. We opted for one where touching and riding the elephants is absolutely forbidden, which we respected. 
Things to do in Chiang Mai:
Elephant Sanctuary
Night Market
Thai Cooking Class
Wat Phra That Doi Suthep
Hostel Recommendation:  Brick House Hostel, Chiang Mai  
Chiang Rai / Pai
Stay for: 3 days
Whilst in the northern part of Thailand, many people also choose to visit Chiang Rai or Pai. Chiang Rai is a peaceful, slower town compared to that of popular Chiang Mai. Whilst here, you can visit many incredible gilded Wats, the iconic White Temple and learn about the hill-tribes of Thailand. 
Pai, on the other hand, is tucked in the depths of a valley, surrounded by lush jungle, green land and mountains. It's a very artsy vibe in Pai, with lots of cafes, vegan food, and shops and markets. It also offers the opportunity to visit hot springs and waterfalls or go bamboo rafting or white-river rafting. 
Krabi
Stay for: 3 days
From Chiang Mai or Chiang Rai, you can fly down to Krabi to get your first taste of Thai beach life! You can stay in the centre of Krabi, or there are lots of relaxing, high quality hostels dotted around the outskirts of Krabi as well. Here, you can do plenty of relaxing on the beach, yoga classes and boat trips! One trip I highly recommend is getting a boat over to Railay beach for the day.
Things to do in Krabi:
Railay Beach
Experience the nightlife
James Bond Island
Go to a yoga class
Hostel Recommendation: Reset hostel, Krabi
Koh Phi Phi
Stay for: 3 days
A visit to Kho Phi Phi is like a backpackers right of passage, and is where the party really gets started on your itinerary. At night, the bars and hostels that line the beachfront really come alive! There are also some great sunset / lookout points on the island. From Phi Phi, you can visit the famous Maya Bay (from the film 'The Beach') and swim at night with glowing plankton!
Things to do in Koh Phi Phi:
Lookout point
Snorkelling trip to Maya Bay
Swim with the glowing plankton
Party on the beach
Koh Lanta 
Stay for: 3 days
After partying and snorkelling in Phi Phi, head to Koh Lanta for more adventures. Here, you can visit the Old Town Koh Lanta, Mu Ko Lanta National Park, and Bamboo Bay, which is a huge (but totally quiet) sandy beach. If you love animals, I also recommend a trip to Lanta Animal Welfare. They do an amazing job of taking in stray dogs and cats and looking after them. You can also volunteer here for the day and take some of the dogs for a walk down to the beach. 
Things to do in Koh Lanta:
Lanta animal welfare
Old Town Koh Lanta
Mu Ko Lanta National Park
Bamboo Bay
Hostel Recommendation: Hub of Joys, Koh Lanta
Koh Pha Ngan
Stay for: 3 days
At the top of nearly every travellers Thai bucket list is of course the world famous full moon party. For that reason, no trip backpacking in Thailand is complete without a stop in Koh Pha Ngan. This is the island where the beach party takes place – but there are plenty of other parties too. If you're keen on experiencing any of the full moon, half moon or jungle parties, make sure you time your trip right, as they are held on certain dates throughout the year. Personally, the Jungle party was my favourite, but I'd definitely recommend experiencing the full moon party at least once in your life!
Things to do in Koh Pha Ngan:
Full Moon Party
Half Moon Party
Jungle Party
Sea Kayaking
Snorkelling
Koh Pha Ngan viewpoints
Jungle trekking
Hostel Recommendation: Goodtime beach backpackers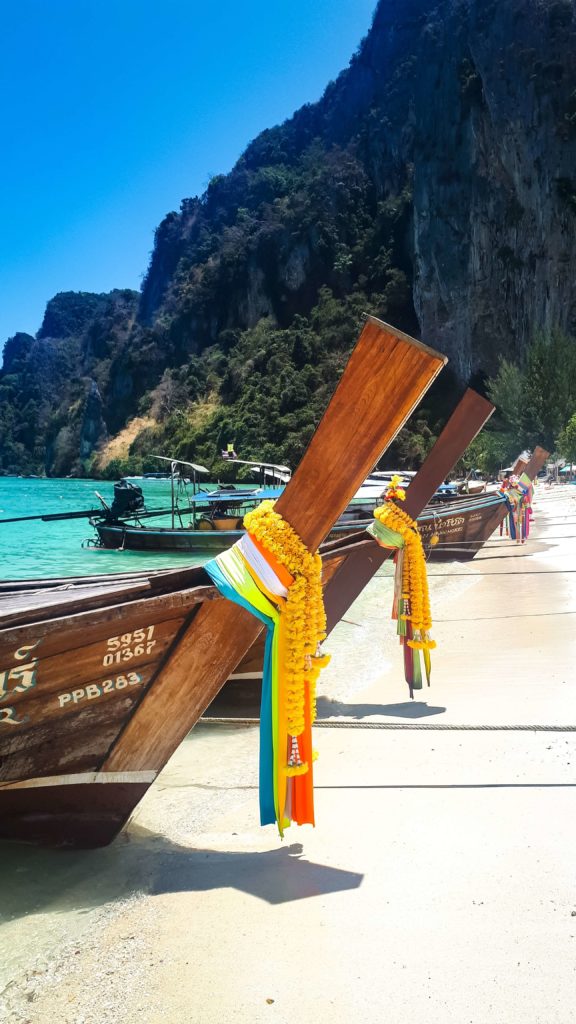 Koh Samui
Stay for: 3 days
Koh Samui is a great island to head to after the craziness of the Full Moon, Half moon or Jungle parties of Koh Pha Ngan. Whether you choose to kick back in a beach hostel, or relax in a more upscale resort, Koh Samui can be as relaxing or action packed as you please. If you're looking for things to do here, why not head out on a 4WD Jungle safari, visit the Namuang Waterfall, or (if you aren't already 'templed-out') visit more of the Wats. 
Things to do in Koh Samui:
Relaxing in a resort
Namuang Waterfall
4WD Jungle Safari
Visit more Wats 
Koh Tao
Stay for: 3 days
One of the most popular islands in Thailand is Koh Tao. This is diving heaven, so if you're into exploring the depths of the ocean, then this is the island for you. There are also tonnes of amazing vegan cafe's, yoga classes, Thai boxing, restaurants and more that you can do here!
Things to do in Koh Tao:
Snorkelling and Diving
Rent a moped
Enjoy a fire show on the beach
Hostel Recommendation: The Dearly Koh Tao Hostel
Bangkok
Stay for: 1 night
After your time is up in Koh Tao, head back to Bangkok for 1-2 nights. Regardless where your next stop is now that your time backpacking in Thailand is over, Bangkok is a great base for your last few nights. The journey from Koh Tao by boat and bus takes about 12-13 hours, so we recommend staying in Bangkok overnight before your flight home. 
You might also like:
Two week itinerary for Vietnam