*This post contains affiliate links. Hostel recommendations are based on my own experiences.
My favourite destination so far, a country my family and friends are probably sick of hearing me talk about – but I just can't stop. It's Vietnam! One of the main reasons I love this country is that every single town / city is completely different from the last, and that's why you simply cannot visit just one place in Vietnam. My ideal recommendation would be to spend at least a month travelling up (or down) this incredible place, but if you're time-short, then below I've listed the highlights that you simply cannot miss.
Ho Chi Minh City
What to expect
A bustling, vibrant city, filled with friendly people and even more mopeds! Crossing the road here seems terrifying at first, but it's the best place to learn – crossing the road in the rest of Vietnam is a breeze compared to HCM! Here you can learn plenty about the history of Vietnam, party with the locals and eat loads of delicious food.
Time needed: 2-3 days
Hostel recommendation: Flipside Hostel, Ho Chi Minh City
Must Dos
War Remnants Museum
Cu Chi Tunnels
Mekong Delta
Food markets / Street food tour
How to get to your next stop
Getting the bus from Ho Chi Minh City to Da Lat
Getting the bus from Ho Chi Minh to Da Lat is very easy, and you will be able to book a bus ticket from most accommodations. They will also help you to know where to catch the bus from, and what time to get there. Getting the bus in Vietnam can seem a little overwhelming at first, but you'll soon discover it's actually pretty easy!
Travel time: 7-9 hours
Cost: roughly $9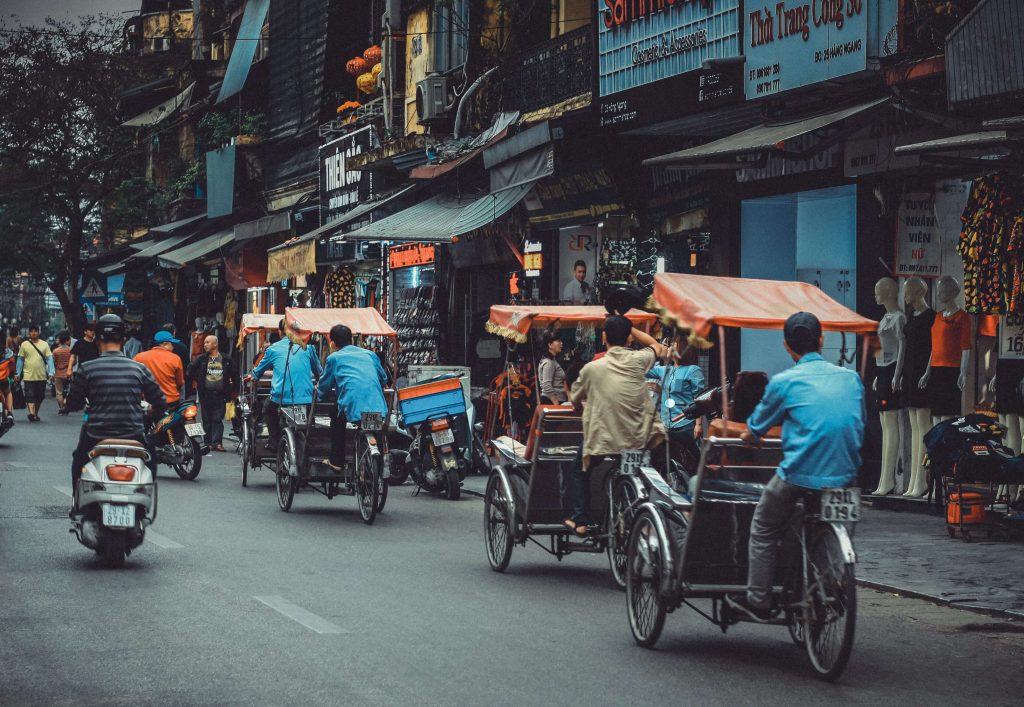 Da Lat
Da Lat will feel a world away from Ho Chi Minh. Up in the mountains, it's a little cooler than other places in Vietnam, so bring jeans, a jumper and probably a rainmac! This little town will give you French / Swiss vibes – you don't need too long here but its definitely worth a visit.
Time needed: 1-2 days
Must Dos
Crazy House
Evening market
Cable Cart up to the lake
Maze bar!
How to get to your next stop
Getting the bus from Da Lat to Nha Trang
Time for another Vietnam bus experience! Thankfully, the bus journey is slightly shorter than the previous one, which means you'll be on a day bus, most likely with other backpackers.
Travel time: 4 hours
Cost: approx. $6
Nha Trang
Get ready for hot weather again, and a beachside city which is full of suprises. The first surprise you'll see when you arrive in Nha Trang, is that nearly everything is in Russian. Yep, Russian, not Vietnamese. In most restaurants, the menu will be displayed in Russian first, then Vietnamese, then English. There is a reason, but I'll let you take in the weirdness and learn why for yourselves! Aside from this, there are plenty of food options, and most people visit Nha Trang to break up their Vietnam trip by laying on the gorgeous beach whilst sipping from a fresh coconut.
Time needed: 1-2 days
Hostel Recommendation: Mojzo Dorm, Nha Trang
Must dos
Relax on the beach
Diving or Island Hopping
Vinpearl tourist complex
How to get to your next stop:
Getting the bus from Nha Trang to Hoi An
This is probably the worst out of the buses, as you'll usually get an overnight bus from Nha Trang to Hoi An. These are lay flat buses, stacked two or three people high, and if you're tall, can be pretty uncomfortable. My recommendation – sleeping tablets, an eye mask or a playlist and some good ear phones! Annoyingly, you'll normally arrive to Hoi An in the early hours – so I'd recommend booking accommodation in Hoi An that has a flexible early check in policy.
Travel time: 11 hours
Cost: approx. $6
Fying from Nha Trang to Hoi An
If you don't fancy the sound of this bus, the good news is that there IS an option to fly. You'll need to fly from Nha Trang to Da Nang (which takes just over an hour and will cost you about $60), and then get a taxi, bus or motorbike from Da Nang back down to Hoi An (the bus will take approximately 1 hour and costs about $1.30)
Travel time: 3 hours (including check in, etc)
Cost: approx. $65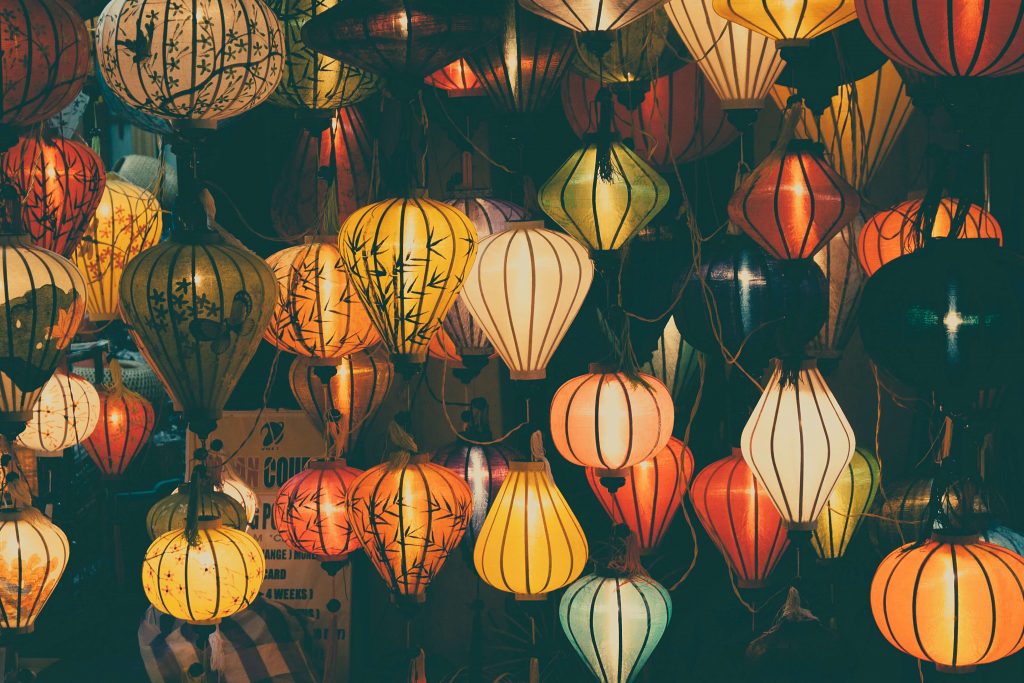 Hoi An
A very popular destination in Vietnam among travellers, next up is the picturesque town of Hoi An. This town is rather quaint compared to all the other stops on this highlights tour, and you'll find plenty of cute cafes, shops, tailors and markets to browse during your stay. One of the main things Hoi An is known for, is tailor shops – where you can get almost any item of clothing made for you, for very competitive prices! It's also the starting point for most Hai Van Pass motorbike tours – which are an absolute must do!
Time needed: 2-3 days
Must dos:
Shopping and markets
Explore the old town and its historic sights and temples
Get a suit made
Visit My Son Ruins
Hai Van Pass motorbike tour
How to get to your next stop
The Hai Van Pass route from Hoi An to Hue
The Hai Van Pass in Vietnam is an iconic route leading from Da Nang all the way to Hue. You may have seen it on British television show Top Gear, and it is a popular excursion for many travellers. Tours can pick you up in Hoi An and take you the entire route up to Hue, with plenty of stops and photo opportunities along the way! You can choose to ride your own bike, or to ride on the back of one of your tour guides bikes. This was easily my favourite day in the whole of my Vietnam trip, if you do nothing else, do this!
Time: 8+ hours
Cost: from approx. $60
Hue
Whilst there isn't much to do in Hue, it is the final stop on the Hai Van Pass tour, so you can decide whether to stay, or get dropped straight at the bus station or airport and head up to Hanoi. If you do want to hang around in Hue for a few days, below are a couple of spots you should check out.
Must Dos:
Visit the imperial citadel
Visit the royal theatre
Explore the Thuy Tien lake Abandoned Water Park
How to get to your next stop:
Getting the bus to Hanoi
Another long bus journey – the trip between Hue and Hanoi is approximately 13 hours, and whilst it may be a cheap $13, it will cost you in time. If you have plenty of time to spare and are watching your budget, then the night bus will leave Hue at around 6/7pm and arrive at around 8am in the morning.
Travel time: 13 hours
Cost: approx. $13
Flying from Hue to Hanoi
We chose to fly as we managed to find flights for $30 – honestly by this point we were tired of the buses! You can fly from Hue to Hanoi very easily with VietJet, and it will take around an hour and 15 minutes.
Travel time: Approx 3 hours (including check in and travel to/from airports)
Cost: approx. $30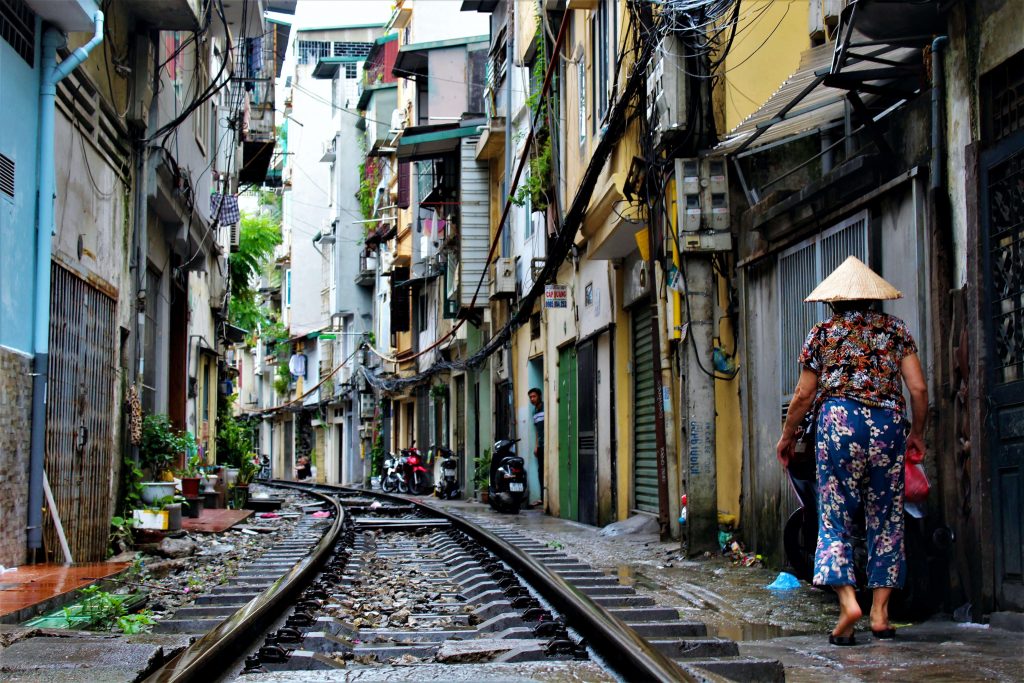 Hanoi
My favourite city in Vietnam, Hanoi is the capital and a vibrant, bustling city filled with culture, but a world away from its shiny corporate-esque sister of Ho Chi Minh City. You'll see what I mean when you get here! In Hanoi you'll find plenty of hidden gems to explore, from parks, restaurants, cafes and bars, to the city railway tracks lined with coffee shops, and you'll use it as a base to visit both Ha Long Bay and Sa Pa.
Time needed: 2-4 days (depending on time and personal preference)
Hostel recommendation: Central Backpackers, Hanoi
Must Dos:
Take part in a Vietnamese cooking class
Drink lots of Vietnamese coffee
Visit the railway tracks
Experience the nightlife
Experience local life at the Hoàn Kiếm Lake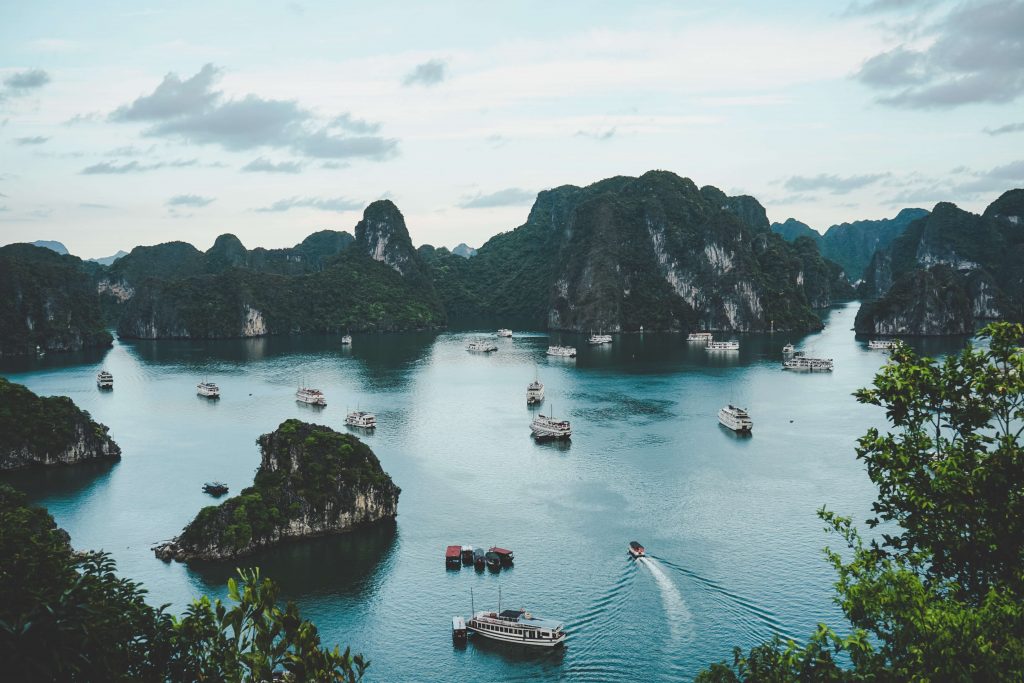 Ha Long Bay
From Hanoi, you can embark on your trip to Ha Long Bay. No matter what your preference – a 2 day luxury cruise or a boozy 3 day backpacker boat trip, your accommodation will likely have the best options for you to choose from. If you're wanting to do the famous Ha Long Bay castaways trip, you'll need to book it directly (linked) – do not a random google search result, as you'll end up on a fake Ha Long Bay tour, like I did!
Ha Long Bay is definitely a must do sight when visiting Vietnam. Although it gets mixed reviews from travellers, you simply can't go to Vietnam without seeing it for yourself.
Time needed: 2-3 days
Cost: anything from $200 – $1,500+ depending on your preferences
Sapa
Sa Pa is another trip you can easily take from Hanoi, and can be booked through most hostels. Around a six hour drive from Hanoi, you'll be taken to the lush green hills of Sapa, right near the Chinese border. It's definitely a unique Vietnam experience, as you'll likely stay in a homestay, meaning you'll get first hand experience of how the locals live.
Time needed: 2 days
Cost: from $140+
So, Go Explore Vietnam!
As you will have noticed from this post, Vietnam is a vast country with so many different things to offer, for any type of traveller. This is one of the main reasons it's my favourite country to date, and somewhere I have often considered living. If you do decide to visit, Vietnam Discovery offer a great tour of Vietnam which covers most of the locations in this guide.
Like this post? Pin it for later!