Ah, mysterious Russia. I've always been intrigued to visit this country! When I got the opportunity to include it in my travels for 2019 I jumped at it! St Petersburg really blew me away with its beauty and friendliness, and it's also a relatively cheap city too. After returning home, so many people wanted to know more about the trip, and what it is really like! The aim of this post is to give a little more insight into how you can visit Russia as a tourist and what to see and do in St Petersburg.
Getting a Visa
Unfortunately, visiting Russia isn't as simple as booking your hotel and jumping on a flight – unless you fancy being detained at the border. Pretty much any country will need a visa to visit Russia, if you're unsure, visit your government's website for travel advice. From the UK, you need to get a visa from the Russian Embassy, unless you're visiting on a cruise booked through an officially licensed company and visiting a select list of cities. You can find more on our government website, but below are the steps I followed.
Applied for a visa through the agency Real Russia – you can do it online and it costs £145+VAT. Note that the application process is pretty lengthy. You need to include travel history for the last ten years, including the date and duration of visits. Those who share the same home and work address (i.e. self-employed or business owners) also need to submit 90 days worth of bank statements.
Posted them my passport and a required passport-sized photo for the visa
I went up to their office in London, collected my passport and paperwork
I headed straight from their office to the application centre in Barbican
Once here, I waited to give them my passport, documentation (which was fully prepared fr me by Real Russia) and I had my fingerprints scanned
I left all the information with them and crossed my fingers!
My passport arrived back to me in about 6 weeks, with my Russian visa inside! The whole process was actually really straightforward and made so much easier by the efficiency and helpfulness of Real Russia.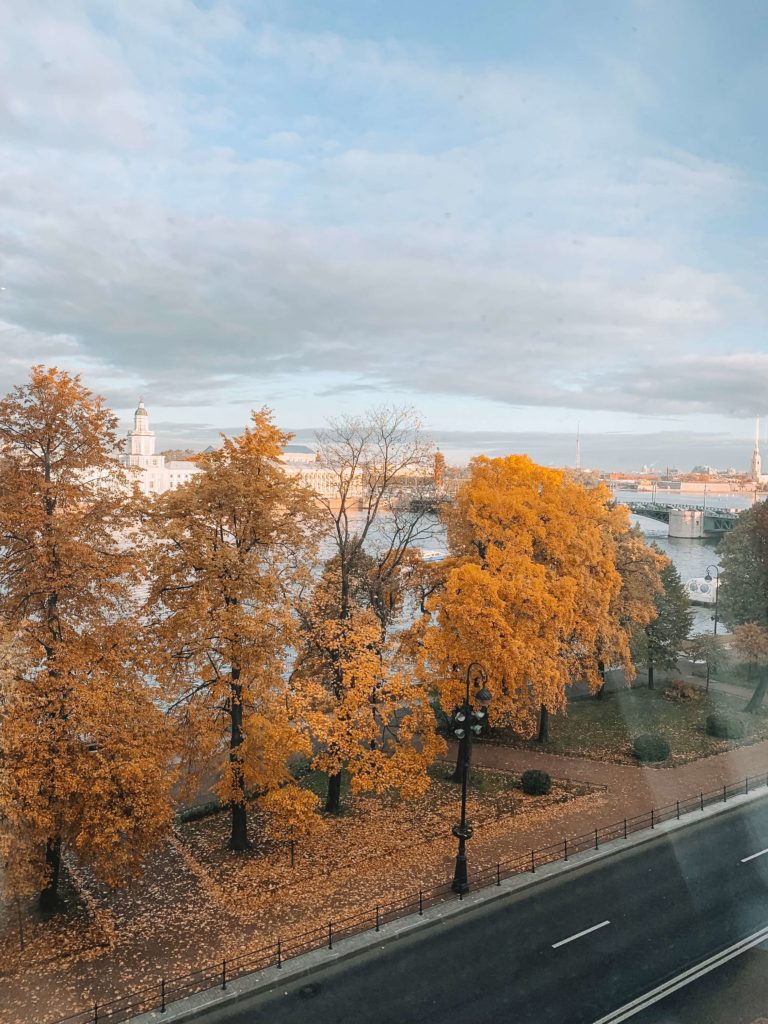 Travelling to St Petersburg
We flew directly from London Gatwick to St Petersburg with Aeroflot, and the flight was approximately 3 hours. We left London at around 4pm and landed at around 9pm local time – St Petersburg is 2 hours ahead of the UK. Aeroflot were a pretty good airline, my friend even got a free upgrade into business!
On arrival, it took a long time to get through customs. Russian and Chinese nationals can go through separate queues which seemed to move a lot quicker. Unfortunately for us, we had to queue for about an hour with little direction on what to expect. For myself and Mat (both white British) once we were at passport control they just stared at us silently, took our picture and waved us on. However, my friend Alex is black and for him, it was a slightly different matter. Nothing too serious, but they took his photo and asked him a bunch of questions about the purpose of his visit and where he was staying.
Accommodation in St Petersburg
As there was 9 of us in total, we stayed in one huge apartment on Admiralty Embankment, overlooking the river. It was the perfect location, with easy walking distance to pretty much all of the main sights. Not to mention we also had spectacular views across the river, as shown above.
Things to Do: Highlights of St. Petersburg
There is a really good amount of things to see and do in St Petersburg, all of which is very affordable. Here are some of the must do's:
Church of Saviour on Spilled Blood
Despite its sinister-sounding name, this is a gorgeous church in the centre of St Petersburg. The building boasts dazzling Russian architecture, resembling that of the iconic St Basils Cathedral in Moscow.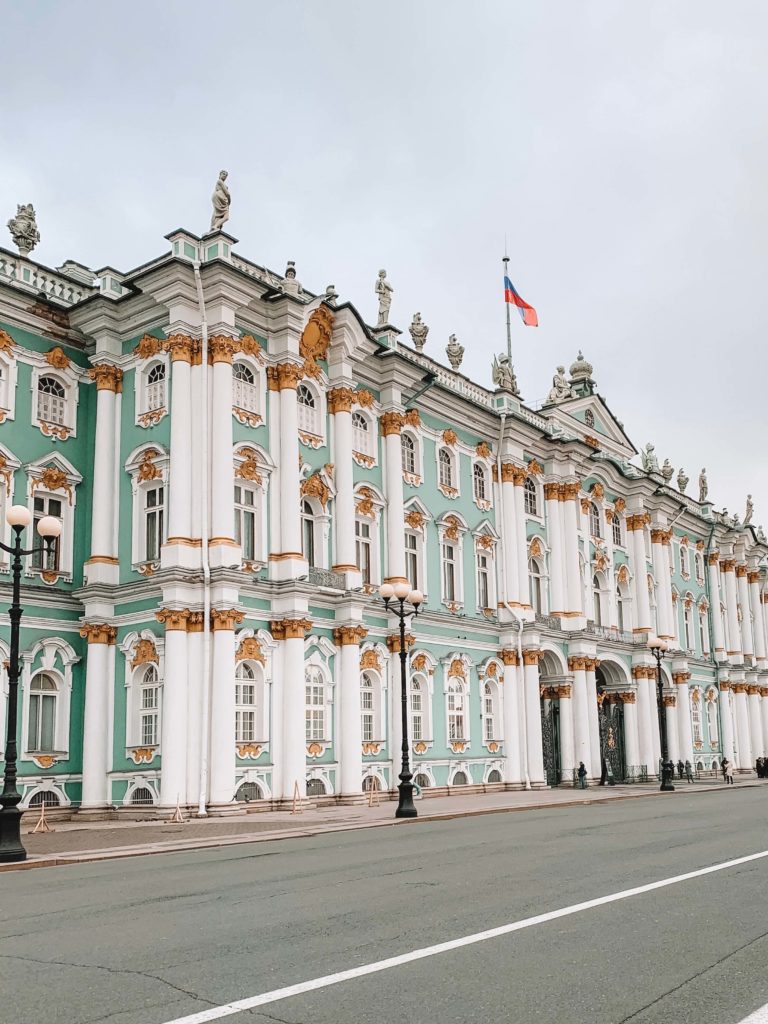 Winter Palace
The beautiful blue-green building of the winter palace is packed full of art and history, as it was the main residence of the Russian Tsars back in the day. You can easily spend hours in here getting lost between all the rooms, as there is so much to see.
St Isaacs Cathedral
St Isaacs Cathedral doesn't require a long visit, but, like most of the buildings in St Petersburg is worth a visit for the stunning architecture alone!
Peter and Paul Fortress
Peter and Paul Fortress is a small island which was the original citadel of St Petersburg, built by Peter the Great in 1703. It's definitely an interesting place to visit with a guide as you learn about Peter the Great's story. You can also visit the resting place of many Russian Emporers, Empresses, Dukes and Duchesses, including the famous Anastasia (yup like the animated film).
Watch the Russian Ballet
Another iconic thing to do when in Russia is to watch the ballet at the beautifully modern Mariinsky Theatre. If you're lucky enough to get tickets, you're in for a wonderful day of entertainment.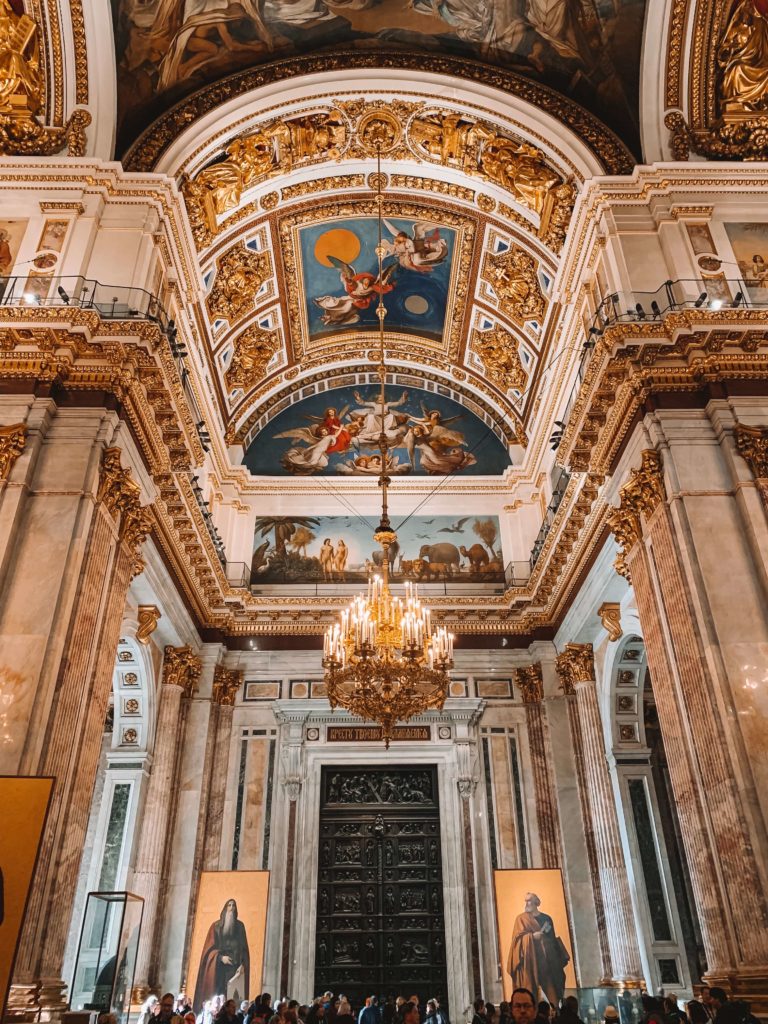 The cost of visiting St Petersburg
I'd say that as a UK national, the cost of visiting St Petersburg is definitely a split topic, half pricey and half affordable.
Visa, Flight and Accommodation
The cost of getting a visa can undoubtedly be an expensive procedure for peace of mind. This will set you back about £150. My flight cost £212 for a direct flight with Aeroflot from London Gatwick, baggage included. I didn't pay for the accommodation, so I'm unsure how much it cost us, however, I'm sure there are affordable hotel and apartment options.
Spending when you are there
THIS is the affordable part of the trip! Once you are in St Petersburg, you will likely spend very little on taxis, food, drinks and museum or attraction tickets. You can also hire very affordable tour guides that can take you around and give you the history of St Petersburg and the famous Peter the Great.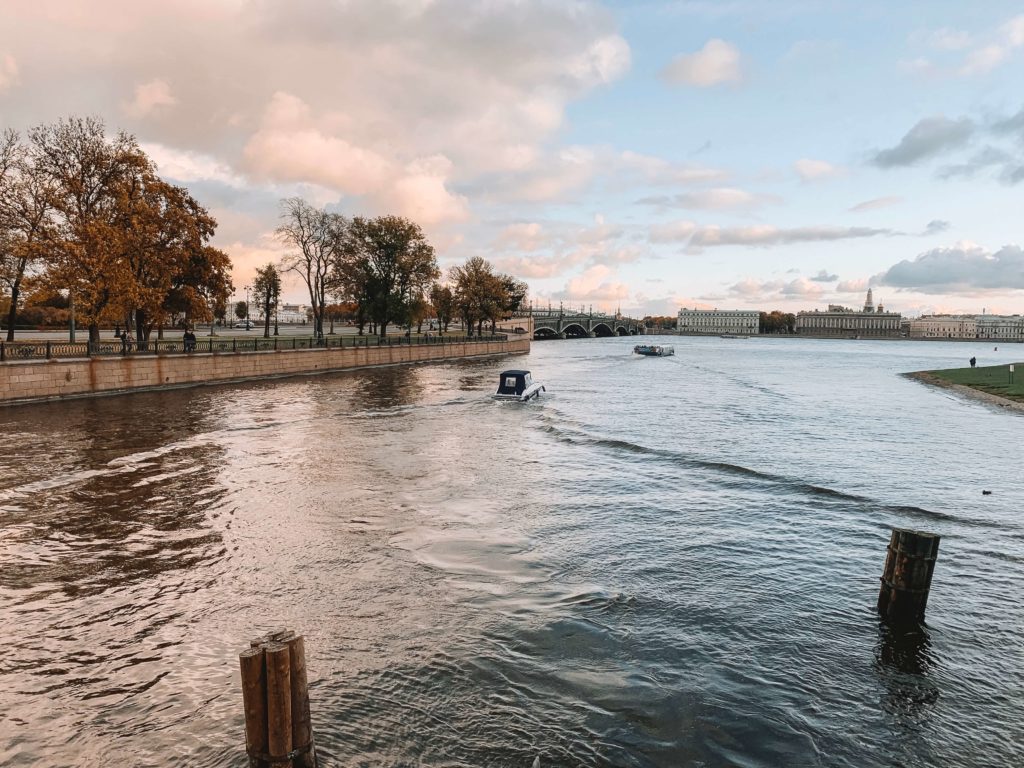 Things to Note
Hiring a tour guide is a great option for really getting underneath the surface of St Petersburg. If you're looking for a tour guide, I have a great recommendation
As it is much lesser visited than other weekend city destinations, you'll be surprised at how quiet the city is!
The language barrier is real – out of our group of 9, only 3 of us were English. The rest ( Russian and Belarussian) all spoke the language. This made getting around, ordering in restaurants and generally communicating with locals a lot easier.
That being said, every single person we met in St Petersburg was so helpful, chatty and friendly!
Overall, St Petersburg really is a beautiful, underrated city to travel to, especially if you are into culture and history.
My first visit to Russia was really special, and I can't wait to explore more of this intriguing country!
Liked this guide? Pin it for later!