My absolute favourite place in Bali, Indonesia has to be Uluwatu. Down in this southern tip of the island, you will find the best beaches, the best sunsets and a pace of everyday life that is a lot calmer than in areas like Seminyak or Canggu. It is definitely worth visiting Uluwatu if you are coming to travel in Bali!
How to get to Uluwatu
Depending on where you are heading to Uluwatu from, you can get there easily by Grab/Gojek. If you are coming from Seminyak or Canggu, the drive will take around an hour on a bike (depending on traffic). This can be a little uncomfortable but is still do-able (I've done it every time I've headed down to Uluwatu). If you're coming from Ubud, or further north of Bali, you should consider travelling by Grab Car, or at least breaking up the journey if you are on a bike! A Gojek bike down to Uluwatu from Canggu costs around 77k (£4) each way.
You might also like: The Best Places to visit in Bali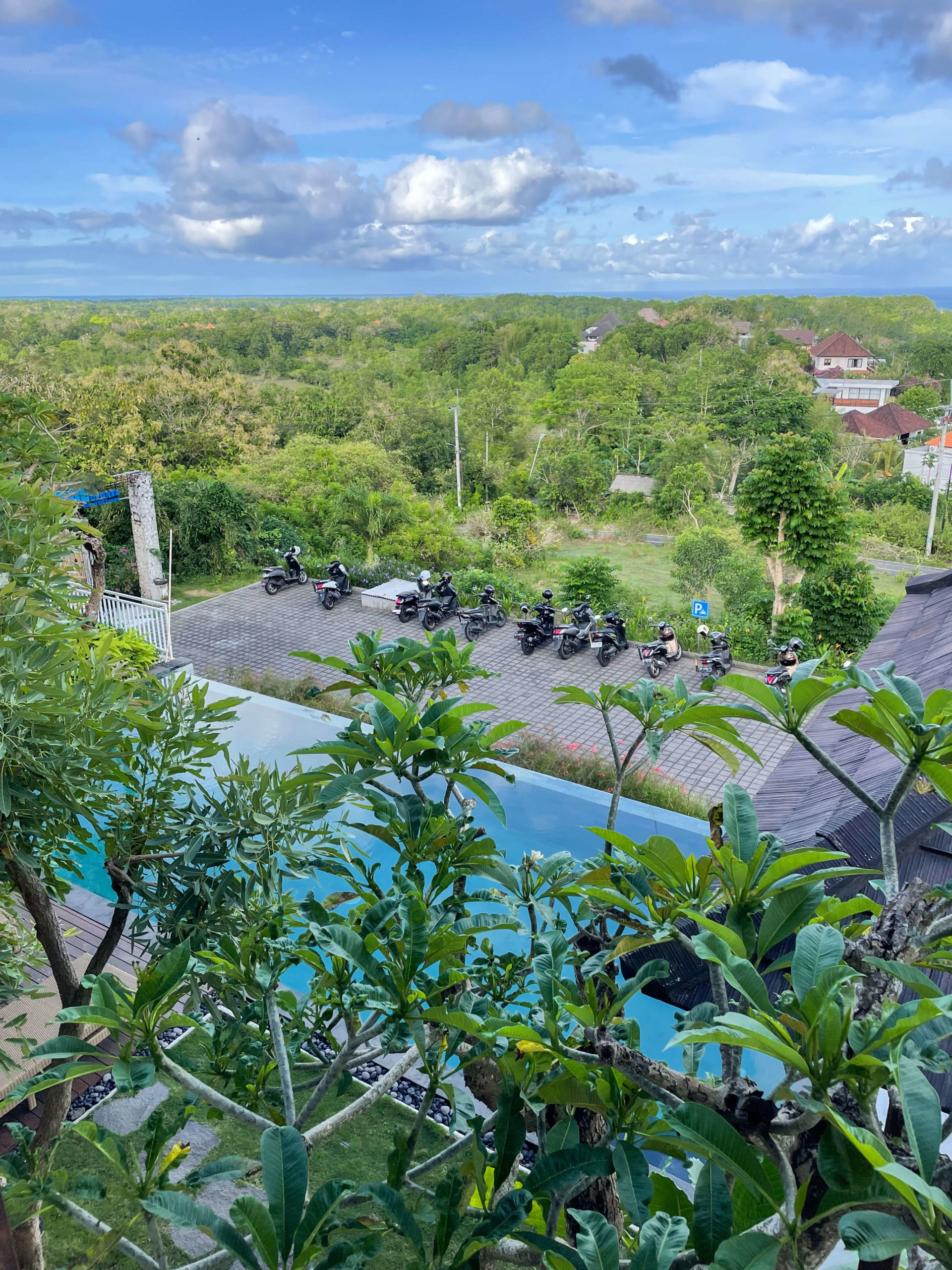 Where to stay in Uluwatu
Uluwatu is a lot more spread out than Seminyak or Canggu. As a result, it's not the easiest of places to get around without a bike. This is something to bear in mind if you are planning on staying in Uluwatu. For the best location, I'd recommend staying near Bingin beach, or along Jl. Labuansait, since this is where most cafes and restaurants are located.
I stayed at One Degree sunset hill, which had amazing views out to the ocean, an infinity pool, and a beautiful sunset view. It also offers both dorms and private rooms, so can cater to different budgets. While it was fine for one night, I'm not sure I'd recommend it for longer stays as the main road it is located on is very noisy, even through the night. If you're a light sleeper, this probably isn't the hotel for you.
Where to eat in Uluwatu
Much like the rest of Bali, Uluwatu has no shortage of amazing places to eat. Warungs, cafes, restaurants and whole food eateries line the street of Jl. Labuansait. Some of my favourites include Ours restaurant, The Loft, Suka Espresso, Nourish and Warung Local. Other places that come highly recommended include Drifter, The Cashew Tree, and Mana Uluwatu.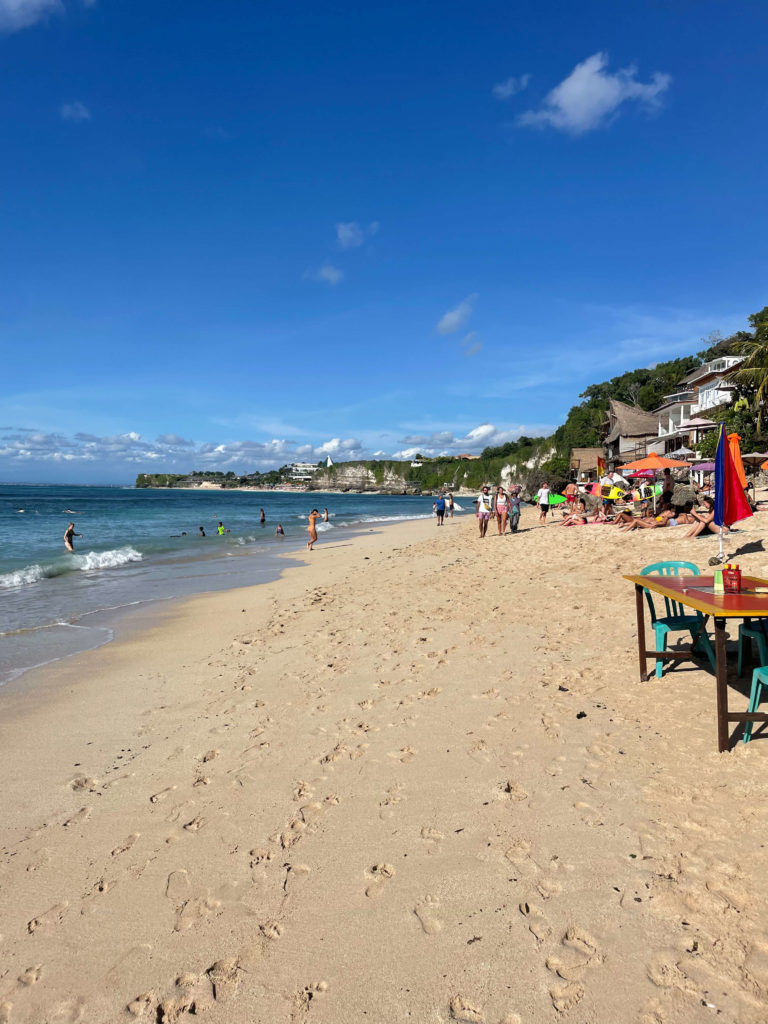 The best beaches to visit in Uluwatu
One thing you need to be prepared for when visiting the beaches of Uluwatu is the steps! Unlike Canggu, Seminyak and Kuta, which are pretty much flat, Uluwati is very hilly. Not only that, but it is situated on a cliff edge. This means that in accessing any beach you will have a lot of steps to tackle (both on the way down and back up)! However, the beaches of Uluwatu are absolutely worth the climb. Here, (much unlike Canggu or Seminyaks beaches) the sand is whiter, and the water is a beautiful shade of turquoise. Below are some of the best beaches to visit in Uluwatu!
Thomas Beach
Padang Padang Beach
Dreamland Beach
Bingin Beach
You might also like: A 2-week itinerary for Bali, Indonesia
Things to do in Uluwatu
Aside from relaxing on the beach, there are a few other great things to do in Uluwatu!
Go surfing
Uluwatu is known for its great surf, although not always ideal for beginners. The waves in Uluwatu can sometimes be larger and stronger than those in other parts of Bali, and so it's depending on the surf that day, is a great place for experienced or pro surfers to catch the waves.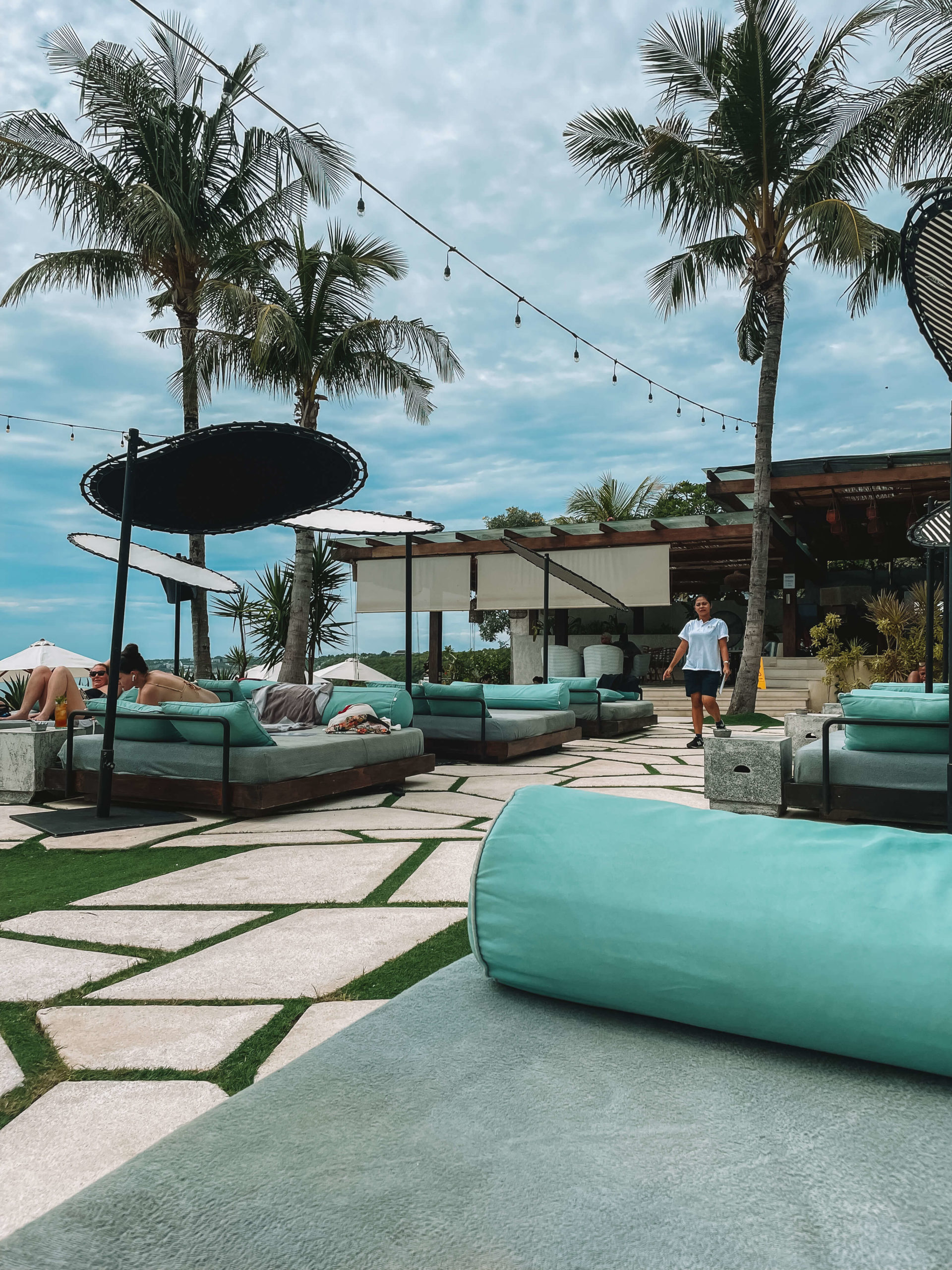 Relax at pool clubs
Similar to its popular neighbours, Uluwatu has no shortage of amazing beach clubs. I actually prefer the beach clubs in Uluwatu to those in Seminyak or Canggu. The vibe is a lot more chill, and the minimum spend is generally lower too. My all-time favourite, Ulu Cliffhouse, is located in Uluwatu, with just a 500k group minimum spend for a bed. You can also visit Single Finns (especially for sunset), Savaya for its iconic parties with international DJs and artists, or Palmilla Bali for its stunning southern beach location.
Uluwatu Temple
Uluwatu temple is a famous, 1000-year-old temple located in the southern tip of Bali. This temple is well known for its cliff edge location, traditional fire dancing and population of monkeys that hang out at its entrance. If you're coming down to Uluwatu, a visit to the temple is a great way to experience a bit of traditional Balinese culture.
Visit the GWK Cultural Park
Head to the GWK Cultural Park for an up-close visit of the largest statue in Bali. Well, technically it is actually one of the largest statues in the world – it's even bigger than the Statue of Liberty and Christ the Redeemer! This iconic statue can be seen even from the beaches of Canggu, just to emphasise the sheer size of it. You can see it up close and personal at Bali's cultural park, alongside strolling the gardens, seeing a traditional Kecak fire dance, or visiting during one of their annual music festivals.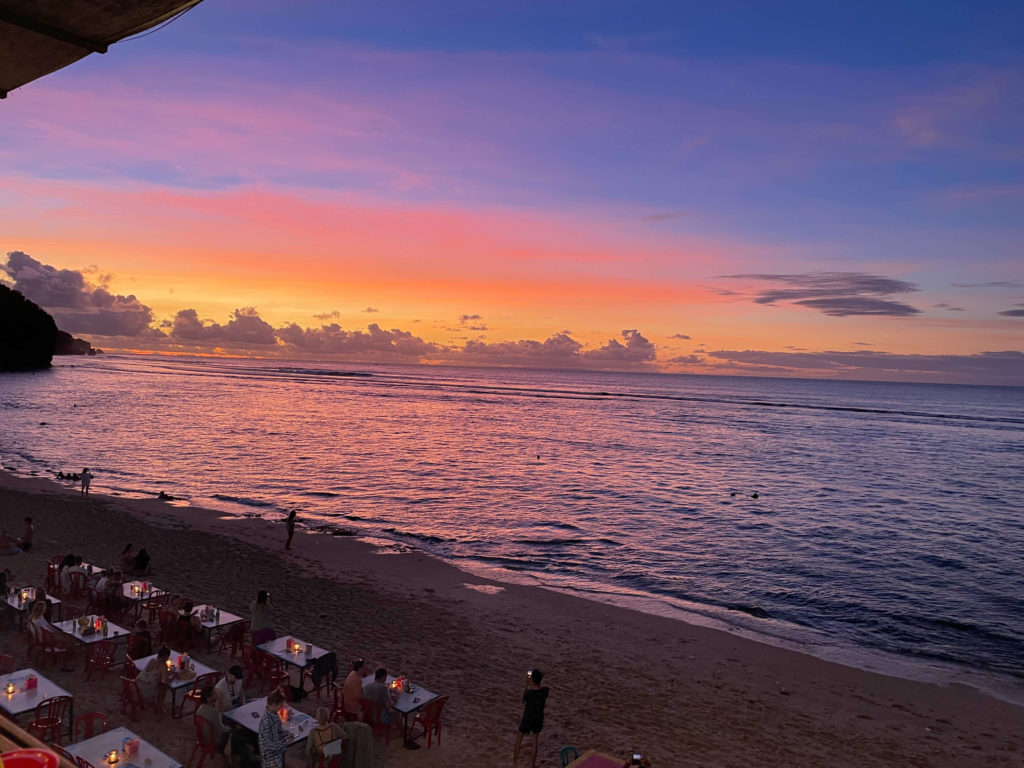 Watch the sunset
My favourite sunsets in Bali! Uluwatu is definitely one of the best places to watch the sunset. Whether you choose to watch it at one of the cliff clubs like Ulu Cliffhouse or Single Fin, or at the beach, you will be treated to a beautiful show as the colours of the sky change.
Is Uluwatu worth visiting?
One common question travellers ask before coming to Bali, is 'Is Uluwatu worth visiting?' My answer to that, is absolutely. If you want to see a bit more beauty, then you should definitely visit Uluwatu. Especially if you don't have enough time in your itinerary to get off the island of Bali to nearby Lombok or the Nusa or Gili islands. Uluwatu is way more beautiful than popular tourist areas of Legian, Kuta, Seminyak or Canggu. It's also a great place for surfing and seeing a bit more culture than you can expect in other areas.
Check out my Bali vlogs!