Aside from the plenty of things to do in Krakow, one thing the city is great for is food! There are lots of incredibly cheap food options throughout the city, and many quirky and fun bars to drink in the evening. Below are a few of the best places to eat and drink in Krakow, Poland. 
Read more: A Weekend Guide to Krakow, Poland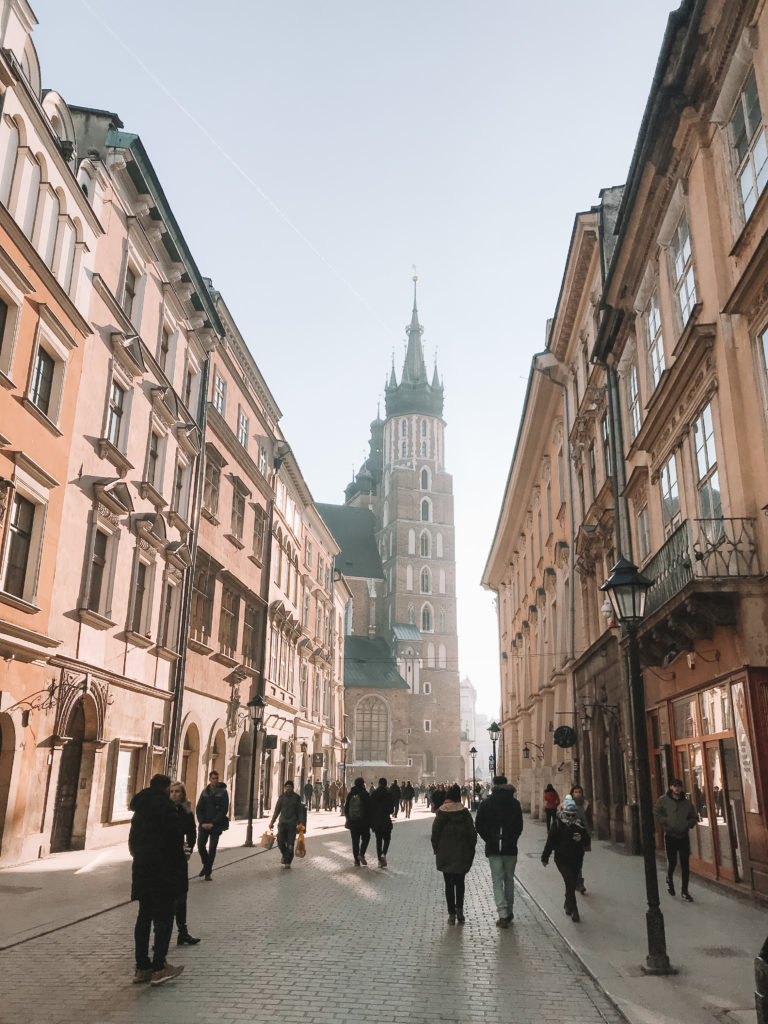 Hamsa Hummus & Happiness (Israeli)
Located in Kazimiez (the Jewish quarter), Hamsa is really lovely, authentic feeling Israeli restaurant. The menu has loads of great options for both meat-eaters and vegetarians. Not only that but the service is amazing due to the friendly staff. 
Location: Szeroka 2, 31-053 Kraków, Poland 
Plac Nowy (Street Food)
Also in the Jewish quarter is Plac Nowy. This is a small market square lined with food stalls and a great place to try the local sandwich dish known as Zapiekanki. Zapiekanki is kind of pizza bread, topped with pretty much whatever you want! The cheese and cranberry option is really delicious. You can also find other food here too, from chips and burgers to churros. 
Location: 31-056 Kraków, Poland
Gruzinskie Chaczapuri Restaurant (Georgian)
Given the location of this restaurant, the prices are unbelievable (in a good way)! Located right by the main square in the centre of Krakow, this restaurant serves up delicious Georgian food. The restaurant setting is really nice too, with exposed brick walls and a very 'traditional' feel. The food is really good and the prices are even better.
Location: Stare Miasto, 30-001 Kraków, Poland
Milkbar Tomasza (Polish)
A 'Milkbar' is a traditional Polish food spot which is kind of equivalent to an English 'canteen'. Milkbar Tomasza is quite a well-known option, popular with both locals and tourists. One thing to note is that it is only open until about 6/7 pm, so definitely more of a cafe than a restaurant. Lunch here is a great experience. The food is really good – there are loads of different options including traditional Polish 'Pierogi' (dumplings filled with your choice of meat, potato or spinach).
Location: Świętego Tomasza 24, 33-332 Kraków, Poland
Bunkier Cafe (Coffee and Cake)
If you've been wandering around all day and need a quick refuel, Bunkier is a lovely cafe to satisfy any sweet craving. Inside a covered gallery with transparent walls (which open up in the summer) they do serve lunch and dinner, but also serve loads of different cakes, all of which look delicious. It's the perfect place to stop for a little while to refuel with a coffee or tea and a slice of something nice. 
Location: plac Szczepański 3a, 31-000 Kraków, Poland
Alchemia bar
Located in the Jewish quarter again, Alchemia is a small bar that looks a little dingy from the outside. As you head in, it's dark, mysterious and a little cramped – but that all adds to the ambience! The drinks here are pretty good, they serve a variety of different cocktails as well as beers wines and spirits. 
Location: Estery 5, 31-056 Kraków, Poland
Alcatraz bar
If you're looking for something a little different from the rest, then head to Alcatraz bar. In the basement of a hostel, this bar is set up like a prison, with guards serving the drinks. Grab a table inside one of the 'cells' and enjoy a truly unique experience. 
Location: Grodzka 11, 31-006 Kraków, Poland
So there you have it – some of the best places to eat and drink in Krakow!