Did you even go to Bali if you didn't take ample advantage of the island's incredible brunch scene? Although there are plenty of amazing places to visit in Bali, it has no shortage of cafe's either. Thanks to a huge number of expats from Australia and Europe, finding great spots for western brunches is a very easy task! Below I've rounded up some of the best brunch cafes in Bali!
The Best Brunch Cafes in Seminyak, Bali
Kynd
This place has amassed a cult following in Bali since its launch back in 2017. A popular spot among tourists, expats and locals, Kynd doesn't just boast extremely instagrammable pink and neutral decor, but also has a delicious vegan menu with plenty of options to choose from. If you're looking for a healthy breakfast which screams "instagram" then definitely order the Bali Bowl: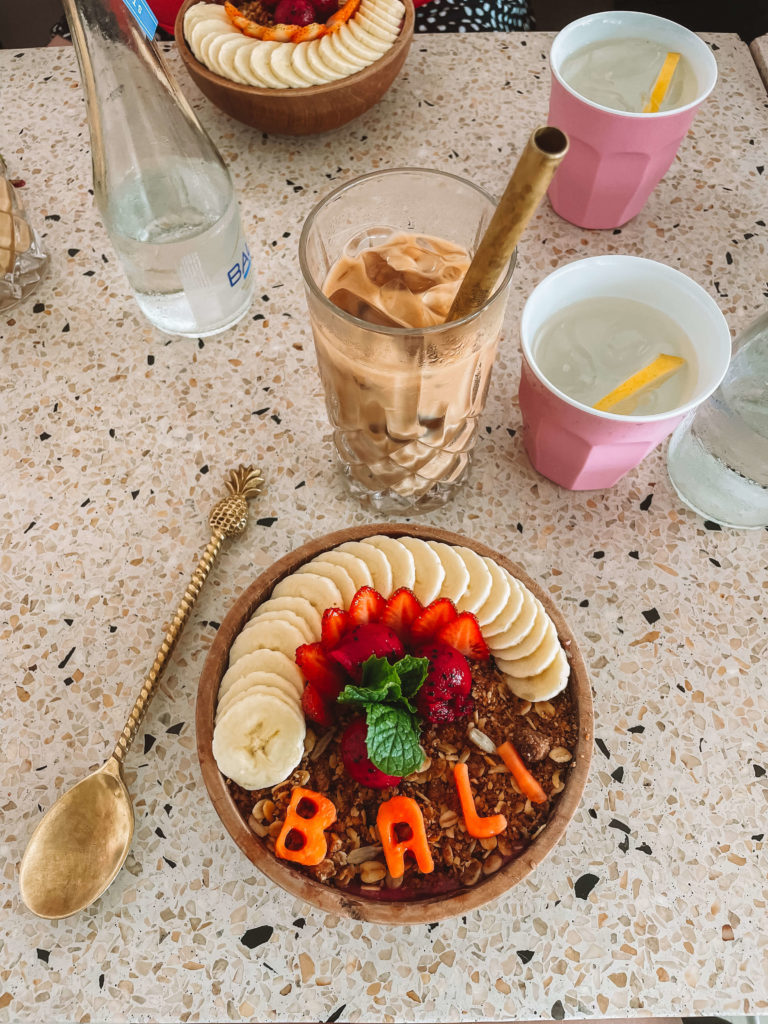 Brunch Club
This was one of my favourite spots in the Legian area. It's got a cute open upstairs area, a great menu and reasonable prices. If you're looking for something unique, try their "porncakes" – they include a 30 minute wait, but are well worth it! 
Doppio Pink
The little sister of Doppio, Canggu, this cafe hosts the exact same menu, but the interior is much more pink! They sell cold fresh coconuts if you need a cool down, and during the week the entire brunch menu is 55k (roughly £3). My favourite dishes here are the fritter benedict, the savoury omelette, or the smoothie bowl.
Coffee Cartel
I would go as far to say that the best iced latte I had in Seminyak was at Coffee Cartel. They also have a great menu, and I love the decor here! There are actually two locations in Seminyak, the Legian venue is a little quieter, but the Kerobokan location was my favourite one due to its adorable interior.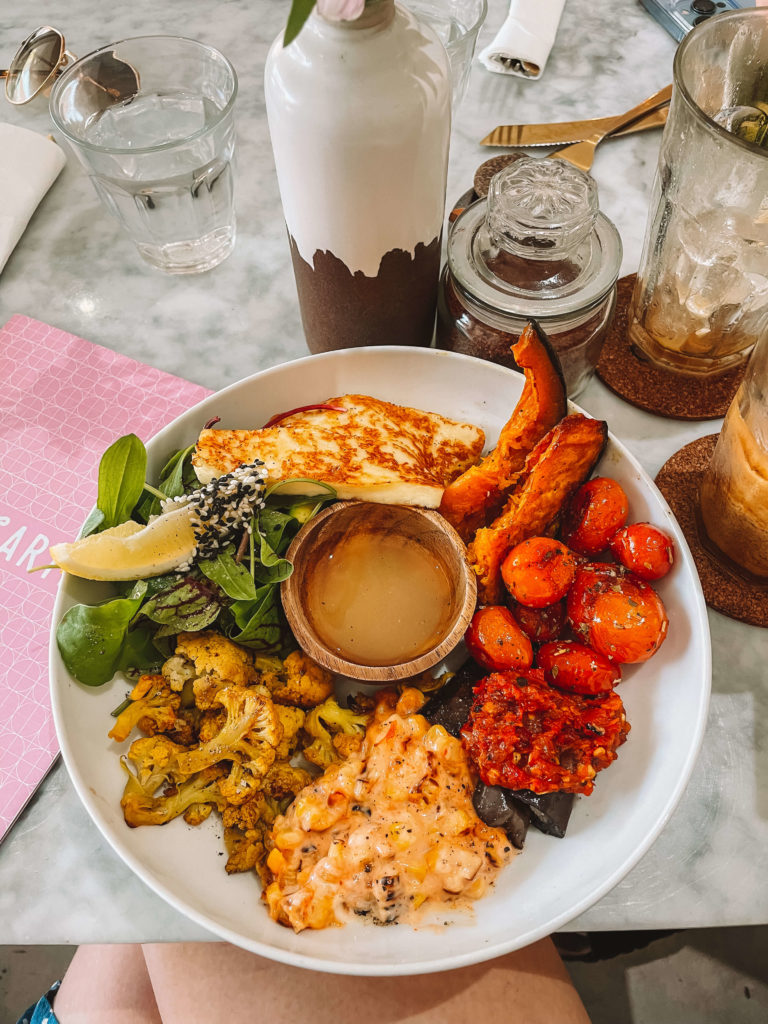 Go Fresh
Go Fresh is a little more understated, and not your typical 'instagram' brunch spot compared to the likes of Kynd or Coffee Cartel. Instead, you will find really friendly local staff, a menu packed full of healthy options, and very reasonable prices. We had a great lunch here refuelling after a morning of hot yoga!
Crumb & Coaster
Ok so technically this one is in Legian, not Seminyak. But its a cute restaurant with an extensive menu, so it's still worth a vising if you're on that side of Seminyak! You can get there easily by Gojek in about 10 minutes (Bali traffic depending).
The Best Brunch Cafes in Canggu, Bali
The Common
Although the wifi at this cafe is a little dicey, it's still a great restaurant! You can expect to receive incredible service from really friendly staff and lots of tasty options on their menu. On Tuesday evenings they do taco night, where you can dine on their infamous tacos washed down with amazing margaritas!
Doppio 
The less pink sister of the Seminyak location, Doppio Canggu also offers the 55k weekday lunchtime menu. It's a small but airy location, but it has a really nice vibe to it – even on a rainy day!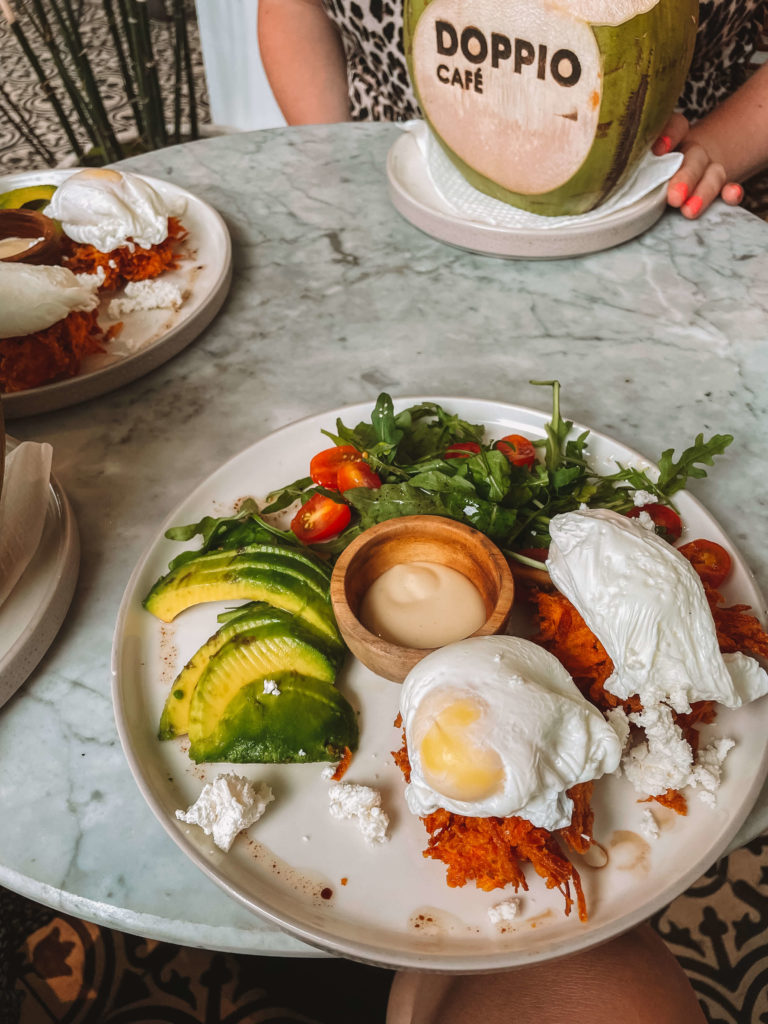 The Shady Shack
Shady shack is another popular brunch venue in Canggu, open aired and overlooking some rice paddies, it's a gorgeous location, with an extensive menu to choose from! 
Revolver 
I end up at this cafe way more than I should admit when I'm in Bali, but I just can't seem to get enough! Although it is one of the pricier brunch options in Canggu, the menu is great, the food is delicious and so is the coffee! It's also just got a really nice vibe to it, plus they do a loyalty scheme where your 10th coffee is free!
Machinery 
If you are looking for a slightly cheaper brunch alternative, then look no further than Machinery. A small and friendly cafe with a car and bike theme, they offer a 40k (~£2.20) breakfast menu with lots of tasty options! 
Mowies 
This is probably my favourite cafe in Bali! Located near Finns in Berawa, this open plan cafe has a great menu, a gorgeous nude colour scheme and even a pool. It's a great cafe to bring your laptop and work from too, with its laidback vibe and delicious lattes.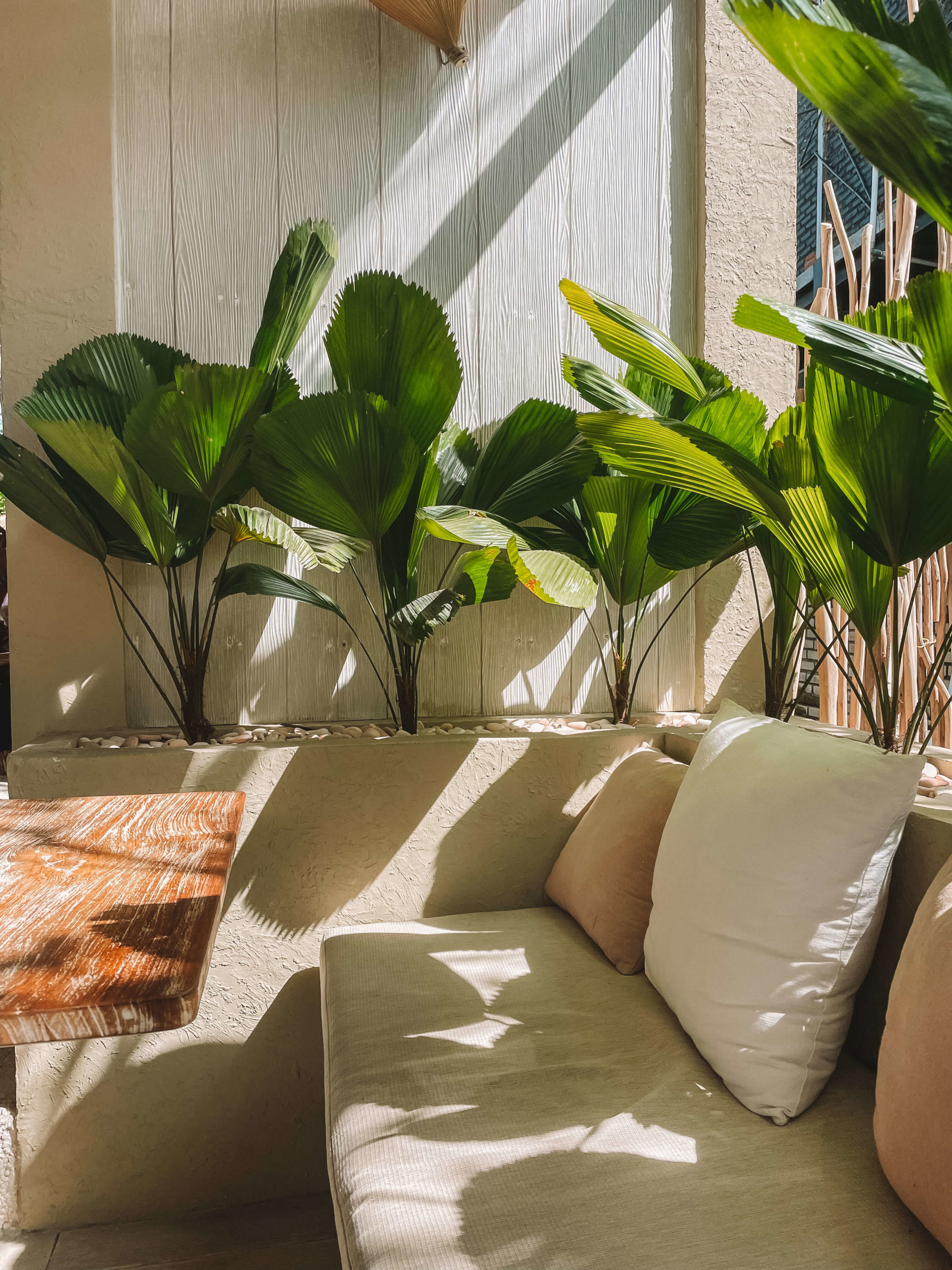 Nüde
Nude is located in Berawa, just across the road from Mowies. Aside from the delicious coffee and incredible food (get the cheese toastie, you will NOT regret it), the staff are also super friendly, making the service here amazing!
Duatiga
Located opposite Nude in Berawa, Duatiga is one of my favourite places to eat in Canggu! The staff here are amazing, the menu is huge, and they do tons of weekday offers – including brunch and a drink for 59k – what a bargain.
Barboa
I exclusively go to Barboa on a Sunday. It's true – I've not actually been any other day of the week. This is because I am absolutely addicted to their huge fluffy pancakes, and they do a Sunday deal where said pancakes are only 50k. Aside from the pancakes, they do have loads of other delicious options, but seriously: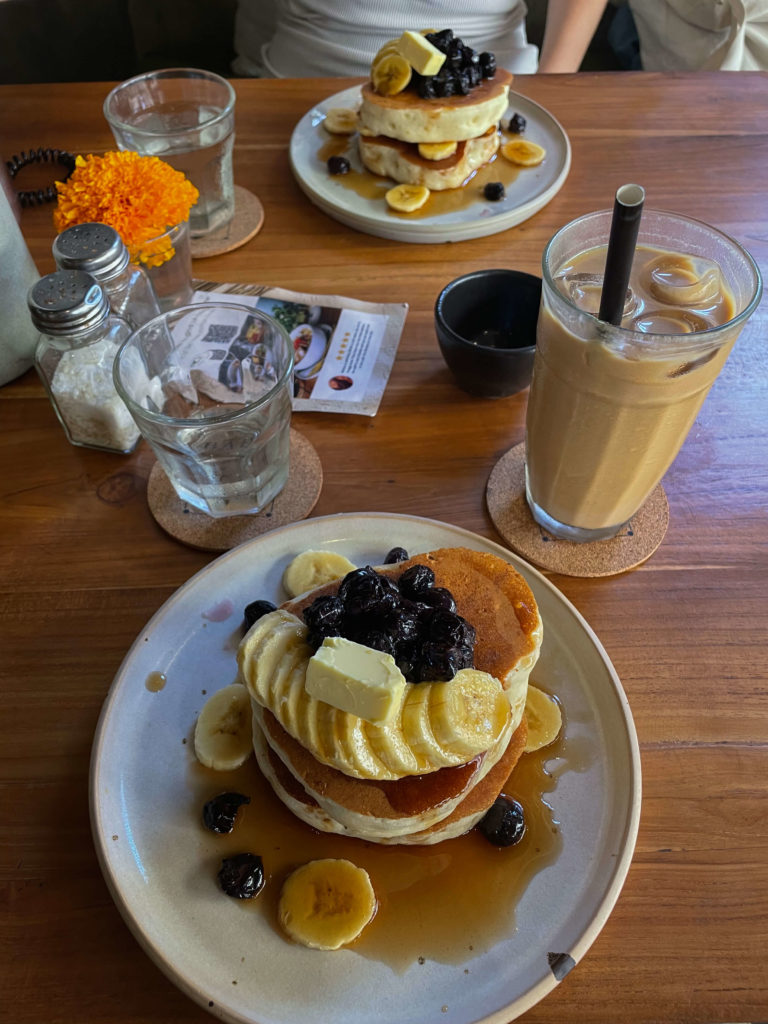 The Best Brunch Cafes in Ubud, Bali
Clear Café 
This is my favourite brunch cafe in Ubud, it is super cute, has a really calming setting and even an on-site spa! They do a number of breakfast specials here which include both food and drink, and the coffee here is delicious too!
See more: The best things to do in Ubud
Suka Espresso
Suka has locations in Ubud and Uluwatu, as well as a sister cafe in Berawa, and it's a very popular cafe, so you can sometimes expect to have to wait for a table. The menu is varied, with plenty of breakfast and lunch options from smoothie bowls to shakshuka. They also offer an evening menu, for dinner and cocktails!
Mushroom Espresso
Mushroom espresso is a cute and understated cafe located not too far from Yoga Barn. It's a fun spot for breakfast and a coffee, with adorable decor that feels like you are in someone's nans living room!
Milk & Madu
Another chain in Bali, Milk and Madu is located in the centre of Ubud, with a gorgeous open and airy setting. It is arguably the best brunch spot in Ubud. Not only is it a lovely place to grab a coffee and work with your laptop, but it's also fab for breakfast, lunch, dinner, cocktails and sweet treats!
You might also like: Digital Nomad Guide to Bali