Ubud is the lush green, cultural hub for tourists in Bali. Further inland, tucked away from the beaches of Canggu and Kuta, this small town is a true jungle oasis, and one of the best places to visit in Bali. Despite the traffic around the main street, Ubud still feels like a peaceful escape from reality. With a plethora of gorgeous guest houses, villas and hotels boasting infinity pools, shalas and jungle views, there are plenty of things to do in Ubud to keep you entertained during your stay.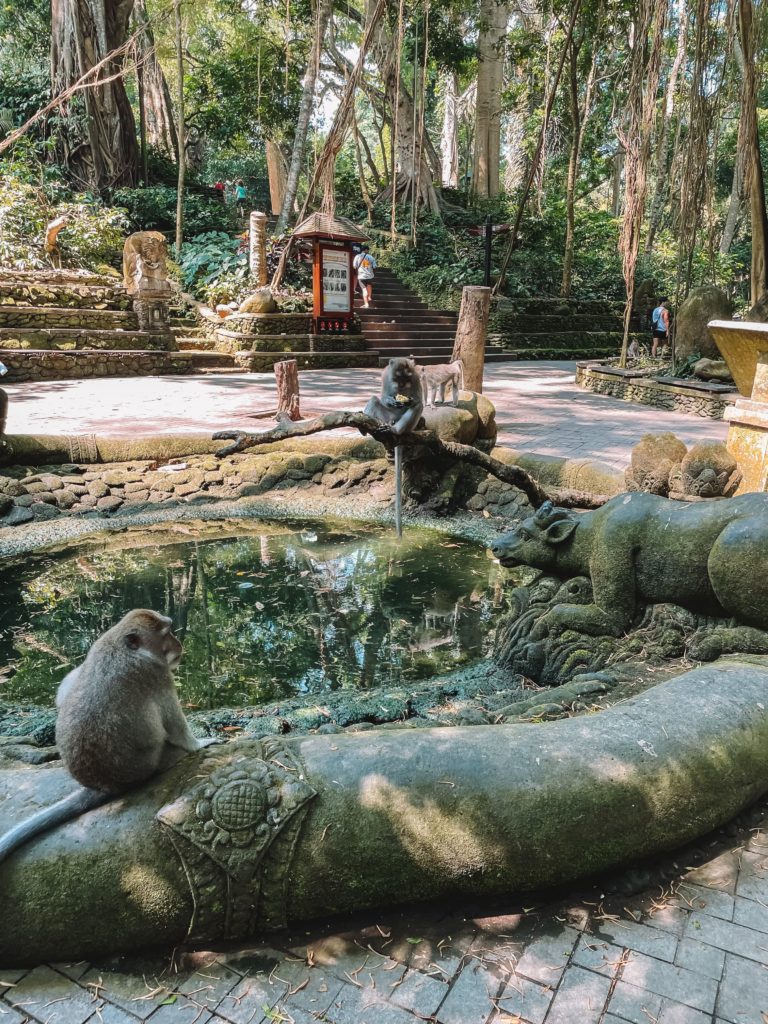 The Best Things to do in Ubud, Bali
Monkey Forest
One of the most popular attractions in Ubud is without a doubt the Monkey Forest. Located in the southern corner of Ubud, this extensive nature reserve is home to over 600 monkeys. Tourists can pay as little as 40,000 IDR (approximately £2.25) and spend as long as they wish wandering through the jungle and seeing the monkeys in their natural habitat. The monkeys can be a little unpredictable though, so be sure to avoid wearing anything that can be stolen (hats, sunglasses, jewellery, etc), carrying water bottles and making direct eye contact with the monkeys. It sounds intense but as long as you respect that you are in their territory, you will be fine!
Mount Batur sunrise hike
One of my favourite days on both of my trips to Bali is the Mount Batur sunrise hike! You can easily book online through the link, or you will be able to arrange this tour through your Ubud accommodation. Expect to be picked up at around 2am to drive north to Mount Batur. Once you arrive, you will meet your guide who will give you water and flashlights, and begin your ascent up the volcano. The hike begins at around 3/4am and takes between 1.5 – 2.5 hours depending on your speed and how many breaks you need. I would say I am of average fitness and both times I climbed Batur I took a handful of breaks. Not only because of how steep it is, but also because the second half of the climb is very rocky, rather than a clear path, and so my legs did begin to seize towards the end of the climb. 
The Top of Mount Batur
Once you get to the top, however, it is totally worth it for the incredible views across Batur lake, out to Mount Agung and even across to the Gili islands, Lombok and Mount Rinjani on a clear day! It will be chilly at the top, so pack layers, as you will have the opportunity to sit and admire the view whilst your guide cooks you a simple breakfast (we got banana sandwiches, which were surprisingly good, and a boiled egg). After plenty of photo opportunities, you will begin your descent back down to the car park. In some ways, the descent is harder than the climb, as it can be unsteady in places and your legs will likely already be pretty tired! You should get back down to the car park between 8 and 9am.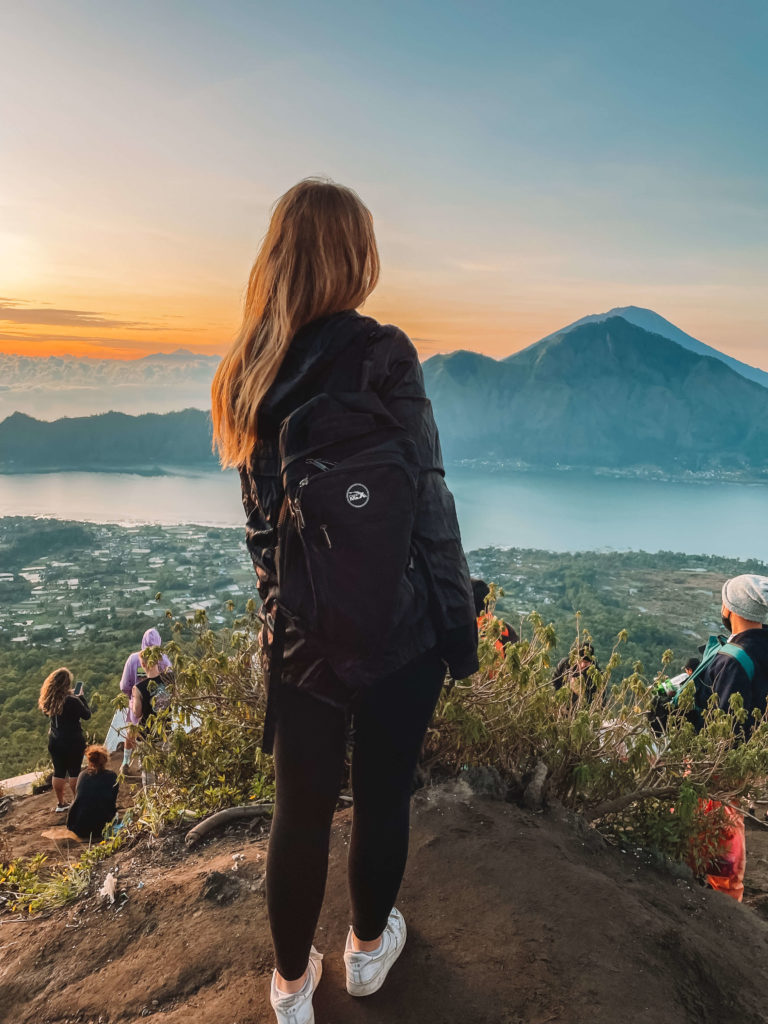 Ubud Art market
Ubud is a lovely town to wander around, with an abundance of cafe's, restaurants, spas and more. Not only that, but it's a great destination in Indonesia for shopping, both for personal items and souvenirs or gifts. Aside from the array of local and boutique shops you will find lining the streets, you should also visit Ubud Arts market, where you will find stalls upon stalls of locally handcrafted goods. 
Yoga and meditation
Everyone knows that Bali is one of the world's best destinations to practice yoga, and Ubud in particular is a great place to do just that. One of the most popular shalas on the island is located here, and well worth a visit, whether you're a beginner or an expert yogi. Yoga Barn has lots of classes ideal for any level and abilities, not just for yoga, but also for pilates, healing and meditation, sound baths, dance and more. They don't have an option to pre-book, so simply check the schedule on their website, and show up around 10-15 minutes before your chosen class to participate. If you plan on doing more than one class, you can buy multiple class passes which will save you a little bit of money. 
Balinese massage
As I've mentioned previously in this blog post, there are plenty of spas that line the streets of Ubud. Massages in Bali are notoriously affordable, and somewhere like Ubud, you can expect to pay around 90,000 – 120,000 IDR (approximately £7 – £9) for a 1 hour traditional Balinese massage! Aside from a range of different massages, they often offer a number of other treatments too, from facials to hair masks and beauty services like manicures. This makes Ubud the perfect place to have a pamper day without eating into your budget!
Foodie heaven
As with most towns in Bali, Ubud has no shortage of incredible places to eat and drink, including some of the best brunch cafes in Bali. Whether you're in the mood for Indonesian, steak, vegan, Thai, Italian or anything else, you'll be able to find something for you. I've written a separate post about the best cafes for brunch in Bali, but for Ubud in particular, some of my favourite places to eat include Suka Espresso, Clear Cafe and Milk & Madu.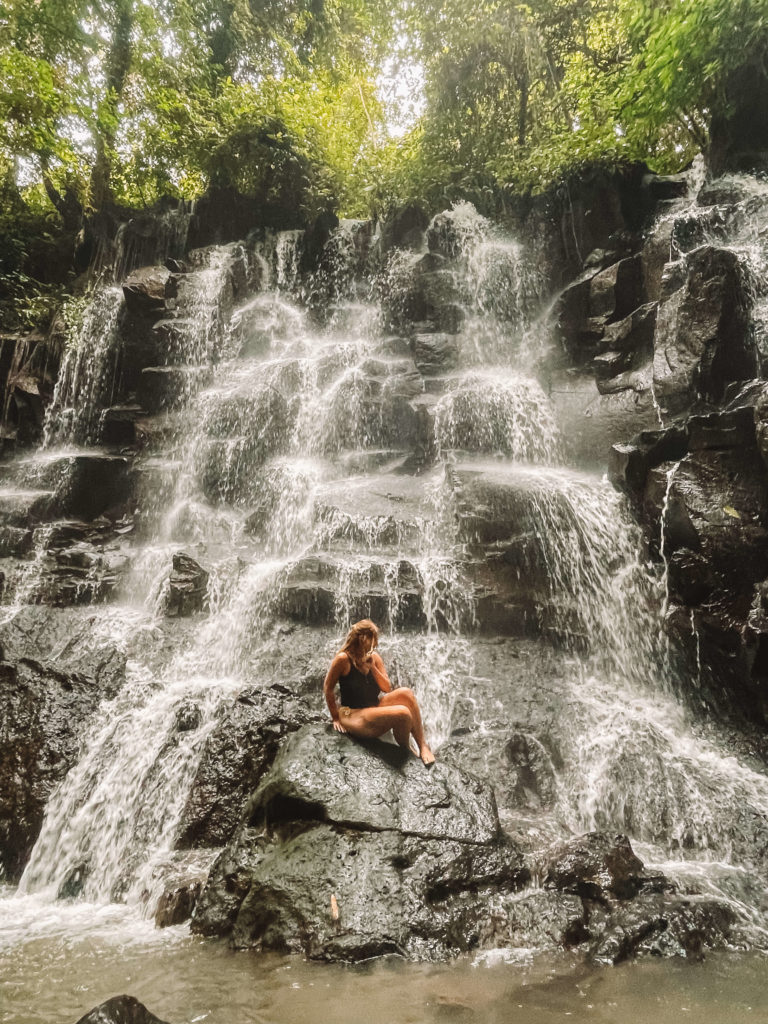 Waterfalls
No trip to Bali is complete without a visit to some of the island's waterfalls – and Ubud is the best place to do just that! It's a great location to get to a handful of waterfalls from, most of which are a short drive from one another, so you can visit a handful of Bali's waterfalls in the same day. Some of the best waterfalls to visit near Ubud include Tibumana waterfall, Kanto Lampo waterfall and Tegenungan Waterfall. Each of the waterfalls costs around 20,000 IDR to enter, so be sure to take cash with you! It is also possible to swim in most of the waterfalls, so I would recommend wearing a bikini or swimsuit underneath your clothes in case you fancy a dip in the cool waters. 
Rice paddies
Another iconic place to visit in Bali is of course, the famous rice paddies. Although there are plenty dotted across the island, one of the most well-known among tourists is Tegalalang Rice Terrace. Located just north of Ubud, this popular rice terrace is named a UNESCO World Heritage site and open to visitors 7 days a week. The views across the paddies are incredible – you can expect lush green terraces surrounded by palm trees. If you want to enter the paddies for a walk, the entrance fee is approximately 20,000 IDR. 
Bali swings
If you're looking for the ultimate photo opportunity to make friends, family or followers jealous of your trip to Bali, then head to the Bali Swings, just outside of Ubud. Whilst I went here with friends, I decided not to take part, since I'm not a fan of heights and the whole experience was quite bizarre to be honest! The place is completely built for Instagram tourists, and costs around $25. With this, you get the opportunity to swing on a variety of 10 or so swings, while the staff take pictures and videos for you. It's not personally something I would list on my top things to do in Bali, but everyone there seemed to be having fun, and that's all that matters really! If you really want the gram of all grams, you can even hire floaty dresses to make your shot *that* much more epic. 
Temples 
As the island's cultural hub, Ubud is also a great base to visit some of the temples in Bali. There are many different temples you can visit, but if you aren't looking to venture outside of the town, then Ubud Water Palace is a great option to visit! This temple and former palace is walking distance from most places in Ubud. Aside from the temple, the complex also includes lots of water gardens and fish ponds, and they also put on dance performances for audiences throughout the week. 
You might also like: Digital Nomad Guide to Bali