Taking a Jurassic Coast Day Trip down to Lulworth Cove and Durdle Door was easily my favourite adventure since lockdown began. Durdle Door and the surrounding area had been on my UK travel bucket list for quite a while, so ticking it off was really exciting to me. Below is a guide for spending the day down in West Lulworth, Dorset.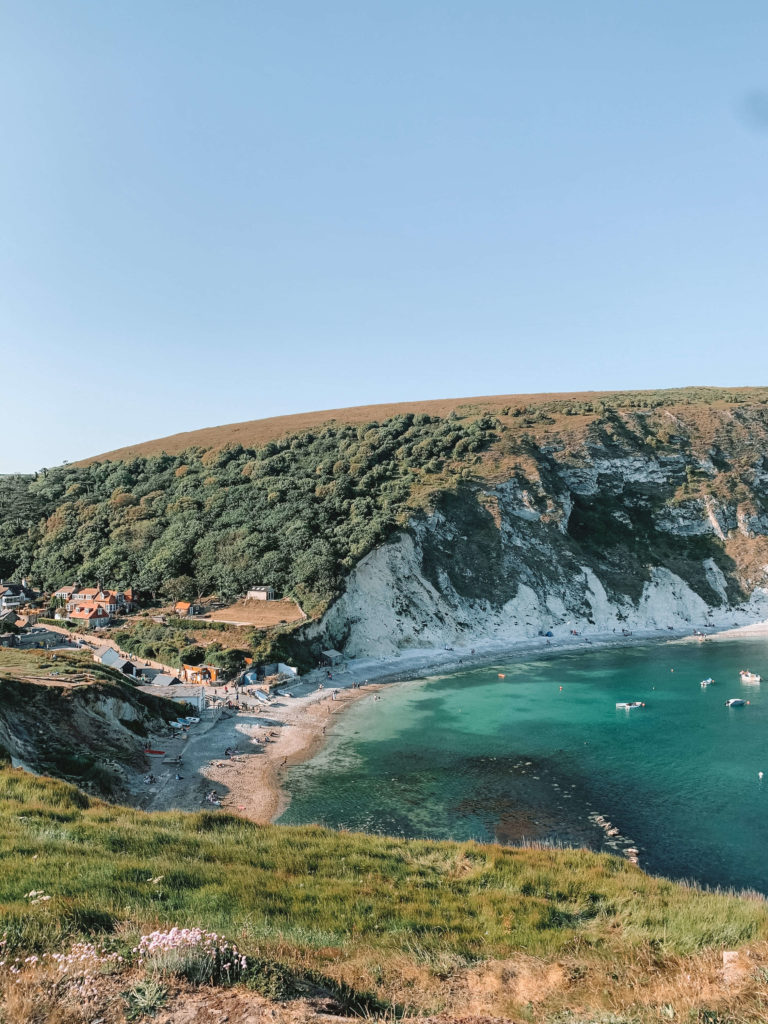 Where are Lulworth Cove and Durdle Door?
West Lulworth is a tiny little village on the coast of Dorset, near the infamous Durdle Door. It's a really sweet village with lots of nearby walks, plenty of greenery and adorable thatched roof houses. The area boasts outstanding natural beauty, perfect for nature lovers and avid hikers. 
What's so special about a Jurassic Coast Day Trip?
The Jurassic Coast is a World Heritage Site running along the south coast of England for approximately 96 miles in total. In fact, it is Englands ONLY natural World Heritage Site and gets its name from the Jurassic period of which a lot of its geology can be dated back to. If you're visiting the Jurassic coast, you can expect to find plenty of coastal walks, clear aqua waters, unique rock formations and if you're lucky, some special fossils! 
Getting to West Lulworth
How to Get to West Lulworth by car
The easiest way to get to Lulworth is by car, with the nearest major road being the A352 at Wareham. From there, you can follow brown road signs to Lulworth Cove, or put the postcode BH20 5RS into your satnav. 
*If you're visiting during COVID, you need to pre-book your parking as they are trying to limit the number of visitors to the area during this time. 
Travel time will vary of course depending on where you are driving from, however, there are plenty of places to stop and gorgeous views along the route. 
how to get to west lulworth By public transport
Although it is much easier to travel to West Lulworth by car, it is possible to get there by public transport. The best way is to get the train to Wool, and then to get the 103 or 104 bus from Wool train station to Durdle Door, and then enjoy the walk from Durdle door down to Lulworth Cove. 
The 103 and 104 bus services are limited, however, so you can also get a taxi from Wool train station to Lulworth Cove and can arrange for the taxi driver to pick you back up at a certain time. 
You can get the train to Wool from London Waterloo station, changing at Bournemouth. The journey time is around 3 hours. 
From Bournemouth, you can also join plenty of affordable Lulworth Cove and Durdle Door tours!
Visiting Lulworth Cove
Well known for its unique geology and crystal blue waters, the views of Lulworth Cove often make visitors forget they are in England! The circular cove shape was formed at the end of the last Ice age, by the meeting of the sea and a river that had expanded due to melting ice. Nowadays, the cove sits surrounded by steep hills, with a shallow pebble beach that runs around the rim of the gorgeous blue water. There are a few great vantage points you can walk to that give you excellent views both across the cove and out to the sea. 
Visiting Durdle Door
A short (but very steep) 20-30 minute walk from Lulworth Cove to the west, you will find yourself at the famous Durdle Door arch. This unique rock formation juts out into the water, with a beautiful sand beach and beautiful blue waters. The location is very popular among locals, visitors and foreign tourists, so the beach at Durdle Door, and nearby Lulworth Cove and Man-o-War beaches get very busy during summer months. 
Eating and drinking 
Lulworth is a very small village so although there are a few pubs, cafes and ice cream parlours, your best option is to pack a picnic to eat on the beach or at the top of one of the hills that overlook the cove or Durdle Door. If you are opting for a picnic, please clear up and take away any rubbish with you. 
 How long do you need for a Jurassic Coast Day Trip?
You can really spend as long or as little time as you like in Lulworth. If you're short for time, 3 hours is plenty to walk around the cove, up to Durdle door and back. If you want to spend a whole day, pack plenty of suncream and water and make a day of it. My tip on a gorgeous sunny day would be to arrive later in the afternoon, around 5pm, to enjoy fewer crowds and calmer views. We did this and ended up staying at the top of the cliff at Durdle Door to watch the beautiful orange and pink sunset. 
If you love the area and want to stay a little longer to explore, there are plenty of Airbnb's and cottage options for overnight stays!
Liked this post? Check out 5 of the best day trips from London!