Now, it goes without saying that this incredible country has SO MUCH to offer, it is impossible to see everything in only two weeks. HOWEVER, if you only have two weeks due to work (quite often the case in the UK) you definitely shouldn't write off new Zealand as your next travel destination! It's the perfect place for explorers, adventurers and those who enjoy some of the best hikes around.
I actually went as part of my 6 month backpacking trip, so in theory I could have had unlimited time, but a friend was joining from home and so we crammed as much as we could. Below is how we managed to visit both north and south islands in just two weeks.
Firstly, here are some initial tips to help you get the most out of your trip:
Plan your flights so that it doesn't eat into your time there – a good flight from the UK can take around 27 hours, so bear this in mind.
RENT A CAR! This was the ONLY way we were able to pack so much into two weeks, as you have the opportunity to get up and go whenever you need to
The views while driving were actually one of my favourite things in NZ. So whilst you will spend quite a bit of time in the car, you won't be disappointed by your surroundings.
New Zealand is expensive, but it is still possible to do it on a budget. I spent around £700 in two weeks, excluding car hire and flights.
From the UK you DO NOT need a visa to enter New Zealand
NORTH ISLAND
DAY ONE – ARRIVE IN AUCKLAND
We flew from Cambodia, which took about 17 hours as we had two stopovers, in Kuala Lumpur, Malaysia and Gold Coast, Australia. Our plane landed in Auckland at about 5pm I think, and we picked up a rental car and drove straight into the city to stay at our hostel. As we were pretty tired so by the time we arrived at the hostel we showered and headed out to find dinner. On our way back, we stopped and picked up some groceries (as we were travelling everywhere by car, groceries helped us to keep our costs down as we didn't have to eat out for every meal)!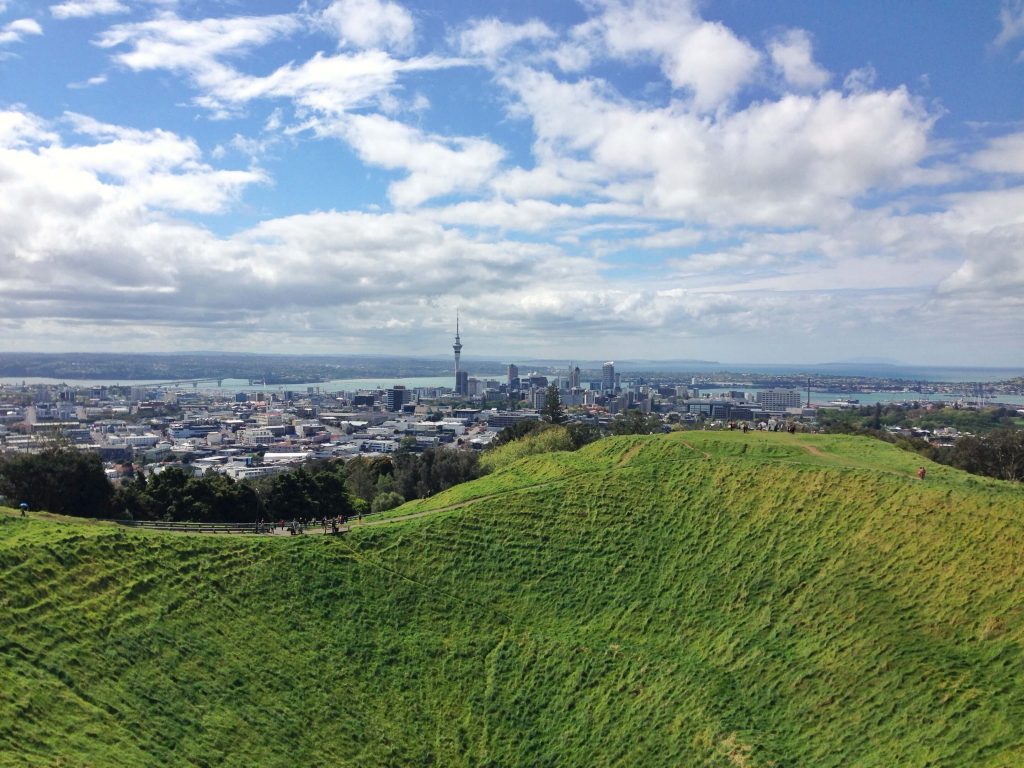 DAY TWO – AUCKLAND – TAUPO
Time to get up early, fuel up on breakfast and check out of your accommodation. Drive  to Mount Eden for a little hike up to the top to see some great views of Auckland.
Then, jump back in the car and drive for two hours, to Waitomo Glow Worm Caves. Here you get to go down into the caves and hop onto a little boat to ride through the caves and see all the blue glow worms on the walls and ceilings. You aren't actually allowed to take pictures inside so you'll have to take my word for how good it was! You can also visit some nearby caves too, which look like this inside:
After the glow worm caves, carry on with the drive toward Taupo. You should arrive in the afternoon, and if the weather permits you can head straight to Hukka Falls. This is walking distance from Taupo town, and is worth the visit!
DAY THREE – TAUPO
Today you will get up super early and head out on the 9 hour Tongariro Alpine Crossing Hike (aka. Mount Doom from Lord of the Rings). This is a really tough hike, so you will need good walking shoes, plenty of water and snacks to keep you going, and LAYERS. You will experience multiple weather conditions on this hike, starting warm and dry at the bottom, to snow at the top, so best to be prepared.
Once you're back from the hike, you will likely be pretty tired, so you can take the rest of the day to chill, or to wander down to Taupo lake if you still have energy left over!
Hostel recommendation: Finlay Jacks – YHA Taupo
DAY FOUR – HOBBITON AND DRIVE TO ROTARUA
Today, you will pack up and leave Taupo for Rotorua, stopping at the infamous Hobbiton on the way! Even for 'non' Lord of the Rings fans like myself, Hobbiton is a must. You will do a tour of the set, see the hobbit houses of the shire and can even stop into the Green Dragon pub for food.
After Hobbiton, jump back in the car toward Rotorua, where you will spend the night. Rotorua is a town near volcanic springs, so it does smell of sulphur, but you'll soon get used to it! There's loads to do in Rotorua including hot springs, Maori culture experiences and plenty of walking and hiking, if you make it to Rotorua with time to spare.
DAY FIVE – WHAKAWARAWARA FOREST, COROMANDEL & BACK TO AUCKLAND
Today you will get up early and head for a walk in the amazing Whakawarawara Redwood forest in Rotorua. It's a really easy walk, all pretty flat but it's really beautiful!
Once you have finished your walk, jump in the car and drive to Coromandel in the northern end of the island. The drive is really beautiful, parts of it reminded me of Jurassic Park. When you get there you have two options: Hotwater beach, where you can dig yourselves a little whole in the sand and sit inside as it will fill with hot water, OR Haihei Beach and Cathedral cove. We opted for the second as we only really had time for one before the sun went down. It was a great walk from the car park down to the beach, with coastal views the whole way.
After we had finished enjoying the cove and walked back to the car, we headed back to Auckland to spend our final night on the north island.
SOUTH ISLAND
DAY SIX – QUEENSTOWN
Get up early and head to the airport to drop off the car (most car rentals at Auckland airport will offer a shuttle service to then take you to the terminal, which is super handy and will save you money)! The flight down to Queenstown is just under two hours, but if you can, GET A WINDOW SEAT. Trust me you will love the views as you land into Queenstown. Once landed, pick up your second rental car from Queenstown airport, and drive into the town.
Queenstown was one of my favourite places in New Zealand, it is so beautiful and there is so much to do there! Plenty of activities to fill up the rest of your day, including more hiking, viewpoints, activities on the lake, or bungees and skydiving for the daredevils among you. We spent the afternoon catching the Skyline Gondola, where you can ride on the luge race track (SO MUCH FUN). You also get amazing views of Queenstown, like so:
That evening, get an early night as you have a busy day with lots more driving tomorrow!
Hostel recommendation: Southern Laughter Backpackers, Queenstown
DAY SEVEN – MILFORD SOUND
Get up early and jump in the car for a four hour drive to Milford Sound. (There are better and more relaxed ways to do Milford sound, but as you may have noticed the aim of this itinerary is to see as much as possible in two weeks). The drive to Milford sound was one of my favourite drives, the scenery was absolutely STUNNING.
Once we got to Milford sound, we jumped on a boat and went on a little cruise around the sound, to the different waterfalls. Milford sound wasn't my favourite part of New Zealand, but I still recommend doing it as some people loved it.
DAY EIGHT – WANAKA & MOUNT COOK
After a good nights sleep, check out and drive toward Wanaka for lunch. Here you can wander around the cute little town and lake, and visit New Zealands most photographed tree:
There are also loads of nearby hikes if you want to stay a little longer, but when you are ready, jump back into the car and head towards my favourite destination in New Zealand: MOUNT COOK! On the drive, Peters Lookout at Lake Pukaki is a great photo stop for views of the lake and Mount Cook in the distance.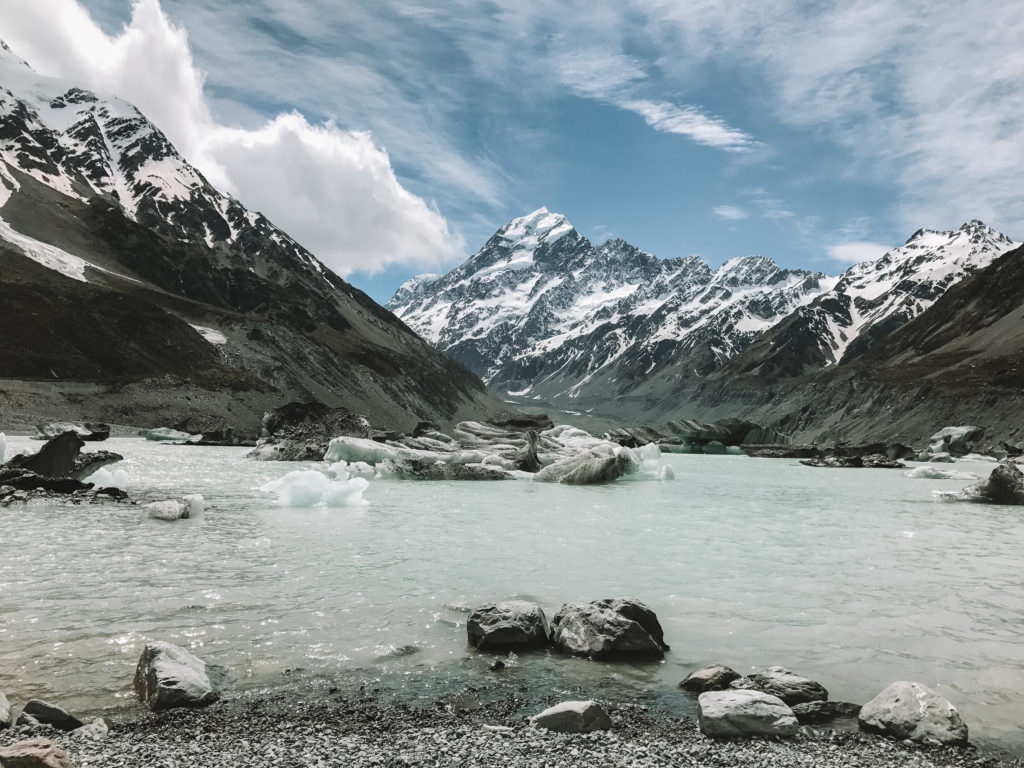 DAY NINE – MOUNT COOK
Today you have the whole day to explore Mount Cook and all the beautiful views it has to offer! There are tons of hikes you can do, or you can opt for a scenic helicopter ride (weather permitting). We chose the Hooker Valley hike, which did not disappoint:
DAY TEN – KAIKOURA
Today, say your goodbyes to Mount Cook and drive up toward the north part of the south island to Kaikoura, a very cute, sleepy little beach town. It's a pretty long drive, so you won't have the chance to do much, however we stopped for food on the way in Christchurch to break up the driving a little bit.
DAY ELEVEN – KAIKOURA (WHALE WATCHING) & CHRISTCHURCH
Today you can choose from a number of sea based activities, including whale watching and kayaking with the dusky dolphins! I definitely recommend making the most of these opportunities whilst you are here. We did a whale watching trip, where we saw dolphins and a sperm whale!
Once we were back from the whale watching trip, we had lunch in the little town, it kind of reminded me of a coastal town in the UK like Dymchurch or something, but with nicer weather! After lunch, start driving back toward Christchurch. So, Christchurch was probably my least favourite place in New Zealand, as it just felt a bit industrial and didn't feel like it had as much to offer as the other places we visited, so we only stayed overnight as my friend was flying out of Christchurch airport back to the UK in the morning. However, we stayed overnight in an old prison that has been converted into a hostel, which was really cool.
DAY TWELVE – LAKE TEKAPO
Today you can get up and head back towards Queenstown, to Lake Tekapo. From Lake Tekapo, you can visit the beautiful fields of Lupins (late November to February)! You can also hike Mount John, or the Cowan Hills Walkway. Finally, spend the evening stargazing at the dark sky reserve.
DAY THIRTEEN – HOT SPRINGS & BACK TO QUEENSTOWN
Spend the morning relaxing at the Lake Tekapo hot springs, before driving back to Queenstown. As today is a pretty free day, you can either find some cool places to stop off on the way from Lake Tekapo to Queenstown, or spend the rest of the day exploring Queenstown a little more, whether that's exploring the town itself or hiking for stunning views of the Remarkables!
DAY FOURTEEN – FLY HOME
Time to say goodbye to Queenstown and New Zealand!
As you can see, it is an extremely packed trip, and whilst there is SO much more to do than this post contains, this itinerary really gives you a great taste of some of the amazing things that New Zealand has to offer! You can of course change it up to suit your interests and priorities, but hopefully it shows you that it is totally possible to experience a good amount of New Zealand's wonders in such a short time frame!