Now, you all know how much I love Italy, I've harped on about it enough on this blog already – but I just can't get enough? As if spending two weeks travelling Italy by train last year wasn't enough, I went back in January for a long weekend. Although Florence was included in my two week trip in 2019, I couldn't resist returning this year! As well as being such a beautiful city, it's packed full of art, culture and incredible restaurants – so what's not to love? Below is my weekend guide to Florence, Italy!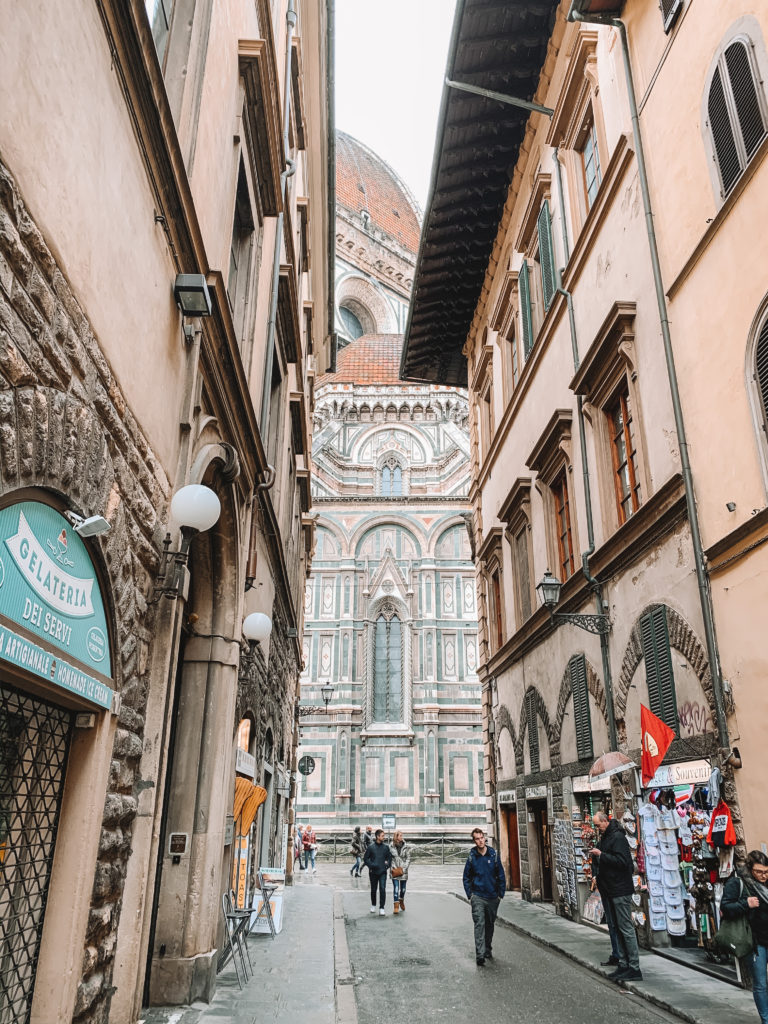 Day One
Cattedrale di Santa Maria del Fiore
The first stop on your trip has to be the iconic Duomo (officially known as Cattedrale di Santa Maria del Fiore). Whether you chose to admire the architecture from outside, or venture inside, this area is always busy and so it's best to arrive as early as possible to escape the crowds! 
Uffizi Gallery
From here, you can visit the Uffizi Gallery, a prominent art museum in Florence. Not only is this one of the most visited museums in Italy, but it is also one of the most important. It houses a huge collection of priceless Italian Renaissance art.
Piazza della Signoria
This large square has a collection of impressive statues to admire. It is also surrounded by a huge selection of gelato stores and cafes where you can stop for a coffee. If you fancy a bit of shopping, the streets surrounding this square is the perfect place for it. Here you'll find a mixture of Italian, High Street and Designer stores.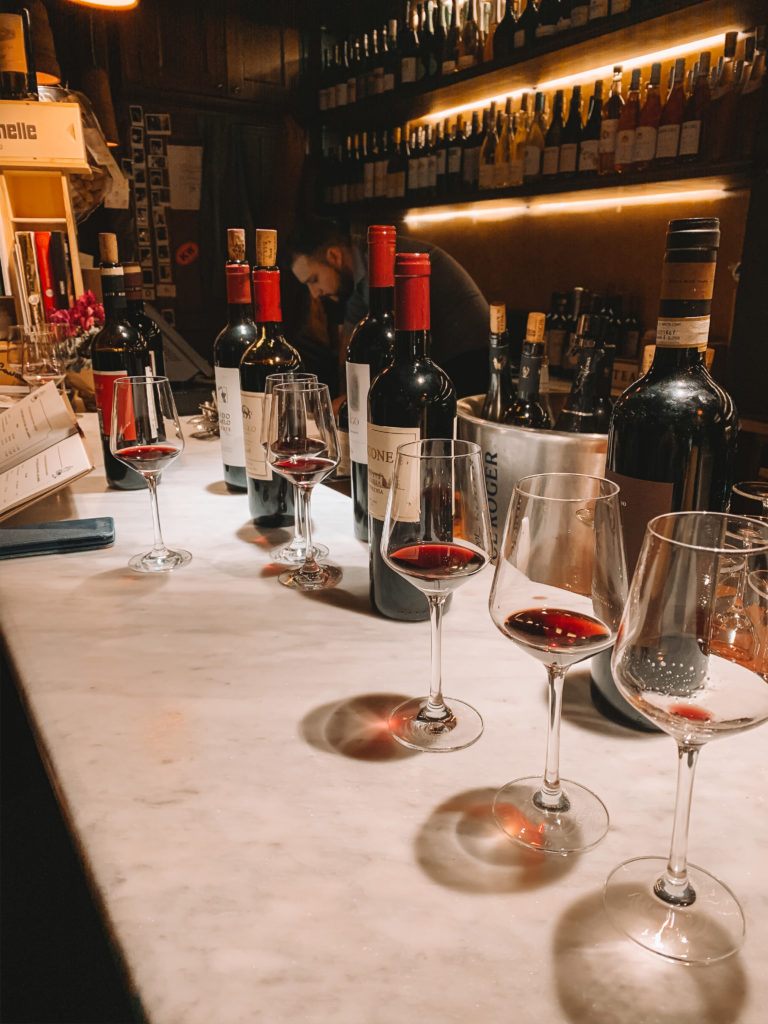 Dinner: L'Ortone 
L'ortone serves delicious Italian food and has an incredible selection of wines on offer. The owner and his staff are really friendly, so you'll receive top-class service while you dine. If you can, try the truffle pasta on the specials menu – it's simple, but to die for. 
Bar: Bitter Bar
This unique 1920's speakeasy-style bar is a great place to grab after-dinner drinks. Looking mysterious and almost unnoticeable from the outside, you need to ring the doorbell to be let in by the staff. You'll enter a small, elegant yet quirky jazz bar, with a number of unusual house rules! The cocktails here are great, and they come with snacks. As you can probably tell, my favourite was the truffle cocktail (are you sensing a theme here)…?
Day Two
Ponte Vecchio
Today, you can explore the other side of the Arno River in Florence! Head to Ponte Vecchio first – an old bridge across the river filled with unique jewellery stores and unusual architecture. 
Pitti Palace
If you want to spend another day gazing at art, or just want to admire more Italian architecture, then head to Pitti Palace. This huge palace is filled with more renaissance art, sculptures and luxury possessions of the ruling families of Tuscany who once lived here. 
The Boboli Gardens
Next, head to the Boboli Gardens, hidden behind Pitti Palace. This historical park originally opened to the public back in 1766. Now, you can spend hours wandering around the gardens, fountains and caves that were built here many years ago. 
Sunset: Piazzale Michelangelo
For sunset, you have to head up the hill to Piazzale Michelangelo for panoramic views over the city of Florence. Once at the top, you'll get stunning views and hopefully an even better sunset. It can be a very busy spot on a clear day, but often you'll find local musicians at the top, serenading those watching the sunset.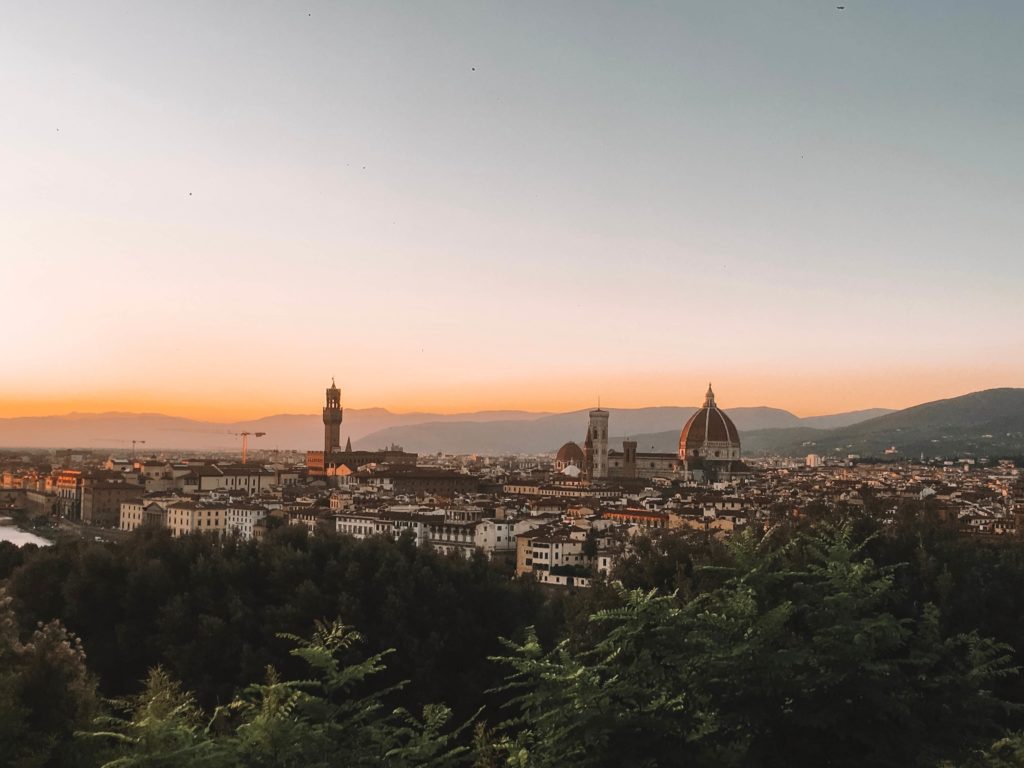 Dinner: Acqua Al 2
On your second night, you should head to Acqua Al 2 for dinner. This is by far my favourite restaurant in Florence. The decor of the restaurant is very quirky, and you may find yourselves having to share a table with others, but the food is the real reason to come here. Once you're there, ask for the tasting menu – you won't regret it. There are two choices, pasta or steak. For the steak taster, you'll be served three different steaks, all cooked differently. Similarly, for the pasta, you'll get FIVE different pasta dishes to try. It's a great experience and the food is phenomenal. Luckily, the restaurant is really reasonably priced as well!