One of my favourite things to do besides travel is to attend gigs and festivals – live music is my jam. So, this year I finally combined my two favourite things and attended my first festival outside of the UK! After seeing the line up back in January, a friend and I decided we had to get tickets to Sziget festival. Especially after hearing people rave about it! Having just returned from an epic week in Budapest, I have put together a guide on everything you need to know about Sziget Festival!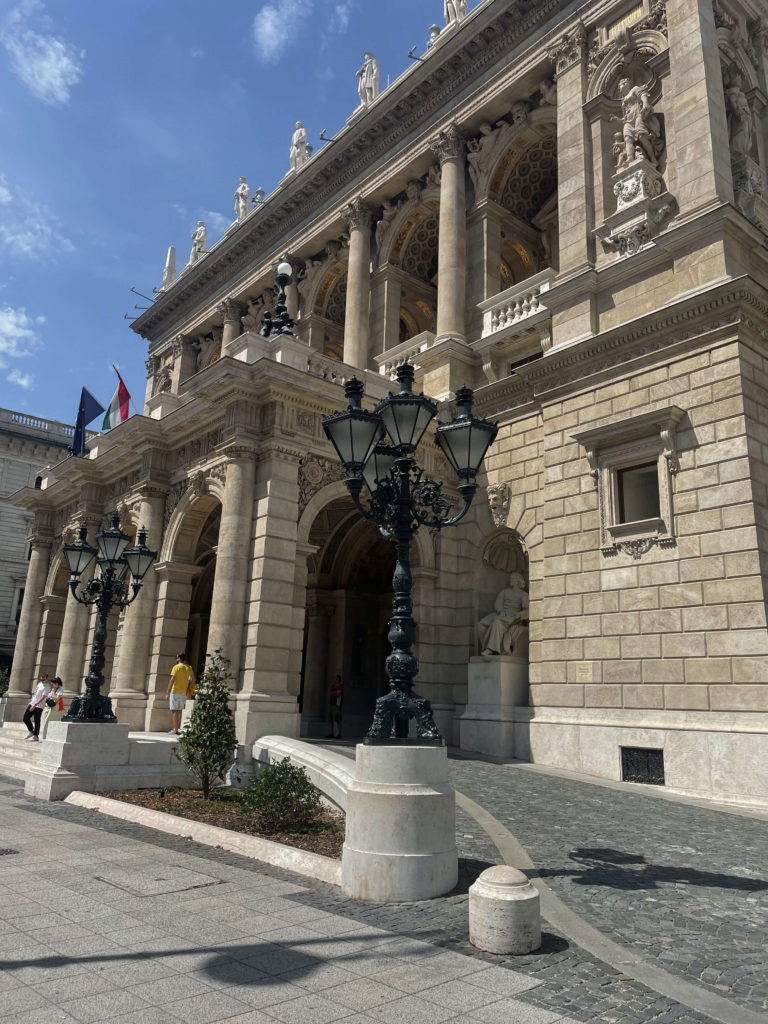 What is Sziget Festival?
Sziget is a huge six day music festival located in Budapest, Hungary. One of my favourite cities in Europe! Sziget is held on Óbuda Island. The festival has lots to offer, from huge headliners, to dj sets, yoga, arts and more. In 2022, the festival attracted 95,000 visitors each day!
When is Sziget festival?
Sziget festival is usually held during the second week of August. Sziget 2022 was 10th – 15th August (inclusive) and Sziget 2023 will be held from 9th – 14th August (inclusive).
What is there to do at Sziget festival?
As mentioned already, there is so much to do at Sziget, no matter your music taste or outlook on life. The festival is pretty big, and has something going on most hours of the day. Some of the stages will still be going from the night before until about 8am!
There are also entertainment performances like Cirque du Sziget, there is a beach you can relax on, body painting, yoga classes, NGOs, language exchanges, tribute bands and so, so much more.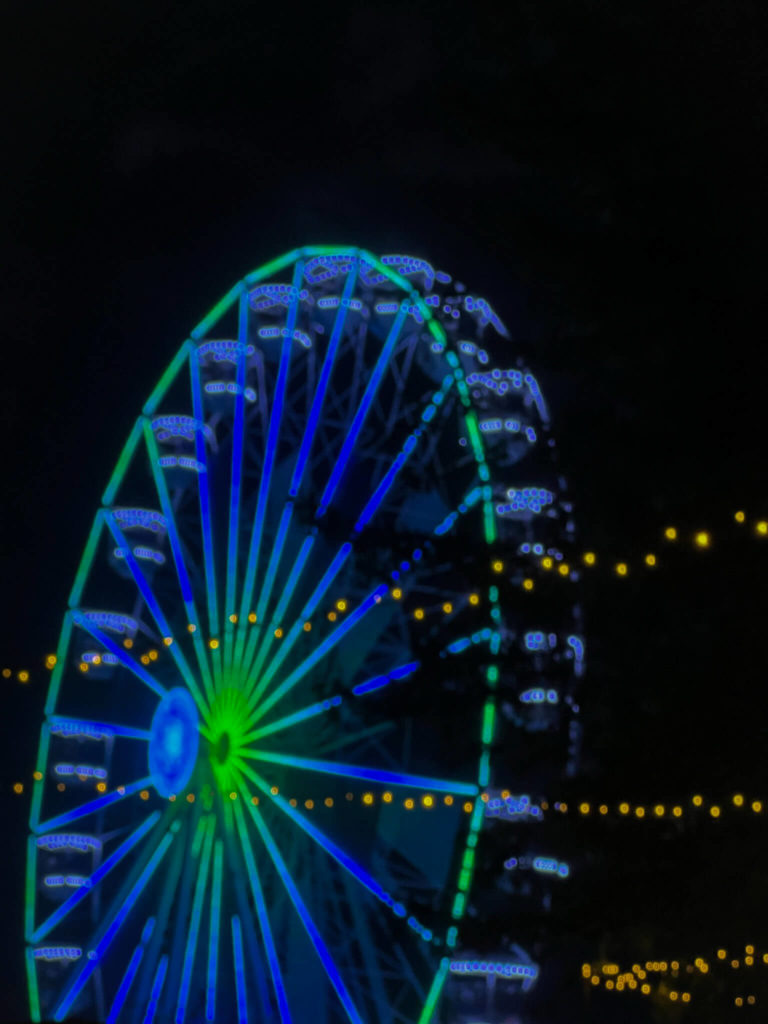 What kind of music is Sziget festival
Sziget offers a range of music to suit pretty much any taste, which is spread across 60 (!!) different stages, including:
Main Stage
Here you can expect big headline names and supporting acts. 2022 saw Dua Lipa, Kings of Leon, Justin Bieber, Calvin Harris, Tame Impala and Arctic Monkeys headlining. Supporting acts included Rufus du sol, Stromae, Bastille, Lewis Capaldi and Anne Marie, plus some smaller acts before them.
Freedome and DropYard Stages
Artists across Alt-rock and Hip Hop genres perform in the Freedome tent and Dropyard stage!
Ticketswap arena
Boasting incredible light and visual displays, the ticketswap arena is home of electronic dance parties, including Elrow on the final night of the festival.
Colosseum
For those who want to party until the early hours, the Colosseum hosts a range of DJs playing techno and house music all night long.
Tribute Stage
The tribute stage is exactly as the name suggests! In 2022 they had tribute bands of ABBA, Linkin Park, Red Hot Chilli Peppers and more.
These are just a few of the stages at the festival. Over the entire week, there are over 1,000 acts that perform!
What is the food like at Sziget
There are a lot of food options at Sziget, including plenty of Vegan and Vegetarian options for those with dietary requirements. The food isn't particularly healthy though – expect typical festival style fast food.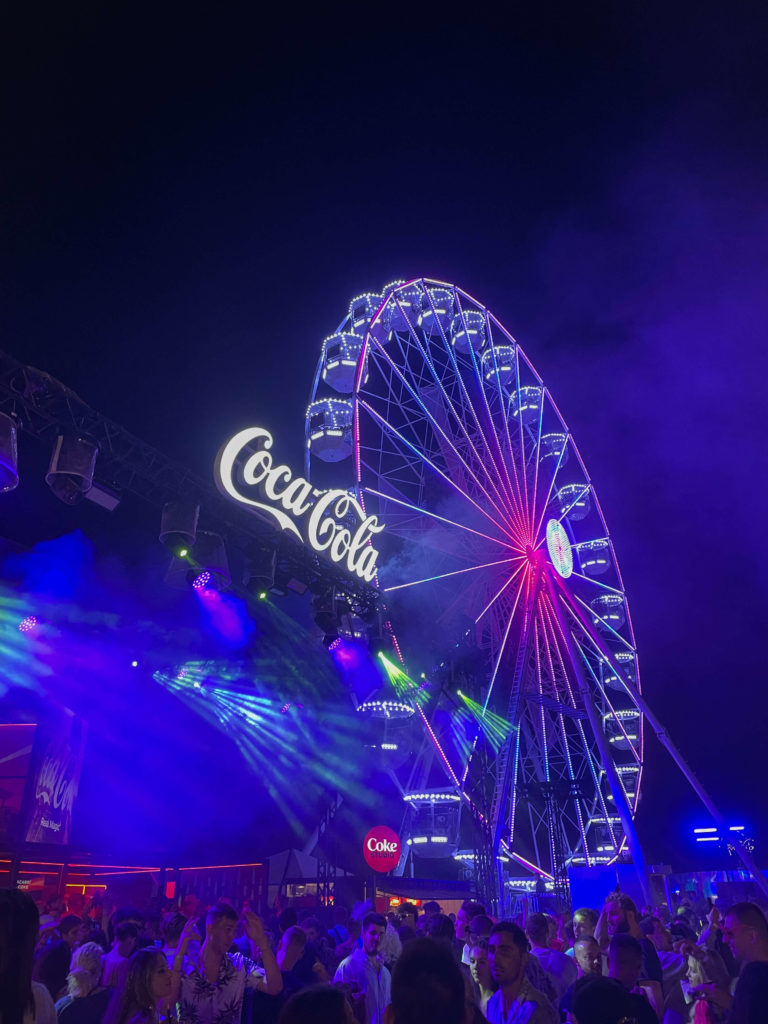 Best place to stay during Sziget
Camping at sziget festival
Basic camping is included in your week long ticket. We didn't camp at Sziget (more on that shortly), but from what I understand, you can pitch your tent anywhere on the island for free, or you can purchase a designated camping area ticket (close to showers and other facilities) from approximately €10 per night.
Hostels in Budapest
Alternatively, Budapest has loads of great accommodation options, including AirBnBs, apartments, hotels and hostels. We stayed at Avenue hostel, which was in an excellent location and good value. One downside is that it didn't have fans or AC, which during the month of August was a bit of a pain as temperatures stayed around 30°.
Hotels in Budapest
On my final night in Budapest, I checked into Barcelo hotel for a bit of post-festival comfort. This hotel was located right in the centre, conveniently close to the airport bus stop, main metro station and plenty of shops and restaurants. The hotel was immaculate, and the room was hi tech and included all the amenities you would need.
How can I get to / from the festival if I'm not camping
Getting to and from Sziget is surprisingly easy, as it is very close to the city of Budapest. The festival itself is held on the island of Obuda. You can easily get here by metro, after which it is a less than 5 minute walk to the festival entrance. The metro costs 350 HUF (approximately €1) for a single ticket.
Remember to validate your ticket using the machines before you travel – we didn't realise and got hit with a 16,000 HUF fine (~£34)
Bolt is available in Budapest, however to be honest we really struggled with the app as it constantly told us that all drivers were busy. However, when you leave the festival, there are taxi stands on both sides of the exit which are well organised and reasonably priced. It cost us around 4000 HUF (total) for a taxi back to the centre of Budapest after the festival each night. 4000 HUF is roughly €10.
When leaving the festival at night, expect long queues for both the taxis and the metro. If you don't fancy waiting, you can always use a Bird / Lime scooter to get back!
For those who are camping, there are shuttle buses that go directly between Sziget festival and the airport!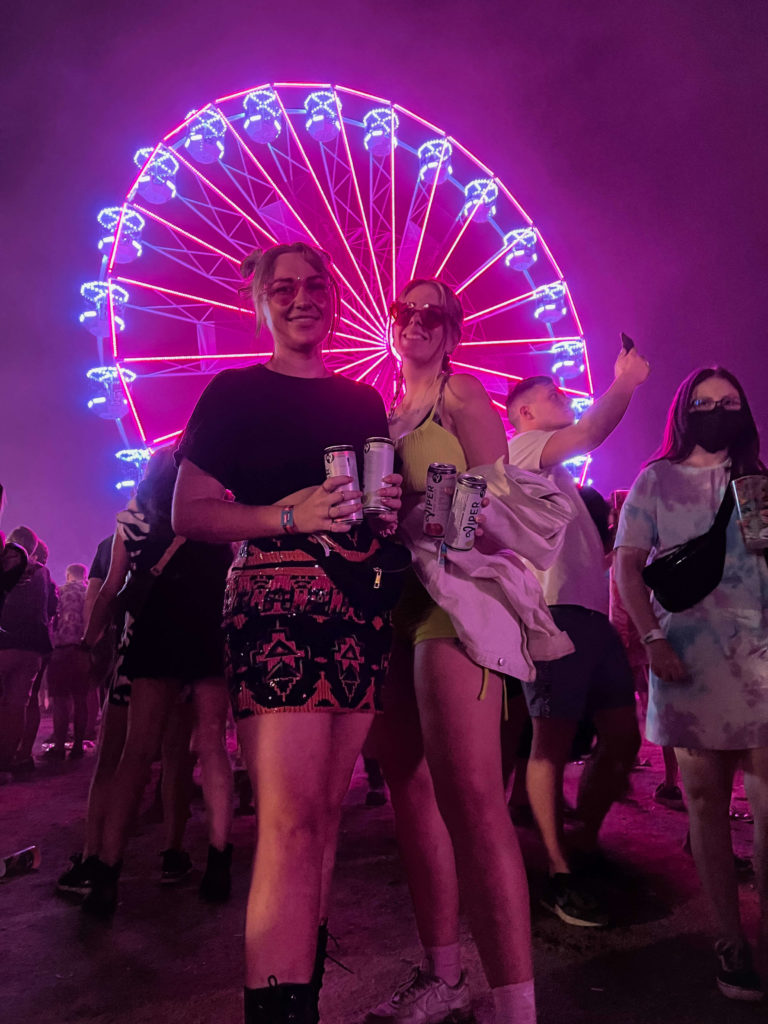 How much does Sziget festival cost
Sziget Festival ticket cost
Depending on how early you purchase a ticket, the cost can vary. We bought our tickets in January for roughly €280. We thought this was incredible value for a 6 day festival with huge headline acts – especially compared to the likes of Reading / Leeds or Glastonbury. Closer to the festival, we saw week long tickets go up to around €355. It is also possible to purchase tickets for shorter times or single day tickets.
Sziget festival Accommodation costs
As mentioned above, you can choose to purchase designated camping from around €10 a night. Alternatively, our hostel cost us €12 each a night for a bunk in a 12 bed dorm. We booked this in January to get better rates. Closer to the festival, we saw prices go up to €60 a night. If you're looking to keep your budget down, book accommodation as early as possible.
Cost of eating and drinking at Sziget festival
Food and drink can vary in price. I would say the food is overpriced for what you get, but that is common at most festivals. Drinks, however, I found to be particularly affordable for a festival, especially compared to those back home in the UK. You can expect to pay around £5/6 for a pint. Overall the cost of food and drink will entirely depend on how much you plan to eat and drink during your time at Sziget!
When do Sziget Festival tickets go on sale?
Tickets go on sale almost immediately after the festival ends – although of course the line up won't be announced until a later date. At the moment though, tickets for 2023 are €265, so if you did wait until the line up is announced like we did, you shouldn't expect to pay much more that this.
You can check for ticket and line up announcements on the official Sziget website.
Are Sziget festival VIP tickets worth it?
Whilst we had regular Sziget festival tickets, a couple of our friends at the festival were VIP ticket holders. Aside from quieter queues at the bars, and less time to wait to use the portaloos, they actually said that Sziget festival VIP tickets were not actually worth the extra cost. At some stages, there were 'VIP' areas, but these were pretty quiet. Surely the whole point of attending a festival is to be up amongst it all in the crowd?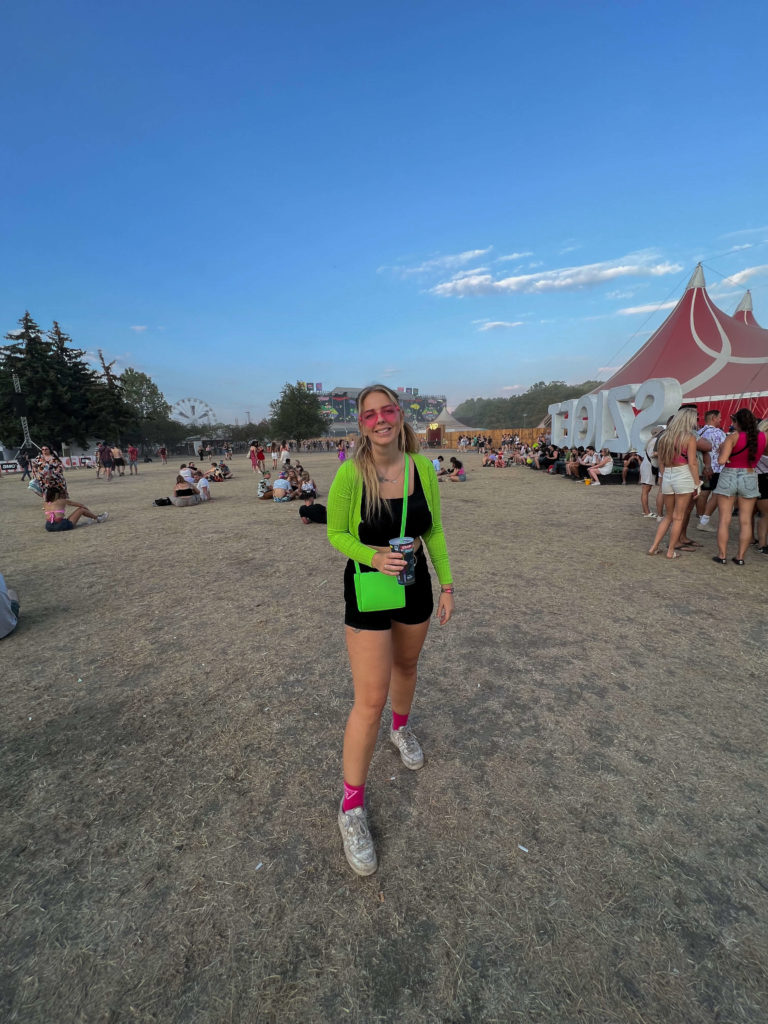 What to pack for Sziget Festival
Sziget is no different from any other festival. Lots of people chose to wear fun, colourful, festival and rave style clothes, lots of accessories, flower crowns and tons of glitter. Putting together outfits for the festival was one of my favourite parts! Aside from the obvious things to pack for any trip, (toiletries, clothes, underwear), here are a few things I would definitely recommend:
A swimsuit / swimming shorts and towel – so that you can make use of the beach
A refillable water bottle – there are plenty of water refill stations dotted around the festival
A bandana – TRUST me you will want one!
Comfy shoes – we were averaging about 30,000 steps a day so comfy shoes were a must
Other things to know about attending Sziget Festival
Dust
As this was my first time to Sziget, I'm not 100% certain if this is due to the recent heatwave sweeping across Europe, but this was killer. The grass on the island was almost completely dried out and gone, and what was left was lots of sand and dried mud. With nearly 100,000 people walking and dancing all day and night long, this kicked up a dust storm which gets EVERYWHERE.
I'm not joking, it was in my hair, under my nails, my trainers turned a shade of grey, it covered peoples tents, blocked your nose and got into your lungs. Pretty much everyone had black under their noses by the end of the night and a nasty cough by the end of the festival.
This definitely makes me think twice about camping at Sziget in the future, and makes bringing a bandana or some kind of face covering a must. Who knew covid masks would come in so handy post-pandemic.
Pick up your wristband in advance
Before the festival kicks off on the Wednesday, you can exchange your ticket for a festival wrist band at a couple of locations around the city. These are usually announced with locations and timings a few days before the festival starts. If you are arriving in Budapest beforehand, it's definitely worth doing this as it will save you loads of time when you get to the festival!
Relaxed security
One thing that surprised me about Sziget (given that it is such a huge festival) is the seemingly relaxed security. Our bags were barely checked at all, and they didn't seem too bothered about people bringing bottles of liquid into the festival as long as it was clear and not fizzy… just saying if you're on a budget 😉
Book your flight as early as possible
I fell victim to extremely expensive flights as my travel plans prior to the festival were up in the air. This meant that I paid £200 for a flight to Budapest with EasyJet and £140 for a flight home with British Airways. Closer to the dates, the cheapest direct flight back to London was £396 (one way). Most of the others had stopovers across Europe.
Therefore, it is worth booking your accommodation and flights well in advance to take advantage of the best prices. If you do want to camp, Sziget partnered with Hunagrian airline Wizz Air to offer FREE tent check. This was applicable for flights departing from major cities like Madrid, London and Berlin.
You will have the best week ever!
This festival really is amazing. From the quality of the artists, the variety of activities on offer, and it's overall vibe. We had such a great week and met so many fun people, so I am certain you will love it too.
Budapest was already one of my favourite cities in Europe. Now it takes the crown for hosting my favourite festival too!