My long term twitter followers know how much I've been dreaming about visiting Australia! In 2023, I FINALLY made the trip down under, spending two weeks in Sydney and two weeks in Perth. My first taste of the country was everything I'd dreamed of and more, and now I can't wait to head back to do my working holiday visa in Australia! Below is my first time travel guide to Sydney, Australia.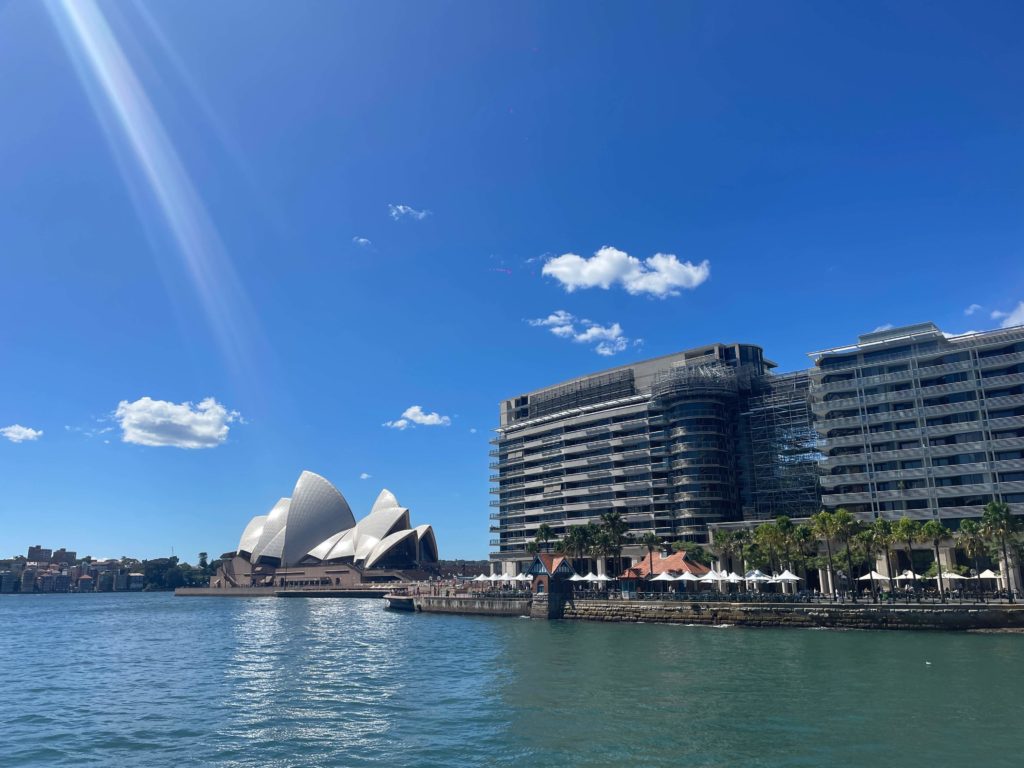 Top things to know before visiting Australia:
Visa for Australia
For most countries, you can get an eVisa by heading to the Australia immigration website. For UK passport holders, the eVisa permits you to enter Australia for up to 3 months as a tourist.
Currency in Australia
The currency used is the Australian Dollar. At the time of writing, the exchange rate with the pound is £1 – $1.89 AUD.
Prices
Because of the exchange rate, prices seem expensive when you see them, but generally speaking (as someone who is very used to London prices) I actually found Australia to be cheaper than home. I didn't pay more than £5 for a beer in Sydney, which is considerably less than I'd pay at home! Obviously, though, Australia is still an expensive travel destination compared to places like Asia or eastern Europe.
Where to stay in Sydney
You will find plenty of great accommodation options from hotels, to AirBnbs, to hostels. If you're trying to watch your budget, then hostels are your best option as these will be the most affordable. Not only that, but you'll meet lots of other travellers and might even make some friends for life! I stayed at Pacific House Hostel, in a private room, which was incredible. I can't recommend this hostel enough, it was modern, clean, had a huge kitchen, laundry room and a cafe / pizza restaurant next door. It was located just opposite the Domain in Woolloomooloo, so ideal walking distance to the main things to do in Sydney.
Getting around Sydney
There are tons of great neighbourhoods in Sydney to explore, that all have a different vibe to them. Luckily, though, exploring all the different neighbourhoods is super easy thanks to the great transport links around the city! Using the trains, buses, trams and ferries is really easy – you can tap on and off with any contactless card or device, or you can get an Opal card (similar to an Oyster card, for my Londoners) for the best rates!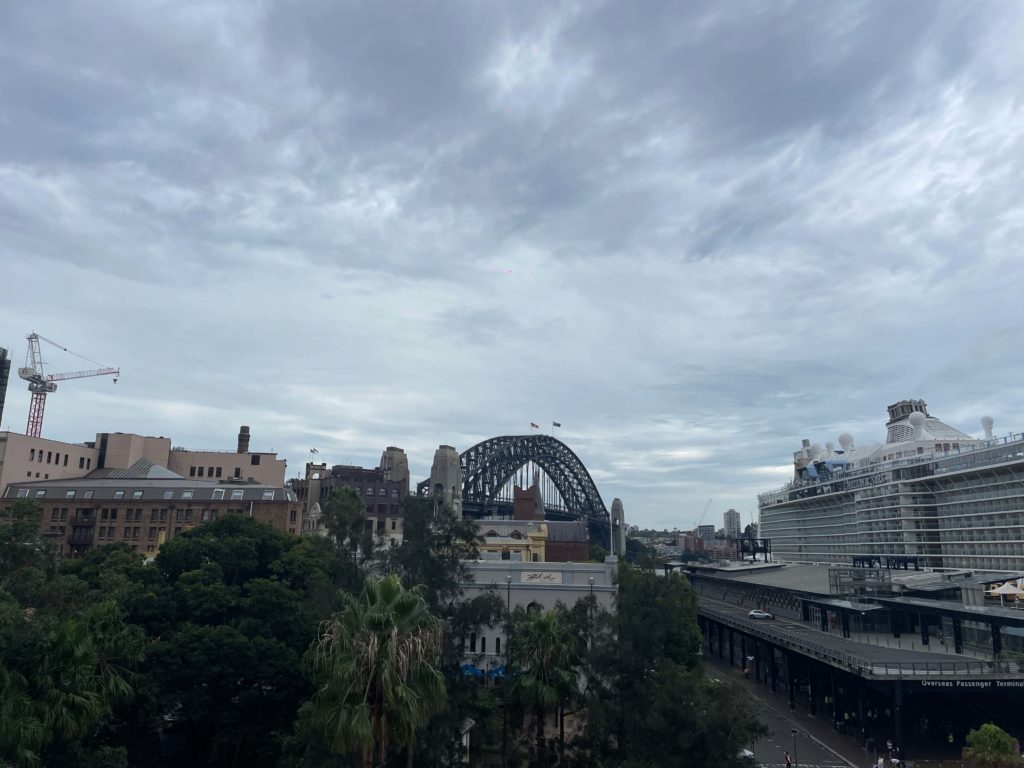 Best things to do in Sydney, Australia
Opera house
Obviously any trip to Sydney has to kick off with seeing the iconic Sydney Opera House! Whether you're going to see a show or just to snap a quick pic for the gram, seeing the Opera House in person just has to be done. If you visit at night, you'll see it all lit up with the glittering harbour as the backdrop.
Sydney Harbour Bridge
Another icon of the city is of course, Sydney Harbour Bridge. Head up Macquarie Street to the entrance of the walk up to Sydney Harbour Bridge. This walk isn't for those who are really terrified of heights. I don't particularly like heights, (I've found myself feeling a bit sick at the top of the Burj Khalifa, or the Empire State Building) but the walk across Sydney Harbour Bridge was okay. It's not a difficult walk in terms of exertion though, so good for those of any fitness level, and you can either go right across to Broughton Street Lookout for iconic views back across to the Opera House, or you can enjoy great views from half way and then turn back around. If you feel like you need to quench your thirst, then head to The Glenmore Hotel pub, which has a rooftop bar to continue enjoying the views from!
Sydney Botanical Gardens
The Royal Botanical Gardens are a lovely spot to spend a sunny afternoon in Sydney. Free to access, and right by the water, you can spend the day chilling, wandering and eating at one of the on site cafes. On a beautiful day, it really is one of my favourite places in the city!
Museums and Galleries
Sydney has plenty of museums and galleries you can visit, if you want to learn more about Australia or spend the day admiring art. All of these are free to enter too, which is great if you're visiting on a budget! Some of the best museums and galleries in Sydney include the Australia Museum, for learning about the history and nature of Australia, The Museum of Contemporary Art, Artspace Woolloomooloo and Art Gallery of New South Wales.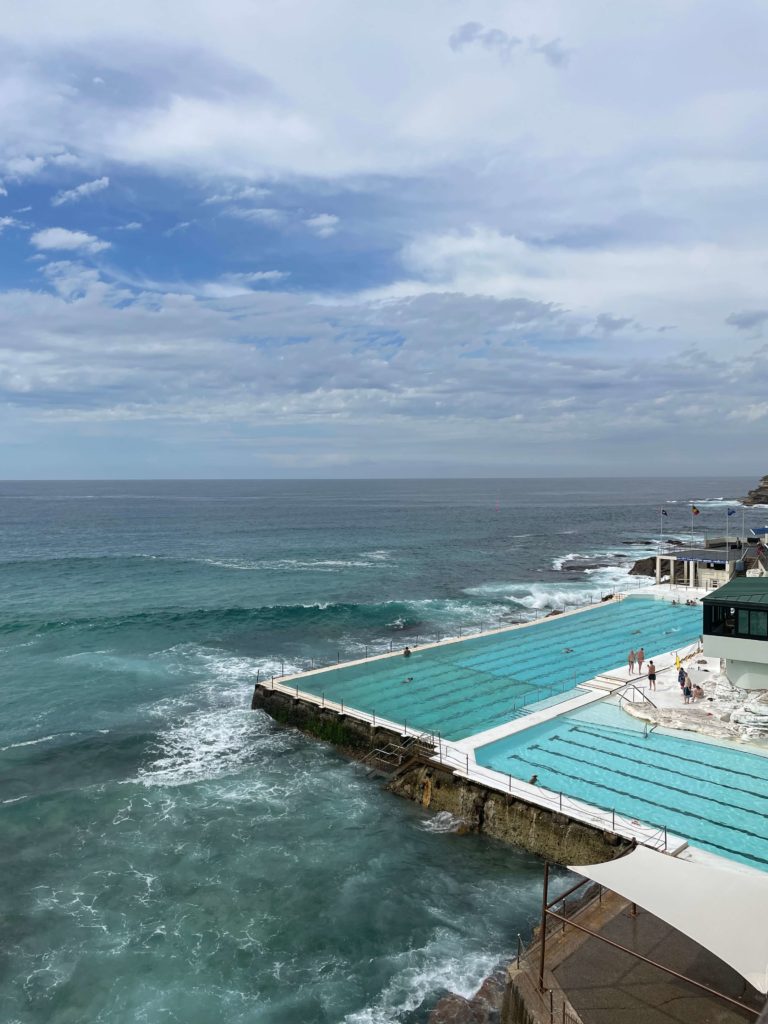 Visit Bondi
One popular spot (for good reason) for both tourists and locals alike, is of course, Bondi beach! You can easily catch the bus here from the city, or you can get the train to Bondi Junction and take a 20 minute stroll down to the beach front. Once you're here, you can visit the iconic Bondi Icebergs, chill on the beach, and have brunch at one of the many cafes. There are also a number of great walks you can do from Bondi, including the Bondi to Coogee coastal walk, and the Bondi to Watsons Bay walk.
Visit Manly
Boasting arguably some of the best beaches in Sydney, and one of my favourite areas that I visited during my stay, was Manly! You can catch the ferry here from Circular Quay (again, just tap in and out at each end), which serves up some stunning views as you sail across the bay to Manly. Once you arrive, you'll instantly feel the calmer vibe compared to that of the city. Here there are lots of wonderful bars and restaurants, plenty of beautiful beaches to relax on, and also lots of great walks. One of my favourites is the Manly to Spit walk!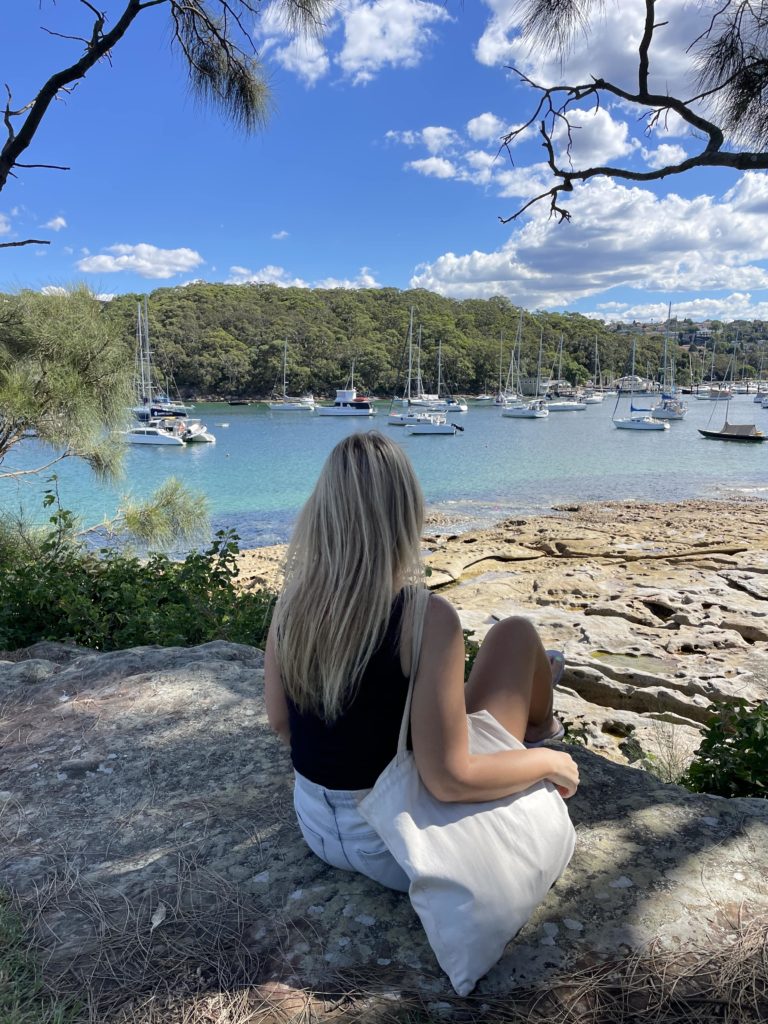 Blue Mountains National Park & the Three Sisters
If you're looking to escape the city for the day, then you can rent a car, or easily catch the train to Katoomba to visit the Blue Mountains National Park. This was one of my favourite days out in Sydney. As we took a car, we stopped in Leura and had breakfast, before heading to the Three Sisters lookout point, and then on to Scenic world where we rode on the worlds steepest cable cart, did lots of walking, visited the waterfalls and generally had a great day out!
Taronga Zoo
Taronga Zoo is a popular attraction for both tourists and locals! Located across the bay from the Sydney Opera house, this zoo houses a huge collection of wildlife, from giraffes and kangaroos to wombats and koalas. There's also a cable cart that takes you around the park from above, and the zoo often has a handful of events on throughout the year too. Top tip – if you visit on your birthday, you can enter the zoo for $1 as opposed to the regular $45.90 price tag.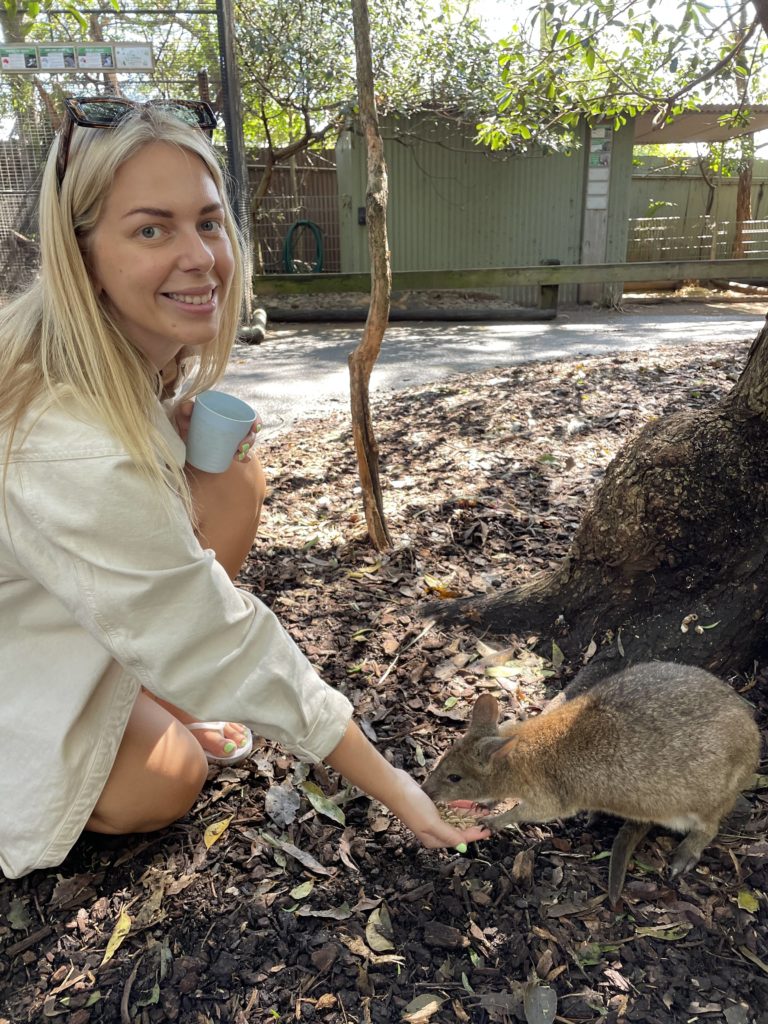 Featherdale wildlife park
If you didn't get your full animal loving fix from Taronga zoo, then I definitely recommend heading to Featherdale Wildlife Park out in Blacktown. You can catch the train here from central or Town Hall, and then its an easy 20 minute to the park. This park was so quiet, we basically had the entire place to ourselves! Not only that, but the roos and wallabies roam around free, and you can buy food from the front kiosk to feed them yourselves!
Royal national park
Sydney is pretty much surrounded by National Parks, and if you've already ticked off the Blue Mountains, then you should definitely head down south to the Royal National Park! This one is best done with a car, as there are lots of different spots to get to that aren't as accessible by public transport. On our Royal National Park visit, we headed down to Burning Palms Beach and the Figure 8 pools, which was another amazing day out!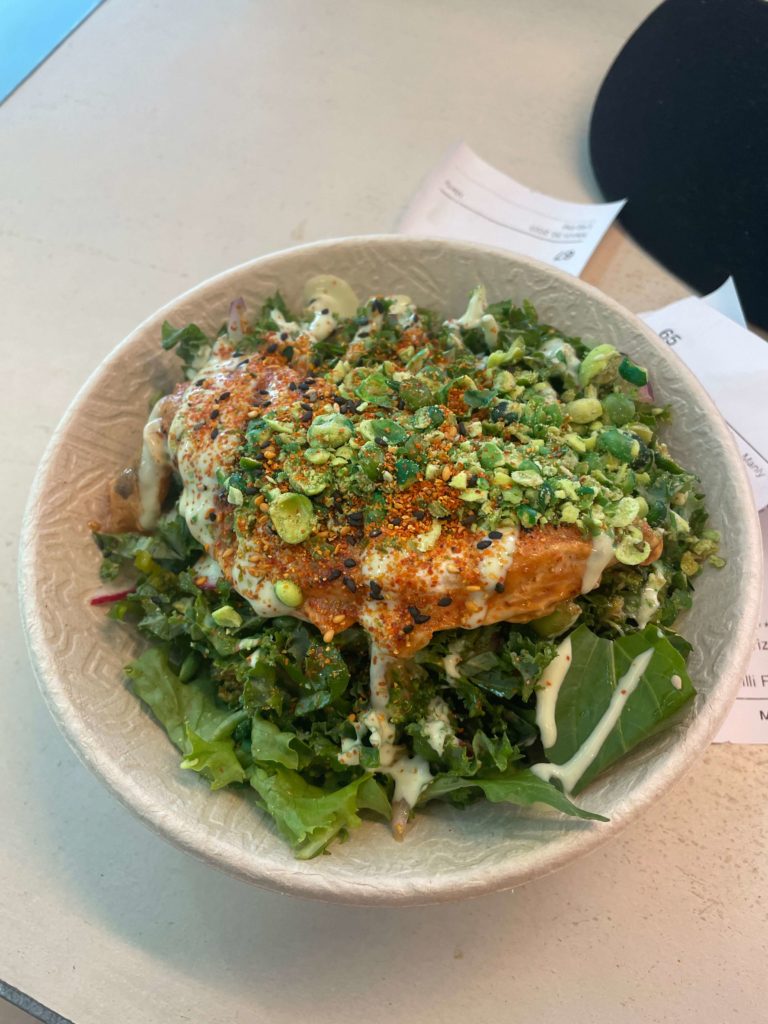 Where to eat in Sydney, Australia
Like any city, Sydney is packed full of incredible places to eat and drink. Followers and readers of this blog know how much of a sucker I am for a good brunch, and I certainly wasn't planning on changing that when I arrived in Sydney. Below are some of my favourite places where I ate during my stay!
Bills, 433 Liverpool St, Darlinghurst NSW 2010, Australia
Speedos cafe, 126 Ramsgate Ave, North Bondi NSW 2026, Australia
Bare Naked Bowls, Shop 1/157 Curlewis St, Bondi Beach NSW 2026, Australia
The Depot, 132A Warners Ave, Bondi Beach NSW 2026, Australia
Coogee Pavilion, 169 Dolphin St, Coogee NSW 2034, Australia
Gelatissimo, Shop 3/18/20 Military Rd, Watsons Bay NSW 2030, Australia
Fishbowl Manly, 37, Shop 1&3/39 The Corso, Manly NSW 2095, Australia
---
I hope you've enjoyed this guide to Sydney, Australia! Have you visited Sydney before? What tips would you give first time visitors to the city? I'd love to hear them! x
Check out my Australia vlogs: