*This post contains affiliate links!
One of my favourite destinations in Southeast Asia, the island of Bali, Indonesia truly has so much to offer tourists. From incredible food, the friendliest of people and plenty of amazing things to do. Here are over 40 things to do in Bali that shouldn't be missed! I've separated the list by area, to help make your Bali itinerary easy to plan!
The best things to do in Bali, Indonesia
Things to do in Lovina, Bali
Swimming with Dolphins and Snorkelling
Lovina is located in the north of Bali and is a much less touristic destination compared to popular hotspots like Ubud, Canggu or Seminyak. Coming in first on this epic list of more than 40 things to do in Bali, it had to be the Lovina dolphin trip! You can do this day trip from anywhere, but the pickup time will be EARLY if you aren't staying in Lovina. You'll head out on a small boat at sunrise to see the dolphins swimming and playing out in the open sea. You'll even get the opportunity to swim with them, which is such an incredible experience! I won't go into too much detail here, as I wrote an entirely separate post all about swimming with the dolphins in Lovina, Bali which you can check out!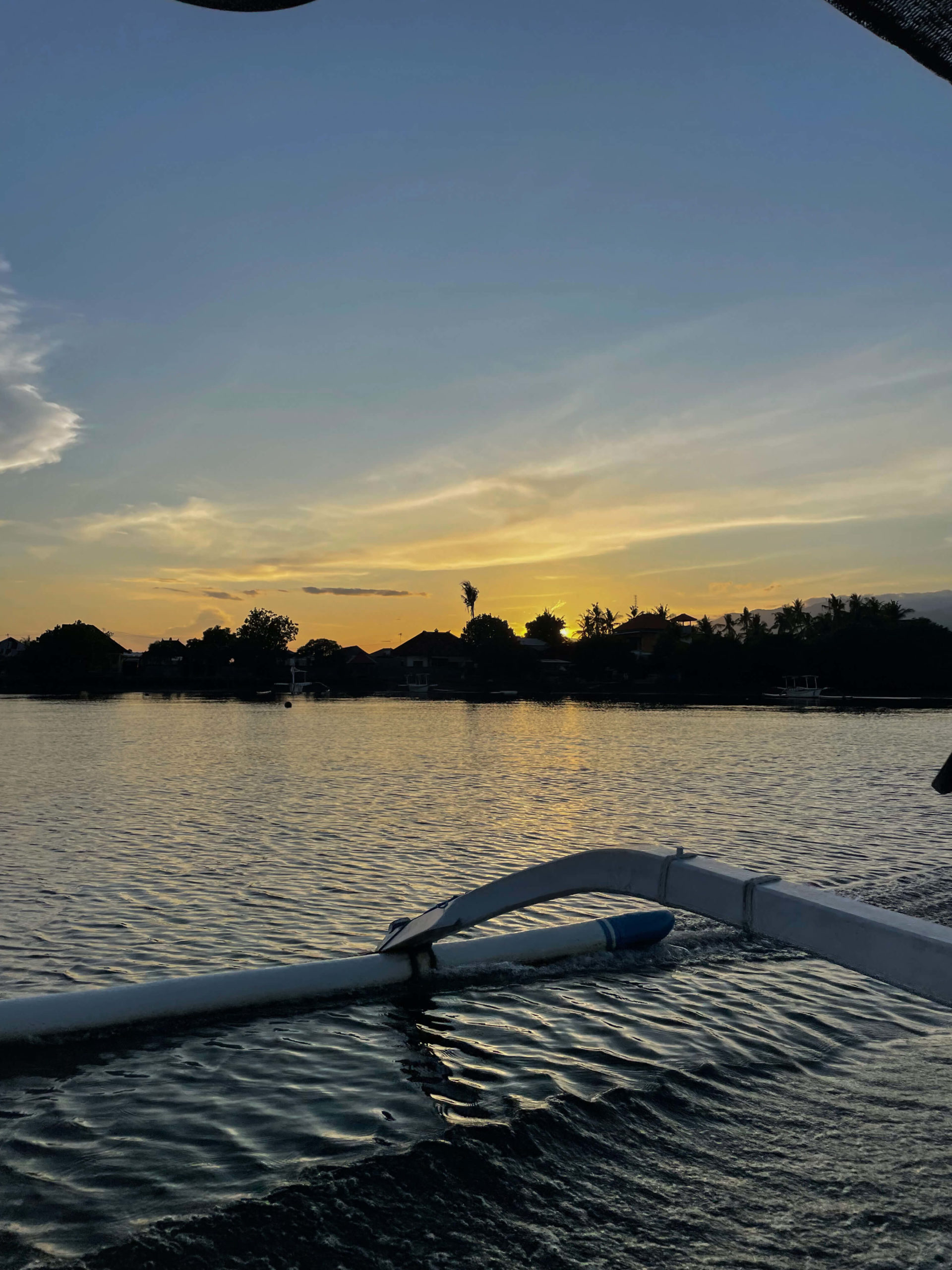 Sambangan Secret Garden
Located near to Lovina, is Sambangan Secret Garden. This nature area is filled with numerous waterfalls, and even a blue lagoon. These aren't just any waterfalls though, aside from Aling Aling, which is one of the most impressive waterfalls in Bali. There is also a handful of waterfalls that double as natural slides and have platforms you can jump off (if you're feeling brave enough)!
Things to do in Kintamani, Bali
Hike Mount Batur for sunrise
One of my favourite things I've done (twice actually) is to climb Mount Batur for sunrise. If you're into hiking, this is a must do when you visit Bali. Even for those who don't consider themselves incredibly fit (ahem, like me) this hike is totally do-able. You will start the hike at around 3-4am as it will take between 1.5 – 2.5 hours to climb, depending on your level of fitness. You will be assigned a guide and handed torches, as the climb up will be in near complete darkness. Although parts of the hike are tough, you will be rewarded at the top with an incredible view of the sunrise. On a clear day, you can see all the way across to the Gili islands and Lombok's Mount Rinjani.
If you aren't planning to visit Kintamani, it is still totally possible to do a Mount Batur hike from Seminyak, Canggu or Ubud, it just means you will need to wake up much earlier to factor in the drive to Mount Batur as well.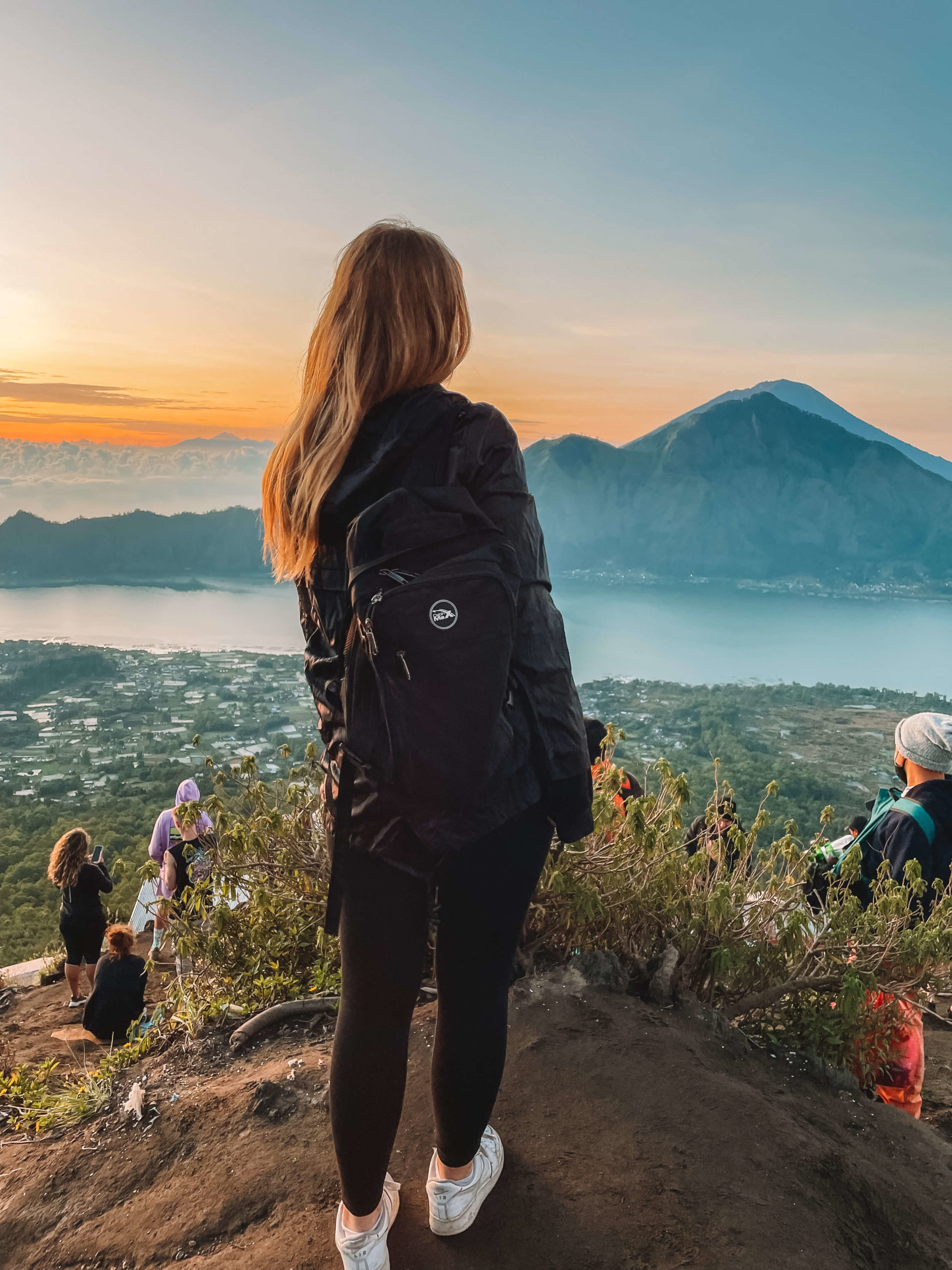 Kayaking on Lake Batur
Lake Batur (pictured above) is a volcanic crater lake located in Kintamani, in between Mount Batur and Mount Agung. If hiking up a mountain isn't your thing, or you have a little longer in the area to enjoy its natural beauty, then kayaking on Lake Batur is a great option! This can be arranged as part of a tour, usually through your accommodation.
Toya Bungkah Hot Springs
The tours arranged in Kintamani often include a number of activities. Usually, a trip to Lake Batur is accompanied with a visit to the nearby hot springs. Although the waters of Lake Batur are cold, given the volcanic activity in the area, there are a few hot springs in the area to enjoy. Toya Bungkah hot springs are around 38-39 degrees Celsius, and a great way to relax, particularly after kayaking or hiking Mount Batur for sunrise!
Things to do in Ubud, Bali
Monkey Forest
One of the first attractions that visitors flock to when they arrive in Ubud is the Monkey Forest. Located right in the centre of Ubud, this jungle is home to approximately 600 monkeys! Tourists can visit for 40,000 IDR (approximately £2.25) and you can spend as long as you like here, although most visitors spend around 1-2 hours wandering the grounds. It is advised not to bring hats, sunglasses, jewellery or water bottles, as the monkeys can be known to be feisty little thieves.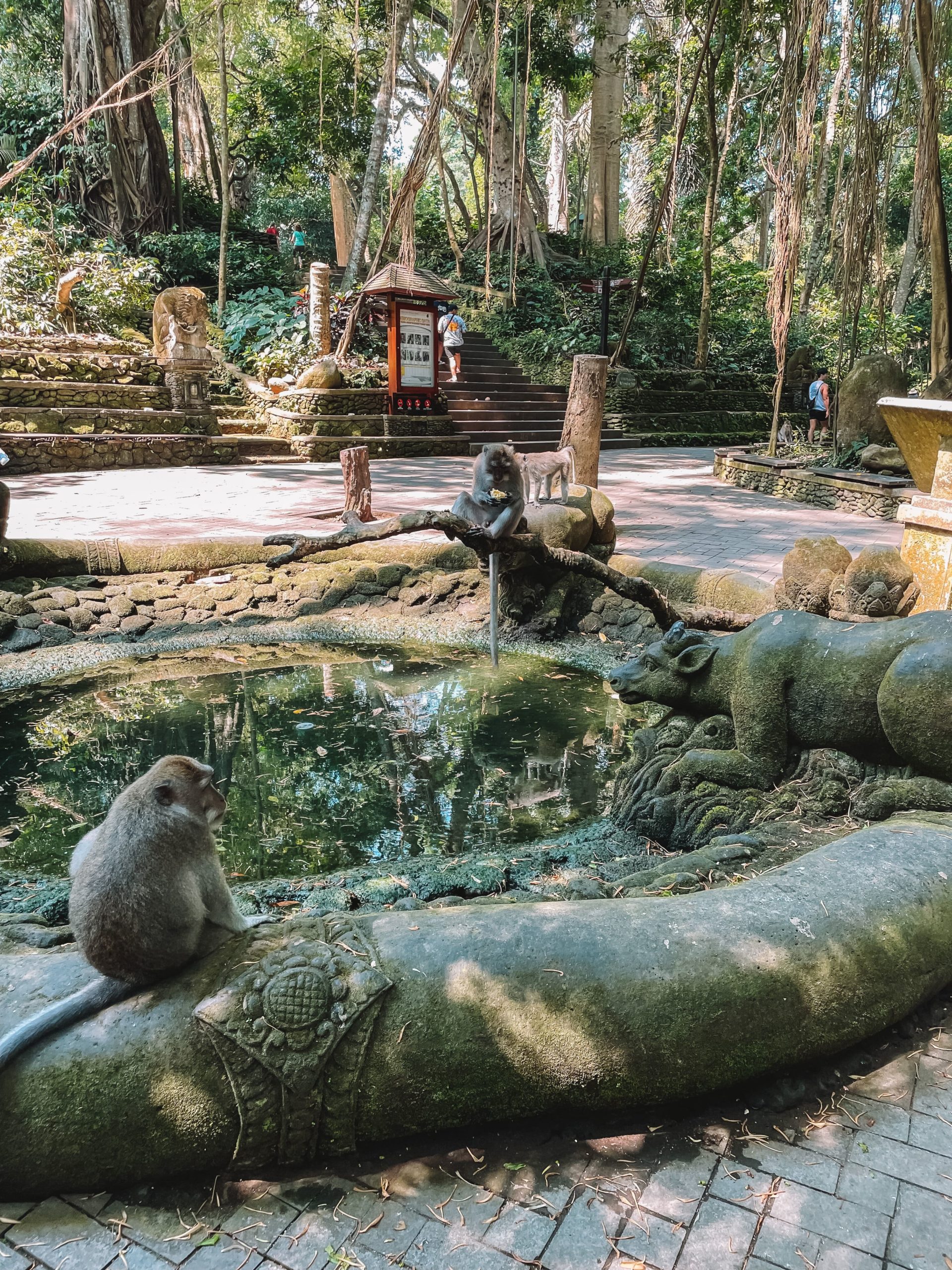 Classes at Yoga Barn
This is arguably one of the most popular things to do in Ubud. Bali is well known for being a yogi heaven, and Ubud is the perfect place to find your inner zen at one of the many classes available. At the famous Yoga Barn in Ubud, you can take part in many different yoga, pilates, meditation and healing classes, available daily at their stunning venue.
Coffee Plantations
The coffee plantations in Bali may not be exactly what you expect. Instead of huge fields, you will be located within what almost feels like a jungle. Here you will be able to sample a range of locally produced teas and coffees, including Indonesia's famous Luwak coffee. This coffee is made from excreted coffee beans eaten by the Luwak animal – but don't worry, it doesn't taste as bad as you might imagine!
Rice Terraces
Ubud is located in the centre of Bali, and as a result, is surrounded by lush green jungles and rice paddies. The most famous rice terrace among travellers is Tegallalang. Well known for good reason, this terrace is sprawling and beautiful. It can get busy during peak seasons, so for the most peaceful visit, it's best to head there as early as possible.
Tibumana, Kanto Lampo and Tegenungan Waterfalls
Similar to Lovina, Ubud is another great location to spend the day visiting nearby waterfalls. These three in particular that are stunning and can easily be combined into a one-day trip!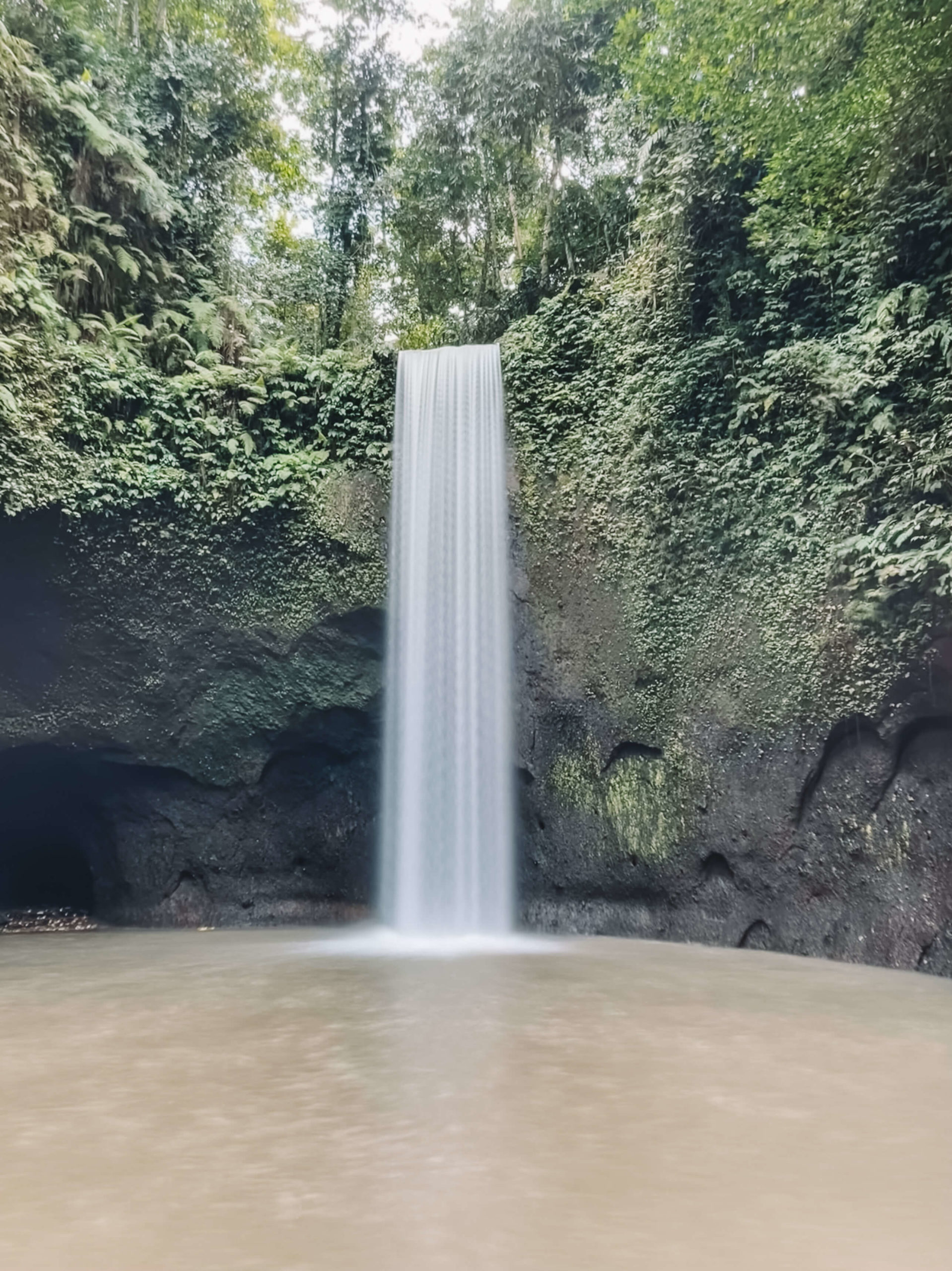 Omma pool club
Located at Tegenungan waterfall, this stunning pool club is a fun vibe overlooking the impressive waterfall. The club also has a terrace restaurant with incredible views of Tegenungan waterfall, serving a range of delicious food, if you only have time for a bite to eat.
Jungle ATV
If you fancy yourself a bit of an adrenaline junkie, looking for your fix, then sign yourself up for the jungle ATVs! You can do this daytime activity from Ubud, where you'll spend the day riding through jungle tracks, waterfalls and caves on ATVs.
Watch a traditional Balinese dance show at Ubud Palace
Outside temples in Ubud, you will notice posters advertising traditional Balinese dance shows. There are a number of these shows held at temples across Bali, but Ubud Palace is one of the more popular places to watch. It's a nice way to spend an evening before (or after) grabbing dinner, and tickets are around 100k (roughly £5.70).
Temples 
As the island's cultural hub, Ubud is also a great base to visit some of the temples in Bali. There are many different temples you can visit, but if you aren't looking to venture outside of the town, then Ubud Water Palace is a great option to visit! The temple and former palace is walking distance from most places in Ubud. Aside from the temple, the complex also includes lots of water gardens and fishponds, and (as mentioned above) they also put on dance performances for audiences throughout the week.
Take an Indonesian cooking class
One of my favourite things to do in any country, is to take a local cooking class. Not only do you get to learn about and cook traditional dishes of that region, but you also get to eat them all too?! Ubud is a great place to take part in a Balinese cooking class, but there are plenty of options dotted across the island.
Things to do in Canggu and Seminyak, Bali
Enjoy the nightlife
For my fellow party people, Canggu and Seminyak are where you can experience some of the best nightlife on the island. If you are looking for a night out in Canggu, then head to Luigis (on a Monday or Friday), The Vault (on a Wednesday or Friday) or Sandbar any day of the week. You can also find specific events held at beach clubs like The Lawn, La Brisa or Finns.
In Seminyak, you can head to my favourite, Motel Mexicola, for a fun night of dancing on tables to a mix of pop, classics and cheese. Alternatively, La Favela is a sprawling club that plays popular R&B and HipHop, or head to Shi Shi for a more techno and trance vibe. The nightlife in Seminyak is great any night of the week, thanks to its popularity as a holiday destination year-round for Aussies. If you're on a budget, ShiShi is free entry for girls all night, and they have a free bar for everyone from 9pm-11pm – even on Saturdays!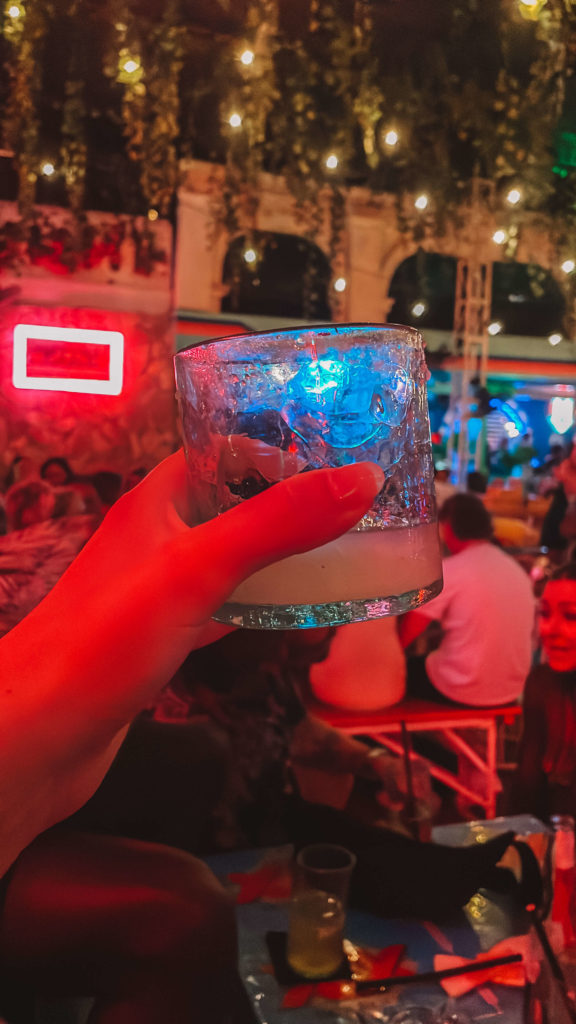 Shop the boutique stores, malls and markets
Seminyak and Canggu are a shopaholics heaven. In Canggu you'll find westernised markets like Love Anchor, and tons of gorgeous boutique shops selling clothes, jewellery and trinkets. In Seminyak, you'll find roadside market stalls selling novelty items, jewellery and other souvenirs. You can also visit Seminyak mall or Beach Walk (Kuta) for internationally recognised brands like Zara, Sephora, H&M and more.
Enjoy a paint & sip art class
If you're looking to spend your evening doing something a little different, then head to Creative Art Bar Bali in Seminyak. Here you can take part in their 'paint and sip' classes, where you can get your creative juices flowing – paintbrush in one hand, drink in the other!
Have a spa day
In Bali, you will be completely spoilt for choice when it comes to spas and beauty treatments. So, if you want to spend the day being pampered, then you're in the right place! No matter your budget, there is a spa for you. From traditional Balinese massages, to reflexology, or beauty services like mani/pedis, eyelash extensions and more, you can find any kind of treatment you like!
Spend the day at a world-famous beach club
As I've already hinted, there are tons of beach clubs in Bali. Some of these are well known among tourists and even host international DJs and famous artists. For a day of drinking, sunbathing and vibing, head to a beach club like Potato head, Finns, La Brisa, The Lawn or Ku De Ta. Just note that beds come with a minimum spend, usually upwards of 500k (roughly £30) per person.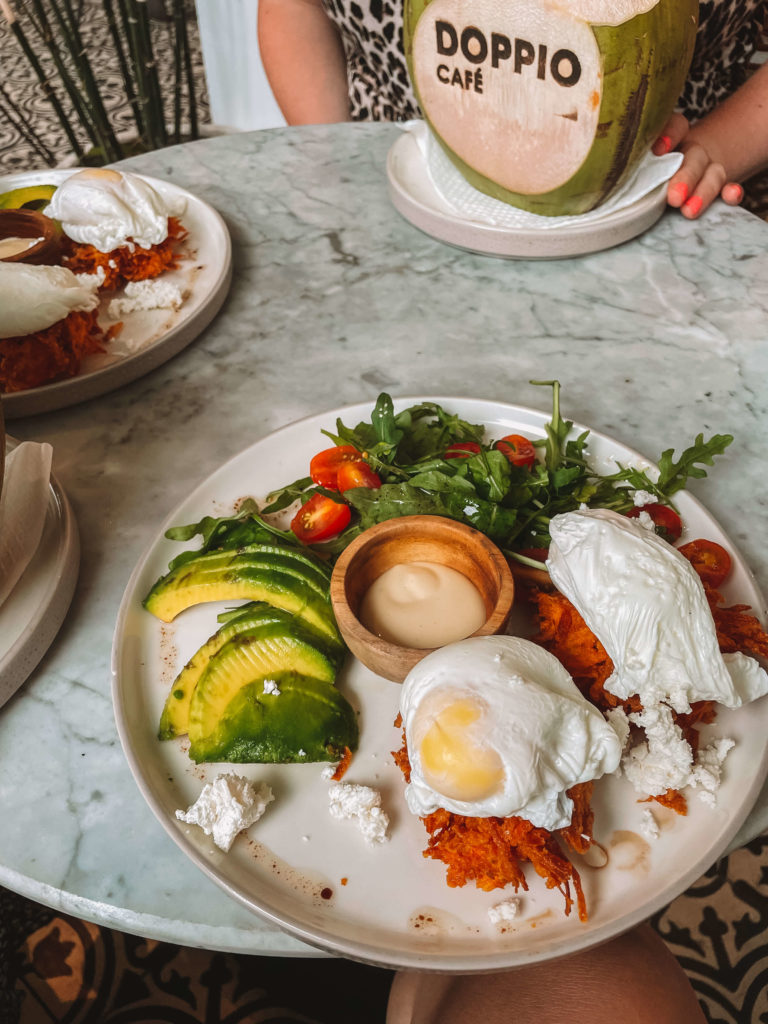 Enjoy the 'brunch cafe' culture
One thing you'll notice when you're in Canggu is the insane amount of brunch style cafes that line the roads. To put it plainly, there are simply too many to choose from if you're only visiting Bali for a short while. In fact, I've spent 4 months here this year, and even that hasn't been enough time to try them all! I do have an ultimate list of the best brunch cafes in Bali, to help you narrow it down a little, though!
Go surfing!
Whether you're a pro surfer, or a complete beginner, Canggu is a great place to grab a board and catch the waves. You'll find plenty of board rentals and surf schools lining the streets of Canggu or on front of Batu Bolong beach.
Things to do in Uluwatu, Bali
Padang Padang Beach
Uluwatu is one of the best places in Bali for beaches. Most of the white sand and crystal blue waters you see in Indonesia are not actually in Bali, but neighbouring islands like the Gilis, or Nusa islands. But Uluwatu is one location where you can visit gorgeous beaches without leaving Bali! Padang Padang is one of the most well-known stretches of sand in Uluwatu, and a popular spot for surfing!
Dreamland Beach
Just down the road from Padang Padang beach, is Dreamland beach. It's really lives up to its name, as this dreamy beach is truly beautiful. With 100 metres of white sand and stunning blue sea, it's popular with tourists, surfers and couples. It's also a stunning place to watch the sunset. Thanks to its popularity in recent years, there is an entrance fee to visit Dreamland beach, which is IDR 10,000 for domestic tourists and IDR 15,000 for foreigners. It's still well worth a visit, given that 15000 IDR is less than £1!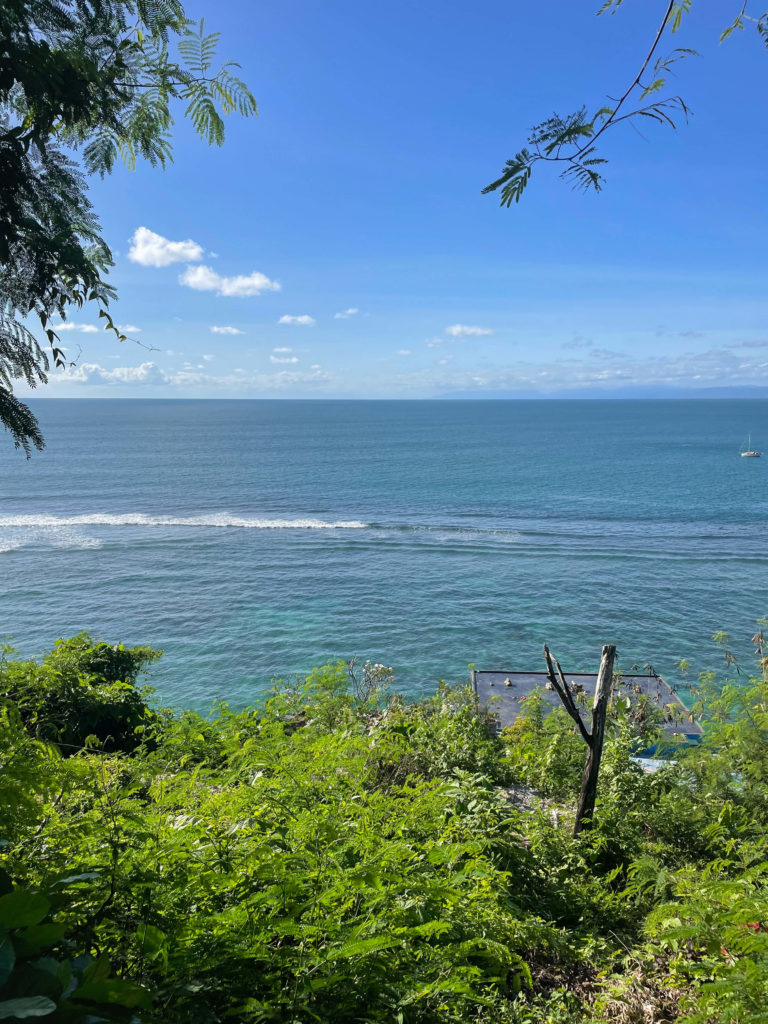 Visit Ulu Cliffhouse, Single fin or Savaya Beach Clubs
Similar to Canggu, Uluwatu also boasts some great beach clubs, each with its own signature advantage. Ulu Cliffhouse is my favourite (not only thanks to the delicious spicy margaritas) but due to the incredible cliff edge views and fun but laid-back vibe. Single Fin is where most tourists and backpackers head to watch the sunset in Uluwatu with a bintang in hand. Savaya, on the other hand is a big party club which hosts an array of artists including Marshmello, TY Dolla $ign, and even Jason Derulo.
Uluwatu Temple
If you're coming down to Uluwatu, either to stay, or as a day trip, then Uluwatu Temple is a must visit. This 1,000-year-old temple is popular with visitors to Bali for a number of reasons. Not only for its dramatic cliff location and incredible sunset views, but also for the traditional fire dancing, and plenty of cheeky monkeys that hang out near the temple. Entrance to Uluwatu temple costs IDR 15,000 for domestic tourists and IDR 30,000 for foreign tourists.
Visit the GWK Cultural Park
Head to the GWK Cultural Park for an up-close visit of the largest statue in Bali. Well, technically it is actually one of the largest statues in the world – it's even bigger than the Statue of Liberty and Christ the Redeemer! This iconic statue can be seen even from the beaches of Canggu, just to emphasise the sheer size of it. You can see it up close and personal at Bali's cultural park, alongside strolling the gardens, seeing a traditional Kecak fire dance, or visiting during one of their annual music festivals.
Things to do on nearby Indonesian Islands
Ok so *technically* this list isn't just things to do in Bali but given how easy and affordable it is to get to nearby islands, it would be rude not to include them on the list!
Things to do in Nusa Penida
Angel Billabong
Nusa Penida is an island off of Bali, that can easily be visited as a day trip. It's actually one of three 'Nusa' islands though, so if you did stay overnight, it would be a great way to see all three islands. One of the first stops most tours will take you to, is Angel Billabong. This is a natural rock pool, with incredible turquoise waters, which you can swim in!
Broken Beach
A stone's throw from Angel Billabong, is Broken Beach. This unique landscape is a secret beach, which is completely inaccessible, but still so impressive to see from above. Honestly, the colour of the water in Nusa Penida is like none I've seen before!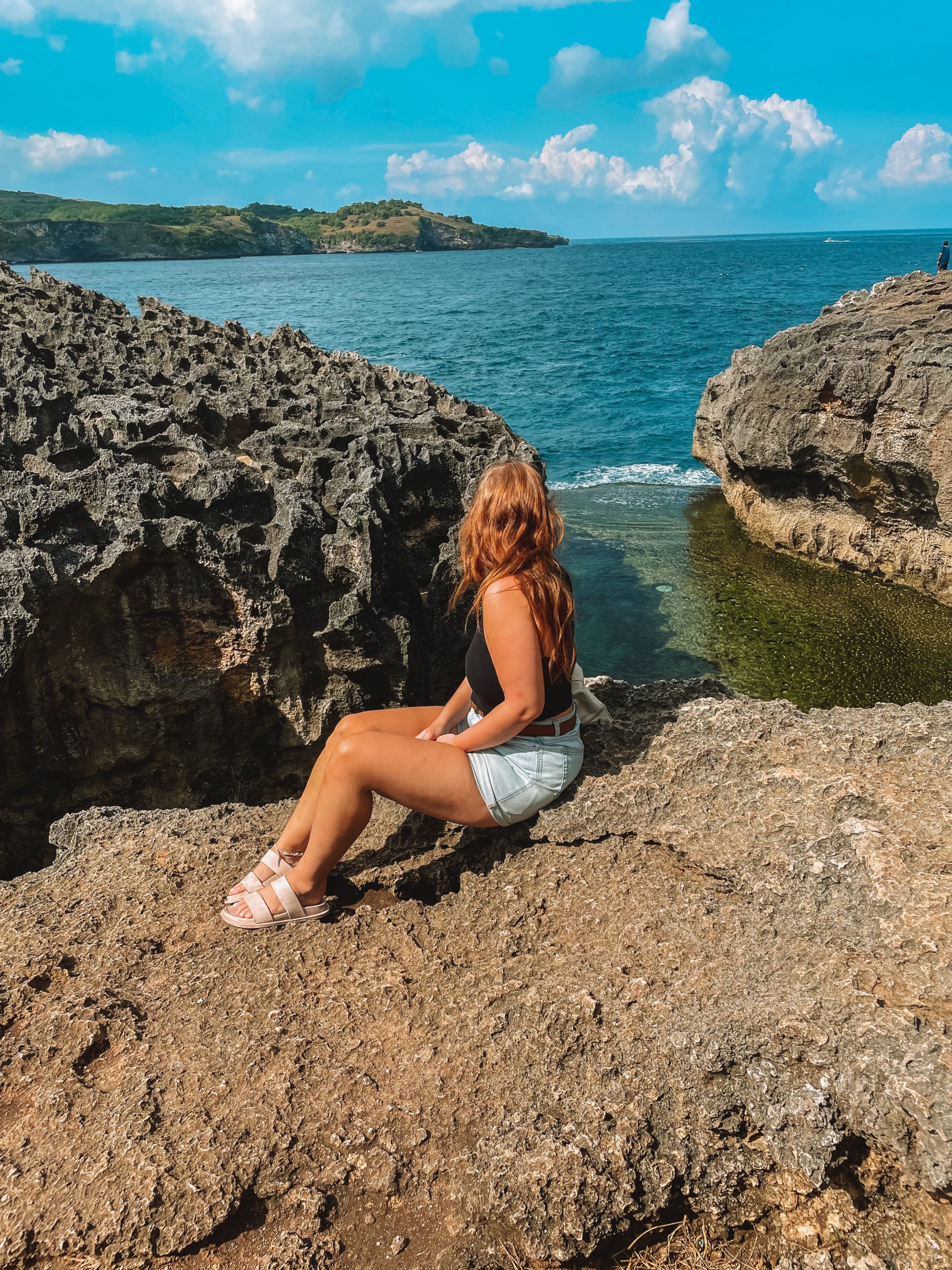 Klingking beach
The most well-known and most visited place on Nusa Penida, thanks to Instagram, is without a doubt Klingking beach. This iconic dinosaur shaped rock juts out of the cliff, and the viewpoint offers incredible views down to the beach and crystal blue waters below. You can visit the beach down at the bottom, but just be prepared for a LOT of steps to conquer on your way back up. The best way of seeing all the spots this island has to offer, is to book a highlights tour of Nusa Penida.
Snorkelling with Manta Rays at Manta Point
If you're a lover of marine life, then without a doubt, one of the best things to do in Nusa Penida is to snorkel with Manta Rays! If you're PADI certified, you can dive here too! There are two main dive points in Nusa Penida, and between the two you can expect to see lots of Manta Ray activity.
Things to do in Nusa Lembongan
Dream Beach
Arguably one of the best beaches on Nusa Lembongan, this gorgeous white sand beach is popular among travellers for good reason. Not only will you be treated to crystal blue waters, but the beach also has a selection of delicious restaurants, an infinity pool, and of course, some iconic swings perfect for a photo opportunity.
Devils Tear
Located on the southwest coast of Nusa Lembongan, Devils tear is a natural pool located on the rocky cliff edge of the island. Thanks to the crashing waves that are sucked into the cave and spat back out, it's not possible to swim here, but if you're lucky you might be able to spot some turtles from up on the viewpoint! This is also a popular sunset spot, so head here with your friends and a Bintang and enjoy a sundowner!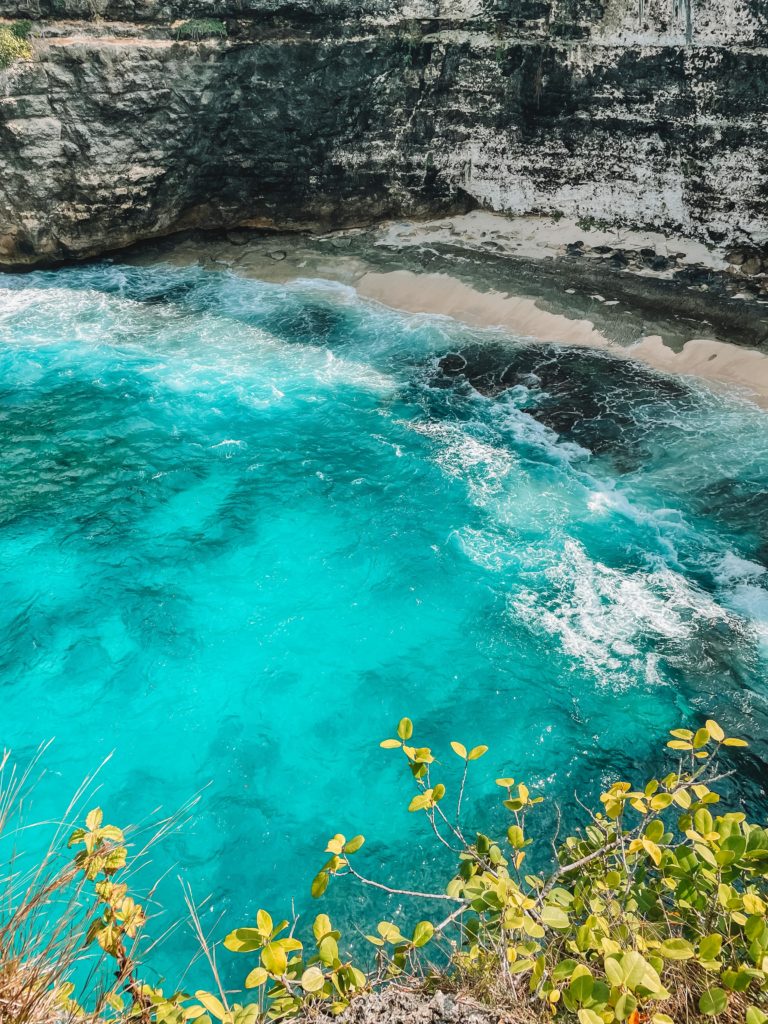 Things to do in Nusa Ceningang
Blue Lagoon
Nusa Ceningang is the smallest of the Nusa islands, conveniently attached to Nusa Lembongan via a picturesque yellow bridge! Therefore, if you're planning a trip to Nusa islands, it's easy to incorporate Nusa Ceningang into your visit. On the island, you will find the STUNNING blue lagoon – which really does live up to its name. This rocky cove boasts incredible turquoise waters, perfect for swimming, cliff jumping and admiring the scenery.
Mahana Beach
Located just around the cliff edge from the blue lagoon, is Mahana beach. Or more specifically, Mahana Point cliff jump. That's right, if you hadn't gotten enough of a thrill cliff jumping at the blue lagoon, you can do so here too! The difference, however, is that at Mahana Point, you'll find an actual diving board on the cliff edge. The bar here will charge you to jump in, though. It will cost you 50,000 IDR for the 10m jump, or 25,000 IDR for the 5m jump.
Secret Beach
The beauty of Nusa Ceningang is that compared to the other two Nusa islands, or the Gili islands, it is much less frequented by travellers. This means that 'secret beaches' generally are more of a secret than those you'd find elsewhere. Secret Beach in Nusa Ceningan is exactly that, located inside a small bay and surrounded by thick forest. Due to being more difficult to access, it is much quieter than other beaches across the Nusa islands and is free to visit! There is also a beautiful infinity pool located at nearby Villa Trevally, which visitors can use providing they order food or drinks from the restaurant.
Things to do in Eastern Java
Hike Mount Bromo
If Mount Batur got you itching for more hikes, then East Java is definitely worth a visit! There are two popular hikes here, the first being Mount Bromo. Despite standing 2,329 meters high, the hike to the top is particularly easy, in comparison to the likes of Batur. One of the unique things about Bromo is that actually most of it is from the comfort of a Jeep. When you get to the sunrise point and enjoy watching the world around you wake up, you then start the climb to the summit of Mount Bromo. However, as you are already a significant height above sea level, the climb only takes about 30 minutes!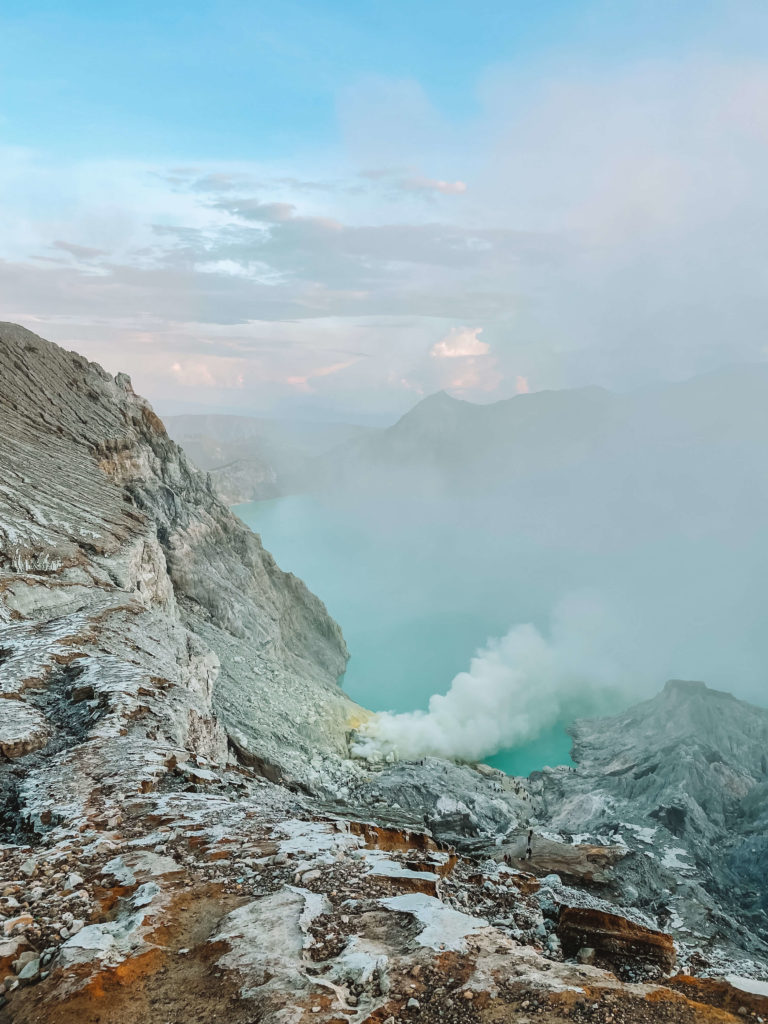 Kawah Ijen
The second most popular hike to do in East Java is Kawah Ijen and the blue flames. This hike was the most difficult I've done in Bali. The ascent is probably just as steep in places as Mount Batur, although unlike the sand of Batur, the path is sturdier at Kawah Ijen. However, once you get to the summit of the mountain, you then put on your gasmasks and head down into the crater. Yep, that's right, INTO THE CRATER. Down there is where you'll see the famous blue flames. You'll then climb back up the crater in time for sunrise. The up, down, and up again, definitely makes it a tough hike compared to Bromo or Batur. But it is truly a unique experience, and one I would recommend if you're a fairly confident hiker.
Things to do in Komodo Islands
Komodo National Park Boat Trip
One thing I am desperate to do when I next travel to Bali, is to visit Komodo. This has been on my bucket list for so long, but I just simply didn't have the time to do it. I know – I was in Bali for 4 months this year but one of the downsides of being a digital nomad is that you actually do need to work sometimes too, lol.
When I eventually do make it to Komodo, I plan to go on one of the epic 2 night / 3 day liveaboard boats so that I can really experience as much that Komodo National Park has to offer as possible, including the picturesque pink sand beaches of Flores.
Things to do in Gili Trawangan
Horse Riding on the beach
Although many people that head to Gili T are young backpackers looking for a party scene (which they will definitely find) the island has more to offer than just that. For couples looking for something romantic to do, you can horse ride along the beach at sunset. And let me tell you, Gili T serves up some EPIC sunsets (pictured below).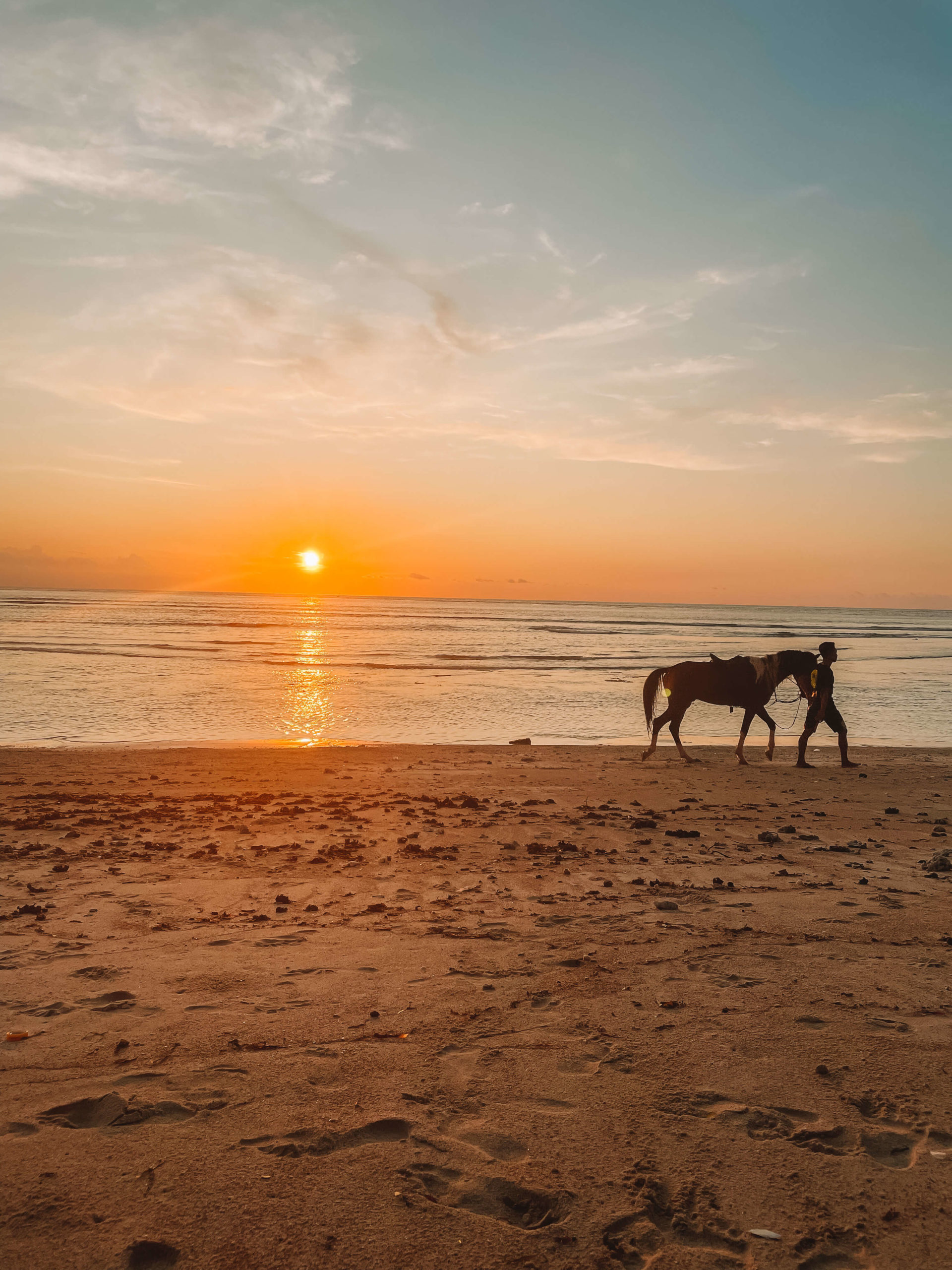 Diving in crystal blue waters
Another popular reason for visitors to Gili T, is that it is a great place for diving. When you first step off the boat and walk up the main strip near the harbour, you'll notice lots of dive hostels lining the beach front. Diving is pretty affordable here, and if you're a first timer, lots of the hostels have dive pools for you to practice in before you head out into the open waters.
Snorkelling with turtles
If diving isn't your cup of tea, then you still have a great opportunity to experience marine life in Gili T! You can opt for a snorkel trip, but honestly, they are a bit overrated, and I personally wouldn't recommend them. Instead, walk to 'Turtle Point' on the island, and rent a snorkel and mask for the entire day, for around 120k. The name of the place gives it away, but Turtle point is a great location to swim with sea turtles! We actually saw more here than we did on the snorkelling trip, and it was half the price!
Paddle boarding
At Turtle point, you can also hire a paddle board for 120k for the whole day. This was a really lovely and calming experience, as you can paddle along the calm waters of the beach at turtle point, watching all of the turtles swimming below you. I opted for this one first, but I am a water baby at heart and so I was itching to go into the water. Luckily the guy at the bar let me swap my paddle board for a snorkel for free!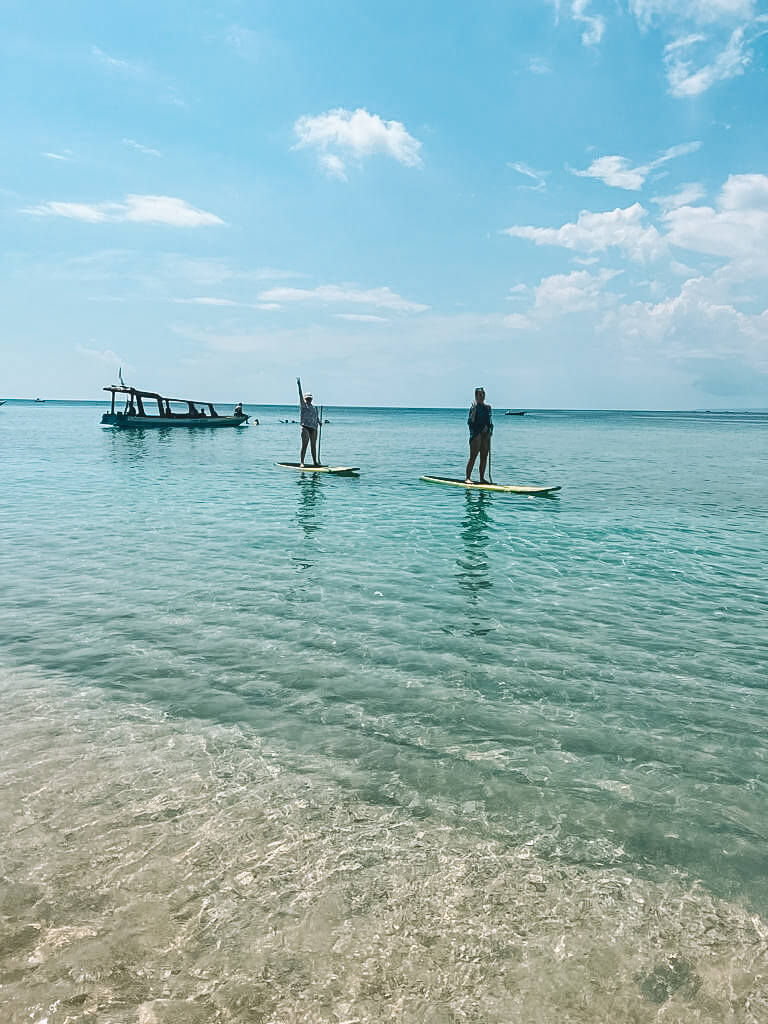 Final Note
I hope you've found my list of all the best things to do in Bali useful! It truly is an incredible island, which offers so much to any visitor, no matter your interest. If you've like this post, please do share it with anyone who is coming to travel Bali, Indonesia.