As everyone will already know, we Brits are serious about our tea. From Earl Grey to Yorkshire, there's not much more we love than popping the kettle on and knocking back as many cups of tea as physically possible. If you're looking for something a little fancier than a cuppa tea and a digestive in your living room, London has no shortage of options for high tea or afternoon tea. Below are ten of the best places for afternoon tea in London, ready for when restrictions ease on May 17th.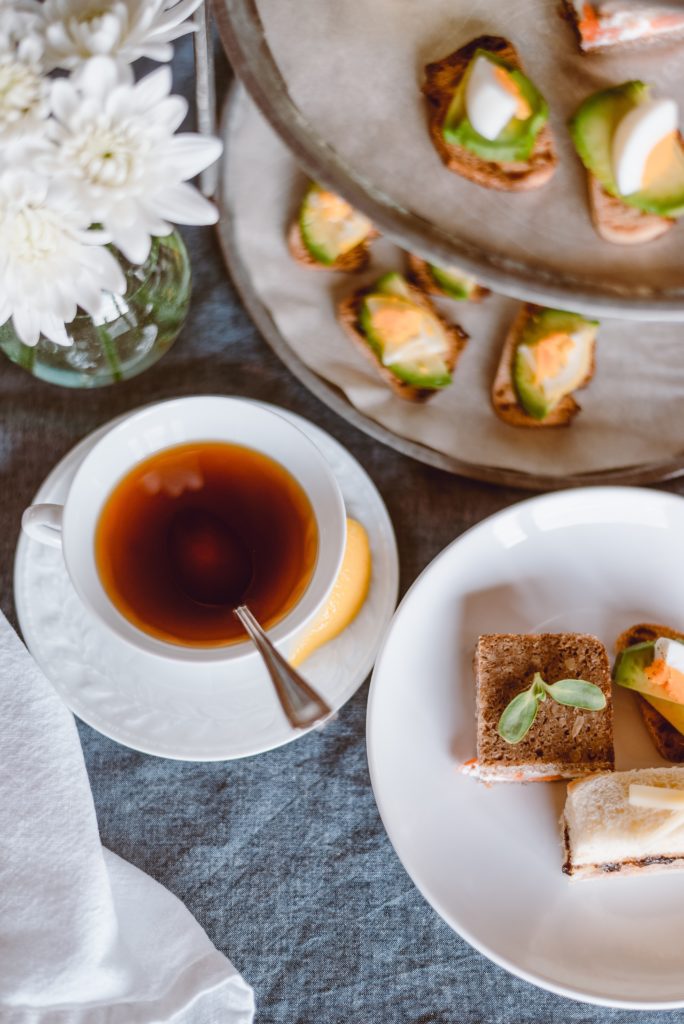 Sketch
I'm at least 90% sure you've seen pictures of the beautifully eclectic Sketch on your Instagram feed at some point over recent years. And there's a good reason it is popular with the Instagram crowd. It's a favourite of mine in London, mainly for its beautiful pink Gallery room. Filled with plush pink velvet chairs, everything is quirky in the Gallery, from the artwork to the crockery. The food is lovely here too, and the afternoon tea certainly doesn't disappoint. Although it is one of the pricier afternoon teas in London at £59pp, it's definitely an experience you won't forget.
Address: 9 Conduit St, Mayfair, London W1S 2XG
High Palms High Tea, The Landmark London
Let's be honest, does anything sound more appealing right now than sipping on High Tea surrounded by palm trees inside a gorgeous Victorian hall? The Landmark Hotel Afternoon Tea has been high up on my list of things to do in London for a while now, and not only for its insanely beautiful setting. I've heard only amazing things about this afternoon tea, and it's no surprise for the incredible tea selection they have on offer! High Palms High Tea starts from £52 per person.
Address: 222 Marylebone Rd, Marylebone, London NW1 6JQ
The Delaunay
The Delaunay near Covent Garden is a stunning European restaurant that oozes a sophisticated, New York Brasserie vibe interior. I've been a few times for a delicious breakfast spread (let me just say that their pancakes with blueberry compote are amazing!) and so it's no surprise that their afternoon tea also comes highly praised. Another great reason to visit the Delaunay is that compared to other afternoon teas in London, this one is extremely affordable. The standard afternoon tea is less than £20, and the champagne afternoon tea comes in at just under £30. At such a stunning venue, I challenge you to find another afternoon tea in London that can compete on price.
Address: 55 Aldwych, Holborn, London WC2B 4BB
OXO Tower
For Afternoon tea with stunning views of London across the Thames, look no further than the Oxo Tower. The afternoon tea is delightfully British, and you'll enjoy delicious buttermilk scones with generous servings of clotted cream. It's a true London experience, with stunning views of St Pauls. You can use Square Meal to discover many other options in London and book your afternoon tea at the Oxo Tower. The pricing for afternoon tea at the Oxo Tower is very reasonable considering the views, priced at £32 per person or £42 with a glass of Champagne on arrival.
Address: Barge House St, South Bank, London SE1 9PH
The Rosebery at the Mandarin Oriental
Right by Hyde Park, in the heart of Knightsbridge, is the Mandarin Oriental hotel. Afternoon tea at the Rosebery in this luxury hotel is a truly wonderful experience. The selection of teas here are really great, and they have separate vegetarian, vegan, gluten-free and children's afternoon tea menus. The service here is amazing too, with all of the staff being super attentive and eager to ensure you enjoy your visit. The price of afternoon tea here is from £58 per person, and even better, they are currently doing a home-delivery afternoon tea whilst they remain closed due to the pandemic.
Address: 66 Knightsbridge, London SW1X 7LA
Charlie and the Chocolate Factory Afternoon Tea, One Aldwych
If you're looking for something a little different, why not book the Charlie and the Chocolate Factory afternoon tea at One Aldwych? Whether you fancy a lemon sherbet tea, snozzberry Jam scones or a chocolate milkshake, this afternoon tea experience certainly stands out from the rest. From £52 per person, you can enjoy a unique savouries and sweets menu, and they also offer Vegan and Gluten-Free options too.
Address: 1 Aldwych, West End, London WC2B 4BZ
Botanica at 100 Queen's Gate
The decor at Botanica is simply to die for. But that's not the only reason to visit. The chef's here have teamed up with the perfumery team at Floris to create a truly unique gastronomical experience. They have selected two popular perfumes and have used the scents to infuse the scones to give you a remarkable scentsation. 😉 The price for afternoon tea here starts at £42.50 and includes a selection of delicious sandwiches, scones and pastries.
Address: 100 Queen's Gate, South Kensington, London SW7 5AG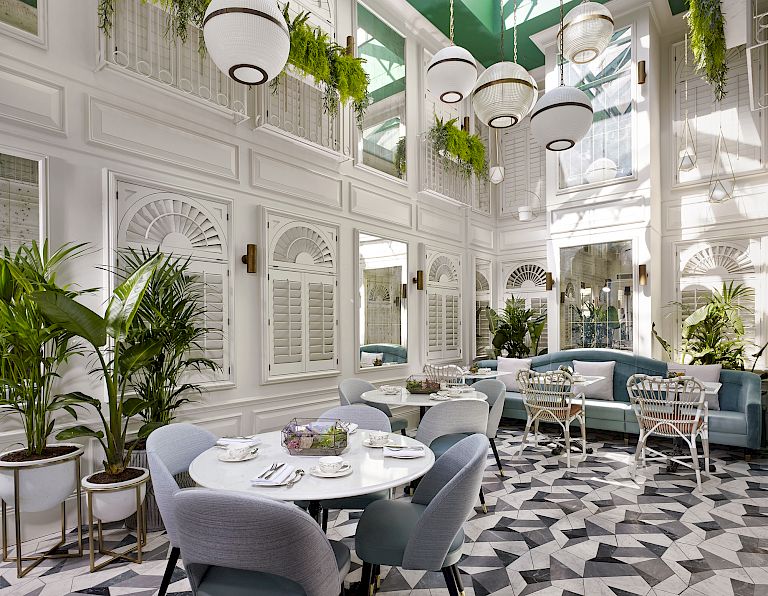 8. Palm Court at Kimpton Fitzroy
You're probably sensing a theme by now, but the Palm Court at Kimpton Fitzroy is another stunning interior. Aside from the lovely ambience and impeccable service, the afternoon tea boasts extremely high reviews. They have an expert pastry team who create end serve delicious pastries, such as the white chocolate pearl scones, and even vegan, dairy-free options. This afternoon tea is another very reasonably priced option in London, starting at just £30 per person.
Address: 1-8 Russell Square, Bloomsbury, London WC1B 5BE
9. Afternoon Tea Bus Tour (B Bakery)
If you're looking for something unique and memorable, then this might be the one for you. A true tourist style option, thanks to B Bakery, you can now enjoy the best of London while indulging in afternoon tea on a bus tour of the city. Lasting approximately 90 minutes, you'll be able to feast on gorgeous sandwiches, scones, pastries and teas whilst enjoying the sights of Big Ben, The Houses of Parliament, Westminster Abbey, St James's Park, Hyde Park, The Royal Albert Hall and more. If it's your first time visiting London, this is the perfect afternoon tea for you. Prices start at just £45 per person.
Address: 6-7 Chandos Pl, Covent Garden, London WC2N 4HU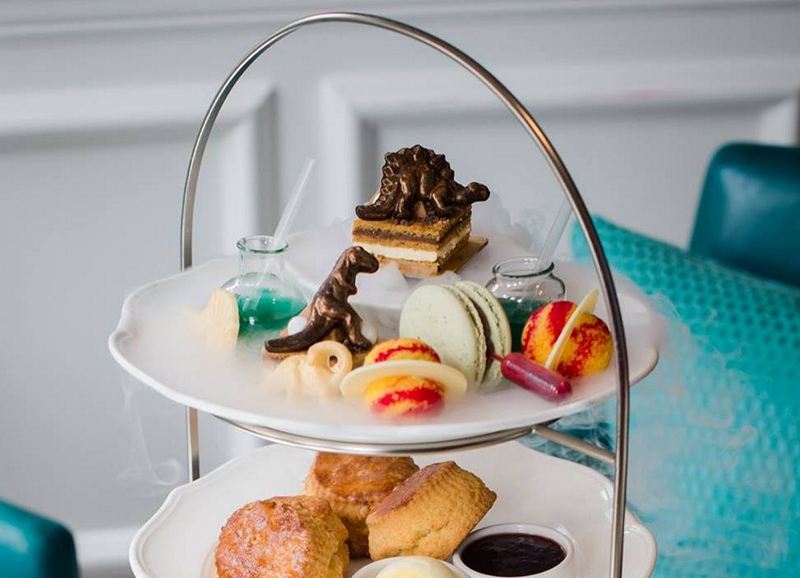 10. Science afternoon tea at The Ampersand Hotel
Inspired by the neighbouring Science Museum, the Ampersand Hotel offers a fun twist on the classic afternoon tea. As well as seasonal sandwiches and pastries, you can indulge on chocolate spacemen and dig up dinosaur biscuits buried underneath chocolate soil. It's a lovely, fun afternoon tea option, especially for those with curious children who are looking for something different, priced from £44.50 per person.
Address: 10 Harrington Rd, South Kensington, London SW7 3ER