Switzerland, Switzerland, Switzerland. A country that boasts beautiful landscapes at almost every turn. I'd visited before when I was much younger (we used to drive down to Italy each summer from the UK, passing through Switzerland on our way). However, I was super excited to visit properly at the end of 2019. My best friend and I were due to spend a long weekend in Zurich at the beginning of December. Being the equally avid explorers that we are, we'd found online a highly recommended day trip you can take from the city by train. And who wouldn't want to spend a day up in the snowy Swiss mountains?
How to get to Mount Rigi
Now, let me start with a disclaimer, that a trip to Mount Rigi from Zurich is not cheap. But for us, it was worth every penny. Luckily, my best friend and I share a mantra when we travel together. You can ALWAYS earn more money, but you can't always get another chance at making memories. The train from Zurich set us back about £45 for a return, and the train up to the top of the mountain was a further £45. So I re-iterate my point, it was NOT a cheap day out. But we really couldn't complain with views like this: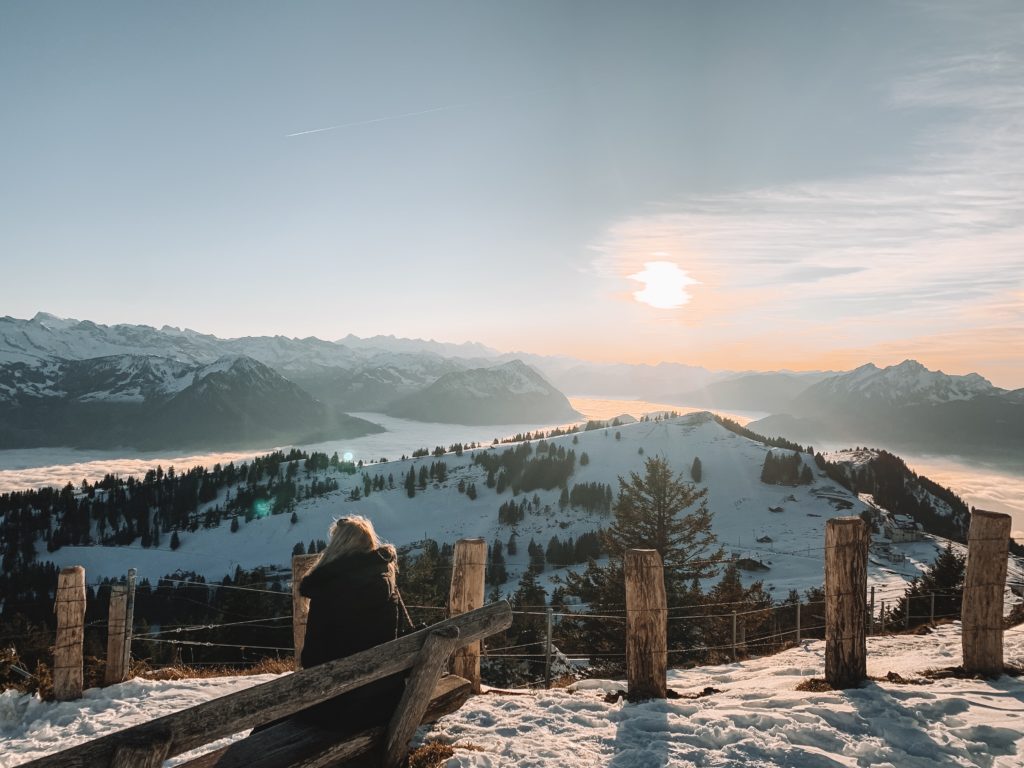 Mount Rigi: Things to do
If you're a lover of nature, it's definitely a trip I'd recommend making. We spent the entire day up the mountain, and whilst it was cold and snowy, and a lot of the hiking paths were closed off, we didn't get bored up there! During the summer months, there are lots of walking paths you can take, and there is a cafe up there too.
For me, I found that I was easily wasting the day away just staring at the views. I couldn't peel my eyes away from the magical mountain range and glowy pink sky ahead of me as the sun began to set. It certainly got me deep in my feelings about travelling the world again. I felt so small compared to the world around me, and honestly it made me itching to chuck my backpack on and jump on a plane with a one way ticket (something I may well have done, had I known was 2020 was going to bring us).
Visiting Mount Rigi during Winter
If you're thinking of visiting during the winter months, it is still possible. When we visited, the snow was pretty deep, but the weather was glorious. Just make sure to wrap up warm with waterproofs and plenty of layers. There is a small cafe at the top of the mountain, which to be honest was pretty reasonable considering how much the train cost us. However, there is also a food shop at the train station at the bottom, if you wanted to take your own food. Be sure to check the train times too – make sure you don't miss the last train back. There is a hotel at the top, but you don't want to risk it!Share