One of my go to recommendations for a European city break is Budapest, Hungary. It's one of my favourite cities – and for good reason! Not only is the cities architecture absolutely gorgeous, but there are loads of fun bars, great restaurants, historical spas and plenty more things to entertain you. It's also one of the cheapest European cities I've visited for a short break! Below are some of my favourite things to do in this highly underrated destination.
Best things to do in Budapest
Buda Castle
Previously referred to as the Royal Palace or Royal Castle, Buda Castle stands tall and proud at the top of Varhegy (Castle Hill). It is the palace of the Hungarian Kings, first completed in 1265 and a must visit for any history lover. Destroyed by a fire in World War II, the building was rebuilt with modern interiors whilst keeping its hidden walls and medieval structures.
Fisherman's bastion
One of my favourite spots in Budapest is the Fisherman's Bastion. Perched up on the hill with Buda Castle, this hotspot has stunning architecture and gorgeous panoramic views over the city from its terraces. Right by the Bastion is Matthias Church, which is also a beautiful building, and well worth a trip up the hill to see.
Thermal Baths
One thing Budapest is famous for, is it's Thermal Baths. There are two baths that are the most well known, which are each situated on opposite sides of the Danube River. Szechenyi Thermal Bath is located on the 'Pest' side of Budapest, a little way out of the city centre but well known for its party vibe. On the other hand, Gellert Thermal Bath is architecturally beautiful, situated on the Buda side of the Danube, and a little closer to the city centre. Both are reasonably priced, so it's up to you to decide which to visit!
Ruin Bars
As I've mentioned a few times before, one thing I love to do in any new city is experience it's nightlife. And the nightlife in Budapest is certainly unique! Rather than traditional nightclubs or bars, you have to visit the ruin bars in the old Jewish quarter. These are a collection of crumbling buildings, filled with quirky eclectic decor and cheap drinks – what more could you want?
Eat at the best restaurants
Budapest has tons of great restaurant choices, no matter what your budget. Whatever you're in the mood for, there will be a good choice waiting. A couple of my favourites include Zona, and Mazel Tov. The latter specialises in Israeli Cuisine in a gorgeous indoor-outdoor courtyard setting.
Hop on Hop off bus
Budapest is a deceivingly big city, and as there is plenty to see, you'll want to make sure you don't miss anything! One way to avoid this is to purchase a hop on hop off bus ticket. Most cities throughout Europe have these, so you'll likely be familiar with the concept. If you aren't, it's pretty straightforward – you simply purchase the ticket, get on at any of the stops at the map, and hop off at whichever stop you'd like.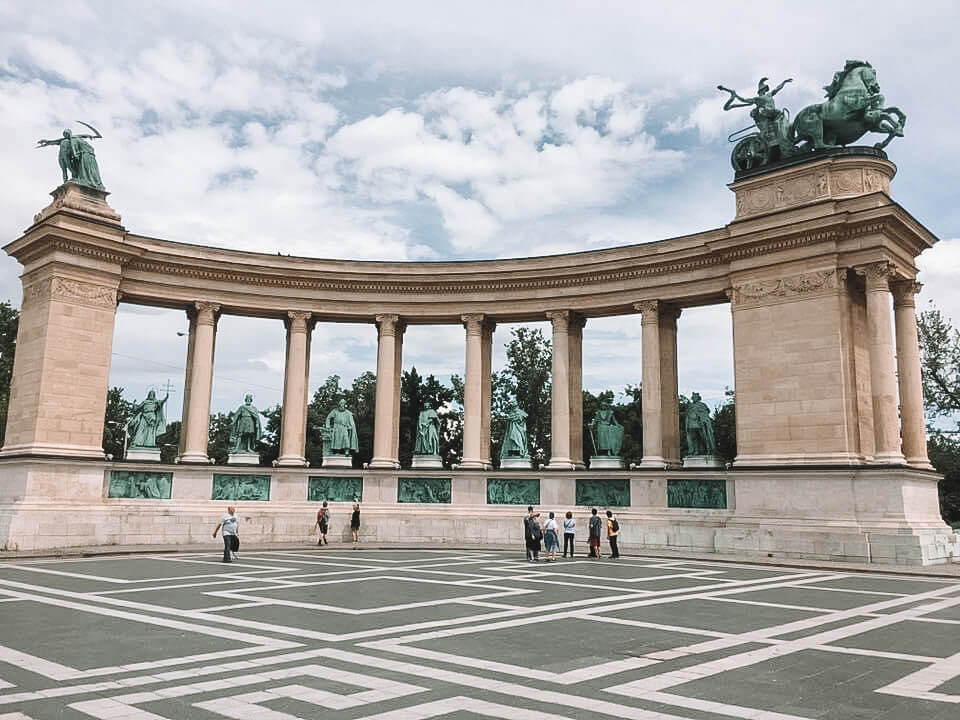 Heroes square
Heroes square is one of the major squares in Budapest. It is a UNESCO World Heritage site which features an iconic group of statues of important Hungarian national leaders. The easiest way to get up to Heroes square is on the Hop on-Hop off bus.
Learn about the history of Budapest
Although the capital of Hungary was created in 1873, its history goes a lot further back. There are plenty of museums throughout the city where you can learn more about the history and culture of both Budapest and Hungary. These include the Hungarian National Museum, the Hungarian National Gallery and the Holocaust Memorial Centre.
Enjoyed this short guide? Check out my Weekend Guide to Krakow, Poland