Santorini is one of the most popular destinations for holidaymakers in Greece, and for good reason. But there is so much more to the island than iconic Instagram shots of the white and blue domes of Oia. 2-3 days is the perfect amount of time to explore the island, so here is my quick weekend guide to Santorini, Greece! This guide is split over 3 days; however, it is definitely possible to fit the itinerary into 2 days if you are short on time!
You might like: Ultimate Guide to Santorini, Greece
Things to know: Visiting Santorini, Greece
Best time of year to visit Santorini
Because of its location and warm climate, Santorini is technically a year-round destination. However, most people choose to visit during the months of May – September to take advantage of the best weather. Santorini is very windy, and so avoiding the low season will minimise the risk of adverse weather.
Travelling to Santorini
Getting to Santorini is surprisingly easy. The best and quickest way is for you to fly into Santorini airport (JTR). Most airlines offer direct international flights, or flights with a quick stopover in Athens. If you are already in Greece, you can catch a ferry from the mainland, or from nearby islands including Mykonos, Naxos, Milos and Ios.
Where to stay in Santorini
Where you want to stay in Santorini will completely depend on what you are looking for, and your budget. If you have a bigger budget and are looking for iconic views and cave suites, then choose Oia or Imerovigli. Either of those areas are perfect for couples on a romantic getaway, or honeymoon. If you want to stay somewhere a bit livelier, with a range of budget options, I would recommend Fira. Here you will find plenty of beautiful hotels for reasonable prices, as well as hostels for those with a budget. Alternatively, if you want to stay by the beach, then check out Kamari. Here you'll be located right on the shores of the black sand beaches on the opposite side of the island to the cliffs of Fira and Oia.
During my visit to Santorini, I stayed at Callia Retreat Suites (Adults only) in Fira. This hotel was stunning, and in a great location. We had breakfast included, a gorgeous room with its own hot tub and a beautiful infinity pool with views across Fira. It was a short uphill walk to the cobbled centre of Fira, where there were lots of shops, restaurants and bars.
Time Zone in Santorini
Eastern European Standard Time (GMT+2)
Currency in Santorini
As with the rest of Greece, in Santorini the currency used is the Euro.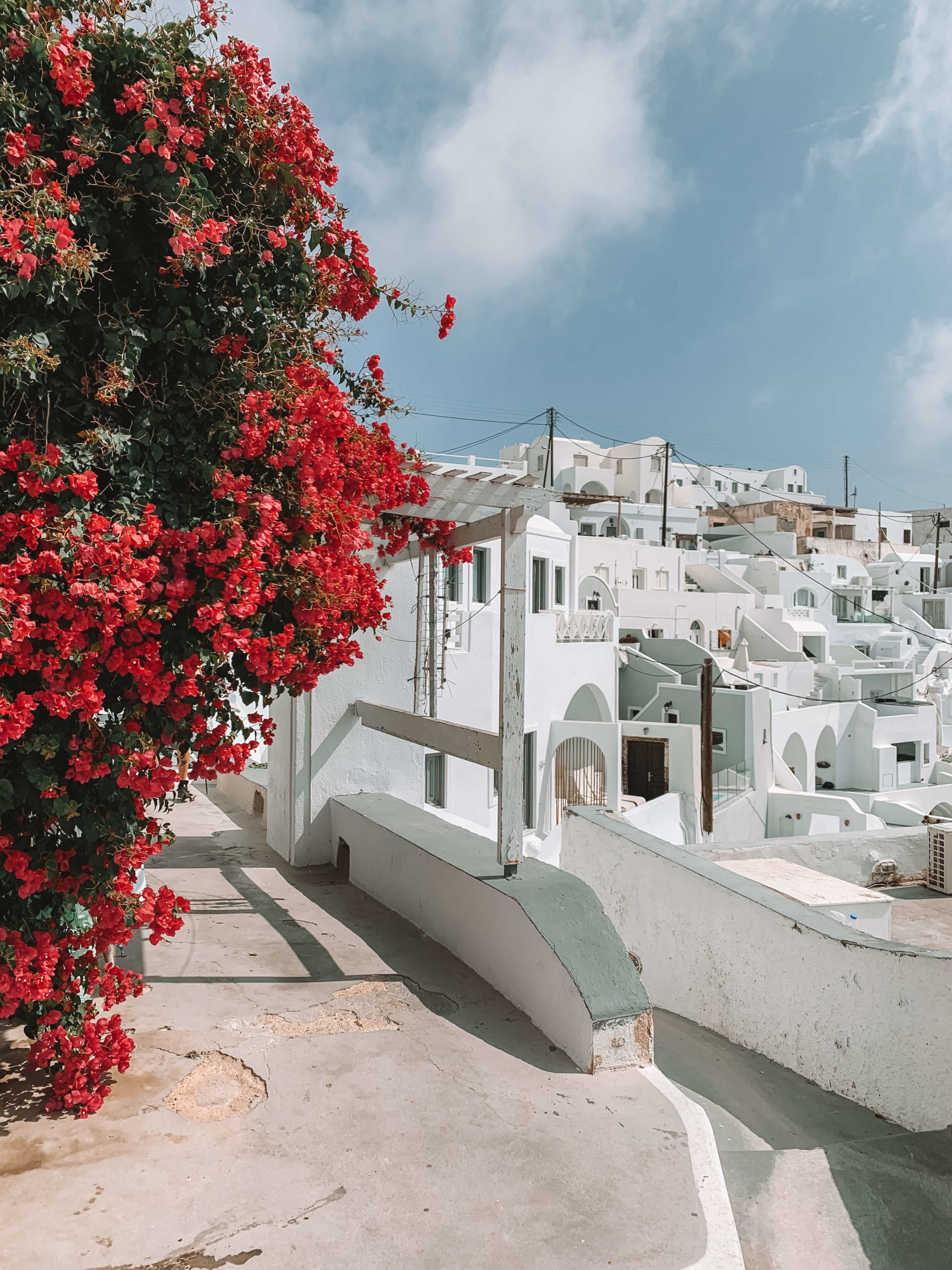 Weekend Guide to Santorini – Day One
Explore the island by quad bike
The best (and most affordable) way to get around Santorini is by hiring a quadbike. The roads across the island are very quad bike friendly, so you don't need to worry about the terrain. It will also help you to save on the cost of having to get taxis everywhere, as a quadbike is significantly cheaper. There are lots of small towns to explore on the island of Santorini, and so hiring a quad bike is the perfect way to see them all! Whether you want to visit the iconic (and always popular) Oia, the black sand beach town of Kamari, or escape to the hill town of Pyrgos, you can easily travel between them all with a quadbike.
Watch the sunset at Akrotiri Lighthouse
While you have the quadbike, you should head to the southern tip of the island, to Akrotiri Lighthouse. This is one of the most popular spots on the island to watch the sunset, and it does get busy in peak months, so head down earlier to get a good spot! Parking here can be a bit of a nightmare but is definitely easier with a quadbike than with a car! The views of the sunset here are breath-taking, as you will have a completely undisrupted view of the sun setting into the horizon/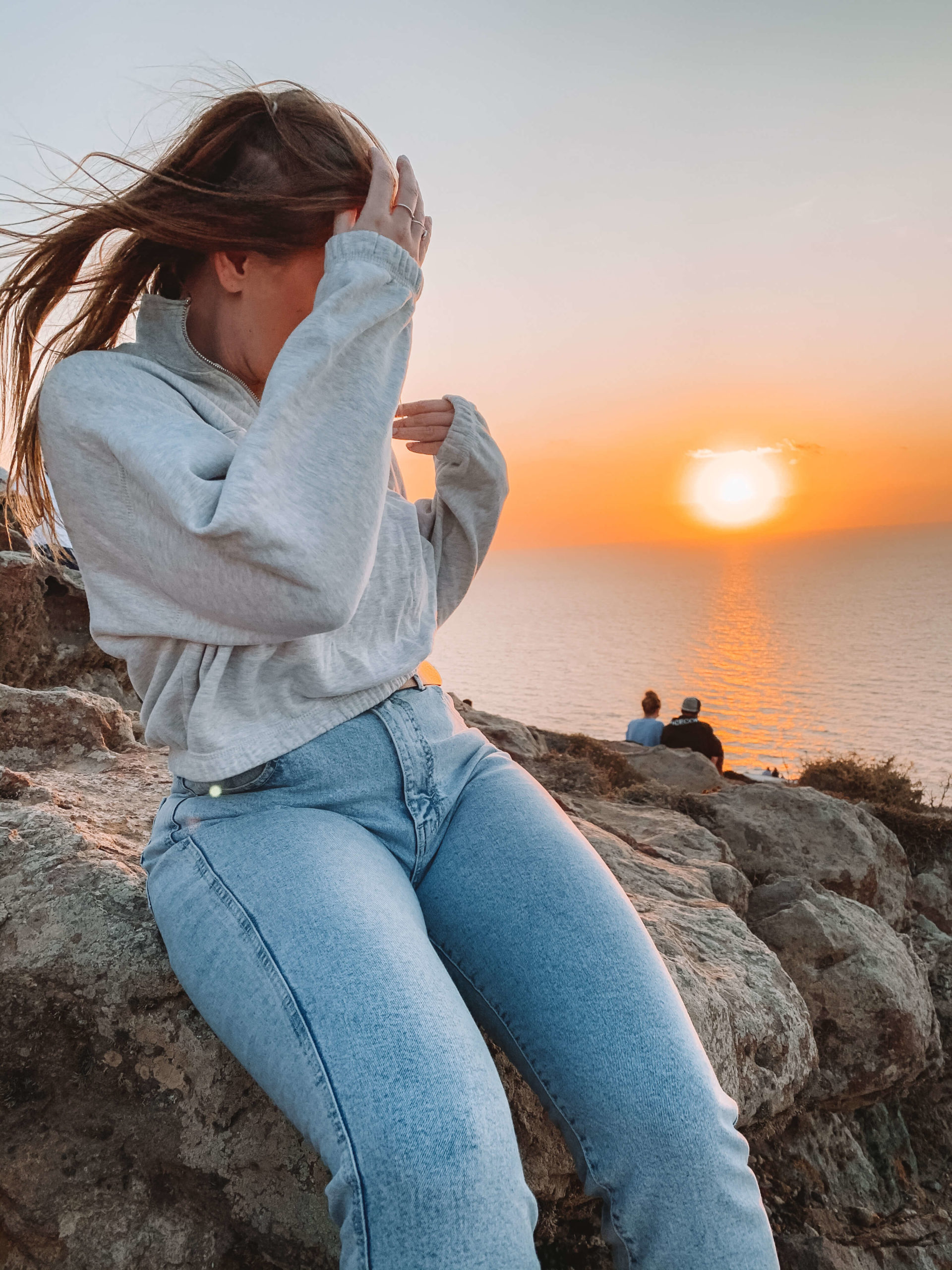 Weekend Guide to Santorini – Day Two
Hike from Fira to Skaros Rock
Start day two a little more active, by taking advantage of Santorini's hiking opportunities. One of the island's most popular hikes is the coastal route from Fira to Skaros Rock. It is an ancient volcanic rock overlooking the Aegan Sea. Not only is it facing the sea, but it has a wonderful vantage point with views of Fira on the left and Oia on the right. If you want to push yourself a little harder, you can continue the trail all the way to Oia!
Go on a boat trip
Santorini has plenty of boat tours on offer, most of which take you to the same places. These locations typically include Red Beach, Black Mountain, and the opportunity to swim in hot springs. Most of the boat trips also include a sunset option that includes a cooked dinner on board, beverages, and another spectacular sunset view. It's a lovely way to spend the rest of the day relaxing after your morning hike, whilst still seeing more of Santorini!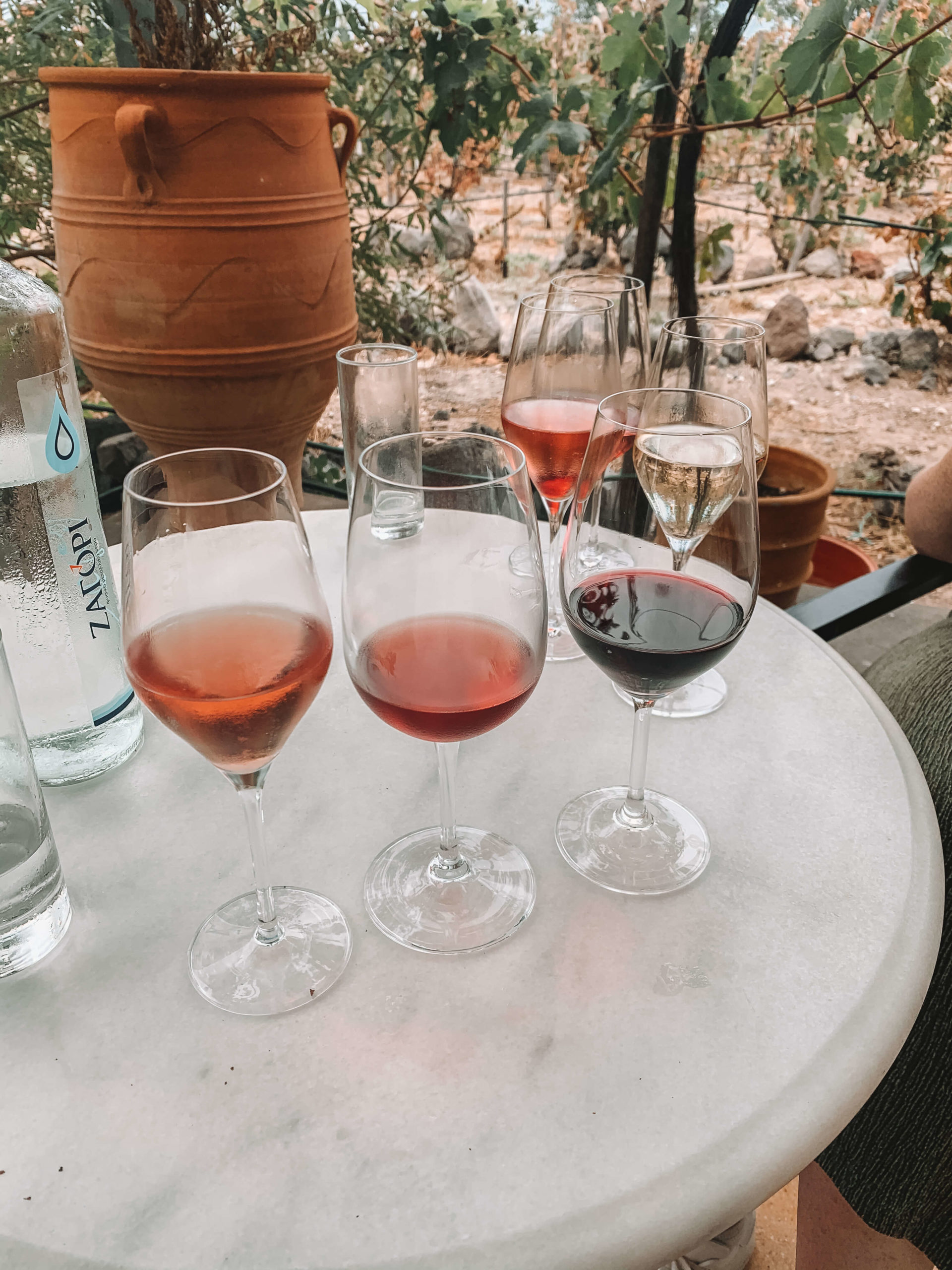 Weekend Guide to Santorini – Day Three
Go wine tasting
Santorini is a popular wine destination, and there are a number of great wineries dotted across the island. Each has its own unique vibe and extensive wine menu! Two great wineries that I recommend visiting are Santos Wines near Pyrgos, or Domaine Sigalas located in the vineyards near Oia. Santos Wines is very modern, perched on a dramatic cliffside with beautiful views of the sea. Domaine is inland but has a rustic and authentic vineyard feel to it, and a delicious wine menu.
Enjoy the black sand beaches
If you're the type of person who likes to relax on the beach at some point during their trip, this is possible in Santorini. Although the more populated side of the island is situated on the cliff edge with no beach access, the other side of the island is totally different. Don't expect pristine white beaches though! Given that Santorini is a volcanic island, the beaches of Kamari and those nearby are black sand beaches. It's still a nice place to chill by the sea, with sunbeds for hire, and lots of great restaurants and bars too.
You might also like: Top 7 things to do in Santorini, Greece