Before the pandemic I had never really considered travelling to Madeira. I'm not sure why it has just never really crossed my mind before. However with a trip abroad planned for September and Madeira the only place on the green list that was semi affordable my friend and I are packed our bags and headed off for a week long trip.
I had read online that Madeira was considered to be the Hawaii of Europe and once I arrived I could see why this was the case. The island is a lot more mountainous than expected, and is full of lush greenery as well as sandy beaches and sunshine. It really is a beautiful island, and so if you're looking for somewhere to explore that's a little different from mainland Europe then I highly recommend visiting Madeira. 
There's a lot to do on this little island despite its size, however, a week is still the perfect amount of time to explore. Below I'm sharing my top 10 things to do in Madeira.
Top 10 Things to do in Madeira
Whale and Dolphin Watching
My favourite thing that we did whilst visiting the island of Madeira was going on a boat trip to whale and dolphin watch. There are lots of different tours available, especially from the bay of Funchal. We booked a Dolphin and Whale watching tour through Get Your Guide. The company was 'Magic Dolphin Madeira' and they were honestly wonderful. The guides were extremely friendly and so passionate about seeing the animals, that it made the whole experience even more enjoyable. We were really lucky with our tour, since we saw a whale and a couple of huge pods of dolphins! Apparently, September is a great time of year for spotting them!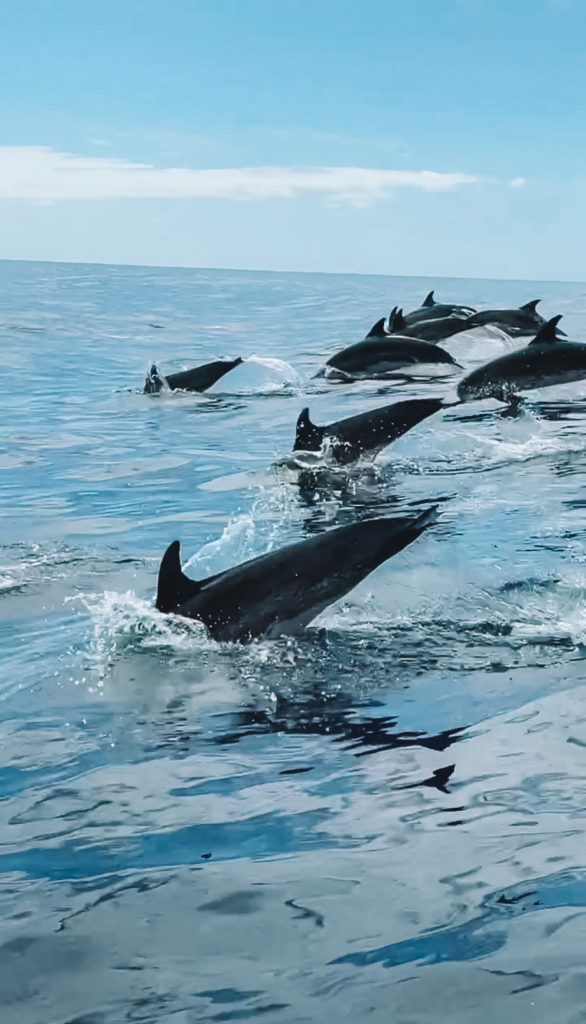 Visit the Black Sand Beach at Seixal
One of the things I loved about Madeira is the dramatic landscape. The island is so varied, you can see desert like cliffs, crystal blue coastlines, lush green forests, and cloudy mountain peaks. One of the most dramatic areas of Madeira can be seen down at Seixal beach. Regardless of the weather, it is worth a trip to experience the black sand beach, crashing waves and Jurassic backdrop, like so: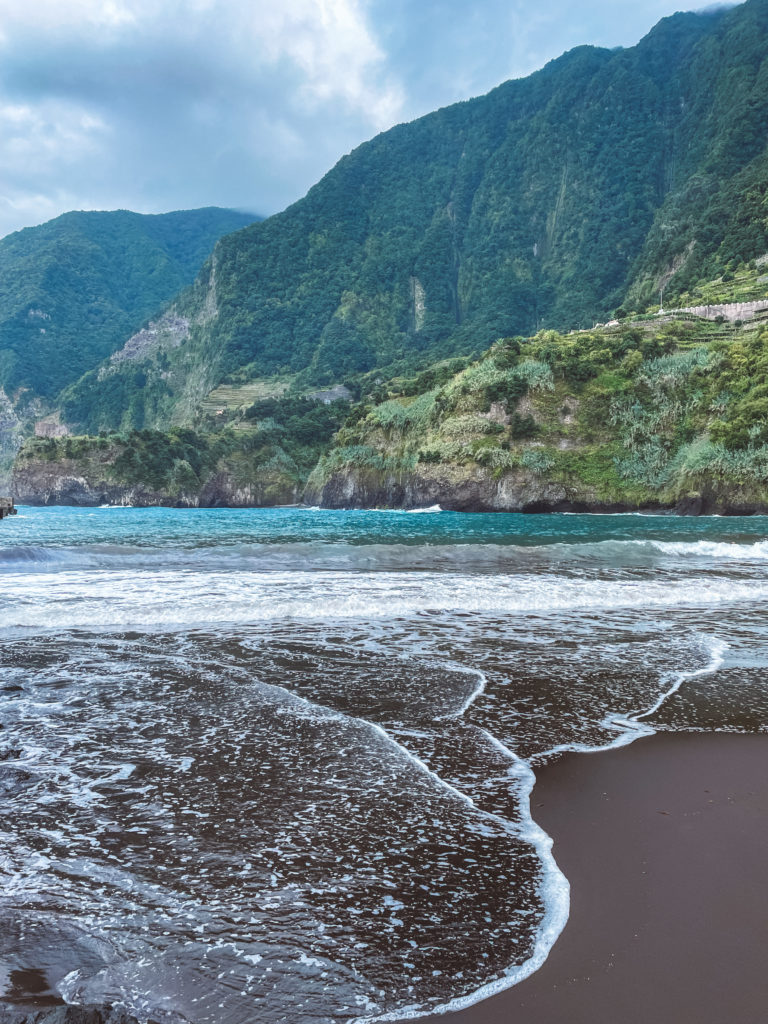 Watch the sunset at the top of Pico do Arieiro
If you're anything like me, then hunting out a great sunset spot is a must on any trip! And what better place to watch the sun go down than at the top of the highest peak on the island? Luckily, for those who don't fancy hiking up a mountain, you can drive right to the top, where there is a cafe, shop and then an area at the peak where you can sit and watch the atmosphere change as the sun goes down.
Explore Funchal
The town of Funchal is extremely pretty, the terracotta roofs giving a strong Portuguese feel to the place. There's a good amount to do here, from exploring the old town, to taking the cable cart up to the hilltop, where you can visit the botanical gardens and take a unique wicker Toboggan ride back down the hill. Not only that, but as the hometown of famous footballer Christiano Ronaldo, it is a great place for passionate football fans. Here you can see numerous statues, visit the Ronaldo museum, and even see his current residence (from the outside of course)
Hire a car to properly explore the island
As I've already mentioned, there is so much to see and do in Madeira, and so, getting a car is a must. Renting a car in Madeira is pretty affordable, and petrol is fairly cheap. You can pick up a rental car at the airport, or in Funchal. Driving in Madeira is a mixed bag. The main roads between towns are well maintained and easy to drive on, however some routes (such as to 25 Fontes or Pico de Aierero) are very windy and also can be very steep in places, and so I would recommend hiring an automatic to make the driving easier. 
Hike the 25 Fontes hike
One thing that Madeira has plenty of, is hiking routes. Whatever your ability, preference or schedule, there will be a hike to suit you on this island! Two of my favourites are listed in this list, one of them being the 25 Fontes Hike. This hike is up in the mountains, where you will be surrounded by lush greenery. We did this hike on a particularly rainy day, but it was still very do-able (although I must admit, I did find the ascent back up to the car pretty tough)! At the middle point of the hike, you will get to the waterfalls where you then turn around and head back to the starting point. Luckily, when you get back to the cafe, there is a small mini bus that you can take back up to the car park at the top, if your legs are feeling fatigued!
Hike the Vereda da Ponta de São Lourenço
My second favourite hike in Madeira is the Vereda da Ponta de São Lourenço. It is a fairly easy hike as it is pretty flat. Interestingly, the terrain is totally opposite to the 25 Fontes Hike. Therefore, if you only have time to do two hikes during your stay, I would recommend these two. Mainly so that you can see two totally different sides of Madeira's landscape. This hike can get pretty hot on a sunny day, due to lack of shade, so remember to bring suncream!
Visit the traditional houses of Santana 
If you're looking to see something a little more traiditonal, then head to the town of Santana. Here you will be able to see the old traditional houses! These reminded me of wooden play houses that you might find in someone's garden! They were super cute and totally free to visit, so are definitely worth stopping by.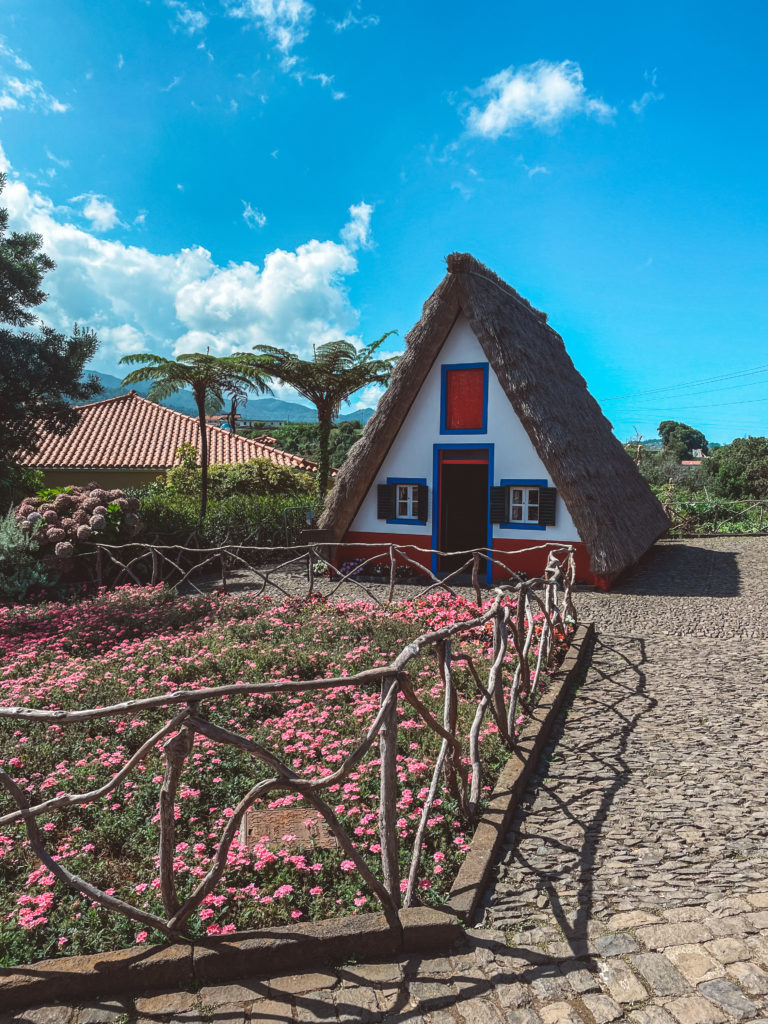 Soak in incredible sights from the islands many viewpoints 
Having a car in Madeira, means you can get around the island no matter your time schedule. Whilst you are driving, you will notice plenty of road signs for viewpoints. There are tons across the island, all of which make great photo opportunities.