With the winter months approaching, you might be starting to think about booking a winter getaway. One of my favourite destinations for a European winter break is Iceland! I visited this country for the first time in December 2021 and it jumped straight into my top 3 favourite countries of all time. Aside from the gorgeous landscapes and friendly locals, there are also tons of great things to do in Iceland in Winter! Although a week is the ideal amount of time to see as much as possible, if you only have a short few days break, then you should still consider Reykjavik as a top weekend winter break destination. Here are some of the top things to do in Reykjavik, Iceland. 
Top Things to do in Reykjavik, Iceland
Wander around the streets of Reykjavik
Although it is the capital city of Iceland, Reykjavik is smaller than you might expect, and is a very walkable city. It is therefore a great destination to explore on foot, even in the snow. You can see the colourful streets, wander down to the waterfront, or stroll up the hill to Hallgrímskirkja. Whatever your end destination, walking the streets of any city is a lovely way to get a feel for the place, and Reykjavik is no different.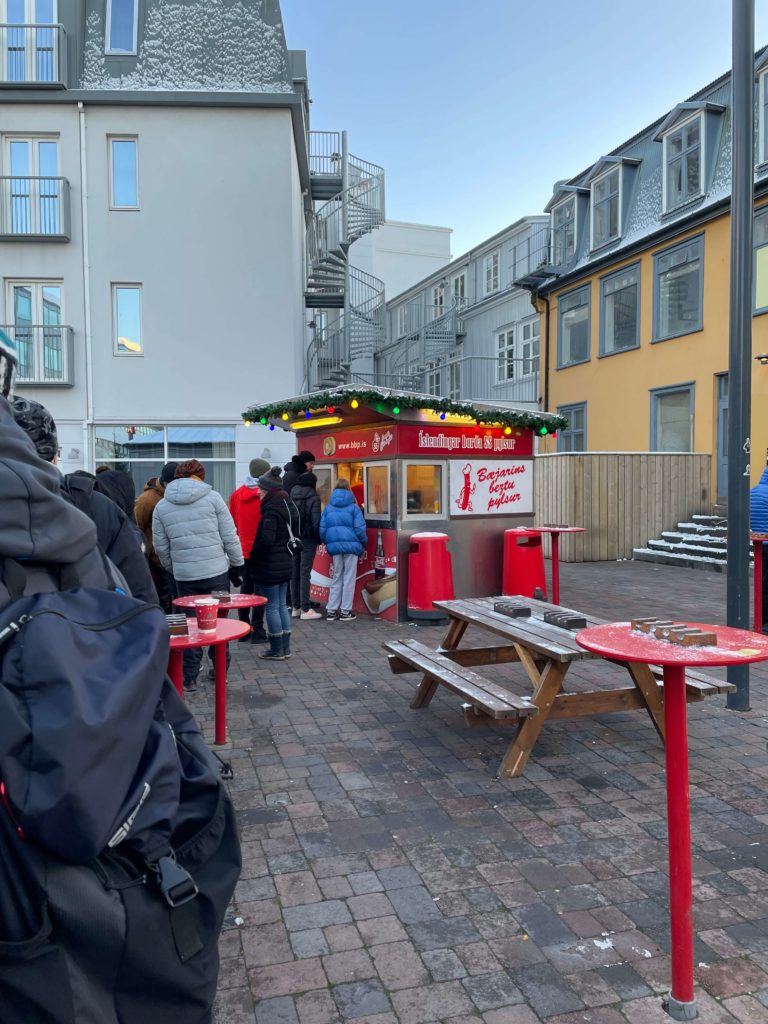 Try the food
There are tons of great food options in Reykjavik, and plenty of national dishes you should try, such as fermented shark or rye bread ice cream. One place you have to visit if you want a quick and cheap bite to eat is Bæjarins Beztu in Reykjavik! It's a small hotdog stand in Reykjavik town, and is extremely popular with both tourists and locals.
Recommended on nearly every travel blog you will find; you might wonder whether it is simply an overhyped tourist trap. I mean, should you really trust a place whose name literally translates to 'best hotdogs in town'? It does seem like a bit of a bold claim, right? But honestly, the hotdogs are insane, and generally affordable compared to grabbing lunch at a restaurant or cafe. The hotdogs are a mix of lamb and pork, and come in a bun with ketchup, mustard, remoulade and crunchy onions. One word of advice, order two 😉
If you're looking for a sit down meal to warm you up from the cold weather outside, then head to Svarta Kaffið, where you can try their local delicacy of sou p inside a bread bowl! They offer two choices; mushroom soup for vegetarians, and… Reindeer soup for the non-vegetarians. It may sound a bit blasphemous eating reindeer soup so close to Christmas, but apparently it was delicious. (I happily opted for the mushroom soup, which was also delicious)!
Go on a Northern Lights tour
Reykjavik is one of the most popular spots in Iceland to go on a northern lights tour. There are plenty of northern lights tours available, and they will pick you up from your accommodation and take you to various spots throughout the night to try and see the lights. Unfortunately, no matter the tour you choose, there is no definite guarantee of seeing the northern lights.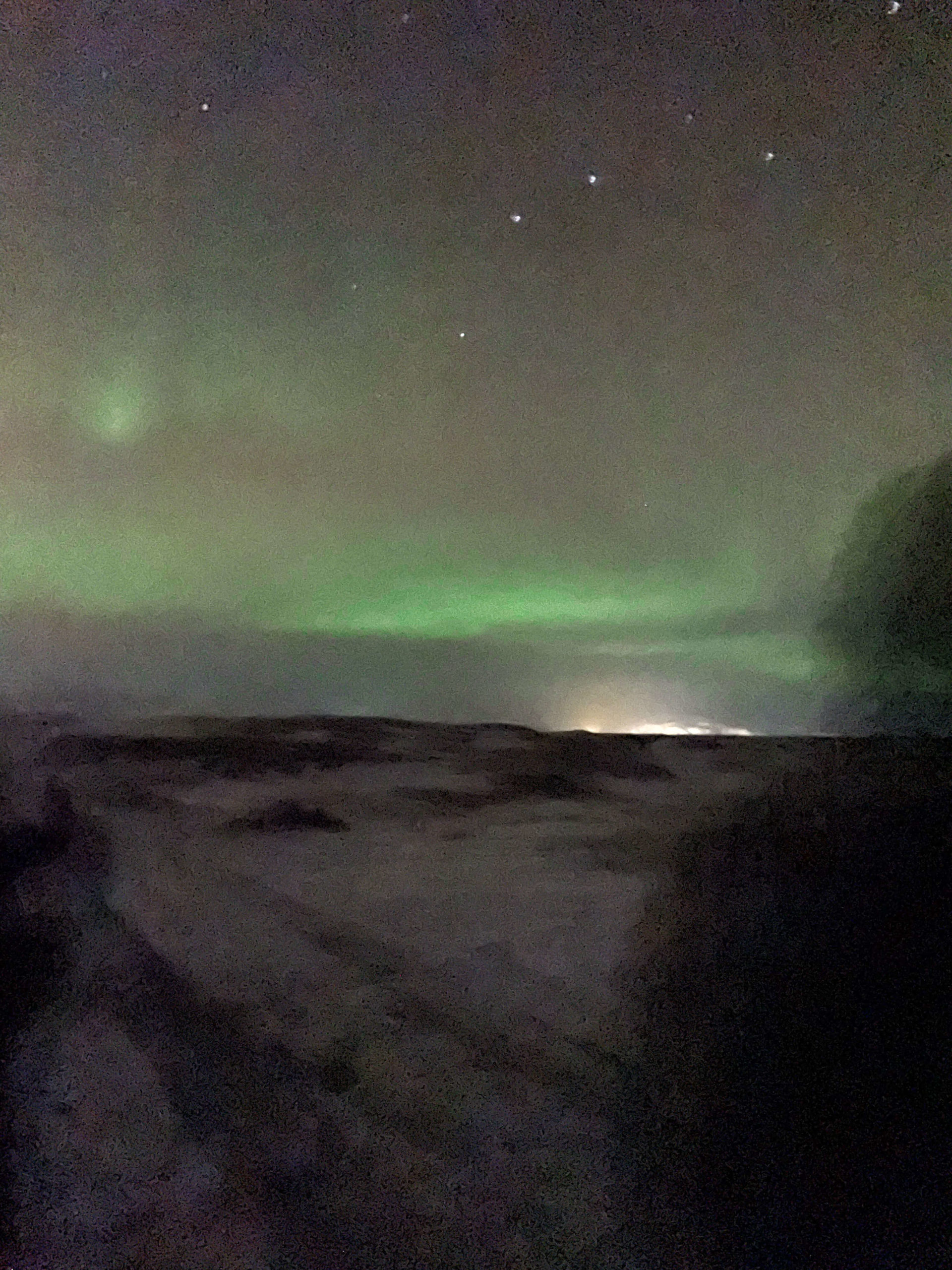 There are a number of things you can do to maximise your chances, such as choosing the correct time of year to visit and following weather predictions. You can also download apps that will give you a percentage chance of when you may see them. Another thing I would do is book onto a tour as early in your trip as possible, as many tours offer you a free second tour if you don't see anything the first time! Overall, it is really down to pure luck on whether or not you can see the northern lights in Iceland, since there are many factors that come into play.
Unfortunately, we didn't have a great experience as we only saw them very faintly. However, the night before we arrived, our hostel friends saw an incredible display right above the hostel in the centre of Reykjavik – typical. If you don't have a tour booked, but the weather predictions are good and the locals have hinted that it might be a good night to spot them, head to the lighthouse on the edge of the water in Reykjavik, as this is one of the best places in town to spot the northern lights!
Experience the nightlife
For such a small city, Reykjavik has a great nightlife scene. There are a number of fun bars where locals and backpackers hang out, and also plenty of late-night haunts where you can dance to techno until the early hours. Despite visiting at the back end of the pandemic, we had a great time partying in Reykjavik. We usually started at Lebowksi bar, which was more of a sports bar. This is a fun bar for drinks and getting to know other locals or backpackers. They even have a fun 'spin the wheel' competition where you can pay to spin the wheel to win prizes like free shots, etc. After Lebowksi, we would head to Bravo, a tiny club which would pack people in like sardines and play techno until the early hours. 
Visit Hallgrímskirkja 
If you've looked at pictures of Reykjavik, or even Iceland before, you'll instantly recognise this building. Hallgrímskirkja is the Parish church in the town of Reykjavik, located at the top of the hill in downtown, where it is said to be keeping guard over the city. It's a very unique looking piece of architecture, standing tall and grey at 74.5 metres tall, it is the tallest church in all of Iceland. The iconic structure was designed with Iceland's landscape in mind, with its' sides representing volcanic basalt columns. If you're in Reykjavik, it is definitely worth heading up to Hallgrímskirkja to see it for yourself. You can also head up to the top in the lift for panoramic views across the town. 
Take a day trip to the Blue Lagoon
No trip to Iceland is complete without visiting the insta-famous blue lagoon. This was so high up on my bucket list, and I was a little worried that the hype would make it disappointing. Thankfully I was wrong! When you purchase a ticket to the blue lagoon, the ticket is not timed, and so I would recommend arriving as early as possible. Not only will you be able to stay for as long as you want (even all day if you'd like) but you'll find fewer crowds the earlier you visit too. When you arrive you will get changed and leave your belongings in a designated locker. You will get one free drink and a mud mask included in your entry, so head to the swim up bars to take advantage of this!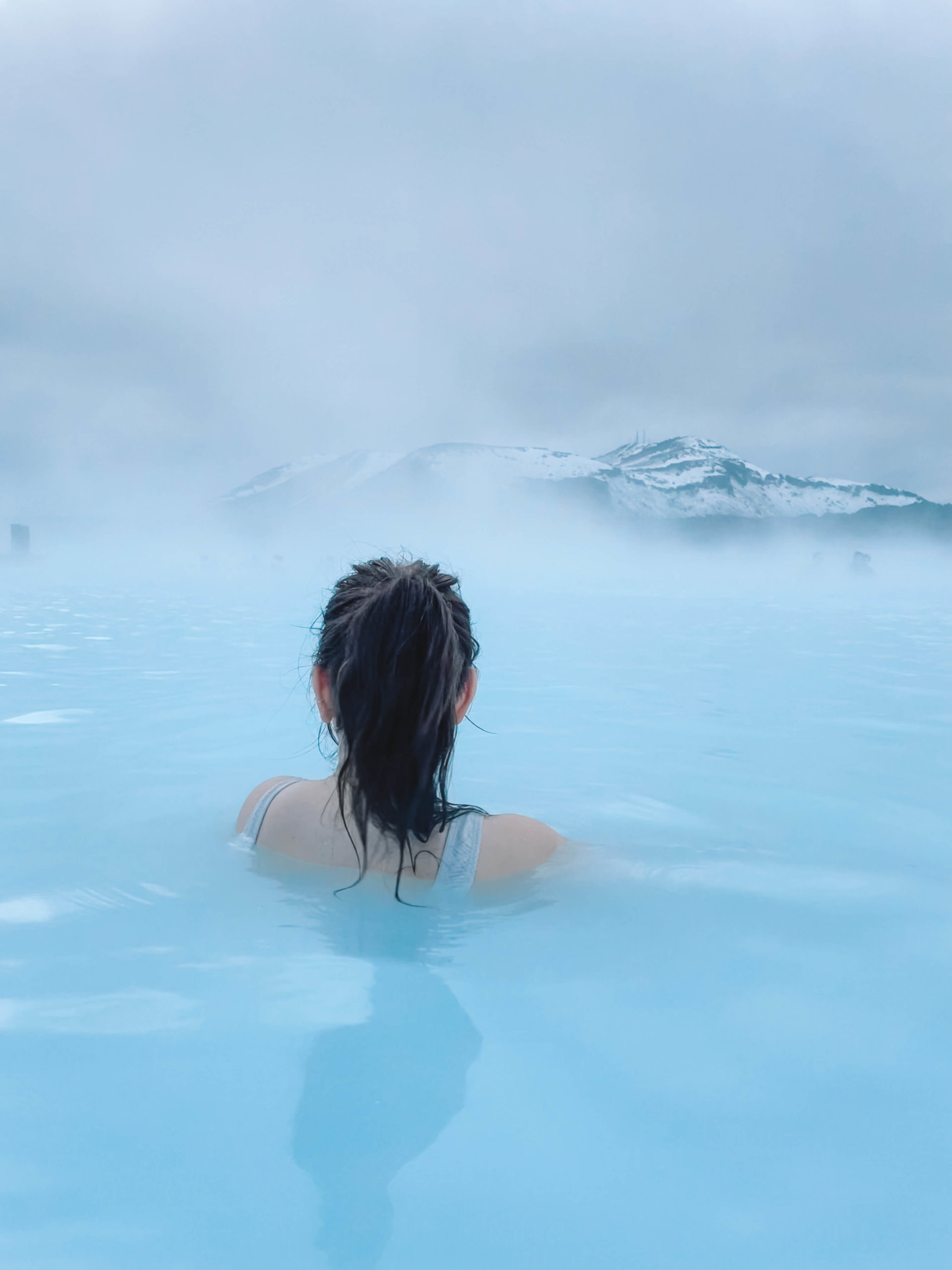 Visit Fagradalsfjall Volcano
After we had finished at the Blue Lagoon, we decided to drive to Fagradalsfjall Volcano, since it was nearby. If you don't know anything about this volcano, it erupted back in 2020 and has been fairly active since. Depending on your luck and when you visit, you may either see this volcano in full action, with lava spewing out from the top, or you will visit when it is not erupting, but still equally as impressive! We visited when it wasn't erupting, in fact, the last time it had erupted was 3 months before our trip, and so we were able to walk on the cooled lava fields, which was such a unique experience! We visited close to sunset (which in December was around 3:45pm) and so the sky was glowing orangey-pink which made us feel as though we had landed on Mars! 
Visit the city's unusual museums
If you're looking for something a little different to do, then Reykjavik has a selection of erm, unusual, museums you can visit. If you find yourself with a rainy day and not much to do, then why not visit the Phallological museum (yep, you read that correctly)? This museum hosts one of the largest collections of male and animal genitalia, some of which are record breaking in size. For something a *little* more PG, you can visit The Icelandic Punk Museum in Reykjavik, located underground in an old public toilet space, dedicated to the punk movement throughout the years of 1978 – 1992.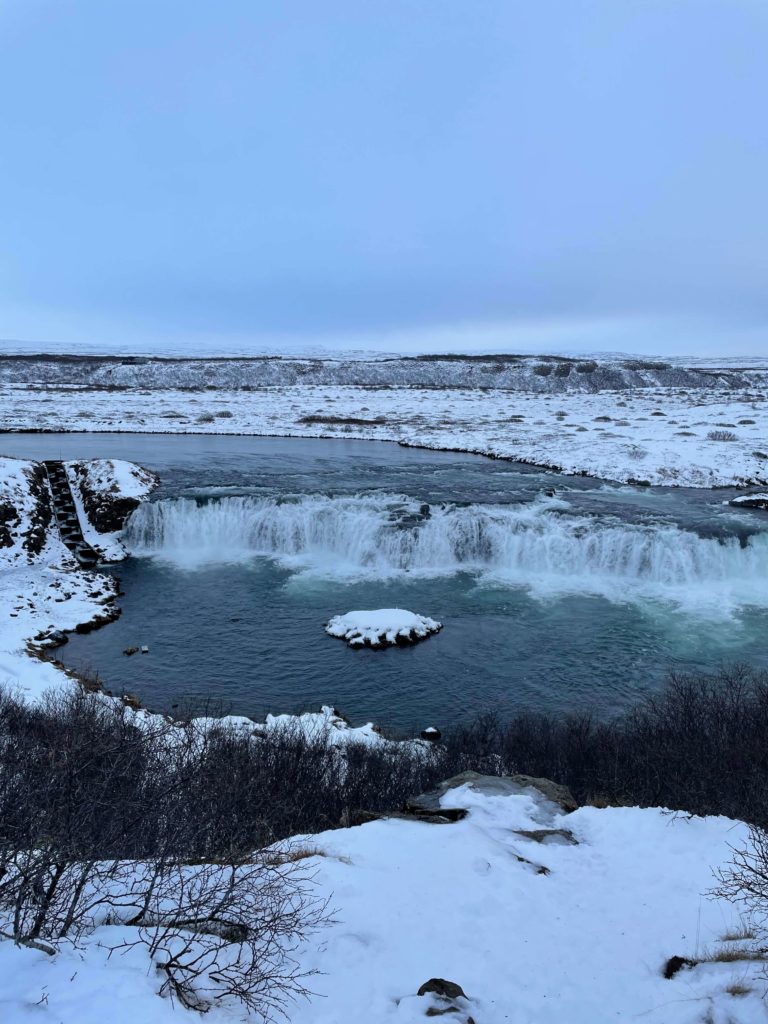 Explore the Golden Circle
So technically not IN Reykjavik, but definitely a must do if you're visiting Iceland for the first time, is a day trip to the golden circle. You can either rent a car and drive yourself or join an organised tour of the golden circle that will pick you up and drop you back to your accommodation in Reykjavik. A golden circle tour is the perfect way to get a feel for the landscape and nature of Iceland outside of the country's capital. From waterfalls and mountains, to erupting geysers and the opportunity to snorkel between the tectonic plates of two different continents, the golden circle really is an adventure in itself!
Where to stay in Reykjavik
I've mentioned this accommodation plenty of times since visiting Iceland, but if you're looking for a fun place to stay to meet other travellers, with great facilities including a bar serving delicious pizzas and hosting sports and live music events, then KEX hostel is for you. It's within a short walking distance from the centre of Reykjavik, and has outside parking for very cheap, if you're hired a car!