Bali Travel Guide
Bali is as popular as ever with backpackers, holiday makers and digital nomads, despite having some of the strictest international travel rules during the pandemic. This Bali travel guide will tell you what you need to know about travelling to Bali post-covid. 
Bali entry requirements (including Bali covid entry requirements)
Remember the days of only having to check visa requirements before travelling to a country? Now you need to be aware of visas, quarantine rules, PCR requirements and vaccinations (single, double, boosted)! Every country has its own rules, and these rules are constantly changing. For the most up to date travel restrictions, I always use Sherpa. 
You can use this website to input your passport issuing country, your departing country, where you are travelling to, and your vaccine status. The website will then give you all of the information you need to know about entry requirements, visas, vaccine and PCR requirements and any additional extras like health forms, apps, or quarantines. 
If you are coming from the UK and are fully vaccinated PLUS boostered, you need the following documents to enter Indonesia:
Proof of vaccine (NHS / COVID certificate)
Proof of onward flight ticket within 30 days
QR code from completion of Indonesian customs form
Proof of download of Pedulilindungi mobile app
If you ONLY have two vaccines (not the booster) then you must show a negative antigen test taken within 1×24 hours or a negative RT-PCR test obtained 3×24 hours prior to departure.
If you ONLY have the first dose of vaccine, you must show a negative RT-PCR test taken 3×24 hours prior to departure.
If you are unable to be vaccinated due to a medical condition, you must show a negative PCR test taken 3×24 hours prior to departure AND a doctor's letter specifying why you cannot be vaccinated.
If you are unvaccinated, you currently cannot enter Indonesia.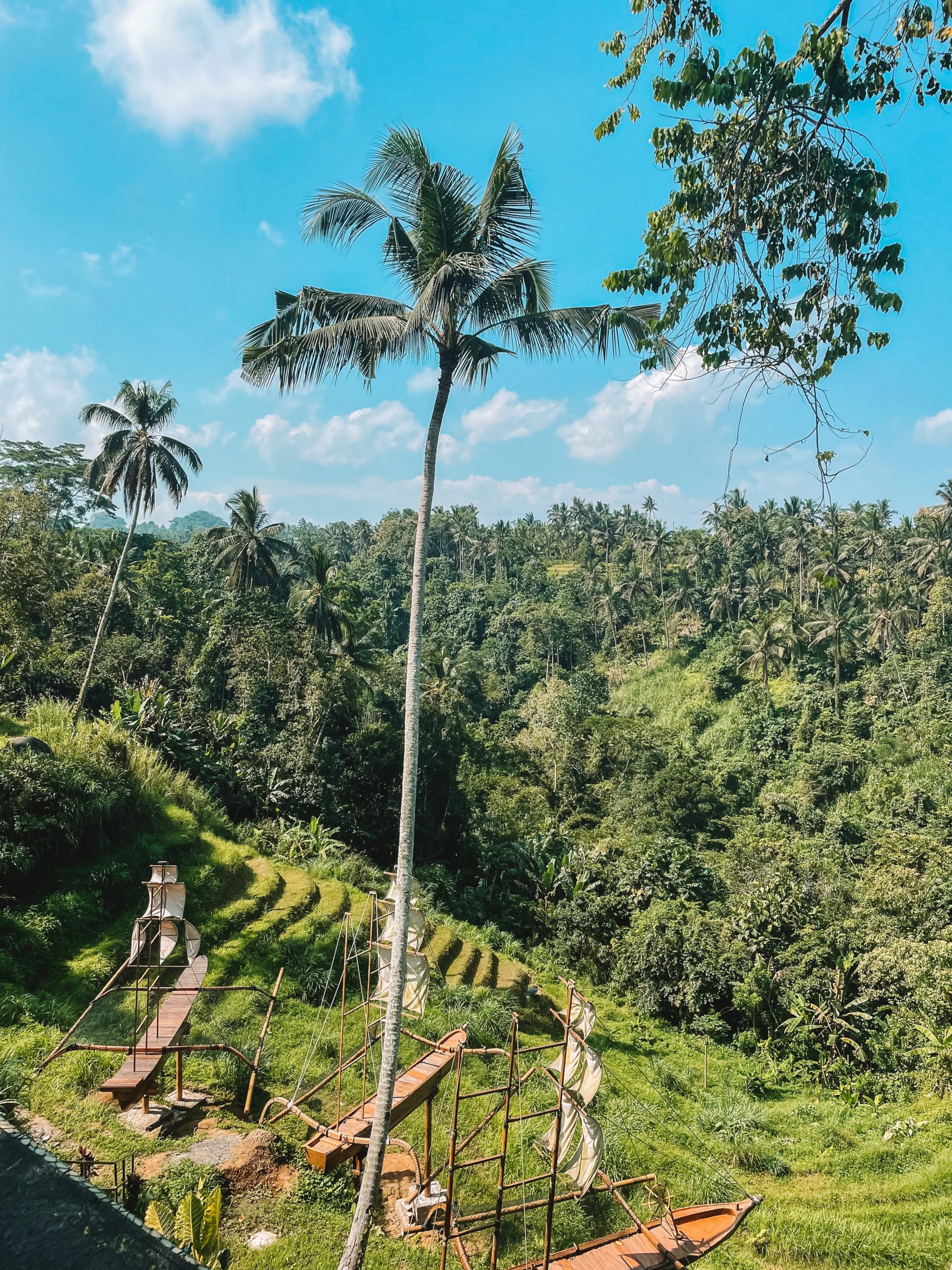 Bali useful to know information
Where is Bali?
Bali is a stunning island of Indonesia in South-East Asia. Popular with tourists, it is known for lush jungles, beautiful temples, beaches, nightlife, incredible food, and much more.
What Religion is practised in Bali?
The main religion in Bali is Hinduism. However, it is a very diverse population, and is actually a melting pot of various religions. Since Indonesia primarily follows Islam, this is another common religion on the island of Bali. Christianity and Buddhism are also practised across the island, although in smaller numbers. 
What Language is spoken in Bali?
As Bali is such a diverse island, you can expect a handful of languages to be spoken across the island. Most locals speak 2-3 languages, which are primarily Balinese, Indonesian and English. 
Currency and Bali exchange rates
The currency used in Bali is Indonesian Rupiah. You can see live exchange rates here: Xe Currency Converter – Live Exchange Rates Today 
Current exchange rates for Bali's currency* 
*(at the time of writing)
1 AUD = 10,408.16 IDR
1 CAD = 11,654.55 IDR
1 USD = 14,995.79 IDR
1 EUR = 15,221.35 IDR
1 GBP = 18,021.61 IDR
Bali time zone
The time zone in Bali is Central Indonesia Time (GMT +8). 
This is the same time zone as destinations like Perth (Australia), Brunei (countrywide), Shanghai (China), Hong Kong, Singapore, Malaysia (countrywide) and Philippines (countrywide). 
Bali weather
The best time of year to visit Bali
Bali enjoys a warm tropical climate year round, which makes it a good destination to visit no matter the time of year. However, you can expect weather to fluctuate slightly throughout the year in terms of humidity, rainfall and temperature.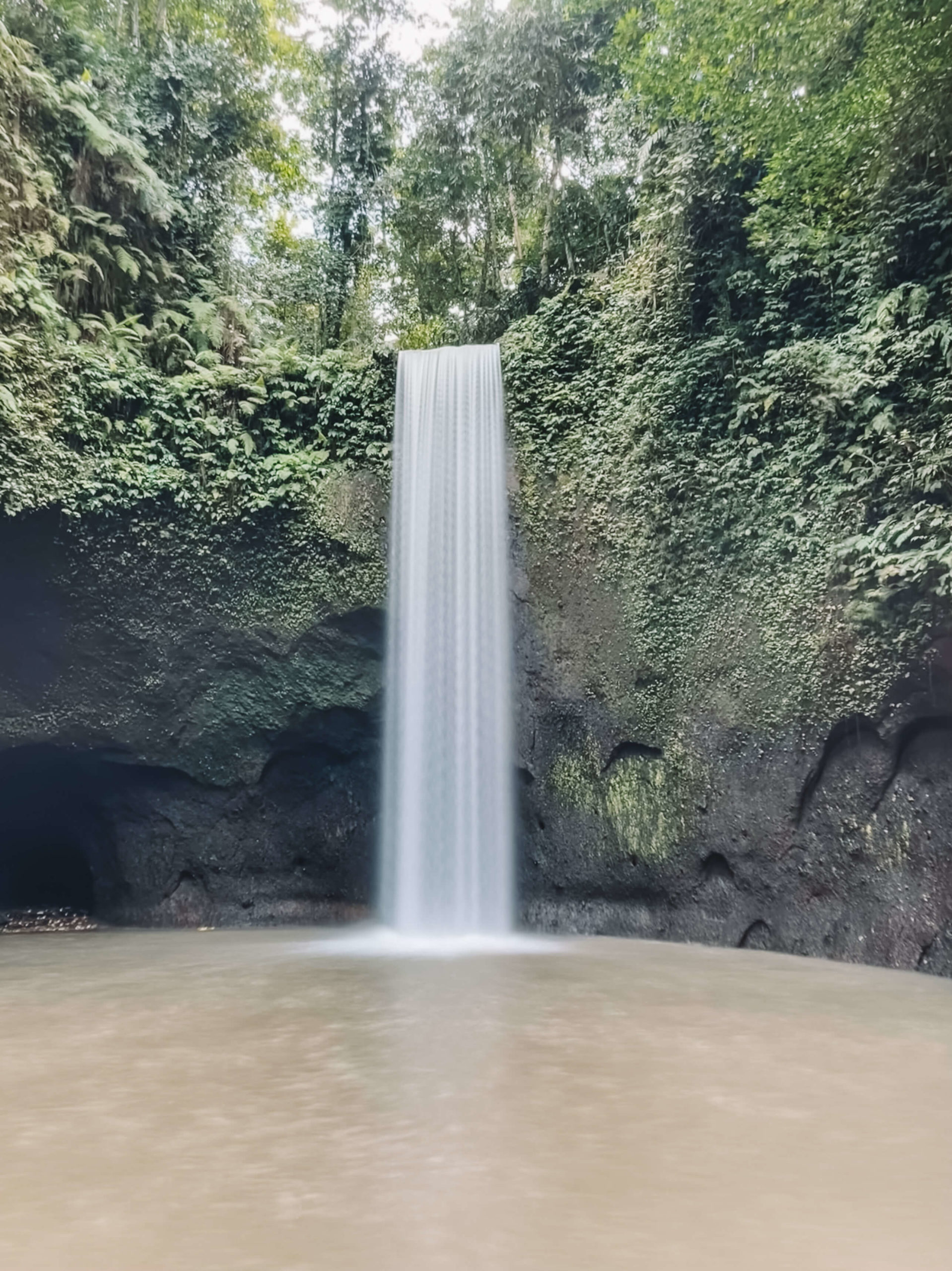 Bali Dry Season: April to October
This is typically the dry season. Although it is mostly dry and hot, you can still expect some rainfall and overcast days.
Bali Wet and Rainy Season: November to March
November to March is Bali's rainy season. However, usually you will experience rainfall for a couple of hours in the morning and a couple of hours in the late afternoon / evening. Aside from this, you can expect sunshine and warm temperatures.
Average Monthly Temperatures in Bali, Indonesia
The average monthly temperature for January in Bali is 27.8°C / 82.1°F
The average monthly temperature for February in Bali is 27.9°C / 82.3°F
The average monthly temperature for March in Bali is 27.9°C / 82.3°F 
The average monthly temperature for April in Bali is 28°C / 82.5°F
The average monthly temperature for May in Bali is 27.6°C / 81.6°F
The average monthly temperature for June in Bali is 27°C / 80.7°F
The average monthly temperature for July in Bali is 26.5°C / 79.7°F
The average monthly temperature for August in Bali is 26.4°C / 79.4°F
The average monthly temperature for September in Bali is 26.8°C / 80.3°F
The average monthly temperature for October in Bali is 27.7°C / 81.9°F
The average monthly temperature for November in Bali is 28.3°C / 83°F
The average monthly temperature for December in Bali is 28°C / 82.2°F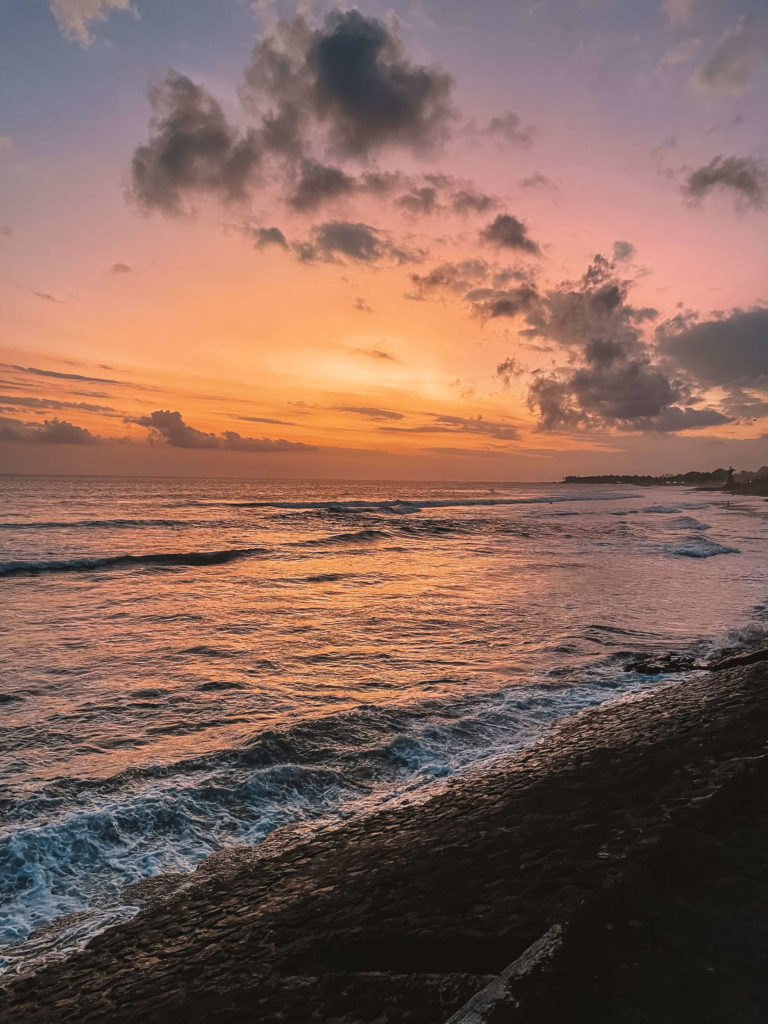 Bali Visas: How long can I stay in Bali?
The length of time you can stay in Bali depends on your passport and the type of visa you hold. Below are the three main categories of visa that are currently available. 
Visa Exempt Travel
Citizens from the following countries can travel to Bali without a visa for 30 days:
Brunei
Philippines
Cambodia
Singapore
Malaysia
Thailand
Laos
Vietnam
Myanmar
Visa on arrival
At the moment, citizens from 72 countries can get a Visa on Arrival (VOA) to visit Bali, Indonesia for tourism purposes. This visa is valid for 30 days from the date of arrival, and can be extended once for another 30 day period. 
B211A Visa
If you want to stay longer, or if your country is not listed on the Visa Exempt or VOA lists, then you need to apply for a B211A visa. This visa is typically valid for 60 days, and can be extended twice for 60 days each time. The maximum length of stay for this visa is 180 days.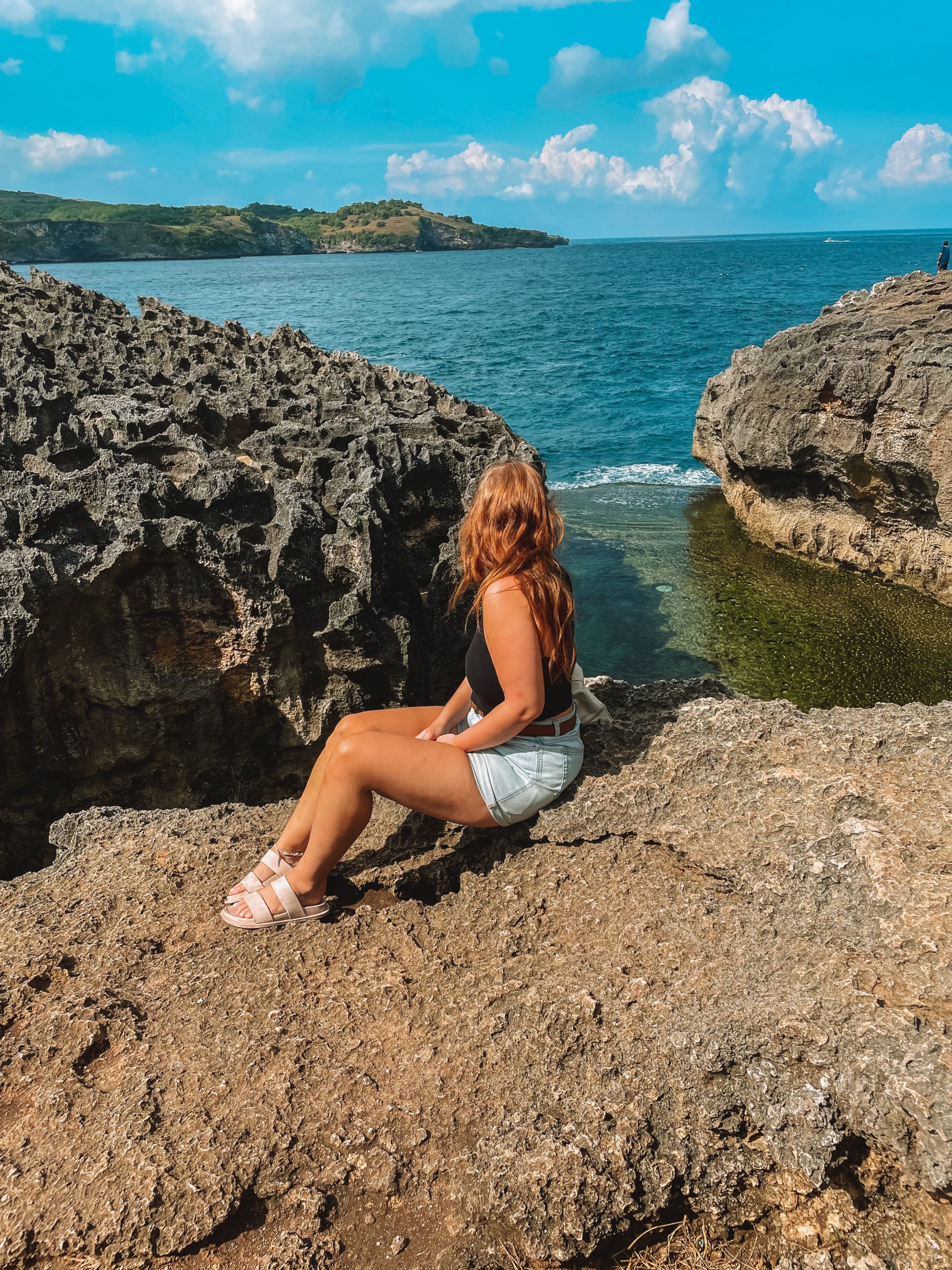 Getting around Bali
Can you get around Bali without a scooter?
Bali's mode of transport is predominantly scooters or motorbikes. As a tourist, it can be a little daunting to drive a scooter yourself. Luckily, it is very easy to get around Bali without a scooter. You can use apps like Gojek or Grab (Indonesia's version of Uber) to request taxis, or motorbike rides where you can sit on the back instead of having to drive yourself. There are also plenty of reliable drivers around Bali. My friend Andi is my go to driver in Bali – you won't just get a great tour guide and driver, but also a new and dear friend. 
Travelling to Islands near Bali 
If you want to explore other islands during your trip to Bali (which you definitely SHOULD), it is very easy to get to them.
Bali to Lombok
Lombok is a lovely island to visit, as it is very similar to Bali but with much fewer tourists! There are a few different ways to get from Bali to Lombok:
Fly from Denpasar to Lombok: Flight duration is 40 minutes (average price $42 or 635,000 IDR)
Fast boat from Bali to Lombok: duration 1.5 – 3.5 hours (average price $20 or 300,000 IDR)
Slow boat from Bali to Lombok: duration 4 – 8 hours (average price $4 or 635,000 IDR)
Bali to Nusa Penida
Nusa Penida has gained popularity among tourists in recent years thanks to iconic Instagram spots such as Broken beach and Klinglking beach viewpoint. You can get to Nusa Penida by boat, daily from Sanur, Bali. 
The speedboat from Bali to Nusa Penida takes between 30 minutes – 1 hour and costs roughly $10 each way
Bali to Gili islands
The Gili islands are backpacker heaven, where you'll be spoilt for white sand beaches, crystal blue seas, snorkelling and diving and even better – no cars and motorbikes! The three islands each have their own thing to offer, with Gili Air and Gili Meno offering a more chill vibe, and Gili Trawangan offering the party scene. The islands are in very close proximity to one another, so you can get the same ferry to all three islands from Bali. 
Fast boats to the Gili islands typically take 1.5 – 2 hours from Bali. Prices start from roughly $20 each way.
The ferries will usually stop at Gili T first, then Gili Meno and finally, Gili Air. 
No matter which island you are planning to visit from Bali, you can purchase all ferry tickets in advance online using 12go Asia.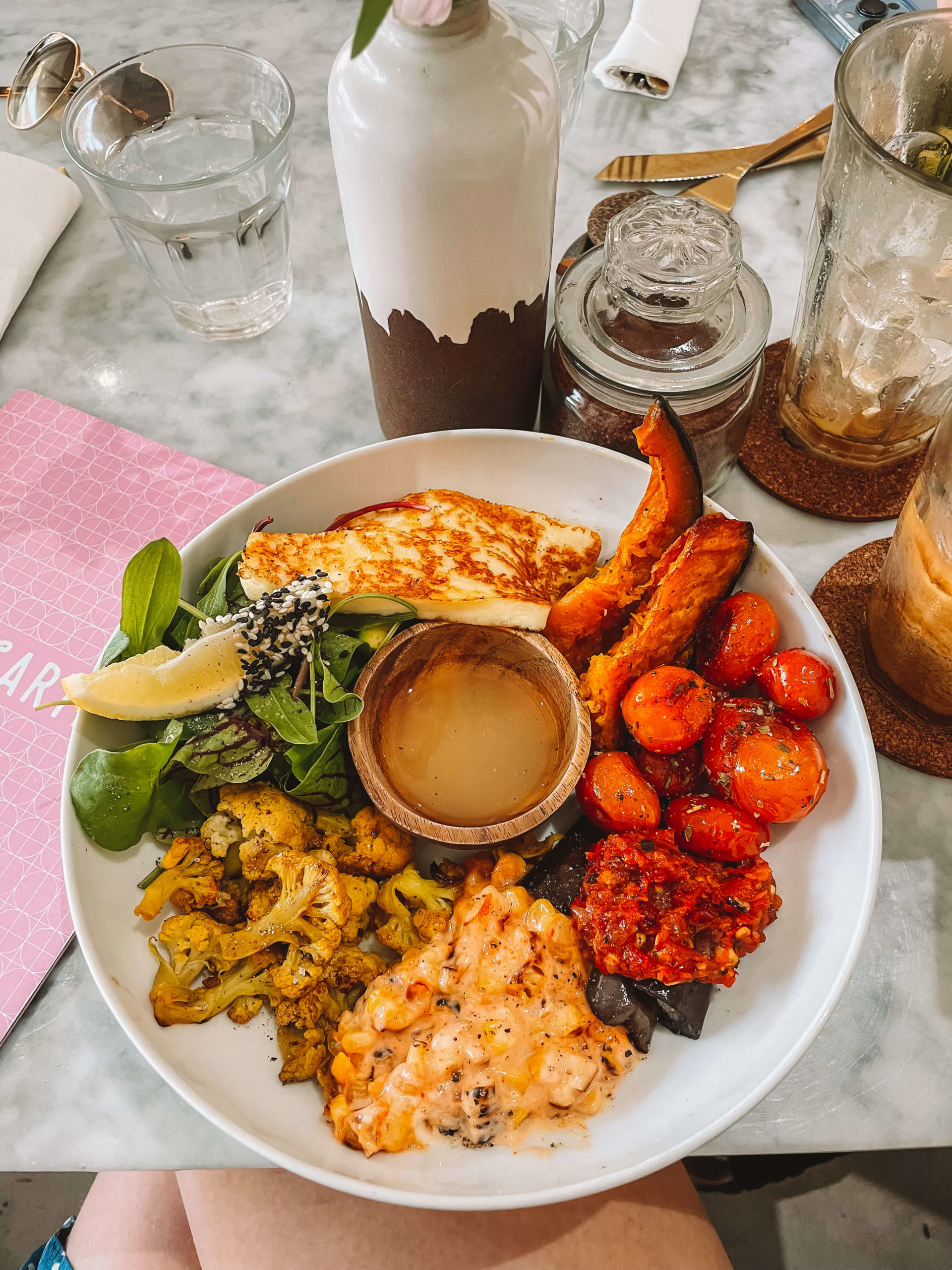 Bali Travel Itinerary
I have written a number of separate posts for Bali itineraries, which can be found at the following links: 
Bali for a week [coming soon]
Bali for 2 weeks [coming soon]
Bali for a month [coming soon]
Bali food
Indonesian food is one of my favourite cuisines. As with most Asian food, it is packed full of flavour with the occasional punch of spice. You can expect lots of grilled meats, rice, noodles and vegetables with every meal. If you're a vegetarian like me, or even Vegan, then don't panic. The food in Bali is very well-versed for those with dietary preferences and restrictions. 
Some of my favourite Indonesian dishes include Nasi Gorgen, Mie Goreng and Gado Gado. 
You may also like: The best brunch cafes in Bali, Indonesia
Where to stay in Bali
Choosing where to stay in Bali will entirely depend on what you want from your trip. Depending on how long you are staying for, I would recommend not staying put in one place for the entire trip. Instead I would move around to see more of the island, plus neighbouring islands like Lombok, Nusa Penida or Gili T. However, if you would prefer to have a base, Bali is small enough that it is easy to get around for day trips to other parts of the island. Each neighbourhood has its own benefits, so I've outlined some of the more popular places to stay below.
Seminyak
First is Seminyak. Seminyak or Kuta are close to the airport, right by the beach and offer fantastic nightlife options. It is a tourist-heavy area, so you can expect lots of restaurants and bars that are catered for visitors, and lots of opportunities for shopping. 
Canggu
Secondly, Canggu is expat central, and set in a beautiful area right by the beach but surrounded by lush rice paddies. Despite being a haven for visitors and western expats, Canggu does feel a little more like authentic Bali compared to Seminyak or Kuta. Here you will find a great mix of local and western dining options, beach clubs and surf schools. 
Ubud
Thirdly, Ubud is the cultural centre of Bali. Located in the centre of the island, away from the beaches and the madness of places like Seminyak, here you are surrounded by nature. This is the ideal location for those who want to relax, do plenty of yoga or meditation, and be at one with nature.
You may also like: The best things to do in Ubud, Bali
Ulutwau
Finally, Uluwatu is located at the southern west corner of the island. About an hour's drive from Seminyak, here you will find arguably some of the best beaches in Bali. The sand is whiter and the water is clearer than the beaches of Seminyak or Canggu. It's another popular surf spot, and up and coming with expats in recent years. Despite this, Uluwatu has a much more chill vibe than Canggu.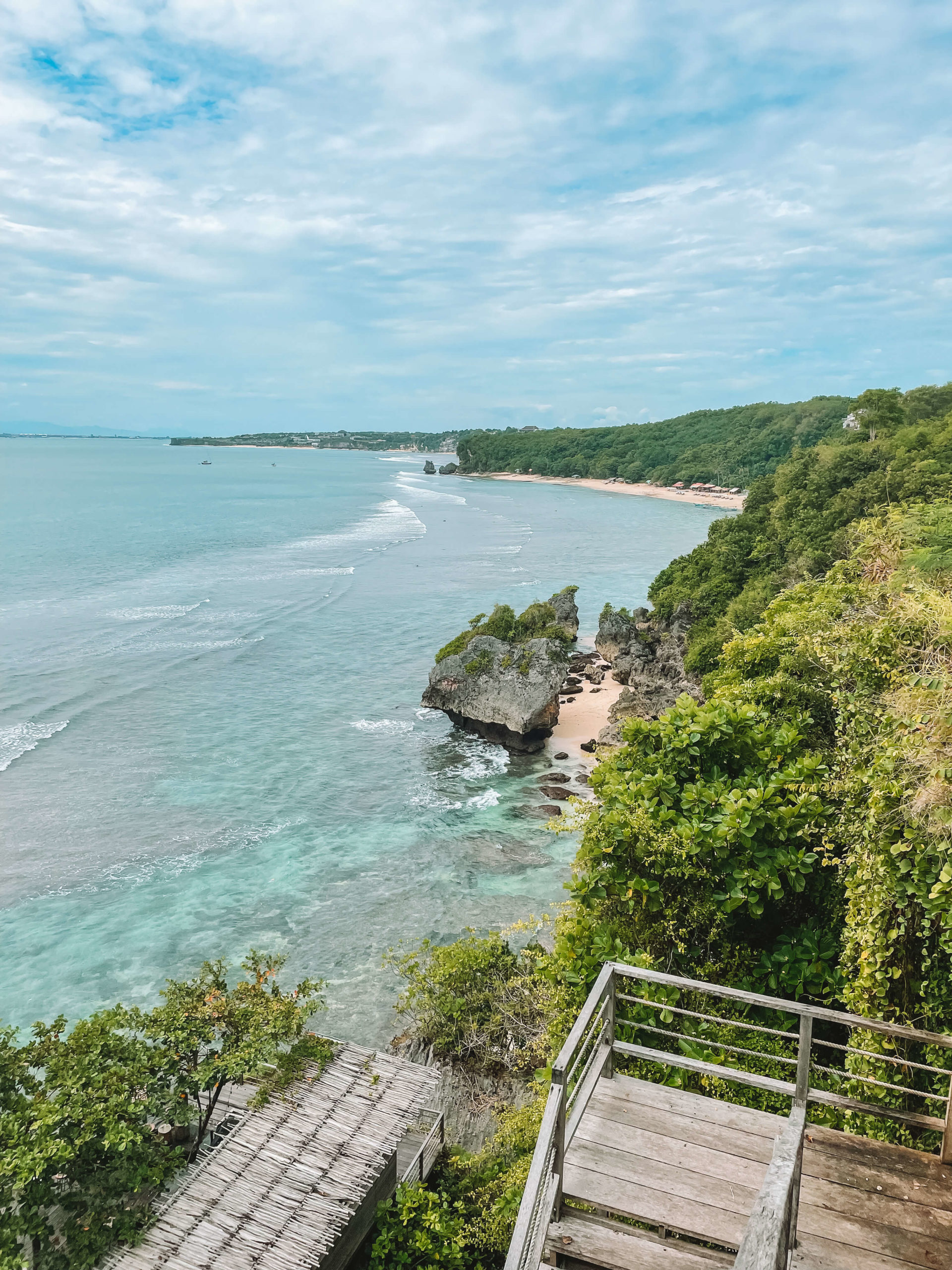 Popular Questions about Bali Travel: Answered!
Are Bali and Thailand Similar?
No. Although Bali does share some similarities with its South East Asian neighbours, Bali is truly like nowhere else you will visit (for great reasons)!
Are Bali beaches clean / are Bali beaches nice?
Bali's beaches are varied. In areas like Seminyak and Canggu, the beaches are okay but they are not particularly special to look at. Head south to Uluwatu to find some of the better beaches in Bali, where the sand is whiter and the sea is more blue. For even better beaches, head to neighbouring islands like Nusa Penida or the Gilis. 
Are Bali borders open?
Yes! After a long stint of borders being closed due to the pandemic, Bali has re-opened itself for tourists who are vaccinated. 
Which Bali island is best?
There is only one Bali island! However there are nearby islands that are definitely worth visiting. These include Lombok, Nusa Penida, Java and the Gilis. 
Which Bali airport to fly into?
You will fly into (Ngurah Rai) Denpasar airport (DPS).
Is Bali back to normal?
What even is 'normal' these days? Jokes aside, the island has opened its borders and is seeing its first busy season of tourists since before covid. As of July 2022, it is very busy and the island appears to be returning to pre-covid levels. On the island, little covid restrictions remain, apart from masks being required in some spaces.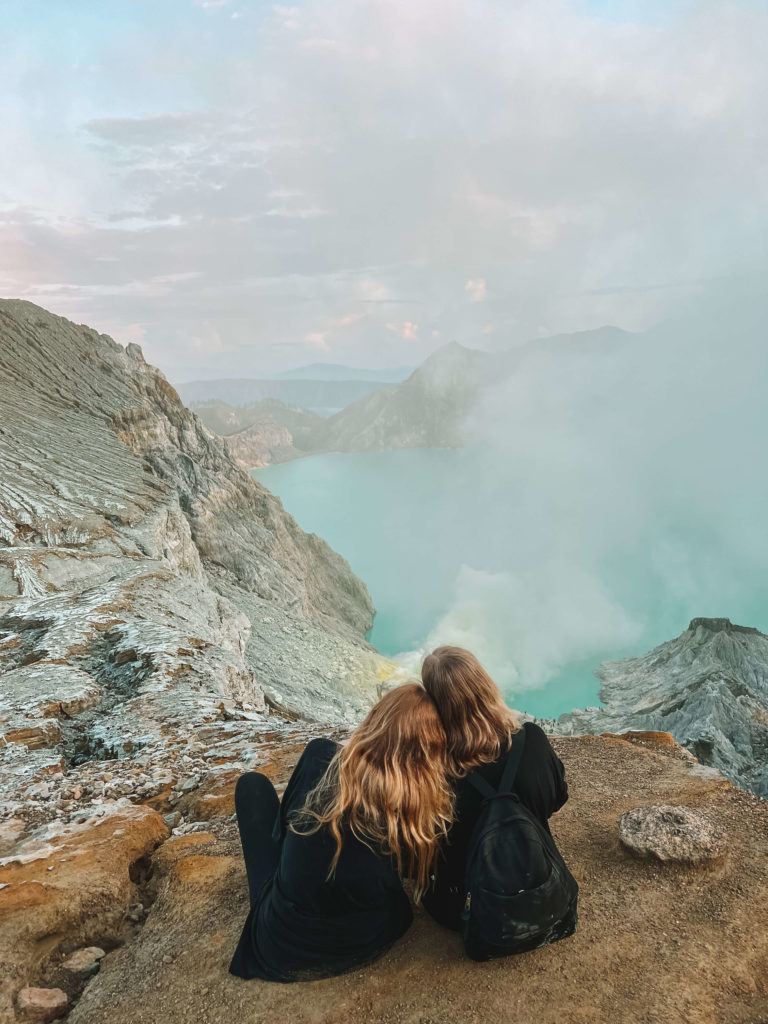 Is it possible to travel to Bali without a vaccine?
For unvaccinated travellers, it is best to check before booking your travels. You can check requirements here. Currently, unvaccinated travellers must present a negative PCR and complete quarantine on arrival. 
Is it possible to travel to Bali without quarantine?
If you are fully vaccinated, then there are currently no quarantine requirements for travelling to Bali. 
Is Bali safe?
Yes, Bali is a safe destination to travel to. Having travelled there solo myself, I have not experienced any safety issues. However, as with any destination, you should be careful with your belongings, being alone at night (especially women) and always wear a helmet on scooters! 
Is Bali cheap / Is Bali expensive?
Bali is becoming an increasingly popular travel destination and as a result, it does appear to be getting more expensive (particularly compared to when I visited back in 2017)! However, like any destination, it can be as cheap or as expensive as you make it. 
Accommodation is still wildly cheap throughout Bali, with hostels at as little as £5 a night, however it is still possible to splash out on luxury hotels and resorts if that's what you prefer. Similarly, you can eat out at Warungs (local restaurants) for under £1, or you can dine at western restaurants for £5-£10 per meal. However, if you're looking to visit Finns, Savaya, Potato Head or any of the other beach clubs in Bali, then be prepared to spend. Most of these have minimum spends of at least 500k (roughly £30) per bed, so frequent visits can rack up your spending! 
It really depends on what you prefer and what your budget is, but it is definitely still possible for Bali to be cheap!
Final thoughts on travelling to Bali, Indonesia
Bali is where my heart lives. I love everything about this island, from the people, the nature, the food and the culture, to its madness. Whatever you are looking for, I am confident you will find it in Bali and have the trip of a lifetime! If you are looking for even more information on Bali, then you can browse my other Bali travel guides.