The Spanish island of Ibiza is one place where sunsets seem unmatched. Every evening we were there, we would watch the sky turn incredible hues of gold and pink as the sun set into the horizon. For that reason, watching the sunset with friends or lovers is a popular event on the white isle, and there are plenty of places that cater to this. Here are some of the best places to watch the sunset in Ibiza.
The best bars and restaurants to watch the sunset in Ibiza
Is there anything better than eating dinner or sipping on a cocktail or refreshing beer whilst watching the sun go down? Luckily there are lots of great bars and restaurants in Ibiza that are the best for watching the sunset.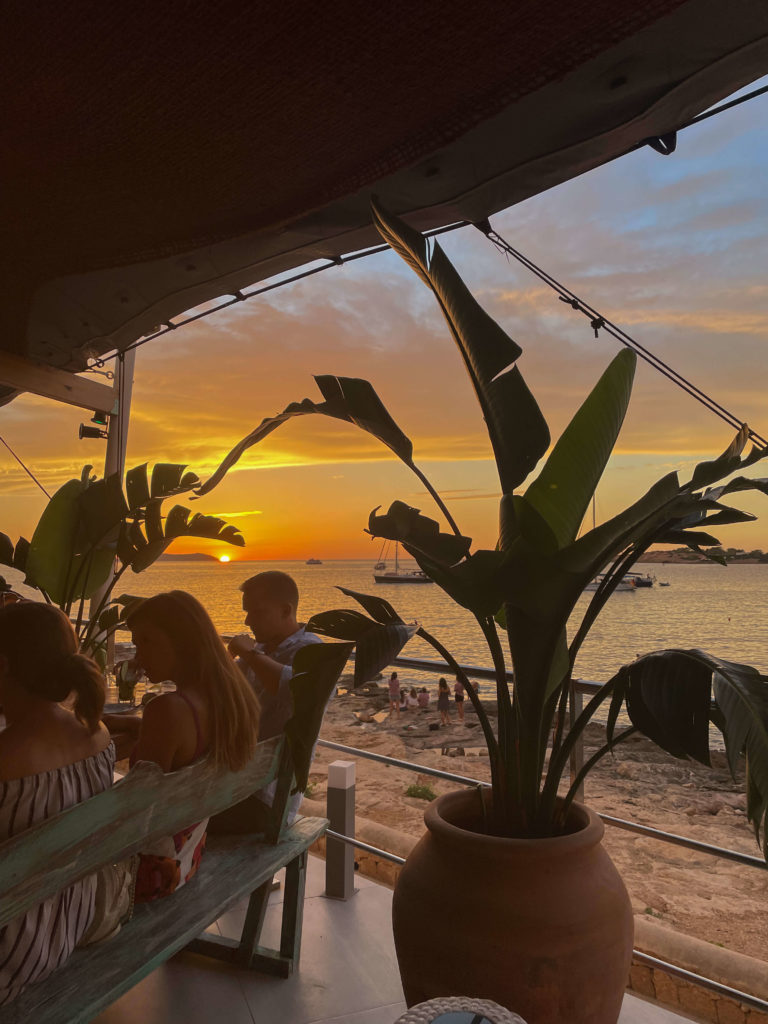 Kasbah
If you're wondering where to watch the sunset in Ibiza without an expensive price tag, then look no further. Kasbah is located in San Antonio and is a gorgeous terrace restaurant serving the delicious taste of Spain, tapas food and a variety of main dishes. They have a good selection for vegetarians and vegans, and the food is delicious. Their alternative take on patatas bravas was my favourite!
Cost: £
Location: Carrer de la Soledat, 68, 07820 Sant Antoni de Portmany, Illes Balears, Spain
Website: https://www.kasbahibiza.com/
WikiWoo
WikiWoo has gained a mass following on social media, thanks to its eclectic decor, neon lights, disco balls and general 'instagrammable' vibe. It's the perfect place for a girly dinner, with a DJ on the decks as you dine on their standard menu, or their bottomless prosecco set menu. One of the most popular sunset bars in Ibiza, you'll be treated to a spectacular view across the bay as the sun sets into the horizon.
Cost: ££
Location: Carrer Ponent, 14, 07820 Sant Antoni de Portmany, Illes Balears, Spain
Website: https://www.wikiwoohotelibiza.com/eat-and-drink/
Kumharas
If you're looking for something a little more laid back, then Kumharas is a great option. Also located in San Antonio behind the Grand Paradiso hotel, this seafront venue hosts a bar, small market stalls and a small selection of food vendors including Asian and Mexican cuisines. On some evenings they also have live music, which makes it the perfect spot to watch the sunset in Ibiza. 
Cost: £
Location: Carrer de Lugo, 2, 07829 Sant Josep de sa Talaia, Illes Balears, Spain
Website: https://kumharas.org/
Cafe Mambo
Possibly one of the most famous locations in Ibiza to sip on some sangria whilst watching the sunset. Cafe Mambo boasts an incredible food and drinks menu, and thanks to its ideal location perched on the rocks on the edge of San Antonio is arguably the most popular sunset bar on the island. This place gets fully booked extremely quickly, so if you do want to watch the sunset at Cafe Mambo Ibiza, it is best to book well in advance!
Cost: £££
Location: Carrer Vara de Rey, 40, 07820 Sant Antoni de Portmany, Illes Balears, Spain
Website: http://www.cafemamboibiza.com/
Savannah
Savannah restaurant calls itself 'the home of the sunset', which given the calibre just on this list, is a bold claim. Serving international Asian food and a plethora of different cocktails to satisfy any taste buds, Savannah is a great option if you want to grab dinner whilst watching the sunset. 
Cost: £££
Location: Carrer del General Balanzat, 38, 07820 Sant Antoni de Portmany, Illes Balears, Spain
Website: https://www.savannahibiza.com/
You might also like: A girls weekend guide to Ibiza, Spain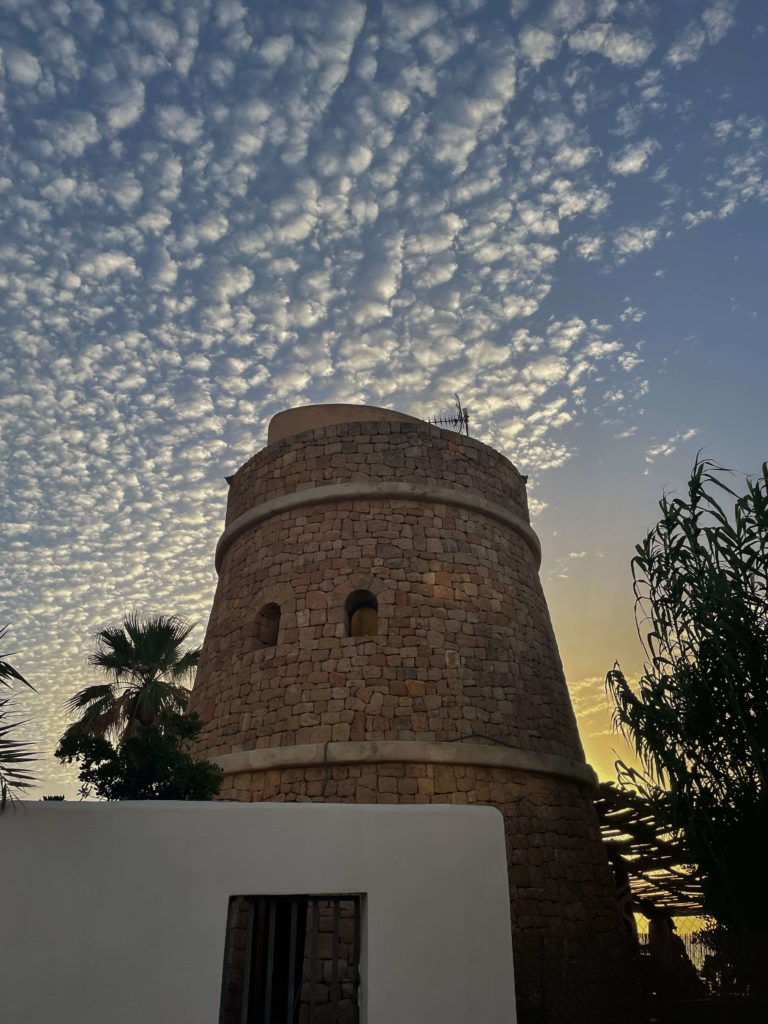 Other top places to watch the sunset in Ibiza
If you prefer to do as the Spanish do, and eat at a later time, there are still lots of magical places to watch the sunset in Ibiza. These include viewpoints, and various beaches dotted around the coast of the island. 
Es Vedra viewpoint
Es Vedra is actually a small rocky island just off the coast of Ibiza. The island is uninhabited and shrouded in many myths and legends. The island is rumoured to be magical, home to the sirens of Greek mythology and the third most magnetic place on Earth. You can make up your own mind about the myths, but one thing there is no doubt about, is that the viewpoints of Es Vedra in Ibiza are incredible places to watch the sunset.
Location: Mirador, hippie cave, Torre de Savinar and Atlantis – (Park your car and walk until the cross-road just behind the fence that you see from the parking lot)
Benirrás Beach
Located in the north of the island, Benirrás Beach is a snug cove, famous for its pebble-sand beach and crystal blue sea. This boho-vibe beach is also known for its spectacular sunsets, making it one of the perfect spots to watch the sunset in Ibiza.
Cala Conta
Cala Conta, also known as Cala Comte, is one of the most popular beaches in Ibiza. Its stunning landscape offers white sand and turquoise waters mean that during the height of summer, you will find it bustling with tourists. For this reason, the beach is best visited early in the day, or early evening in time for sunset.
Es Codolar Beach
Located in Playa D'en Bossa, Es Codolar Beach is not the prettiest beach in Ibiza, although it is the island's longest stretch of beach. It is one of the least frequented beaches in Ibiza by tourists, mainly due to there being much nicer beaches on the island. However, it is right under the flight path, which makes it a unique spot in Ibiza to watch the sunset. 
Las Salinas Beach
Las Salinas is possibly one of Ibiza's most iconic beaches, located in the southern tip of the island and surrounded by a protected nature park. At certain times of the year, it is also home to hundreds of flamingos who frequent the salt lakes in the area. This long stretch of glistening sand and equally beautiful blue waters, is a firm favourite among tourists to Ibiza, both for suntanning, relaxing and watching the sunset. 
Where to stay in Ibiza?
San Antonio is the popular coastal town in Ibiza for holidaymakers and partygoers. If you're looking for somewhere fun and vibey, then I highly recommend the concept chain hotels! We stayed at Romeos Motel and Diner which was quirky, fun and the perfect vibe for a girl's weekend in Ibiza!