If there's one thing I do in every country I visit, it is enjoy as many of the brunches and coffees that the destination has on offer as possible! And the island of Bali in Indonesia is without doubt one of the best brunch destinations I have ever visited. On my most recent visit back to Bali (I have spent a lot of time here and have quite a selection of Bali Travel Guides on this blog), I actually stayed in Uluwatu, rather than my regular 'home' in Canggu. Uluwatu is the south western tip of the island, and has a whole range of brunch cafes that I was eager to try!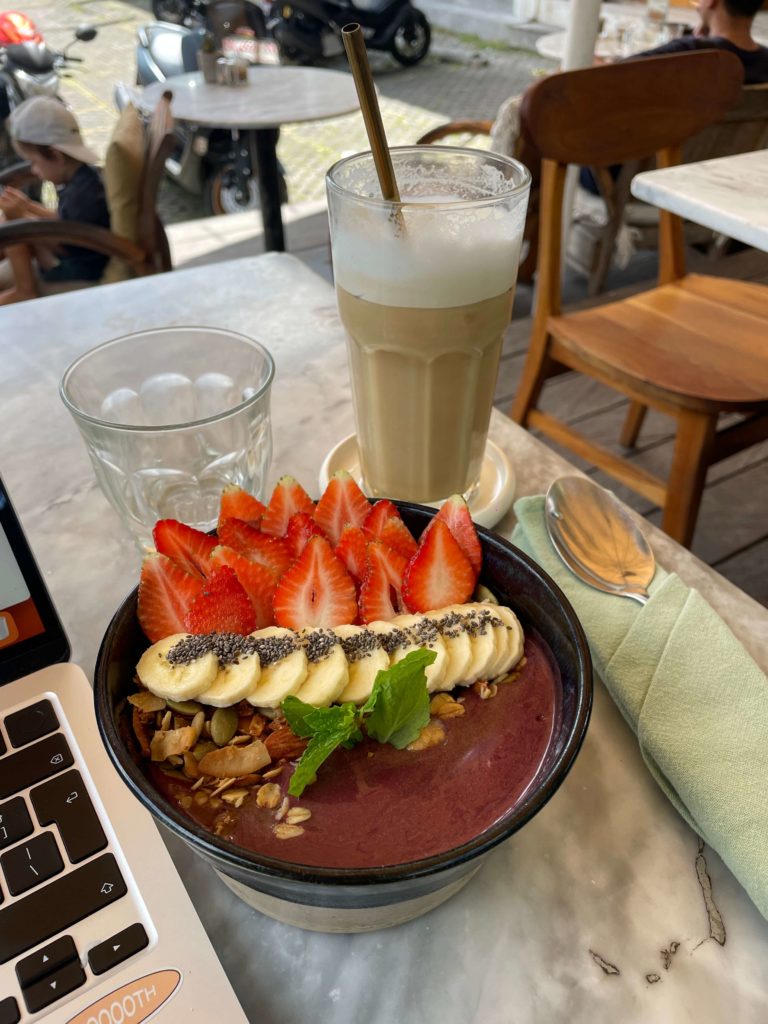 The best brunch cafes in Uluwatu, Bali
Alchemy
This breakfast spot is really popular with the expat crowd. Known for being an entirely vegan raw food cafe and juice bar, it's also a vegan culinary school. They also have a cool 'create your own' breakfast bar, which is a great option if you don't know what you are in the mood for! They also have a lovely open plan space with an adjoining concept store. My only wish for Alchemy is that they did oat milk, as I'm not a huge fan of almond, coconut or soya in my coffees!
Nourish
Whether you visit the Uluwatu or Canggu locations, Nourish is always a good time. I personally prefer the Uluwatu spots – of which there are two – I don't know why, I just find them a lot more chill (as is the whole vibe of Uluwatu, really). The iced coffee at nourish is always great, and I love the Eggs benny.
Drifters
Drifters is located just round the corner, a stones throw from Nourish. It's got a great menu and a lovely outdoor setting as you head through to the back of the main shop. Just remember to bring mosquito repellent as they can be a bit relentless, especially on humid and stormy days! I love the bakery items at Drifters, especially the almond croissant.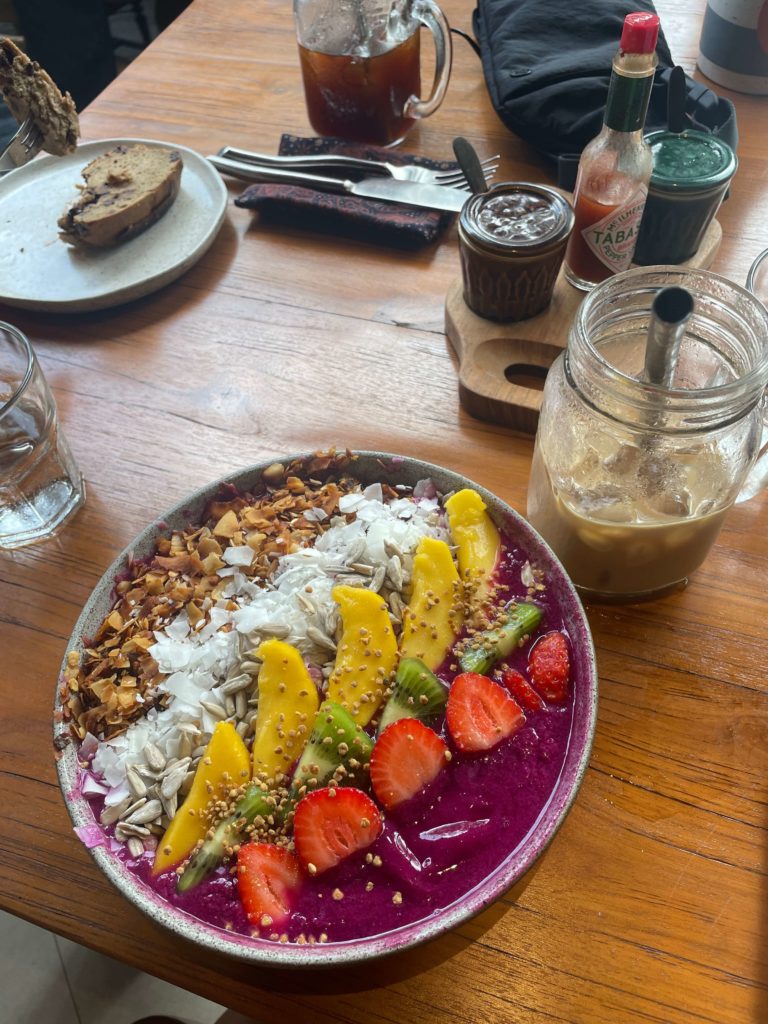 The Loft
I frequented the Loft quite a few times throughout my Bali stays, mainly because the menu is delicious but also because its a great place to work from. The breakfast menu has plenty of options and the wifi is really good. They also stay open fairly late too, and so if you have some late night work to get done, then its a good dinner and work spot.
Tarabelle
I ate at Tarabelle more times than I'd care to admit to be honest. It was my staple Gojek order for an iced coffee whilst working at my homestay, and their doughnuts are also incredible (especially the biscoff, and boston creams)! I also ate here a few times and the Kimchi bowl is honestly so good! I mostly ate takeaways from Tarabelle, however I did actually go to the cafe to eat once or twice too, and it's got a really lovely relaxing interior despite being on the main road.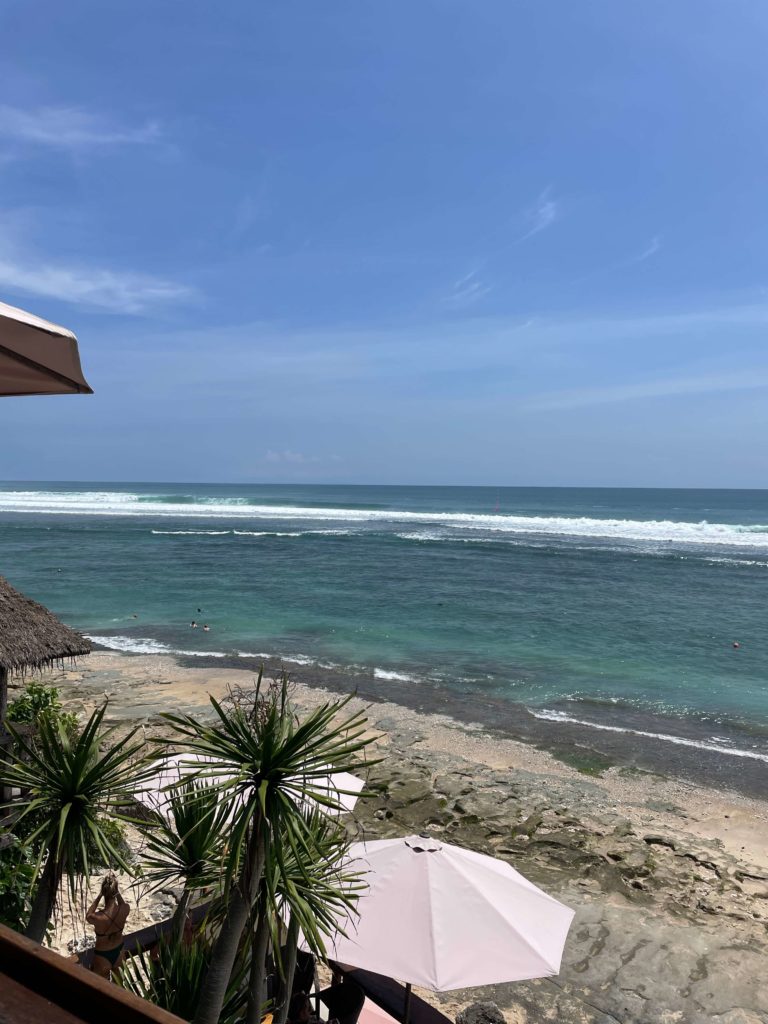 Kelly's Warung
Kelly's Warung is a staple among tourists and visitors to Uluwatu. Located perched on the cliffside of Bingin beach, it's a popular spot not only for its food options, but also for the incredible views of the beach below and out to the ocean. If you think it's beautiful in the day, just wait until you visit at sunset!
You might also like: A Guide to Visiting Uluwatu, Bali