Before leaving indefinitely for Australia, I was itching to explore a bit more of Europe while I still could! Getting itchy feet, and feeling sick of the constant rain that was gracing the UK this 'summer' I headed to skyscanner and booked a last minute flight from London to Bucharest. With little expectations and knowledge of Romania, I was very excited to visit a brand new country and explore the city of Bucharest. What I discovered is that this city really does have so much to offer its visitors. Below are some of the best things to do in Bucharest, Romania!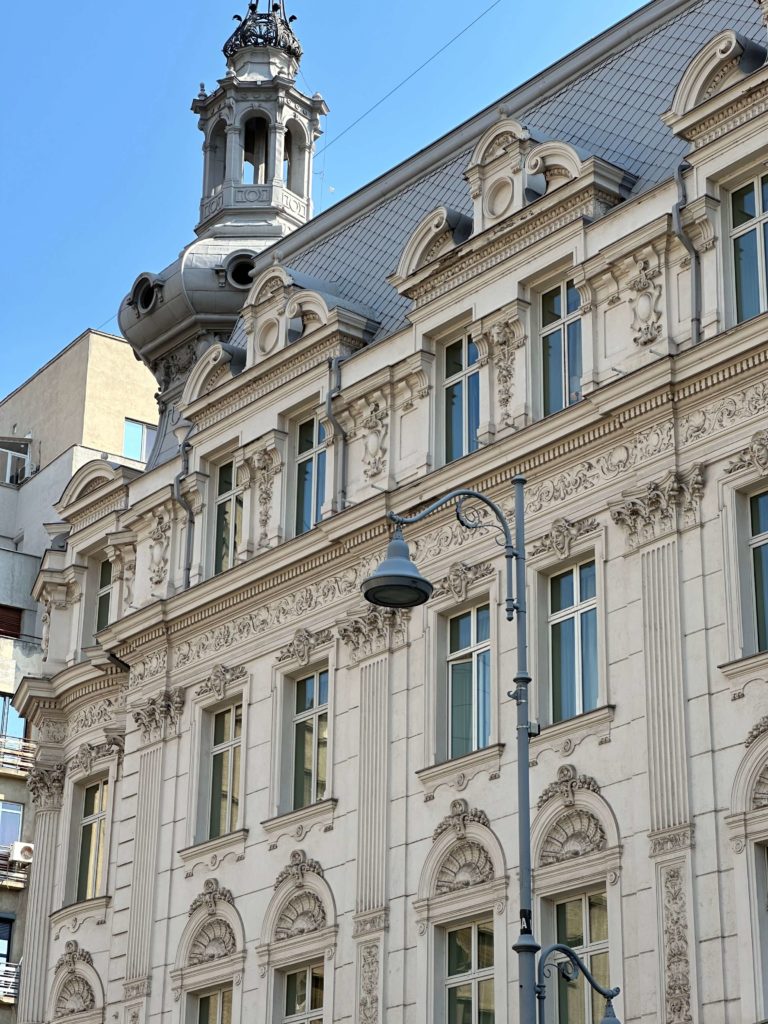 Top tips for visiting Bucharest, Romania
Before we get into the best things to do in Bucharest, here are a few handy tips that I noted down during my visit.
Cash vs. Card
While you can pay by card pretty much everywhere, including restaurants, shops and the metro system, there were a couple of instances where cash was needed. I would recommend withdrawing a small amount (around 200 lei should be fine) for emergencies and tips!
The mornings start slowly
Bucharest is a sleepy city! While it has an incredibly bustling nightlife, I found that in the mornings not much opens until 9 / 10 am at the earliest! Even in the tourist hotspot of the old town, some cafe's didn't open til as late as 11am! So for those who love a lay in, don't worry – there's no need to get anywhere too early. And for those who love to explore and photograph sites while they are quieter – this is your time to shine. 
Language barrier
I didn't experience a language barrier when visiting Bucharest! While some of my uber drivers were on the quiet (see: silent) side, I didn't have any trouble speaking to or ordering things in English. Saying this, I do like to learn some of the basics before visiting a country, out of politeness! Here are some that will earn you a smile:
Hello: "Salut." (sah-LOOT)
How are you?: "Ce mai faci?" (chey my FAHTCH)
Thank you: "Mulţumesc" (mool-tzoo-MESK)
Please: "Vă rog" (vuh ROHG)
Where to stay in Bucharest
Weirdly, when I was browsing accommodation options when booking my trip to Bucharest, I didn't see many hostels available. Perhaps they were just full, as I was travelling in the peak of summer! 
I ended up booking an apartment located right by one of the parks, and about a 5 minute walk from the Old Town, and it was perfect! It has a lovely sized bathroom with a washing machine, a full kitchen and even a TV with netflix!
Here is the link for the apartment, if you are looking for somewhere cosy, comfortable and convenient to stay in Bucharest!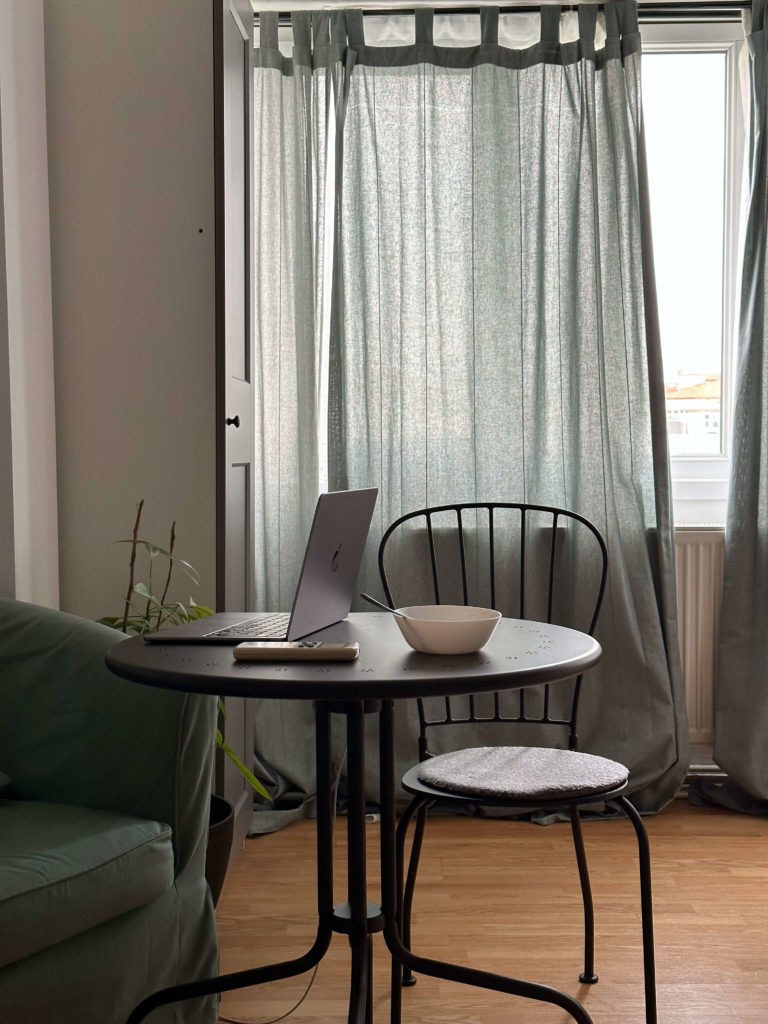 The best things to do in Bucharest, Romania 
Explore the old town 
This is usually my first stop on any visit to a European city! Bucharest's old town is arguably one of the more beautiful areas of the city, albeit small. It's easily walkable in half an hour, so it won't take you very long to explore it by foot if you are just going for a wander. It's worth noting that not much opens until around 9 am, so no need to get there early! One thing I also found strange was how quiet the Old Town was! As a general 'tourist hub', it was really quiet until the evening time! There are a few things to do in Bucharest Old Town, which I'll go into more detail below, but it's also where you'll find plenty of restaurants, bars, cafes and shops.
In general, Bucharest is very walkable. If you want to learn all about Bucharest's (and Romania's) history while you explore the city, then there are tons of guided walking tours available on Get Your Guide!
Carturesti Carusel bookshop
Located in the old town, just down from its main crossroad, is Carturesti Carusel. This is a book store which has become popular due to its stunning interior! I think it has probably gone viral on Instagram thanks to its neutral aesthetics. I can't deny it, it is really pretty. Probably one of the prettiest bookshops I've been to, at least. But, it's definitely one of those places which has been overhyped by instagram – it really is just a book shop! That being said, the prices were very reasonable, so it did take all my strength not to fill up my hand luggage with new books purchased from here! You definitely won't need long here, but if you're passing through the Old Town, it's worth stopping by to see what all the fuss is about!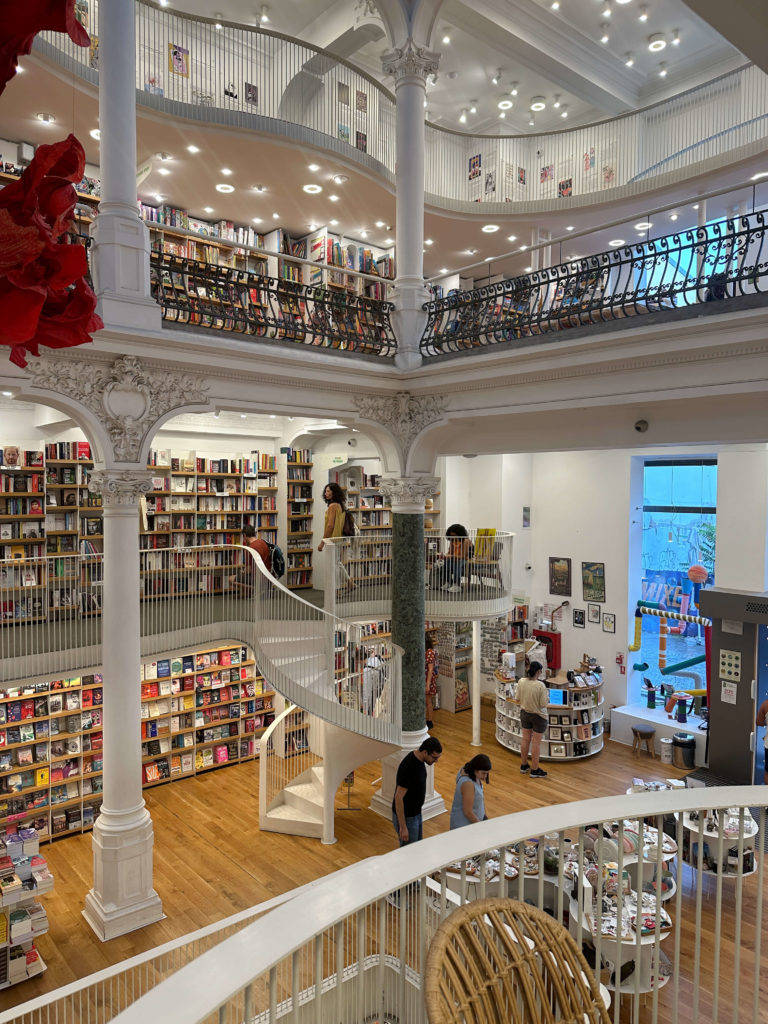 Grădina Cișmigiu 
Cismigiu park was probably my favourite place in Bucharest! I mean, it was incredibly convenient as my apartment was located at the edge of the park. But it is also a lovely park to walk around, go for a run or sit and relax. The park itself is completely flat, with a nice pond in the middle where you can hire pedalos and rowing boats. There are also a few cafes dotted around the park too. In the evenings, the park came to life with people enjoying the late summer sunshine with family and friends. One thing I will say though, is that there are SO many pigeons in this park! The staff do an incredible job of jet washing the benches nearly every morning, but if you're scared of birds you might choose to avoid the park!
Therme Bucharest 
Tickets and price
One of the most popular things to do in Bucharest, is a visit to the famous spa, Therme. Therme București is the largest wellness and relaxation centre in Europe, as well as being home to Romania's largest botanical garden. Tickets for Therme vary depending on which area you'd like to access, and how long you plan to stay. I got the 4.5 hour ticket to all areas, which cost 130 lei (approximately £22.90). 
Amenities
Once you are through the entry, you will be required to change and shower. Remember to bring clean indoor flip flops – you won't be allowed into the spa without these! You can purchase some from the front desk, along with a robe, towel and slippers if you want to. They will also give you a numbered locker key, which is an electronic wristband that also serves as your 'tab' in case you order any food, drinks or treatments whilst inside the spa. The balance is settled when you come to leave. 
Facilities at Therme
The spa itself is huge, and a little overwhelming, to be completely honest. The inside downstairs is a huge indoor pool area, with sunbeds, bars, smaller spa pools, electric massage beds and a restaurant area. You can head to the left and round the corner as you come through from the changing rooms to get to the second indoor area – I didn't go in here, but it was a huge area with wave pools, slides, etc, so great if you are visiting as a family. Upstairs, there is a big outdoor decking area, an Asian cuisine restaurant, saunas, more spa pools, a bar, treatment areas and UV sunbeds. You can also head outside, where they have more pools, bars, and a huge beach area with another pool. Honestly, the place is massive!
I spent about 3 hours here, and then headed back – mainly because I visited in the evening and so I couldn't get any treatments, and I think the evening vibe of the place felt better suited for groups, rather than solo travellers! However, it was very easy to get to from central Bucharest. I got an Uber there and back, which took about 30 mins each way and cost 70 lei each way (roughly £12). There is a dedicated bus service that runs from the city too but I was short on time, and I believe the bus takes around 45 minutes.
National museum of Art
Whether you're an art enthusiast or not, the National Museum of Art is a good place to visit, both for learning more about Romania, and admiring its beautiful architecture. The museum is open from 10-6 daily, and tickets can be bought in the European Art Gallery (the entrance on the left as you come in the main gates). 
If you've already watched my bucharest vlogs then you'll know that when I visited they were only accepting cash payments – so best to have some cash on you ready!  The entrance fee was 60 lei (roughly £10.30) for entry to everything, or just 20 lei (£3.50) for only the National Museum of Art. 
If you're pressed for time, you can skip the European art gallery! It's nice, but there's nothing spectacular there. Instead, the National museum of art focuses specifically on Romania and so you get to see a bit more about the country's history. There is a lot more on display here and there is also a modern art section. Unfortunately I didn't have enough time to visit the modern art section! 
King Mihai I Park (Herastrau) Park 
One of the most beautiful parks in Bucharest, Herastrau Park is quite north of the city, but still really easy to get to. Just head to Universitat near the Old Town, and catch the M2 metro line to Aviatorilor. The journey is just 3 stops and costs 50p (3 lei) each way! The trains come every few minutes. When you come out of the station at Aviatorilor you will be right by the park entrance. 
The park is huge and there is a lot to do here, you could easily spend the whole day! I went in the evening and there were people playing music, rollerblading, running, picnicking, kayaking out on the lake and enjoying the numerous restaurants and bars dotted across the park. The sunset across the lake was such an incredible view.
I then went to Biutiful by the lake for a drink, which is one of the many restaurants lining the edge of the lake. I was going to get dinner but I wasn't actually that hungry and they only had tables at the bar. If you want to book, you need to actually call them – I messaged them on instagram and didn't get a reply! It was a nice vibe but definitely would be better with others rather than going as a solo traveller. The strawberry margarita was delicious but cost me about £8 which was the most expensive thing I bought in Romania 😂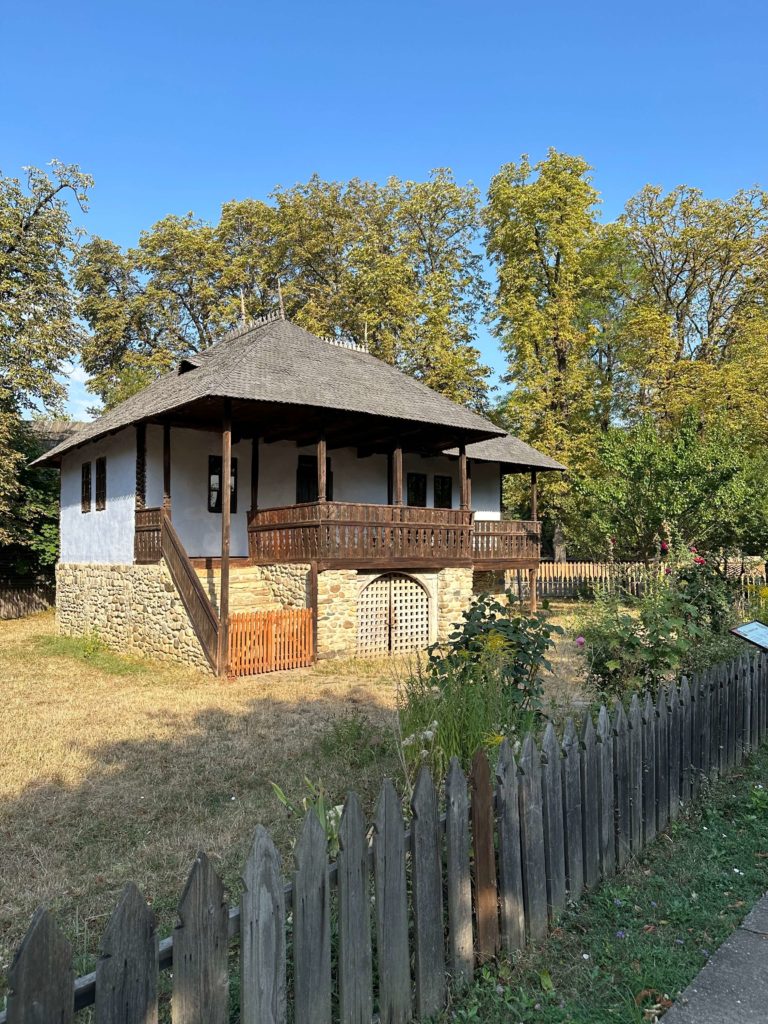 National village museum 
Also located in Herastrau Park is the National Village Museum! You can walk here from Aviatorilor metro stop, and it takes about 15 minutes, through the park and past the Arcul de Triumf (find out history and put it here)
The National village museum is open from 9am daily. I definitely recommend going early if visiting in summer as you will not only have the place pretty much to yourself but also avoid the midday heat! The entry ticket costs 30 lei (around £5) and permits you for as long as you want that day! You can also buy weekly tickets, if you want to visit multiple times.
The National Village Museum was probably my favourite thing that I did during my trip to Bucharest! It's really interesting to see all of the old style houses, windmills and churches from the 18th and 19th century that people of Romania used to live in. Especially the sunken houses- these were built in such a way to tackle harsh climates in the smaller villages. 
You can easily spend a while at the National Village Museum. In fact, I hear many people say that they spent around 3-4 hours inside the village museum! If you're pressed for time though, an hour will be plenty to see what the museum has to offer. 
Try some Romanian cuisine
As a vegetarian, I struggled to find any good recommendations for Romanian dishes to try – a lot of them include meat! However, I did hear about a Romanian dessert that many people have boldly claimed will be the best dessert you eat in your life – so obviously, I had to try it! 
Papanasi is a Romanian cheese donut, fluffy and delicious and covered in cream cheese! I tried it at (name of a place) in the old town. They only serve a minimum of 2 and offer two flavours, so I obviously had to try both! The blueberry one was definitely my preference – I'm not entirely sure what the other one was! It sounded like the waitress said 'cherry', but it definitely tasted more like caramel. This dish cost me 48 le (roughly £8.30). Although the papanasi was delicious, the service here wasn't the best so I'd recommend it here only if you aren't in a rush to get anywhere else!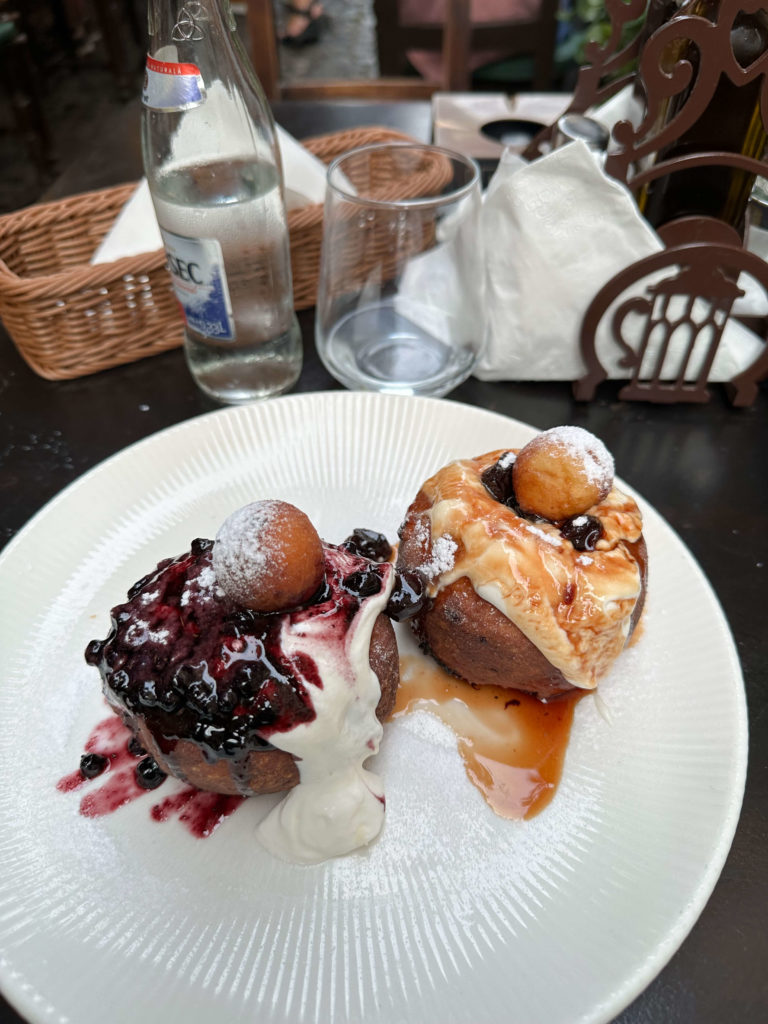 Enjoy views of the city from one of the sky bars 
Another place that came highly recommended by people I know and online, was Nomad Skybar – also located in the Old town. It was a really lovely vibe and had a fun interior and good music! I did go on a particularly cloudy evening, so maybe that's why I didn't find it as impressive as Linnea / Closer to the moon. If you're looking for a true "sky" bar with impeccable views and a great sunset view, then I'd recommend the latter over Nomad! 
Linea / closer to the moon was a really vibey rooftop serving both food and drinks, with chilled house music and incredible sunset views. If you want a seat then it is definitely recommended to book in advance – especially for sunset. Otherwise you can stand at the bar area, and you still get a good view of sunset, you're just not able to sit down. The cost of drinks here was mid-level, I paid 23 lei (roughly £4) for a Peroni draught (not a pint). 
More things to do in Bucharest, Romania
Surprisingly there were still a lot of things I missed during my trip to Bucharest! If you're looking to go, here are some more recommended things to do in Bucharest:
National Museum of Contemporary Art
Casa Poporului / Museum of the Palace (note: these are guided tours and you MUST bring your passport in order to enter the building)
National History Museum 
Visit a Flea Market- in particular, Bazarul cu Amintiri, Targul Valea Cascadelor or Vitan Flea Market – I'm so gutted I didn't have a chance to visit these as I love a flea market.
Admire the architecture of Calea Victorie
Stavropoleos Monastery – located in the Old Town
Coffee Lover? Here were some of the best cafes in Bucharest
Origo
Location: Strada Lipscani 9, București 050971, Romania 
Hours: Mondays 7:30am – 8pm, Tues-Fri 7:30am – midnight, Saturday & Sunday 8am – midnight
Comment: Best coffee I had in Bucharest!
Twenty eight cafe 
Location: Strada Ion Câmpineanu 23, București 010033, Romania
Hours: Monday – Friday 8am – 11:30pm, Saturday & Sunday 9am – 11:30pm
Comment: banging music (arctic monkeys, klaxons, the black keys etc) (£2.40 / 14 lei for an iced coffee)
Shot & go coffee shop
Location: Strada Știrbei Vodă 16-18, București 010112, Romania 
Hours: Monday – Friday 9am – 5pm, Saturday & Sunday 10am – 6pm
Comment: They had just opened and were so friendly! I paid £2.40 / 14 lei for an iced coffee with oat milk. 
Trofica 
Location: Strada Ion Brezoianu 29, București 010131, Romania
Hours: 8am – 5pm daily
Comment: They use the same coffee as origo, so you know it's going to be great! I got a delicious cold brew and a slice of banana bread for about £4. 
Bob George 
Location: Palatul Dacia-Romania, Strada Lipscani 20, București 030036, Romania
Hours: 9am – 9pm daily
Comment: £2.99 (17 lei) for a cold brew latte, great spot for people watching in the old town! It's also quite a funky interior with some art on display. 
Meron 
Location: Regina Elisabeta Boulevard, no. 40
Hours: Monday to Friday 7:30am – 8:30pm, Saturday & Sunday, 9:00am – 8:30pm
Comment: £2.99 (17 lei) for an iced latte – by the time I left Bucharest, this place had actually closed for refurbishment, so perhaps double check their socials before you try and go.
Have you ever been to Bucharest before? I'd love to know what you thought of this city, and if there's anything else that should be added to this list!
Laur x