In September 2018 I took a 3 week trip around the west of America. In this whirlwind of a trip, I managed to squeeze in 24 hours in Yosemite National Park. I'd wanted to visit for so long, so fitting in a trip there was a priority. If you're short on time, a visit to Yosemite is still possible. We only had 24 hours in the valley, and managed to make the most of our visit. Below is my guide to spend 24 hours in Yosemite National Park.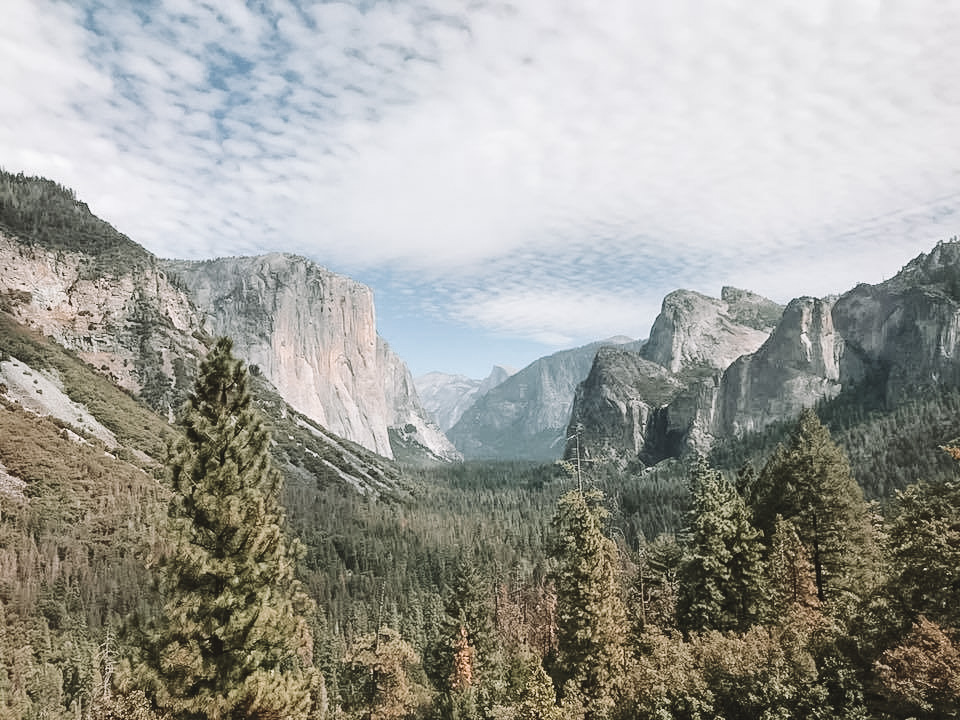 Guide to Spend 24 hours in Yosemite National Park
Planning Your Trip
Anyone who has visited Yosemite will know how quickly camping spots sell out. It is recommended to book up to 6 months in advance. You have to be pretty quick to secure a place in some of the camping sites closest to the Valley. Luckily, there was one space left at Crane Flat campground for our dates. Crane flat was a 45 minute drive from the Valley, which sounds far, but was actually pretty good.
Getting Around
Before I got to Yosemite, I wasn't really sure what to expect. I'd heard there were buses that can pick you up from campsites and take you to the main part. Unfortunately, I couldn't really find a lot of information online. I'd rented a car to drive from Los Angeles to Yosemite, so ended up driving myself. This was a lot easier and more flexible, given our tight schedule! Luckily as we visited in mid-September, there was a lot more parking than I had anticipated.
Having a car also made it so much easier to get up to Glacier Point at sunset. It also meant we could get up earlier the next day to spend a whole day in the Valley before driving back to LA.
How Much Time Do You Need?
There is so much to see and do here, and given the size of the Valley itself and how long it can take you to get from place to place (it took a good hour and a half to drive back to Crane Flat campground from Glacier Point) you definitely need at least a few days here to really enjoy yourselves. As I didn't have this much time, I did a "highlights" trip. Below is an itinerary of what I managed to squeeze in – so that if you are also limited on time, you can still fit in a trip to this incredible park.
Tunnel View, Yosemite and Glacier Point
I stayed overnight in a Motel 6 in Fresno the night before, so that the 6 hour drive from LA could be broken up a little. This meant I was already half way and in theory only had a 3 hour drive ahead. Arriving at Yosemite around 1pm, the first stop was for incredible photo ops at Tunnel View and then straight on to our campground. After the tent was pitched and our belongings locked away, I drove 45 minutes back down to the Valley. Once down in the valley I went walking to a waterfall that unfortunately I never found. With sunset scheduled for about 6:30pm, I then headed back to the car and drove up to Glacier Point.
This was an absolute highlight for me, honestly if you do one thing in Yosemite it should be this. Watching the left side of half Dome become a beautiful glowing pinky-orange as the sun sets was magical, even though it was freezing cold up there. After enjoying the views and seizing plenty of photo opportunities, I drove back to the campsite, started our fire, cooked dinner, drank beer and roasted marshmallows before attempting to get some sleep. (Confession: we ended up sleeping in the car because it was so cold – what a fail).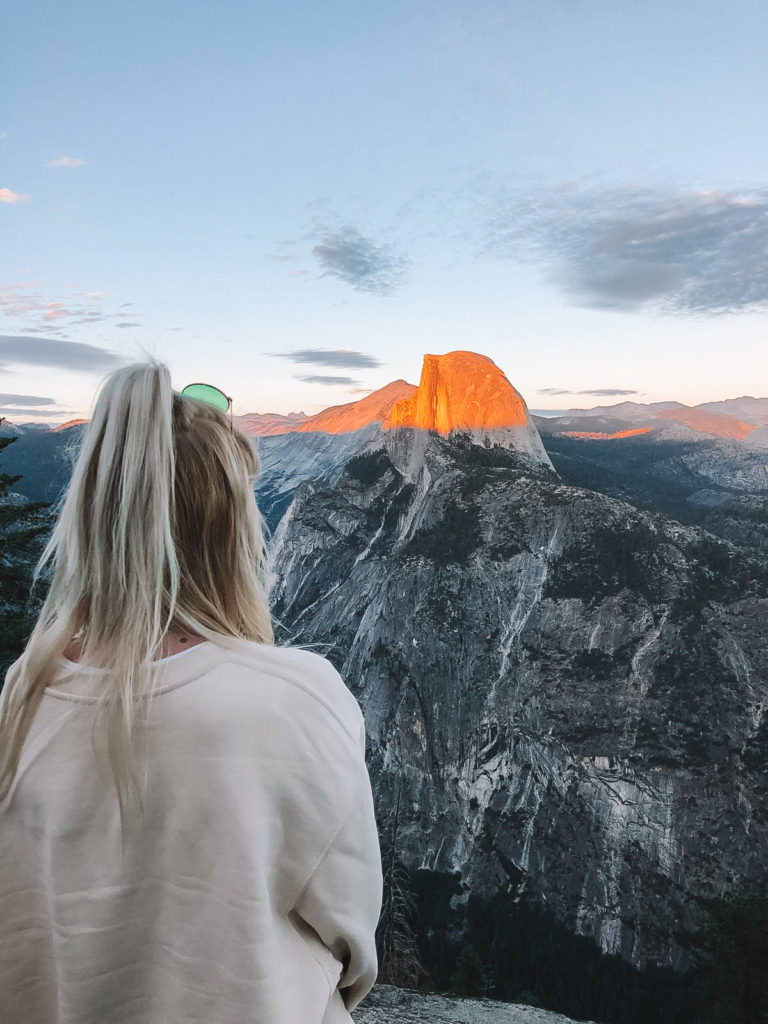 Lower Yosemite Falls & Wild Swimming
The next day I woke up with a stiff neck, and not so fresh, but made breakfast, packed a lunch, packed up the car and drove back down to the valley. I went on a hike in search of lower Yosemite Falls only to find them completely dried up.. turns out this is quite common for September. Luckily the sheer beauty of this place made up for everything else. After the unsuccessful hike to the falls I stopped by the river for a bit of wild swimming. The water was freezing, but everywhere was stunning, and I ended up falling asleep laying on the little pebble shore by the river. When I woke up, it was time to start the long 6 hour drive back to LA.
I really couldn't do Yosemite much justice in the short 24 hours I was there, but we still had the most incredible time. It was the highlight of the whole trip, and if anything has given me the perfect excuse to go back and visit again! Viator do great small group options for one day Yosemite tours, if you don't have a car!
Did you find my guide to Yosemite helpful? Why not pin it!