Chances are, if you've looked into visiting Bali either as a holidaymaker or a backpacker, you've heard of the infamous Gili islands. The largest and most popular of the three, Gili Trawangan is a great escape from the bustle of Bali or Lombok. Boasting beautiful turquoise waters and white sand beaches, you really do feel like you are in an oasis. Especially considering there are no cars or motorcycles on the island, as you can reach everywhere by foot or by bicycle!
If you are considering visiting Gili T, Indonesia, then here are some of the best things to do on the island during your stay!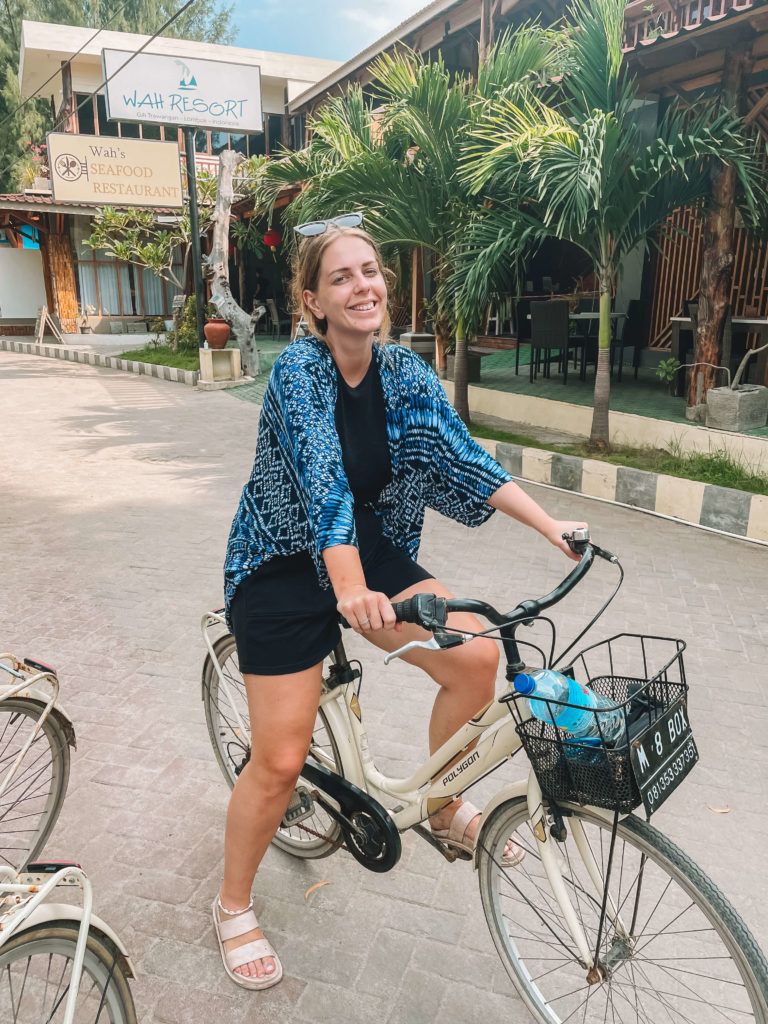 The best things to do on Gili T, Indonesia
Rent bicycles
Since I've already mentioned how there are no cars or motorbikes on the island, you might be wondering how to get around Gili T? To be honest, you can walk everywhere, since it will probably only take you an hour or two to walk around the edge of the island! But one of the more fun ways to get around is by hiring a bicycle and cycling round the island. Bicycles are available to rent from most hostel and hotels on the island, and should cost around £4 per 24 hours.
Watch the sunset with a Bintang
Gili Trawangan is known for its epic sunsets, so one thing you absolutely cannot miss during your visit, is joining everyone on the beach for sundowners! The sunset point is on the opposite side of the island to the main strip, so you can either walk or bicycle over to the other side in time for sunset. There are bars and restaurants lining the beach where you can buy a Bintang (other beverages are available) to enjoy while you soak up views like this: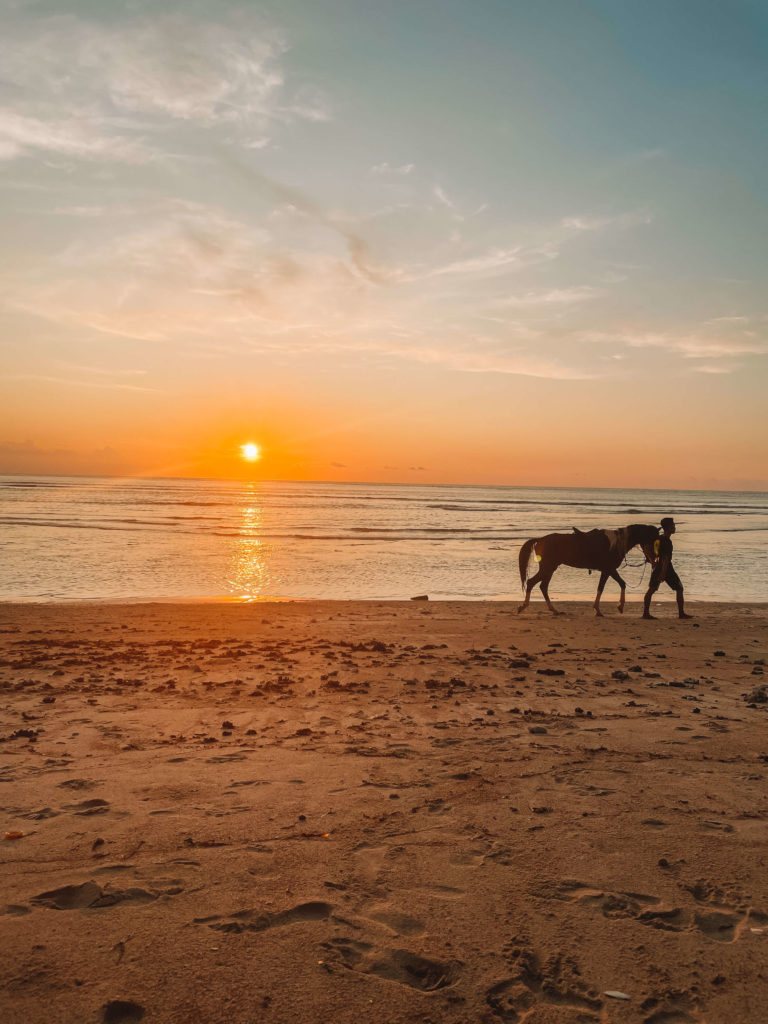 The 'Gili T swings' are also located on this side of the island, and make for a great sunset photo opportunity, although do note that in peak seasons there will probably be a queue! You can also horse ride along the beach at sunset in Gili T, but I have mixed feelings about it, so I'd recommend doing your own research first!
Paddle board
Since the waters along the coast of Gili T are some of the clearest you'll see (especially compared to the beaches of Seminyak and Canggu) there are plenty of water based activities for you to take advantage of. If you're into stand up paddle boarding, then this is one of the activities on offer! Simply walk up to 'turtle point' and you'll find a bar / stall renting out snorkels and paddle boards. Our paddle boards cost us £7 for the day, and they also gave us a coconut to enjoy too! We spent the afternoon paddle boarding around the shore, spotting the turtles in the water below, which brings me to my next point…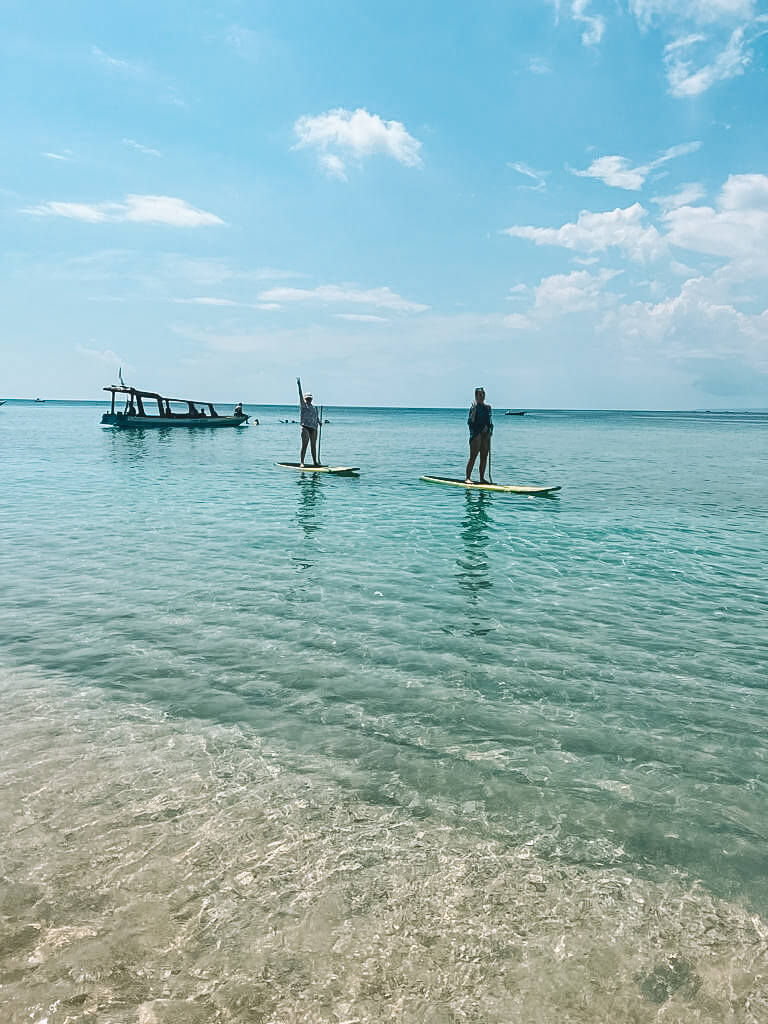 Swim with Turtles!
You DON'T need to go on a snorkelling trip in Gili T to see the turtles. In fact, I'd actually recommend against it. Why? Because a snorkelling trip cost us around £15 and we saw one turtle. Up at turtle point with the snorkels and paddle boards to rent, however, we saw about 7 or 8 turtles swimming right alongside us! The excitement was real for me, and luckily Hari (the guy we'd rented the paddle boards from) let me swap my paddle board for a snorkel instead, for no extra charge. Obviously, you are swimming right with the turtles here as the water is shallow, so please don't be one of those people – let them do their thing, and don't touch or pick them up!
Snorkelling or Diving trips
Despite being able to swim with turtles right off the shore in Gili T, there are lots of snorkelling and diving trips you can do! If you really want to go snorkelling a bit further out, you won't have any issues in doing so. Most of the snorkelling trips take you to the same spots, including the underwater statues and a stop on Gili Meno for lunch. We did do a snorkelling trip, but personally aside from the statues, we saw a lot more snorkelling off the beach at turtle point! However, it is a recommended spot for diving, and there are plenty of dive hostels on Gili T where you can get your PADI.
Visit the other Gili Islands
There are three Gili Islands in total – Gili T, Gili Air and Gili Meno. Each has their own unique character, but all are equally as beautiful. Whilst Gili T is the 'party island', Gili Air and Gili Meno offer a much more laidback vibe, but are still well worth a visit for a day. Although some snorkelling trips stop at Gili Meno, you don't get a whole lot of time to explore the island. However, you can easily catch a fast boat from Gili T to both Gili Air and Gili Meno, to spend the day exploring each of these islands!
Enjoy the nightlife
If you are looking to party, then you're in the right place. Gili T is known for its epic nightlife and is popular with travellers and backpackers for that exact reason. Along the main strip you'll find a string of bars and restaurants that have different nightly events, ranging from live music, beer pong, pub quizzes and fire dancing. Some of the popular nightlife bars include Sama Sama, The Irish Pub and Jungle Bar.
Go on a booze cruise boat trip
If waiting til sundown is too long to wait for you to get your party on, then many of the hostels on Gili T offer booze cruises, where you can climb aboard with your fellow backpackers and party to your hearts content. On the booze cruises you can expect plenty of drinking games, swimming stops, free shots and DJs. Jiggys boat party is one of the most well known on the island, and it's highly recommended to buy your ticket in advance to avoid disappointment!
As such a small island, there isn't a huge array of activities available on the island, however there is still plenty of fun to be had that make it worth a visit. Particularly if you love a party, a gorgeous sunset or marine life! If you're looking for more things to do in Bali, I have a range of guides available:
A 2 week itinerary for Bali, Indonesia
A Guide to Visiting Uluwatu, Bali
Best things to do in Ubud, Bali
Everything you need to know about visiting Bali post-COVID