Singapore is one of the most beautiful cities in the world. Not only because it is almost clinically pristine for a busy city, but also because it is colourful, on the water and still dotted with plenty of greenery. Despite its generally small size, there is no shortage of things to do in Singapore. I've already written a weekend guide to Singapore which is perfect for a short, first-time visit. If you're looking for a longer list of activities, then here are 18 of the best things to do in Singapore! 
The Best Things to do in Singapore
Visit the Marina Bay Sands
One of the first places that tourists flock to when they first arrive in Singapore, is Marina Bay. This area is surrounded with plenty of things to do, and of course is where the iconic Marina Bay Sands hotel is located. This hotel is one of the most impressive in the world, not only for its unique structure, but also for its huge mall, casino and rooftop infinity pool. Unfortunately, you can only make use of the pool if you stay overnight at the hotel, which is exactly what I did during my first trip to Singapore back in 2017.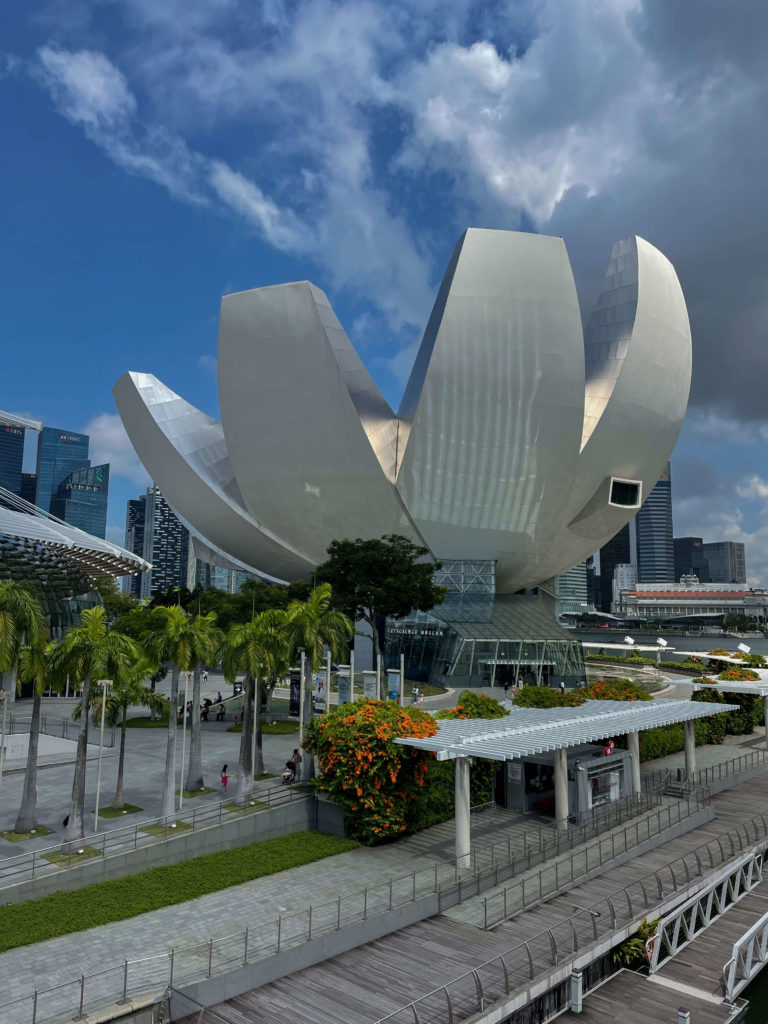 Gardens by the bay
At the back of the Marina Bay Sands, you'll find the famous Gardens by the Bay. This is easily identifiable by the impressive Supertree structures which stand tall and proud in the middle of the gardens. Here you can also visit the cloud forest, which houses a stunning indoor waterfall, the Flower Dome, the Supertree observatory and various other exhibitions they may have running at the time of visiting. It's well worth visiting the gardens both during the day, and again at night to see it beautifully illuminated.
Art Science Museum
Also located right in the Marina Bay, is the Art Science Museum. This building is easily spotted thanks to its unique lotus-like structure in front of the Marina Bay Sands hotel. This museum combines art, science, media and technology into a vast collection of galleries and interactive installations, including the famous lightroom. Entry ranges from $13-50 SGD, depending on the ticket you choose. When I visited back in 2017, those staying at the Marina Bay Sands hotel were entitled to a discounted ticket, however, I'm not sure if that is still the case. You can easily spend hours in the Art Science Museum, as there are lots of things to do and see!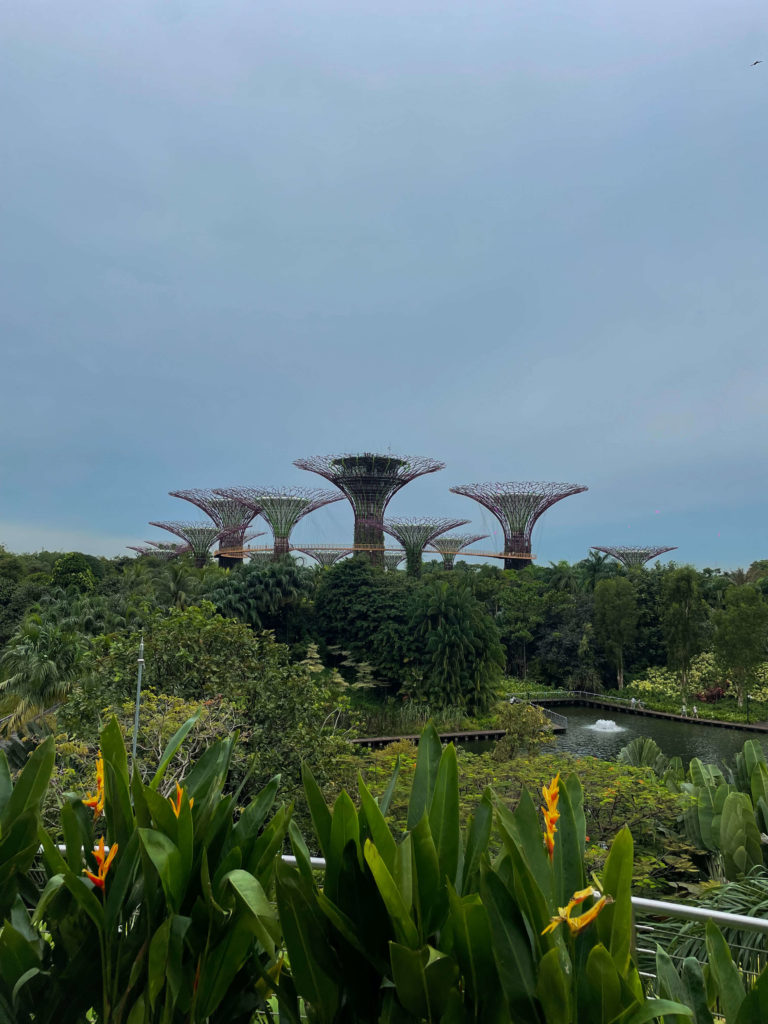 Visit the F1 track
For Formula 1 fans in Singapore, you have the chance to visit the Formula 1 track located by the Marina Bay. As long as the F1 isn't happening during your visit to Singapore, you can walk on part of the track, since it is easily accessible from the Helix bridge in front of the Marina Bay Sands. If you're looking for something even more exciting than walking on the track, then consider the F1 Street Circuit Driving Experience. This experience gives you the opportunity to drive on the F1 track in either a Lamborghini, a McLaren, or a Ferrari for fifteen minutes!
Have a Singapore Sling at Raffles
If you're looking for something truly iconic to do during your trip to Singapore, then you have to have a Singapore Sling cocktail at Raffles! This gin based cocktail, combined with pineapple juice, lime juice, curaçao and Bénédictine, is widely considered the national drink of Singapore. It was originally created by Raffles bartender Ngiam Tong Boon in 1915, so where better to enjoy this cocktail than Raffles hotel's 'Long Bar'. Although a popular venue with tourists looking to do exactly that, Long Bar is walk-ins only, so you can't make a reservation. Last order is at 10:45pm so best to get there early to enjoy a Sling or two among the stunning decor!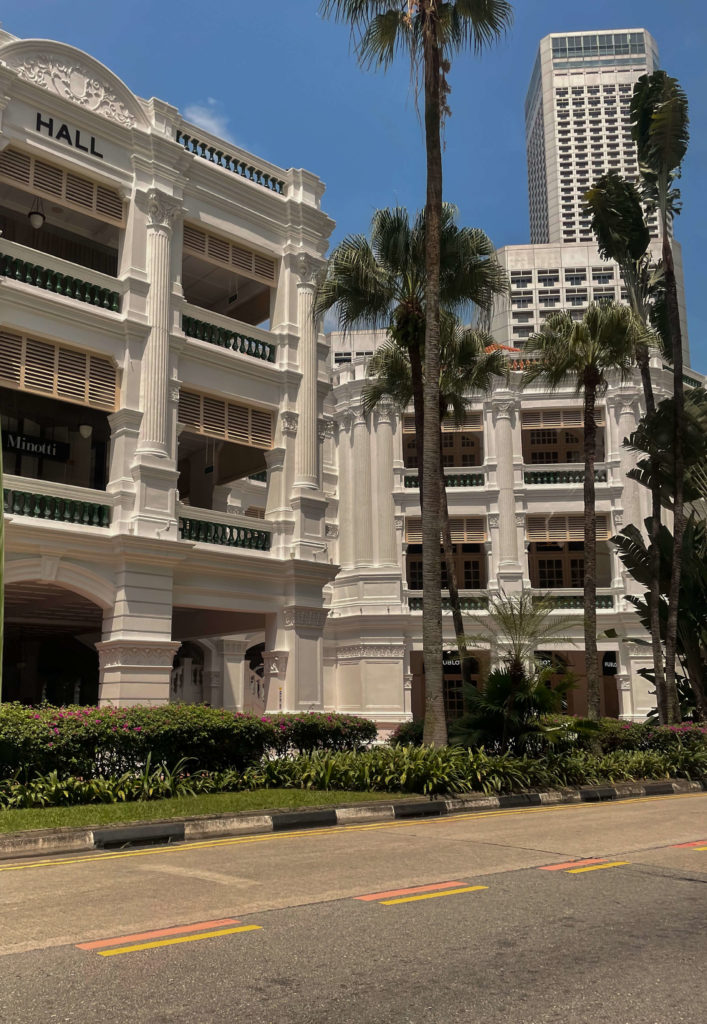 Universal Studios
If you're a thrillseeker looking for your fix, then you have to go to Universal studios on Sentosa island! The Singapore location is Southeast Asia's first and only Universal studios, and shares some of the most popular rides as the locations in Hollywood and Japan, including the Mummy Ride, the Jurassic Park ride and the Transformers ride. Although smaller than some of the other studio locations, it's still a great day out for those who love theme parks! During September and October, they also host the Halloween Horror nights on selected dates.
Sentosa island
The island in which Universal studios is located is worth a visit for other reasons too! From the city, you can get to Sentosa by road, cable car, pedestrian boardwalk and monorail. There are so many things to do on Sentosa island, from adventure cove, to Madame Tussauds and iFly Singapore, it's definitely a great option for things to do in Singapore with kids. However, it's also the place to go in Singapore if you're looking for your beach fix. Palawan beach is lined with loads of food stalls and bars, and also has a suspension bridge that takes you to the smaller and more tranquil beach of Tanjong. You can also visit Tiger Tower for panoramic views that on a clear day stretch as far as Indonesia!
Singapore flyer
Bearing a similar resemblance to the London Eye, the Singapore Flyer is a large ferris wheel located in the downtown district of Singapore. It is actually Asia's largest observation wheel, which gives you incredible views across the Marina Bay, the Gardens and the city's skyline. You can visit either during the day or at night, depending on your preference. For those with a bigger budget, you can purchase a private dining experience in one of the flyer's pods, which I'm sure is an incredibly romantic and unforgettable experience.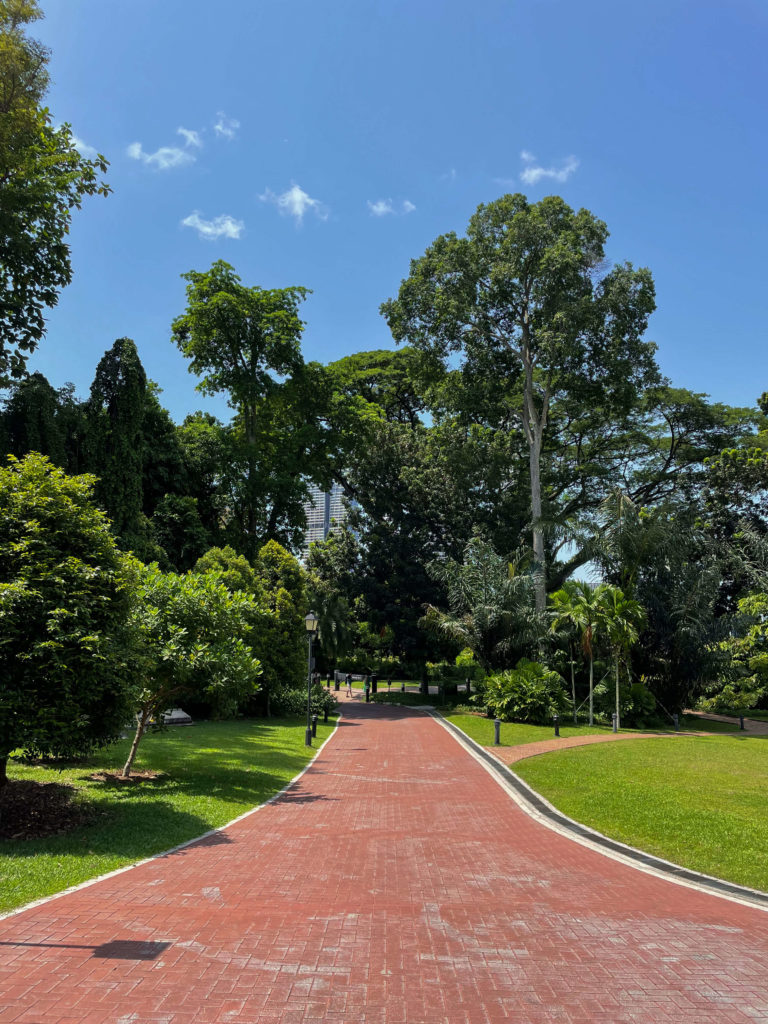 Fort Canning
I didn't visit Fort Canning until my second time travelling to Singapore. It's a beautiful green space located right in the centre of the city, not a far walk from the Marina or Chinatown. It's a hilly park which, at the top, gives you lovely views across the city skyline. You can also see a number of points of interest here too, including nine different historical gardens. Fort Canning has a rich history and has been the place of a number of Singapore's milestones throughout time, including being the location where the British decided to surrender to the Japanese during WWII. It's crazy to wander around the stunning and calm gardens and think about the immense history that is held there. Nowadays, the gardens are used as a place of celebration, hosting concerts, Shakespeare productions, dance classes, weddings and more. 
National Museum of Singapore
Located right near the edge of Fort Canning, is the National Museum of Singapore. I highly recommend a visit to this museum if you want to learn more about the history of Singapore. It's around $15 SGD (roughly £10) to enter, and you can spend as long as you like there, although most visits will be between 2-3 hours. Here, you will learn all about Singapore's origins, how it has developed over time, as well as learning more about the art and culture of Singapore. I'm not usually big on Museums, but this is one of my favourite things to do in Singapore, I found it fascinating!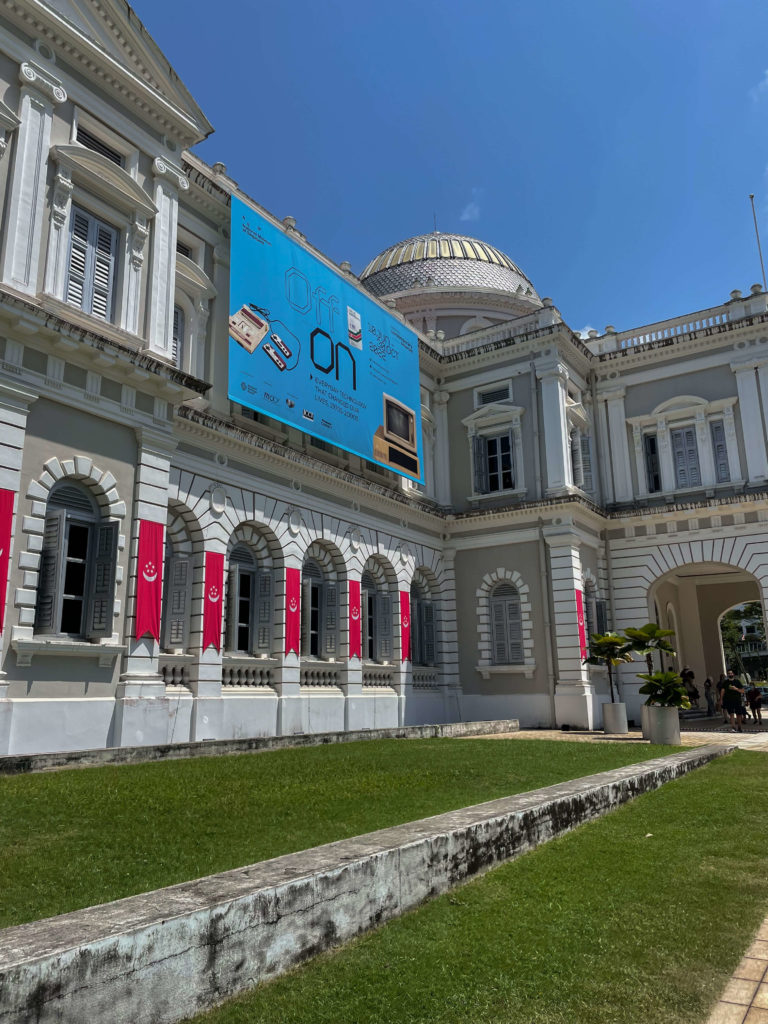 Take a Singapore River cruise
For a slightly different way to see the city, you can opt for a Singapore river cruise. The Singapore river flows through the city, and joins the Marina reservoir right in the Bay. For most of the Singapore river cruises, you'll board a traditional bumboat, which depart from the colourful Clarke Quay area, passing by many of the city's iconic buildings. You can even opt for the laser cruise option in the evening, where you'll be able to watch the iconic fountain and laser show in front of the Marina Bay Sands. 
Sungei Buloh Wetland Reserve
Located in the northwest corner of Singapore, Sungei Buloh Wetland Reserve is a heritage park that is home to some of the world's rarest Mangroves. This is a lovely place for a trail walk, where you can observe lots of biodiversity and wildlife, including birds migrating to warmer climates of Australia from places as far as Siberia. Whether you choose to walk the boardwalk, take a free guided tour or participate in some of the events and art classes that are held here, the Wetland reserve is well worth a visit if you want to escape the bustle of the city for a morning or afternoon.  
Joya Onsen Cafe 
Joya Onsen cafe offers visitors the chance to visit a traditional Japanese bath house right in the heart of Singapore. Visitors can opt for public or private onsens, with the public entry being a lot cheaper. If you're shy about going 'commando' in public onsens, Joya Onsen Cafe does offer guests disposable underwear to cover their modesty. Obviously, there are no natural hot-springs in Singapore. Rather than the hot spring water usually found in onsens, Joya Onsen cafe infuses their water with green tea minerals. The café offers sushi, desserts and Hokkaido Milk if you also fancy eating there! 
Eat and drink at Chinatown
If you're looking for good food, then Chinatown is a must. Here not only will you find loads of delicious traditional food options, but the area is also filled with beautiful buildings, murals and cultural sights like the Mariamman Temple and the ornate Buddha Tooth Relic Temple. Chinatown food street is home to lots of different food vendors and souvenir shops, whilst on Club street you'll find many trendy wine bars.
Visit Little India 
Another vibrant area of Singapore that must be visited, is Little India. Indian cuisine is one of my favourites to eat whilst in Singapore, and although I've got a favourite riverfront restaurant near Clarke Quay, Little India has many incredible and relaxed eateries too. Little India is also full of colourful buildings and shopfronts, murals, markets and mosques. It's probably my favourite area of Singapore, and such a fun place to visit during Hindu celebrations like the Deepavali festival of lights.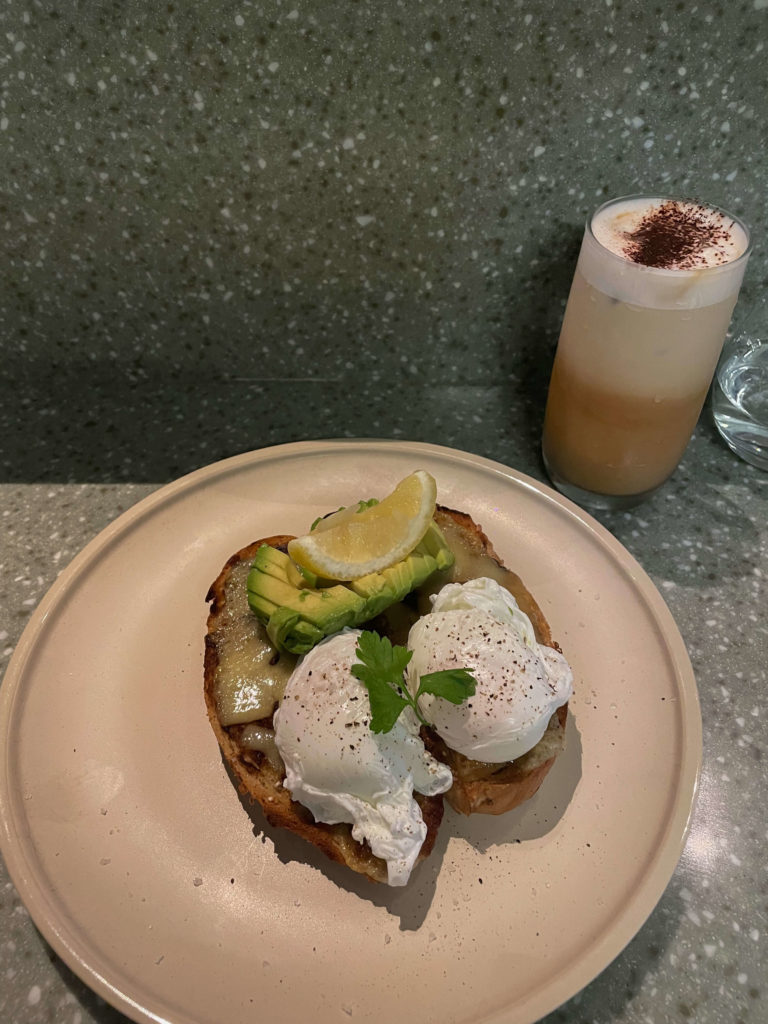 Visit a hawker centre
To experience a unique part of Singaporean culture and lifestyle, you must visit a Hawker centre during your trip to Singapore. One of the most 'local' things to do in Singapore, at a Hawker centre you will be able to see a bit of life in Singapore through the eyes of a local. A Hawker centre is a large open air complex which hosts a huge selection of stalls selling delicious and reasonably priced food. Throughout Singapore you can find more than 100 Hawker centres. Some of the most recommended Hawker centres include Adam Road Food Centre, Amoy Street Food Centre and Old Airport Road Food Centre.
Haji Lane
Another popular foodie area in Singapore, Haji lane is a small yet vibrant area in Kampong Glam. This area is packed full of colourful boutique stores and hipster food joints. Oh and tons of incredibly colourful street art. It really is an Instagram heaven, but even more appealing for foodies and those on the hunt for hidden gems. Favourites include Blu Jaz Cafe, Piedra Negra and Limaa.
Enjoy a brunch or afternoon tea
Afternoon tea is a typically British tradition, and considering Singapore was a British colony for 144 years, it's unsurprising that the tradition carried and that you can find loads of great afternoon teas in Singapore. Some of the best afternoon teas in Singapore include those at Isabel Bar, The Capitol Kempinski Hotel Singapore, Lady M Champagne Bar and Anti:dote, Fairmont Singapore. If you're looking for something a little more budget friendly, there are loads of great brunch cafes throughout Singapore! My personal favourite is the small, but popular PUNCH, located at 32 N Canal Rd.
I hope you've enjoyed my list of some of the best things to do in Singapore! Have you been to Singapore before? I'd love to know what was your favourite part of your trip. Is there anything you'd add to this list?